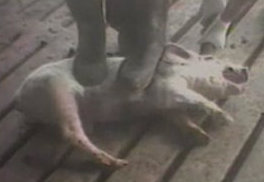 Covertly filming shocking animal abuse in the meat industry (and other industries involving animals) is a common tactic of animal welfare charities such as the Humane Society, Mercy for Animals, Animal Aid, and PETA. The footage is generally obtained by workers for the charities who gain employment at slaughterhouses, farms, laboratories and the like; and it has been instrumental in prosecuting abusers and applying pressure on meat producers to improve welfare standards, as the New York Times reported at the weekend.
The same article also reports a disturbing response to this practice by several US states:
They proposed or enacted bills that would make it illegal to covertly videotape livestock farms, or apply for a job at one without disclosing ties to animal rights groups. They have also drafted measures to require such videos to be given to the authorities almost immediately, which activists say would thwart any meaningful undercover investigation of large factory farms.
Those who flout this so-called 'ag-gag'  legislation may, among other things, be placed on a 'terrorist registry'.
In the light of the unfolding horsemeat scandal, it was only a matter of time before some equine entrails were uncovered in an Ikea meatball. This is a shame on many levels, not least for the poor pigs, cows, and horses whose flesh will now end up as landfill. I personally am quite partial to an Ikea meatball, would not object on the mere grounds that it contained horsemeat (I think I would have been hard pressed to identify the ingredients anyway prior to the scandal), and recently enjoyed an Ikea meatball dinner in Budapest with a colleague from the Uehiro Centre, not a million miles from where the offending meatball was uncloaked. But for those who consider eating Ikea meatballs intrinsically good, but eating horsemeat intrinsically bad, how could they be advised?
Natalia Lee and Adrian Carter, from the Neuroethics group at the University of Queensland Centre for Clinical Research, Australia and Members of the International Neuroethics Society
Follow NeuroethicsUQ on Twitter by clicking here
Many of us enjoy foods that are high in sugar, fat, salt, or a combination of the three; take savoury biscuits for example. Dr. David Kessler's The End of Overeating explores in detail the art and science behind the creation of highly palatable foods. Despite their appeal, most of us are able to exhibit adequate control when consuming or over consuming these foods. However, there is a subset of the population for whom control over these foods becomes problematic and can result in unhealthy weight gain or obesity. For these individuals, consumption can become life threatening. Why is it that some who wish to reduce their intake of these foods are not able to do so? Continue reading →
UNICEF today announced research showing that increasing breastfeeding rates in the UK could save the NHS tens of millions of pounds. The report notes that investing more money in encouraging more mothers to breastfeed, and for longer, will pay dividends.
Is this likely to get more mothers breastfeeding? Well, I don't think we're off to a very good start. Take a look at some of the headlines used to report this story: Continue reading →
 By Charles Foster
Fast food permanently reduces children's IQ, a recent and unsurprising study reports.
What should be done? The answer is ethically and legally simple. Parents who feed their children junk food, knowing of the attendant risks, are child-abusers, and should be prosecuted. If you hit a child, bruising it, you are guilty of a criminal offence. A bruise on a child's leg is of far less lasting significance than the brain damage produced by requiring a child to ingest toxic junk. A child injured by a negligent or malicious parent can also bring civil proceedings against the parent.
The findings of the recent study mirror those in other jurisdictions. And now that they have been widely disseminated it will be hard for parents to plead ignorance. Continue reading →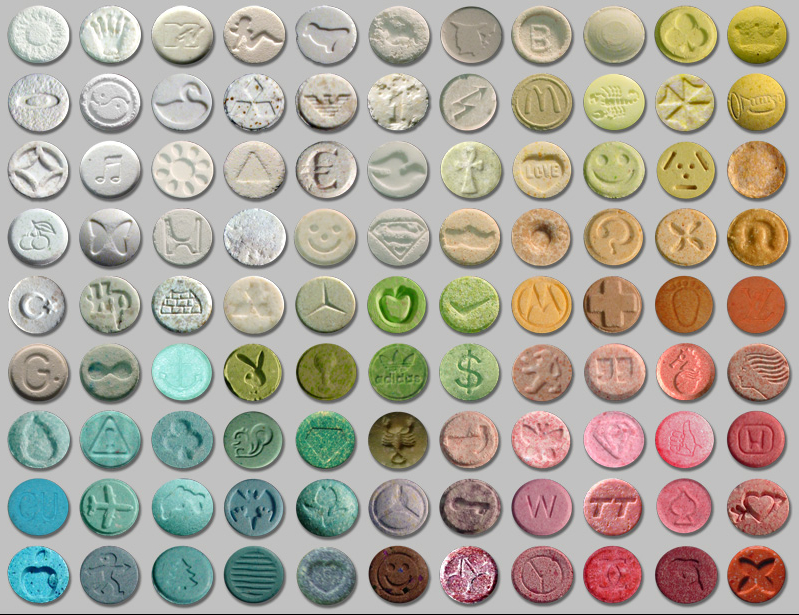 Love drugs and science reporting in the media: Setting the record straight 
By Brian D. Earp, Julian Savulescu, and Anders Sandberg
Love. It makes the world go round. It is the reason we have survived as a species. It is the subject of our art, literature, and music—and it is largely the product of chemical reactions within the brain.
No wonder science is starting to unravel the ways in which we can influence it, and perhaps even control it.
Just as Darwin's finding that we are descended from apes shocked people in the nineteenth century, so people will be shocked to find that our most lofty social ideal is something we share with our mammalian cousins and which is the subject of scientific scrutiny and even chemistry-book manipulation.
In 2008, two of us (Julian Savulescu and Anders Sandberg) published an article in the journal Neuroethics on the topic of "love drugs" – a term we use to refer to pharmacological interventions based on existing and future bio-technologies that could work to strengthen the bond between romantic partners. All three of us have an article just published in the journal Philosophy & Technology in which we build upon that earlier work. Interested readers will take the time to study those papers in full, but we have a feeling that much of the population will stop at a handful of media reports that have recently summarized our ideas, including at least one article that we think has the potential to mislead. Let us set the record straight.
This week is 'Sustainable Fish Week' at Ghent University in Belgium. All fish on the university restaurants' menus come from sustainable fisheries or fish farms (with practices that can be maintained without reducing the ability of the target fish to maintain its population and without threatening other species within the ecosystem, for example, by removing their food source, accidentally catching and killing them, or damaging their habitat). Tuna sandwiches will be taken off the menu and a sustainable alternative will be provided instead. Those who take their meal at a university restaurant will receive a free 'fish guide' with helpful information for making responsible fish choices at home. Those with strong stomachs may also enjoy the opportunity to taste jellyfish at the university restaurants. The message is that, if we continue to eat unsustainable fish, then soon jellyfish will be the only alternative to fish left on the menu.
Suppose that a despotic political regime is keeping its citizens in cramped and unhygenic labour camps. The survival and and economic productivity of the incarcerated individuals is sustained only through the widespread administration of antibiotics which helps to prevent epidemics. It is difficult for international organisations to do anything about these work camps, but one thing they could do is cut off the supply of antibiotics. This would risk the lives of thousands of inmates in the short term, but can also be expected to put an end to the work-camp system in the longer term, since it would render the camps uneconomic.
Should the international organisations cut-off the supply of antibiotics? It is doubtful whether they should.
But now suppose we replace the work-camps with chicken houses and sow stalls, and the citzens with farm animals. Many farm animals held under cramped and unhygenic conditions are kept alive, and economically productive, only through the widespread administration of antibiotics. Restricting access to these antibiotics would force the agricultural industry to reform these practices. In this case it seems more plausible that antibiotic use should be restricted. At least, this is what Robert S. Lawrence writes in The Atlantic.