It's a beautiful warm sunny day, and you have decided to take your children to join a group of friends for a barbecue at the local public park. The wine is flowing (orange juice for the kids), you have managed not to burn the sausages (vegetarian or otherwise), and there is even an ice-cream van parked a conveniently short walk away.
An idyllic scenario for many of us, I'm sure you will agree; one might even go so far as to suggest that this is exactly the sort of thing that public parks are there for; they represent a carefree environment in which we can enjoy the sunshine and engage in recreational communal activities with others. Continue reading →
This essay, by Oxford undergraduate student Fionn O'Donovan, is one of the four shortlisted essays in the undergraduate category of the inaugural Oxford Uehiro Prize in Practical Ethics.
In light of the value of personal relationships, is immortality desirable?
In the future it is likely that advances in medicine will grant us the opportunity to prevent the process of ageing. The question of whether eternal life would be a good thing will then be of the utmost practical importance to humanity. In this essay, I claim that it would be, and that Williams' concerns about immortality[1] can be assuaged with consideration of how life always gives us at least an opportunity to realise something commonly held to be incommensurably valuable, namely good relationships with others. I note here that, for the purposes of this essay, I assume there is no afterlife. I also want to note that the issues of immortality and euthanasia are linked: a similar question about whether death is ever desirable is central to debate on both. Therefore, many of the considerations I present below could also be used to support a more pro-life view on euthanasia. Continue reading →
This essay, by Oxford graduate student Miles Unterreiner, is one of the two finalists in the graduate category of the inaugural Oxford Uehiro Prize in Practical Ethics. Miles will be presenting this paper, along with three other finalists, at the 12th March final.
May the state limit the free speech of individuals who advocate against vaccines intended to combat infectious disease?

"Freedom is the most contagious virus known to man."
-Hubert H. Humphrey
Philosophical arguments concerning freedom of speech have traditionally focused upon which types of expression the state apparatus may justly limit, and under which circumstances it may do so. The state has therefore been the locus of history's most celebrated works on the subject, including John Milton's Areopagitica (1644), chapter 20 of Spinoza's Tractatus Theologico-Politicus (1670), and perhaps most famously J.S. Mill's On Liberty (1859). Mill's argument in favor of the free exchange of ideas remains today the most lasting and the most relevant, and his formulation of the "harm principle" – that "the only purpose for which power can be rightfully exercised over any member of a civilized community, against his will, is to prevent harm to others" – continues to undergird significant components of law and policy in industrialized democracies today.[1] Continue reading →
The latest issue of the Journal of Medical Ethics is out, and in it, Professor Nigel Biggar—an Oxford theologian—argues that "religion" should have a place in secular medicine (click here for a link to the article).
Some people will feel a shiver go down their spines—and not only the non-religious. After all, different religions require different things, and sometimes they come to opposite conclusions. So whose religion, exactly, does Professor Biggar have in mind, and what kind of "place" is he trying to make a case for?
On the supposed distinction between culture and religion: A brief comment on Sir James Munby's decision in the matter of B and G (children)
By Brian D. Earp (@briandavidearp)
Introduction
What is the difference between 'culture' and 'religion' … ? From a legal standpoint, this question is important: practices which may be described as being 'religious' in nature are typically afforded much greater protection from interference by the state than those that are understood as being 'merely' cultural. One key area in which this distinction is commonly drawn is with respect to the non-therapeutic alterations of children's genitals. When such alteration is done to female children, it is often said to be a 'cultural' practice that does not deserve legal protection; whereas, when it is done to male children, it is commonly said to be a 'religious' practice – at least for some groups – and must therefore not be restricted (much less forbidden) by law.
Is this a valid distinction?
Alternative medicine is a trendy topic to discuss – both by despising and praising it in a contradictory manner. But there is something controversial in the categorical critique towards it. The controversies and fallacies in the categorical praise are much elaborated and I will mostly leave aside that part. Continue reading →
New open access publication: announcement:
In a recently published article, Hannah Maslen, Roi Cohen Kadosh, Julian Savulescu and I present an argument about the permissible (and not-so-permissible) uses of non-invasive brain stimulation technology in children. We consider both children who may be suffering from a specific neurological disorder, for whom the stimulation is intended as a 'treatment', and those who are otherwise healthy, for whom the stimulation is intended as 'enhancement'. For the full article and citation, see here:
Maslen, H., Earp, B. D., Cohen Kadosh, R., & Savulescu, J. (2014). Brain stimulation for treatment and enhancement in children: An ethical analysis. Frontiers in Human Neuroscience, Vol. 8, Article 953, 1-5. Continue reading →
A placebo can be understood as a medical intervention that lacks direct specific therapeutic effects on the condition for which it has been prescribed, but which can nonetheless help to ameliorate a patient's condition. In March 2013, a study by Howick et al. suggested that the vast majority of UK general practitioners (GPs) have prescribed a placebo at some point in their career. This finding was somewhat controversial and received national media coverage in the UK (here and here). Part of the reason for this controversy is that the use of placebos in clinical practice is often deemed to be morally problematic, in so far as it often involves the intentional deception of the patient. Continue reading →
Guest Post by Joseph Bowen
Joseph is a BPhil Student studying at Oxford University.
Following a surprise inspection of Colchester General Hospital by the Care Quality Commission (CQC) on Friday 14th November, it was reported that inspectors had found that some patients ("elderly people, some [suffering from] dementia") had been inappropriately restrained, and/or sedated without consent, and that 'Do Not Resuscitate' (DNR) notices were being disregarded. What struck me about this case is that, while all are horrible practices, the DNRs being ignored seemed worse than the inappropriate restraint and sedation without consent. Continue reading →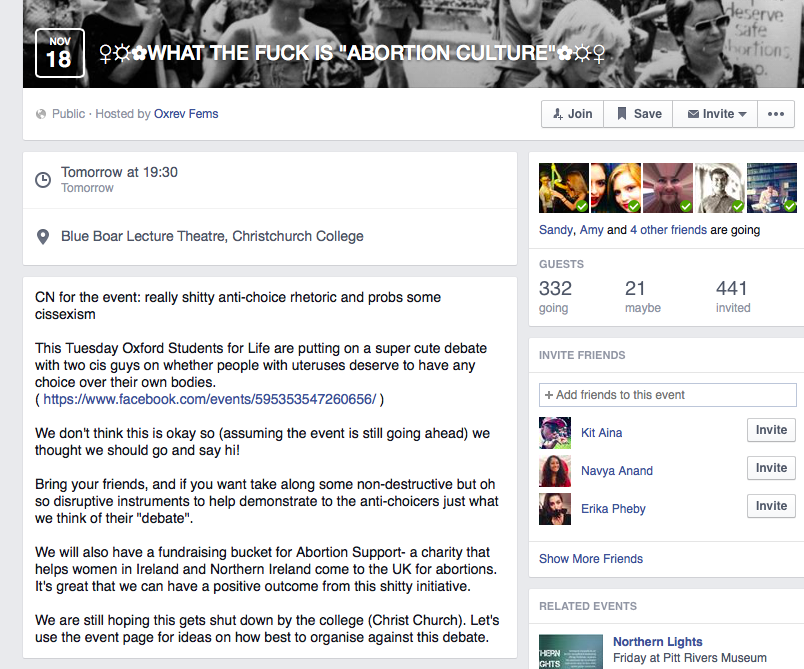 Feminists are kicking up quite a storm in Oxford at the moment. Oxford Students for Life have organized a debate on abortion to happen tomorrow (the 18th November, 2014), which has inspired some rather troubling attacks. Now, Oxford feminists ('WomCam') are generally rather intolerant of any pro-life rhetoric (or, indeed, anyone that disagrees with them), but what has really got their goat this time is that the debate is between two men.
"It is absurd to think we should be listening to two cisgender men debate about what people with uteruses should be doing with their bodies. By only giving a platform to these men, OSFL [Oxford Students for Life] are participating in a culture where reproductive rights are limited and policed by people who will never experience needing an abortion."