It will be interesting to watch the reception of a recent Court of Protection case, as yet unreported, in which a woman with profound learning difficulties was found to have capacity to decide not to terminate her pregnancy.
As so often, the case decided nothing new. But it is a timely reminder of the trite but often overlooked principle that capacity is not an all or nothing thing. The question: 'Does she have capacity?' is always dangerously incomplete. The correct question is always 'Does she have capacity to decide X?'
There was no doubt that she did not have capacity to manage many aspects of her affairs. She was in the bottom 1% of the population so far as intellectual function was concerned. Deputies were appropriately appointed. But, so far as the continuation of her pregnancy was concerned, so what?
It was decided as a matter of fact that she had capacity to decide whether or not to continue with, or to terminate, the pregnancy. And that meant that the Court of Protection had no jurisdiction to decide the matter. No best interests determination could lawfully be made. Continue reading →
Dr Philip Lee, Conservative MP for Bracknell and a practising GP, today suggested that people whose lifestyle choices lead to medical problems should have to contribute towards their healthcare costs. He apparently highlighted type 2 diabetes – which can be brought on by an unhealthy diet, being overweight, and lack of exercise, although some people are genetically disposed to it – and is quoted in the Huffington Post as saying, 'If you want to have doughnuts for breakfast, lunch and dinner, fine, but there's a cost'.
At first glance, the idea that those who lead unhealthy lifestyles should bear the burden of their own resulting health problems seems fair. But there are serious problems with this idea. Let us consider two of them. Continue reading →
On November 6th, while most of the world focused on the United States' presidential election, the citizens of Los Angeles County confronted a slightly more explicit question at the voting booth: should porn performers be required to wear condoms while filming? Nearly fifty-six percent of LA county voters said yes. Continue reading →
When Binta Jobe [not her real name] was nine, she was taken into the Gambian bush where she suffered female genital mutilation at the hands of an amateur surgeon without anaesthetic. She is now a 23-year-old asylum seeker in the UK, trying to prevent her three-year-old daughter from a similar experience if she is forcibly returned to the Gambia. Continue reading →
Podcast of Uehiro Seminar given by Gwen Adshead
'The Bad Seed' was a popular 1954 novel in which a well brought up young girl begins to manifest behaviour characteristic of a criminal psychopath. As the plot develops, the girl's mother discovers that her own mother was a serial killer who was executed when she was herself a girl.
In this Uehiro Seminar, Gwen Adshead Forensic Psychotherapist at Bluebird House & Broadmoor Hospital explores this idea of the 'bad seed' using research into those who exhibit 'callous and unemotional' traits when children. In contrast to the theme of the novel, Dr Adshead points out that the causes of behaviour even for individuals who exhibit violent behaviour consistently both as children and adults are mediated by factors other than genetic predisposition. For example, there is a relationship between childhood physical abuse and neglect and delinquency and violence in later life. Dr Adshead argues that a more constructive approach to addressing violence in society might be to explore causes such as parenting rather than focusing disproportionate attention on the children. The lecture and discussion that follows raise fundamental issues to do with our attitude to genetic and other predictors of subsequent violence in adult life, the question of how resources should be allocated to address such problems, and how blame fits within this research framework.
You can listen to the podcast of the seminar here
Paul Troop and Sabrina Stewart
On Wednesday morning, several media outlets, including the Irish Times, the BBC, and the CBC, reported that Savita Halappanavar, a Hindu woman living in Ireland, had died from blood poisoning after doctors in a Galway hospital refused her request to abort the fetus that she was told she was miscarrying.
We do not yet know all of the facts of the case. Several inquires are being conducted. We do, however, learn this much from media reports. Ms. Halappanavar was 17 weeks pregnant. On October 21, she presented at a hospital in Galway complaining of back pain. Upon examination, she was told that she was having a miscarriage, and that it would soon be over. This did not happen. Instead, her ordeal continued for several more days. After a full day of "severe" pain carrying a child that was certain to die, Ms. Halappanavar asked that her pregnancy be terminated. Physicians were reported to have said that since they were in Ireland and the fetus had a heart beat they could not terminate the pregnancy. (In Ireland, the unborn have a constitutional right to life.) Ms. Halappanavar continued to suffer for a further two and a half more days before her fetus died and was removed from her body. By this time she was quite ill. She was then transferred to an Intensive Care Unit but she did not recover, dying some days later on October 28of complications due to septicaemia (blood poisoning.) Continue reading →
Sabrina Stewart is a student at Dartmouth College who is visiting the Uehiro Centre this term.
Newspaper health sections yield many headlines and subsequent articles that do not accurately reflect the research publication that is being reported. One article, "Boozing after a heart attack could help you live longer, research reveals" discusses the finding that drinking after a heart attack is beneficial. The headline is at best misleading, and at worse deceptive: the article fails to report the specific frequency of consumption required to derive the stated benefits, the fact that the benefits would depend on the severity of the myocardial infarction, and that any benefit would be lost by intermittent binge drinking. The publication was significant as it was a large-scale study that complemented previous findings, and could therefore be expected to have an effect on people's health decisions.
This article was taken from the Metro, a free newspaper distributed in London and the South-East of England targeted at commuters. The self-reported estimated readership is just under two million people. If this figure is accurate, The Metro has the third largest newspaper audience in the United Kingdom, after the Sun and the Daily Mail. This capacity to influence such a significant audience comes with responsibility.
There are various Codes of Practice governing the actions of researchers and doctors to ensure unbiased and truthful information is provided to patients and clinical trial participants in order to obtain informed consent. Why is health reporting not subject to the same strict regulation when it carries similar implications for shaping people's choices regarding their well-being?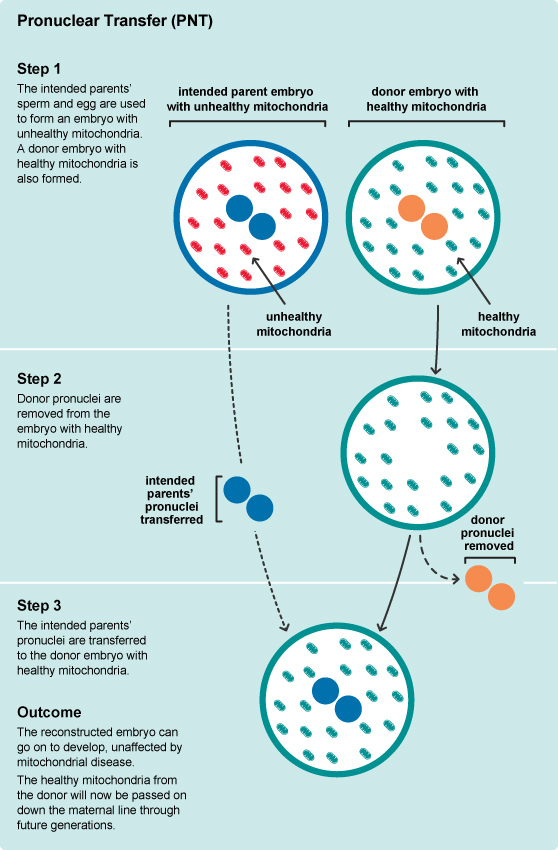 The agency that regulates fertility treatment and embryo research in the UK, the Human Fertilisation and Embryology Authority (HFEA), has asked for public views on two possible new forms of fertility treatment that promise to prevent the transmission of mitochondrial diseases to children. These diseases can be extremely severe, leading to (among other things) diabetes, deafness, progressive blindness, seizures, dementia, muscular dystrophy, and death.