Written by Alex Polyakov, The University of Melbourne and Julian Savulescu, University of Oxford
One glaring exception appears to be the majority of western pharmaceutical companies that continue to supply medicines and equipment.
There is growing political and consumer pressure on these companies to take steps to join the concerted efforts designed to pressure the
Russian government to stop the war in Ukraine. Continue reading →
Written by:  Anantharaman Muralidharan, G Owen Schaefer, Julian Savulescu
Cross-posted with the Journal of Medical Ethics blog
Consider the following kind of medical AI. It consists of 2 parts. The first part consists of a core deep machine learning algorithm. These blackbox algorithms may be more accurate than human judgment or interpretable algorithms, but are notoriously opaque in terms of telling us on what basis the decision was made. The second part consists of an algorithm that generates a post-hoc medical justification for the core algorithm. Algorithms like this are already available for visual classification. When the primary algorithm identifies a given bird as a Western Grebe, the secondary algorithm provides a justification for this decision: "because the bird has a long white neck, pointy yellow beak and red eyes". The justification goes beyond just a description of the provided image or a definition of the bird in question, and is able to provide a justification that links the information provided in the image to the features that distinguish the bird. The justification is also sufficiently fine grained as to account for why the bird in the picture is not a similar bird like the Laysan Albatross. It is not hard to imagine that such an algorithm would soon be available for medical decisions if not already so. Let us call this type of AI "justifying AI" to distinguish it from algorithms which try, to some degree or other, to wear their inner workings on their sleeves.
Possibly, it might turn out that the medical justification given by the justifying AI sounds like pure nonsense. Rich Caruana et al present a  case whereby asthmatics were deemed less at risk of dying by pneumonia. As a result, it prescribed less aggressive treatments for asthmatics who contracted pneumonia. The key mistake the primary algorithm made was that it failed to account for the fact that asthmatics who contracted pneumonia had better outcomes only because they tended to receive more aggressive treatment in the first place. Even though the algorithm was more accurate on average, it was systematically mistaken about one subgroup. When incidents like these occur, one option here is to disregard the primary AI's recommendation. The rationale here is that we could hope to do better than by relying on the blackbox alone by intervening in cases where the blackbox gives an implausible recommendation/prediction. The aim of having justifying AI is to make it easier to identify when the primary AI is misfiring. After all, we can expect trained physicians to recognise a good medical justification when they see one and likewise recognise bad justifications. The thought here is that the secondary algorithm generating a bad justification is good evidence that the primary AI has misfired.
The worry here is that our existing medical knowledge is notoriously incomplete in places. It is to be expected that there will be cases where the optimal decision vis a vis patient welfare does not have a plausible medical justification at least based on our current medical knowledge. For instance, Lithium is used as a mood stabilizer but the reason why this works is poorly understood. This means that ignoring the blackbox whenever a plausible justification in terms of our current medical knowledge is unavailable will tend to lead to less optimal decisions. Below are three observations that we might make about this type of justifying AI.
Written by Dominic Wilkinson, Alberto Giubilini, and Julian Savulescu
The UK government recently announced a dramatic U-turn on the COVID vaccine mandate for healthcare workers, originally scheduled to take effect on April 1 2022. Health or social care staff will no longer need to provide proof of vaccination to stay employed. The reason, as health secretary Sajid Javid made clear, is that "it is no longer proportionate".
There are several reasons why it was the right decision at this point to scrap the mandate. Most notably, omicron causes less severe disease than other coronavirus variants; many healthcare workers have already had the virus (potentially giving them immunity equivalent to the vaccine); vaccines are not as effective at preventing re-infection and transmission of omicron; and less restrictive alternatives are available (such as personal protective equipment and lateral flow testing of staff). Continue reading →
Written by Dominic Wilkinson, Jonathan Pugh and Julian Savulescu
Time is running out for National Health Service staff in England who have not had a COVID vaccine. Doctors and nurses have until Thursday, February 3, to have their first jab. If they don't, they will not be fully immunised by the beginning of April and could be dismissed.
But there are reports this week that the UK government is debating whether to postpone the COVID vaccine mandate for healthcare staff. Would that be the right thing to do?
Vaccine requirements are controversial and have led to worldwide protests. Those in favour have argued that it is necessary and proportionate to protect vulnerable patients by making vaccination a condition of employment for healthcare staff. But critics have argued that vaccine mandates amount to a violation of human rights. Continue reading →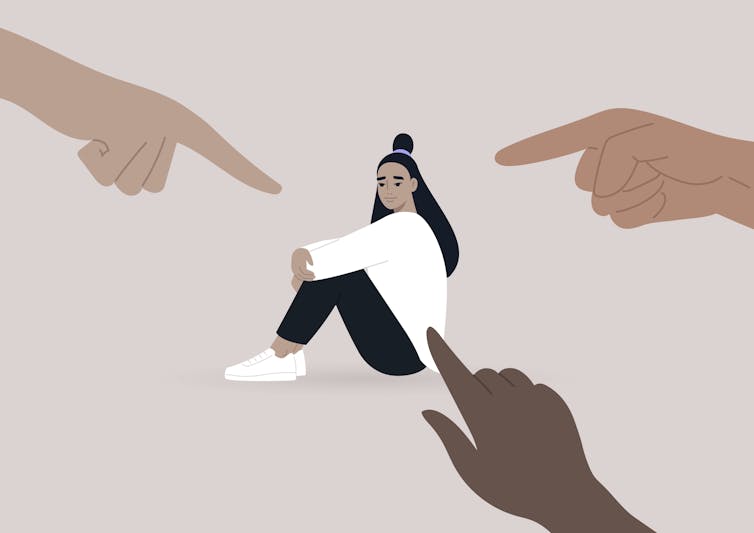 Julian Savulescu, University of Oxford and Alberto Giubilini, University of Oxford
Unvaccinated mother, 27, dies with coronavirus as her father calls for fines for people who refuse jab.
This is the kind of headline you may have seen over the past year, an example highlighting public shaming of unvaccinated people who die of COVID-19.
One news outlet compiled a list of "notable anti-vaxxers who have died from COVID-19".
There's shaming on social media, too. For instance, a whole Reddit channel is devoted to mocking people who die after refusing the vaccine.
COVID-19 vaccinations save lives and reduce the need for hospitalisation. This is all important public health information.
Telling relatable stories and using emotive language about vaccination sends a message: getting vaccinated is good.
But the problem with the examples above is their tone and the way unvaccinated people are singled out. There's also a murkier reason behind this shaming.
Written by Julian Savulescu, Dominic Wilkinson, and Jonathan Pugh
As coronavirus infections surge across Europe, and with the threat of the omicron variant looming, countries are imposing increasingly stringent pandemic controls.
In Austria, citizens will be subject to a vaccine mandate in February. In Greece, meanwhile, a vaccine mandate will apply to those 60 and over, starting in mid-January.
Both mandates allow medical exemptions, and the Greek mandate allows exemptions for those who have recently recovered from COVID.
Other countries, including Germany, may soon follow suit, and the European Commission has raised the need to discuss an EU vaccine mandate. In contrast, the UK health secretary, Sajid Javid, has been clear that the UK will not consider a general mandatory vaccination policy. Continue reading →
Written by: Alberto Giubilini, Julian Savulescu
*A version of this blogpost appears as an article in the Spectator*
Governments are at it again. It has become an involuntary reflex. A few days after South Africa sequenced and identified the new Omicron variant, England placed some South African countries back in the 'red list'. Quarantine has been imposed on all incoming passengers until they show evidence of a negative test. Some European countries banned incoming flights from that region. Switzerland introduced quarantine for passengers arriving from the UK, but also banned all the unvaccinated passengers from the UK from entering the country. The domino effect we have seen so many times during this pandemic has kicked in again.
Is closing borders ethical? We don't think so. At the beginning of the pandemic, border closures were, arguably, too little too late. Angela Merkel sealed off Germany's borders in March 2020 less than a week after having declared that, in the name of solidarity, EU countries should not isolate themselves from one another, as the situation was out of control and extremely uncertain. The UK was also criticized for closing borders and locking down too late. In fact, countries that closed borders relatively early, such as Australia and New Zealand, fared better in terms of keeping the virus at bay.
However, we are at a very different stage of the pandemic now.  The disease is endemic, vaccination has been introduced, and we have treatments available. Why do we think the same measures that might have been appropriate in March 2020 are the best response in this very different context?
Written by: Jonathan Pugh, Dominic Wilkinson, and Julian Savulescu
Some countries already have vaccine passport schemes to travel or enter certain public spaces. The passports treat those who have had vaccines – or have evidence of recent infection – differently from those who have not had a vaccine. But the proposed selective lockdowns would radically increase the scope of restrictions for the unvaccinated.
Lockdowns can be ethically justified where they are necessary and proportionate to achieve an important public health benefit, even though they restrict individual freedoms. Whether selective lockdowns are justified, though, depends on what they are intended to achieve. Continue reading →
Vaccine Passports as a Human Right
The main way to control the pandemic, as we have all painfully found out, has been to restrict the movement of people. This stops people getting infected and infecting others. It is the justified basis for quarantine of people who have been in high risk areas, lockdown, isolation and vaccine passports.
It is the foundational ethical principle of any liberal society like Australia that the State should only restrict liberty if people represent a threat of harm to others, as John Stuart Mill famously articulated. This harm can take two forms. Firstly, it can be direct harm to other people.
Imagine you are about to board a plane (remember that…) Authorities have reason to believe you are carrying a loaded gun. They are entitled to detain you. But they are obliged to investigate whether you have a gun. And if you are not carrying a gun, they are obliged to free you and allow you to board your plane. To continue to detain you without just cause would be false imprisonment.
Having COVID is like carrying a loaded gun that can accidentally go off at any time. But if vaccines remove the bullets from the gun, they are not a risk to other people and should be free.
Vaccine passports are thus a human rights issue under conditions of lockdown like Melbourne and Sydney are experiencing (the situation is different in Europe where lockdowns have been relaxed), if vaccines reduce transmission to other people sufficiently. Vaccination removes the authority and justification to restrict people's liberty.
It is not discrimination to continue to restrict the liberty of the unvaccinated – it is just like quarantining those who have entered from high risk countries overseas. Their liberty is restricted because they are a threat to others. Discrimination occurs when people are treated differently on morally irrelevant grounds – differential treatment on the basis of differential threat is morally relevant. For example, to enter some countries, travellers must be vaccinated against Yellow Fever and receive a card as a vaccine passport. No card, no travel.
Are COVID Vaccine Passports a Human Right?
Do COVID vaccines fit into this justification for vaccine passports?