Written by Gabriel De Marco
Suppose that two patients are in need of a complicated, and expensive, heart surgery. Further suppose that they are identical in various relevant respects: e.g., state of the heart, age, likelihood of success of surgery, etc. However, they differ on one feature: for one of these patients, call her Blair, the need for the heart surgery is due to her lifestyle (suppose she was a smoker), whereas the other, Ingrid, has not had this lifestyle, nor any other that would lead to the need for the surgery.
Some people think that:
We can be responsible and blameworthy for our actions and their consequences.
Some of those people also think that:
We can, or should, take this into account when making decisions about how to distribute healthcare resources.
For the purposes of this blog post, let's assume 1 and 2 are true. Commonly, it is thought that, in order to be blameworthy for something, one must be responsible for it. Further, it is commonly thought that, whatever the appropriate response is to blameworthiness for something or other (assuming that there is an appropriate response), it will be negative in some sense or other. Now further suppose that Blair is blameworthy for her illness. Given 1 and 2, this fact about Blair, combined with the fact that Ingrid is innocent with regard to her illness, suggests that, at least in some contexts, we should treat them differently (or at least it would be permissible to do so). Call a healthcare policy that adopts, and reflects, 1 and 2 a Responsibility-Sensitive Policy, or RSP for short.
Should we use genetic testing to choose what type of children to bring into the world, and if so, how should we choose? Is it acceptable to choose a deaf child? Should we choose our children on the basis of non-disease traits such as intelligence if that were possible ? Does genetic selection put too much pressure on prospective parents? In this interview with Katrien Devolder (Oxford Uehiro Centre for Practical Ethics), Professor Julian Savulescu, director of the Oxford Uehiro Centre for Practical Ethics, defends his controversial view that we should select those children, from among the children we could have, that will have the best chance at the best life.
[This interview is audio only]
In this interview with Katrien Devolder, Peter Singer defends the Global Kidney Exchange (GKE) programme, which matches donor–recipient pairs across high-income, medium-income, and low-income countries. The GKE has been accused of being a form of organ trafficking, exploiting the poor, and involving coercion and commodification of donors. Peter Singer refutes these claims, and argues that the GKE promotes global justice and reduces the potential for people in need of kidneys in low-income and medium-income countries to be exploited.
Written by Ben Davies
Many readers of the Practical Ethics blog will remember the astounding announcement last November by Chinese researcher He Jiankui that he had used CRISPR-cas9 technology to edit into two healthy embryos a resistance to developing HIV, later resulting in the birth of twins Lulu and Nana. As Professor Julian Savulescu expressed in several posts on this blog, the announcement spurred widespread ethical condemnation.
The first in this year's series of St Cross Special Ethics seminars saw the University of Otago's Professor Jing-Bao Nie (who is also currently a 2019/20 Fellow of Durham University's Institute of Advanced Study) get behind the headlines to consider the political and social context of He's experiment. At the core of Professor Nie's presentation was that the decision to engage in genetic editing of healthy embryos could neither be written off as the act of a 'rogue researcher', nor dismissed as merely the product of a uniquely Chinese disregard for ethics, as some have argued.
Written by Ben Davies
Last week saw the launch of a campaign (run by the group Vegetarian For Life) that seeks to ensure that older people in care who have ethical commitments to a particular diet are not given food that violates those commitments. This is, as the campaign makes clear, a particularly pressing issue for those who have some form of dementia who may not be capable of expressing their commitment.
Those behind the campaign are quite right to note that people's ethical beliefs should not be ignored simply because they are in care, or have a cognitive impairment (see a Twitter thread where I discuss this with a backer of the campaign). But the idea that one's dietary ethics must be 'for life' got me thinking about a more well-established debate about Advance Directives. (I should stress that what I say here should not be taken to be imputing any particular motivation or philosophical commitments to those behind the campaign itself.)
Professor Dominic Wilkinson, Professor of Medical Ethics, University of Oxford. Consultant Neonatologist
This morning, the High Court judgement around medical treatment for five-year old Tafida Raqeeb was published. Tafida sustained severe brain damage from bleeding in the brain eight months ago. Her parents wish to take her to a hospital in Italy to continue life support, while the doctors at the London hospital caring for her believe that it would be best to stop life support and allow Tafida to die.
Justice MacDonald concluded today that life sustaining treatment for Tafida must continue and her parents should be allowed to take her to Italy. Continue reading →

Informed consent, in practice, is a bad joke. It's a notion created by lawyers, and like many such notions it bears little relationship to the concerns that real humans have when they're left to themselves, but it creates many artificial, lucrative, and expensive concerns.
Of course there are a few clinical situations where it is important that the patient reflects deeply and independently on the risks and benefits of the possible options, and there are a few people (I hope never to meet them: they would be icily un-Falstaffian) whose sole ethical lodestone is their own neatly and indelibly drafted life-plan. But those situations and those people are fortunately rare. Continue reading →
Should neurotechnologies that affect emotional regulation, empathy and moral judgment, be used to prevent offenders from reoffending? Is it morally acceptable to offer more lenient sentences to offenders in return for participation in neuroscientific treatment programs? Or would this amount too coercion? Is it possible to administer neurointerventions as a type of punishment? Is it permissible for physicians to administer neurointerventions to offenders? Is there a risk that the dark history of compulsory brain interventions in offenders will repeat itself? In this interview Dr Katrien Devolder (Oxford), Professor Jesper Ryberg (Roskilde) argues that there are no good in-principle objections to using neurointerventions to prevent crime, BUT (!) that given the way criminal justice systems currently function, we should not currently use these interventions…
Written by Rebecca Brown, Stephanie Tierney, Amadea Turk.
This post was originally published on the NIHR School for Primary Care Research website which can be accessed here. 
Health problems often co-occur with social and personal factors (e.g. isolation, debt, insecure housing, unemployment, relationship breakdown and bereavement). Such factors can be particularly important in the context of non-communicable diseases (NCDs), where they might contribute causally to disease, or reduce that capacity of patients to self-manage their conditions (leading to worse outcomes). This results in the suffering of individuals and a greater burden being placed on healthcare resources.
A potential point of intervention is at the level of addressing these upstream contributors to poor health. A suggested tool – gaining momentum amongst those involved in health policy – is the use of 'social prescribing'. Social prescribing focuses on addressing people's non-medical needs, which it is hoped will subsequently reduce their medical needs. In primary care, social prescribing can take a range of forms. For example, it may involve upskilling existing members of staff (e.g. receptionists) to signpost patients to relevant local assets (e.g. organisations, groups, charities) to address their non-medical needs. It is also becoming common for GPs to refer patients (or people may self-refer) to a link worker (sometimes called a care navigator) who can work with them to identify their broader social and personal needs. Together, they then develop a plan for how those needs could be met through engagement with activities, services or events in the local community. The resources that link workers direct people towards are often run by voluntary organisations and might include, among other things, sports groups, arts and crafts, drama, gardening, cookery, volunteering, housing advice, debt management, and welfare rights.
Supporting people to establish more stable and fulfilling social lives whilst at the same time reducing healthcare costs seems like a win-win. However, it is essential to evaluate the justifications for the introduction of social prescribing schemes, including their effectiveness. This raises a number of complicating factors, including some questions that require not just a consideration of empirical evidence, but a commitment to certain philosophical and ethical positions.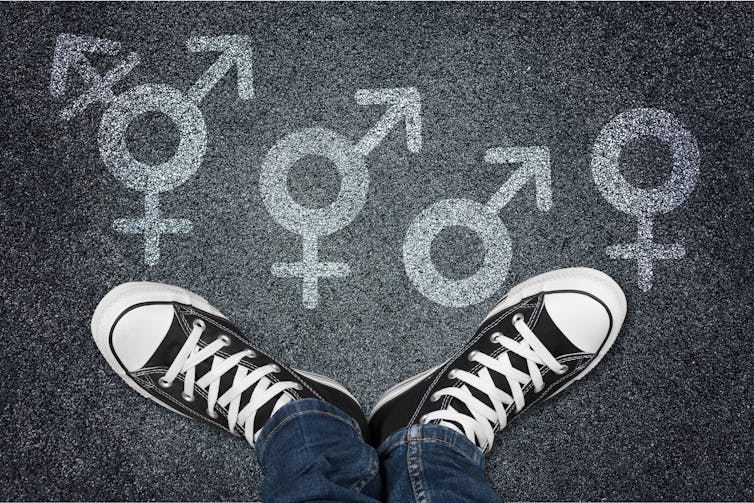 Dominic Wilkinson, University of Oxford and Julian Savulescu, University of Oxford
A recent Newsnight programme reported that a major UK puberty-blocking trial is under investigation. Doctors at a London clinic provided drugs to block the development of puberty in young adolescents with gender dysphoria, a condition where the person experiences discomfort or distress because of a mismatch between their biological sex and gender identity.
The trial began in 2011. A year after starting the drugs, the young people were apparently more likely to report thoughts of wanting to harm themselves. The worry is that perhaps the treatment they received was causing them to have these thoughts of self-harm and suicide.
One of the criticisms of the study, put forward on Newsnight, is the design. The study involved giving the drugs to a group of adolescents and monitoring the effects. However, there was no control group, that is, adolescents who did not receive the drugs. This makes it hard to be sure whether the rates of self-harming thoughts are related to the drugs, would have happened anyway, or perhaps were lower than they would have been without treatment. Continue reading →