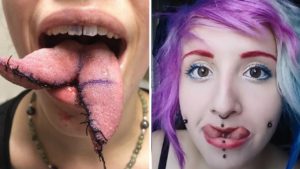 By Charles Foster
Image: 'Split tongue: procedure, safety, result': Tattoo World: Standard YouTube licence.
The appellant in R v BM was a tattooist and body piercer who also engaged in 'body modification'. He was charged with three offences of wounding with intent to do grievous bodily harm. These entailed: (a) Removal of an ear; (b) Removal of a nipple; and (c) division of a tongue so that it looked reptilian. In each case the customer had consented. There was, said the appellant, no offence because of this consent.
Where an adult decides to do something that is not prohibited by the law, the law will generally not interfere.
In Schloendorff v Society of New York Hospital (1914) 105 NE 92 Cardozo J said:
"Every human being of adult years and sound mind has a right to determine what shall be done with his own body."[1]
This principle has been fairly consistently recognised in the English law.[2] Thus, for instance, In In re T (Adult: Refusal of Treatment, Butler-Sloss LJ cited with approval this section of the judgment of Robins JA in Malette v Shulman[3]:
'The right to determine what shall be done with one's own body is a fundamental right in our society. The concepts inherent in this right are the bedrock upon which the principles of self-determination and individual autonomy are based. Free individual choice in matters affecting this right should, in my opinion, be accorded very high priority.' Continue reading →
By Dominic Wilkinson
Disputes about medical treatment for seriously ill children are in the news again. Last week, the High Court in London decided in favour of withdrawal of life support from a brain damaged 11-month old infant, Isaiah Haastrup, against the wishes of his parents (an appeal is pending later this month). This week, the High court, sitting in Liverpool, is hearing evidence in the case of 20-month-old Alfie Evans, an infant with an undiagnosed degenerative brain condition.
In both of these cases, as in the controversial Charlie Gard case from last year, medical evidence from UK professionals has been overwhelmingly in favour of withdrawing life support and allowing the children to die. However, in each case parents have sought and have obtained evidence from overseas medical specialists who have testified in favour of continued treatment. In the Evans case, as in the earlier Gard case, experts from the Vatican hospital in Rome have apparently offered ongoing treatment.
This suggests several questions. First, why is there a difference between the views of specialists in this country and those overseas? Second, if there are differences in expert opinion about treatment for a child, should courts give any more weight to the views of UK experts than those from overseas? Is there a valid reason to discount the international second opinion?
Written by Michael S. Dauber, MA
In 2015, Sergio Canavero announced that he would perform a therapeutic head transplant procedure on a human subject by December 2017. Since then, he has recruited the assistance of surgeon Xiaoping Ren and switched from Valery Spiridonov to an anonymous Chinese patient whose medical condition remains undisclosed. The procedure, which consists of removing the patient's head and attaching it to a decapitated donor body, is expected to be carried out in China, will cost tens of millions of dollars, and will require dozens of surgeons. The procedure returned to international attention this week when Canavero announced he had successfully performed the procedure on a human cadaver, and said that the announcement of an official procedure date was "immanent." Continue reading →
Novel gene editing technologies, such as CRISPR/Cas9, allow scientists to make very precise changes in the genome of human embryos. This could prevent serious genetic diseases in future children. But the use of gene editing in human embryos also raises questions: Is it safe? Should prospective parents be free to choose the genetic characteristics of their children? What if they want to use gene editing to have a deaf child, or a child with fair skin and blue eyes? Should gene editing be regulated globally, or should each country have their own legislation? In this interview with Katrien Devolder, John Harris (Professor Emeritus, University of Manchester &  Visiting Professor in Bioethics, King's College London) answers these and other questions, and defends the view that we have the strongest moral obligation to gene-edit human embryos, not only to prevent disease but also for the purpose of enhancement.
Should we pay people to quit smoking or lose weight? Would paying them amount to coercion?  Is there a risk that if we start paying for healthy behaviour, its value will be corrupted? Is paying unhealthy people unfair to those who already lead healthy life styles? In this video interview (with Katrien Devolder),  Dr Rebecca Brown from the Oxford Uehiro Centre for Practical Ethics responds to these and other concerns and defends the use of financial incentives as a tool for health promotion.
Julian Savulescu
Womb transplants are again in the news as Richard Paulson, president of the American Society for Reproductive Medicine (ASRM), said there was no reason to believe that the treatment could not work for transgender women at recent conference in Texas.
The ethical issues of performing a womb transplant for a transgender women are substantially the same as the issues facing ciswomen.
The most important ethical consideration in the UK for a womb transplant is distributive justice. Limited health care resources should not be used for womb transplants because there are more cost effective methods of assisted reproduction available. However if an individual wishes to use their own funds for such a procedure, they should be made aware of the risks (which are very significant), and the alternatives, such as surrogacy.
The best interests of the future child is another critical consideration. The moral status of the fetus is a topic of much debate. However, even if we consider abortion to be acceptable, and deny that the fetus has a moral status that accords it its own interests, in cases where the mother plans to carry the pregnancy to term, the fetus represents the future child who does of course have interests (albeit that they are to be weighed against the mother's own interests, and that the mother is responsible for making decisions on their behalf).
Introduction
In a series of five harrowing judgments, the President of the Family Division, Sir James Munby, expressed his frustration with the system that endangered the life of a child who was the subject of care proceedings. He was forthright. Some of his words were quoted in the press. A headline in the Guardian read: 'Judge warns of 'blood on our hands' if suicidal girl is forced out of secure care.' 'Why won't NHS help?' asked the Sun. 'State will have 'blood on its hands' if suicidal teen doesn't get hospital bed soon, top judge warns.'
While the judge's comments seemed generally to be applauded by the media, not all were happy. Here is a typical example of a commentator who was not:
'To use a rhetorical outburst in one case to make broader political points about the state of public services jeopardises the principle of judicial separation. In saying that there are occasions when doing right "includes speaking truth to power", and openly condemning the lack of adequate public resources, is to leave the respected realm of judicial neutrality and to enter the political fray. Language and tone matter. Even if the diagnosis is fair, for a judge to use this tactic is, well, pretty ill-judged.' Continue reading →
Recent newspaper reports covered the story of Jemima Layzell, a 13 year old who died suddenly of a brain aneurysm in 2012. According to reports, shortly before Jemima died, the subject of organ donation had come up in discussions with her family, prompted by the death of a family friend in a car accident. As a result, Jemima's family were confident she would have wanted her organs to be donated. Subsequently, Jemima's kidneys, liver, lungs, pancreas, small bowel and heart were transplanted. This meant that a record eight people's lives were saved, prolonged or dramatically enhanced as a consequence of Jemima's and her family's decision.
Decisions about organ donation are extremely difficult. Family members are approached about the prospect of donating their loved one's organs at a time of extraordinary distress. Uncertainty about the wishes of the person who has died, along with confusion or scepticism about brain death criteria, religious or other spiritual beliefs about bodily integrity, fear about how donated organs will be used, and inability or unwillingness to engage with any form of decision-making can result in the refusal of family members to allow organs to be donated. In England, family members can prevent donation even when the individual has expressed a wish to donate her organs, for instance, by signing up to the organ donor register. Continue reading →
The issue of the legality in England and Wales of physician-assisted suicide has recently been revisited by the Divisional Court. Judgment is awaited. The judgment of the Court of Appeal, granting permission for judicial review, is here.
The basic issue before the Court of Appeal was the same as that in Nicklinson v Ministry of Justice and R (Purdy) v DPP: does the right to determine how one lives one's private life (protected by Article 8 of the European Convention on Human Rights)  confer a right to have an assisted death?
Many factors have been said to be relevant to decisions about assisted dying. They include intractable pain (rather a weak criterion, given modern palliative methods), hopeless prognosis – likely to result in death in a short time –  and simple autonomy ('It's my right to determine where, when, and in what circumstances I end my life, and that's an end of the matter'). One factor, commonly in the minds of patients asking for help in ending their lives, but rarely mentioned by advocates of assisted dying, is that the patient feels that she is a burden to her family and carers. Continue reading →
Does Female Genital Mutilation Have Health Benefits? The Problem with Medicalizing Morality
By Brian D. Earp (@briandavidearp)
* Please note: this piece was originally published in Quillette Magazine.
Four members of the Dawoodi Bohra sect of Islam living in Detroit, Michigan have recently been indicted on charges of female genital mutilation (FGM). This is the first time the US government has prosecuted an "FGM" case since a federal law was passed in 1996. The world is watching to see how the case turns out.
A lot is at stake here. Multiculturalism, religious freedom, the limits of tolerance; the scope of children's—and minority group—rights; the credibility of scientific research; even the very concept of "harm."
To see how these pieces fit together, I need to describe the alleged crime.