By Jonathan Pugh
The below is a slightly extended version of my two 5min presentations at the European Youth Event 2018, at the European Parliament in Strasbourg. I was asked to present on the following questions:
What are the ethical issues surrounding gene-editing, particularly with respect to eradicating mosquitoes?
Should the EU legislate on gene-editing mosquitoes?
By Mackenzie Graham
Crosspost from The Conversation. Click here to read the full article.
The development of accessible treatment options for pregnant women is a significant public health issue. Yet, very few medications are approved for use during pregnancy. Most drug labels have little data to inform prescribing decisions. This means that most medicines taken during pregnancy are used without data to guide safe and effective dosing.
The United States Food and Drug Administration recently published draft ethical guidelines for how and when to include pregnant women in drug development clinical trials. These guidelines call for "the judicious inclusion of pregnant women in clinical trials and careful attention to potential foetal risk". The guidelines also distinguish between risks that are related to the research and those that are not, and the appropriate level of risk to which a foetus might be exposed. Continue reading →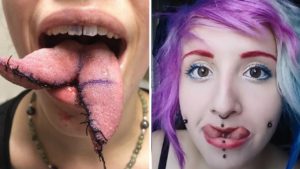 By Charles Foster
Image: 'Split tongue: procedure, safety, result': Tattoo World: Standard YouTube licence.
The appellant in R v BM was a tattooist and body piercer who also engaged in 'body modification'. He was charged with three offences of wounding with intent to do grievous bodily harm. These entailed: (a) Removal of an ear; (b) Removal of a nipple; and (c) division of a tongue so that it looked reptilian. In each case the customer had consented. There was, said the appellant, no offence because of this consent.
Where an adult decides to do something that is not prohibited by the law, the law will generally not interfere.
In Schloendorff v Society of New York Hospital (1914) 105 NE 92 Cardozo J said:
"Every human being of adult years and sound mind has a right to determine what shall be done with his own body."[1]
This principle has been fairly consistently recognised in the English law.[2] Thus, for instance, In In re T (Adult: Refusal of Treatment, Butler-Sloss LJ cited with approval this section of the judgment of Robins JA in Malette v Shulman[3]:
'The right to determine what shall be done with one's own body is a fundamental right in our society. The concepts inherent in this right are the bedrock upon which the principles of self-determination and individual autonomy are based. Free individual choice in matters affecting this right should, in my opinion, be accorded very high priority.' Continue reading →
Written by Hazen Zohny 
* Please note that this essay was originally published in Quillette Magazine.
The Discomforts of Being a Utilitarian 
I recently answered the nine questions that make up The Oxford Utilitarianism Scale. My result: "You are very utilitarian! You might be Peter Singer."
This provoked a complacent smile followed by a quick look around to ensure that nobody else had seen this result on my monitor. After all, outright utilitarians still risk being thought of as profoundly disturbed, or at least deeply misguided. It's easy to see why: according to my answers, there are at least some (highly unusual) circumstances where I would support the torture of an innocent person or the mass deployment of political oppression.
Choosing the most utilitarian responses to these scenarios involves great discomfort. It is like being placed on a debating team and asked to defend a position you abhor. The idea of actually torturing individuals or oppressing dissent evokes a sense of disgust in me – and yet the scenarios in these dilemmas compel me not only to say such acts are permissible, they're obligatory. Biting bullets is almost always uncomfortable, which goes a long way in explaining the lack of popularity utilitarianism enjoys. But this discomfort largely melts away once we recognize three caveats relevant to the Oxford Utilitarianism Scale and to moral dilemmas more generally.
The first of these relates to the somewhat misleading nature of these dilemmas. They are set up to appear as though you are being asked to imagine just one thing, like torturing someone to prevent a bomb going off, or killing a healthy patient to save five others. In reality, they are asking two things of you: imagining the scenario at hand, and imaging yourself to be a fundamentally different being – specifically, a being that is able to know with certainty the consequences of its actions.
Written by Ben Bambery and Julian Savulescu
Rosie Anderson, aged 8, died from influenza infection last Friday the 15th of September. Her tragic death followed the recent death of young father, Ben Ihlow, aged 30, who died suddenly on Father's Day this year, also from influenza infection.
Contrary to public perception, "the flu" is a deadly disease. In Victoria this year, at least 97 people have lost their lives to influenza. The majority of these deaths are amongst the elderly, who are particularly vulnerable to severe disease, but as made painfully clear by Rosie and Ben's deaths, the flu kills young people too. Continue reading →
Does Female Genital Mutilation Have Health Benefits? The Problem with Medicalizing Morality
By Brian D. Earp (@briandavidearp)
* Please note: this piece was originally published in Quillette Magazine.
Four members of the Dawoodi Bohra sect of Islam living in Detroit, Michigan have recently been indicted on charges of female genital mutilation (FGM). This is the first time the US government has prosecuted an "FGM" case since a federal law was passed in 1996. The world is watching to see how the case turns out.
A lot is at stake here. Multiculturalism, religious freedom, the limits of tolerance; the scope of children's—and minority group—rights; the credibility of scientific research; even the very concept of "harm."
To see how these pieces fit together, I need to describe the alleged crime.
By Charles Foster
The Lord Chancellor recently announced that the discount rate under the Damages Act 1996 would be decreased from 2.5% to minus 0.75%. This sounds dull. In fact it is financially tectonic, and raises some important ethical questions.
In the law of tort, damages are intended to put a claimant in the position that she would have been in had the tort not occurred. A claimant who, as result of negligence on the part of a defendant, suffers personal injury, will be entitled to, inter alia, damages representing future loss of earnings, the future cost of care and, often, private medical and other treatment.
Where damages are awarded as a lump sum, there is a risk of over-compensating a claimant. Suppose that the claimant is 10 years old at the time of the award, and will live for 70 years, and the future care costs are £1000 a year for life. Should the sum awarded be £1000 x 70 years = £70,000? (70, here, is what lawyers call the 'multiplier'). It depends on the assumption one makes about what the claimant will do with the lump sum. If she invests it in equities that give her (say) an annual 5% return, £70,000 would over-compensate her.
In the case of Wells v Wells1, the House of Lords decided that, to avoid the risk of under-compensation, claimants should be treated as risk-averse investors. It should be assumed, said the House, that the discount rate should be fixed by reference to the return on index-linked gilts – Government securities. The rate was 2.5% from 2001 until February of this year. The reasons for the change to minus 0.75% are here.  Continue reading →
Written by Angeliki Kerasidou & Ruth Horn, The Ethox Centre, Nuffield Department of Population Health, University of Oxford
Recently, a number of media reports and personal testimonies have drawn attention to the intense physical and emotional stress to which doctors and nurses working in the NHS are exposed on a daily basis. Medical professionals are increasingly reporting feelings of exhaustion, depression, and even suicidal thoughts. Long working hours, decreasing numbers of staff, budget cuts and the lack of time to address patients' needs are mentioned as some of the contributing factors (Campbell, 2015; The Guardian, 2016). Such factors have been linked with loss of empathy towards patients and, in some cases, with gross failures in their care (Francis, 2013). Continue reading →
By Brian D. Earp (@briandavidearp)
* Note: this article was first published online at Quillette magazine.
Introduction
Alice Dreger, the historian of science, sex researcher, activist, and author of a much-discussed book of last year, has recently called attention to the loss of ambivalence as an acceptable attitude in contemporary politics and beyond. "Once upon a time," she writes, "we were allowed to feel ambivalent about people. We were allowed to say, 'I like what they did here, but that bit over there doesn't thrill me so much.' Those days are gone. Today the rule is that if someone—a scientist, a writer, a broadcaster, a politician—does one thing we don't like, they're dead to us."
I'm going to suggest that this development leads to another kind of loss: the loss of our ability to work together, or better, learn from each other, despite intense disagreement over certain issues. Whether it's because our opponent hails from a different political party, or voted differently on a key referendum, or thinks about economics or gun control or immigration or social values—or whatever—in a way we struggle to comprehend, our collective habit of shouting at each other with fingers stuffed in our ears has reached a breaking point.
It's time to bring ambivalence back. Continue reading →