Written by Alberto Giubilini (Oxford Uehiro Centre for Practical Ethics and WEH, University of Oxford )
Vageesh Jaini (University College London)
(Cross posted with the Conversation)
To be properly protective, COVID-19 vaccines need to be given to most people worldwide. Only through widespread vaccination will we reach herd immunity – where enough people are immune to stop the disease from spreading freely. To achieve this, some have suggested vaccines should be made compulsory, though the UK government has ruled this out. But with high rates of COVID-19 vaccine hesitancy in the UK and elsewhere, is this the right call? Here, two experts to make the case for and against mandatory COVID-19 vaccines.
Alberto Giubilini, Senior Research Fellow, Oxford Uehiro Centre for Practical Ethics, University of Oxford
COVID-19 vaccination should be mandatory – at least for certain groups. This means there would be penalties for failure to vaccinate, such as fines or limitations on freedom of movement.
The less burdensome it is for an individual to do something that prevents harm to others, and the greater the harm prevented, the stronger the ethical reason for mandating it.
Continue reading →
Written by Alberto Giubilini, Julian Savulescu, Dominic Wilkinson
(Oxford Uehiro Centre for Practical Ethics)
(Cross-posted with the Journal of Medical Ethics blog)
Pfizer has reported preliminary results that their mRNA COVID vaccine is 90% effective during phase III trials. The hope is to have the first doses available for distribution by the end of the year. Discussion has quickly moved to how the vaccine should be distributed in the first months, given very limited initial availability. This is, in large part, an ethical question and one in which ethical issues and values are either hidden or presented as medical decisions. The language adopted in this discussion often assumes and takes for granted ethical values that would need to be made explicit and interrogated. For example, the UK Government's JCVI report for priority groups for COVID-19 vaccination reads: "Mathematical modelling indicates that as long as an available vaccine is both safe and effective in older adults, they should be a high priority for vaccination". This is ethical language disguised as scientific. Whether older adults 'should' be high priority depends on what we want to achieve through a vaccination policy. And that involves value choices. Distribution of COVID-19 vaccines will need to maximize the public health benefits of the limited availability, or reduce the burden on the NHS, or save as many lives as possible from COVID-19. These are not necessarily the same thing and a choice among them is an ethical choice. Continue reading →
By Charles Foster
This is a plea for a self-denying ordinance on the part of philosophers. Ignore Covid-19. It was important that you said what you have said about it, but the job is done. There is nothing more to say. And there are great dangers in continuing to comment. It gives the impression that there is only one issue in the world. But there are many others, and they need your attention. Just as cancer patients were left untreated because Covid closed hospitals, so important philosophical problems are left unaddressed, or viewed only through the distorting lens of Covid. Continue reading →

Written by: Alberto Giubilini; Oxford Uehiro Centre for Practical Ethics, &
Wellcome Centre for Ethics and Humanities, University of Oxford
It's that time of the year again, when Christmas decorations start to appear way too early in shopping malls. It's beginning to look a bit too much like Christmas. Except that, being it 2020, of course this year "it will be different".
Pubs are very optimistically accepting bookings for Christmas dinners, but many Christmas markets are (un)fortunately being cancelled. You might still see your distant relatives on Christmas day, but (un)fortunately no more than 6 of them at any one time.
Amidst the inevitable confusion, one obvious question is whether Santa Claus should deliver presents this year.
There are various factors to consider when deciding what Santa – but indeed everyone else – should be allowed to do over Christmas. The most relevant are probably the following:
COVID-19 infection rate over Christmas.
Risks and benefits for others of Santa's job.
Risks and benefits for Santa
Alberto Giubilini
Julian Savulescu
Oxford Uehiro Centre for Practical Ethics
University of Oxford
Supported by the UKRI/AHRC funded project "The Ethical Exit Strategy"
(Grant number AH/V006819/1)
https://practicalethics.web.ox.ac.uk/ethical-exit-strategy-covid-19
These are the "Main Points" and the Executive Summary of a Statement on key ethical considerations and recommendations for the UK "Exit Strategy", that is, the strategy informing the series of measures to move the country from the state of lockdown introduced in March 2020 to a 'new normality'.
The full Statement can be found at https://practicalethics.web.ox.ac.uk/files/covidexitstatement1octaccpdf
The document has been produced also on the basis of the discussion among academics and stakeholders from different fields (ethics, economics, medicine, paediatrics, mental health, nursing), who participated in an online workshop on the "Ethical Exit Strategy", held on the 8th of July 2020. Continue reading →
Dr Alberto Giubilini, Senior Research Fellow at the Oxford Uehiro  Centre for Practical Ethics and Wellcome Centre for Ethics and Humanities was part of an independent rapid-response project to develop an ethical framework for COVID-19 swab testing for NHS workers. Following a stakeholder consultation, the expert group have published a report identifying ethical considerations and providing practical guidance and recommendations to identify good practice and support improvement.
by Roger Crisp
Utilitarianism is in the news. It was widely believed that the UK government's so-called 'herd immunity' strategy, which involved sacrificing the important interests of a relative few for the sake of benefits for the many, was motivated by a commitment to utilitarianism. Now several commentators around the world have suggested that decisions to ease lockdowns so as to 'open economies' can also be seen for similar reasons as utilitarian. Continue reading →
By Charles Foster

It has been a terrible few months for moral philosophers – and for utilitarians in particular. Their relevance to public discourse has never been greater, but never have their analyses been so humiliatingly sidelined by policy makers across the world. The world's governments are all, it seems, ruled by a rather crude vitalism. Livelihoods and freedoms give way easily to a statistically small risk of individual death.
That might or might not be the morally right result. I'm not considering here the appropriateness of any government measures, and simply note that whatever one says about the UK Government's response, it has been supremely successful in generating fear. Presumably that was its intention. The fear in the eyes above the masks is mainly an atavistic terror of personal extinction – a fear unmitigated by rational risk assessment. There is also a genuine fear for others (and the crisis has shown humans at their most splendidly altruistic and communitarian as well). But we really don't have much ballast.
The fear is likely to endure long after the virus itself has receded. Even if we eventually pluck up the courage to hug our friends or go to the theatre, the fear has shown us what we're really like, and the unflattering picture will be hard to forget.
I wonder what this new view of ourselves will mean for some of the big debates in ethics and law? The obvious examples are euthanasia and assisted suicide. Continue reading →

Written by Alberto Giubilini
Wellcome Centre for Ethics and Humanities – Oxford Uehiro Centre for Practical Ethics
University of Oxford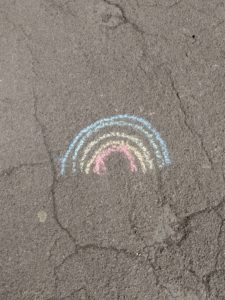 Main point:
Lockdown measures to contain the spread of COVID-19 have so far been compulsory in most countries. In the same way, use of contact tracing apps should be compulsory once lockdown measures are relaxed. And in the same way, vaccination should be compulsory once the COVID-19 vaccine is available.
We can think of the lockdown as a form of 'social immunization', of contact tracing apps as a form of 'technological immunization', and of course of vaccination as pharmacological immunization. The same reasons that justify compulsory lockdown also justify compulsion in the other two cases.