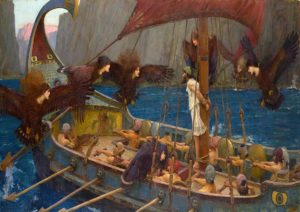 By Charles Foster
[Image: Ulysses and the Sirens: John William Waterhouse, 1891: National Gallery of Victoria, Melbourne]
We shouldn't underestimate Homer's hold on us. Whether or not we've ever read him, he created many of our ruling memes.
I don't think it's fanciful (though it might be ambitious) to suggest that he, and the whole heroic ethos, are partly responsible for our uncritical adoption of a model of autonomy which doesn't do justice to the sort of creatures we really are. That's a big claim. I can't justify it here. But one manifestation of that adoption is our exaggerated respect for advance directives – declarations made when one is capacitous about how one would like to be treated if incapacitous, and which are binding if incapacity supervenes if (in English law) the declaration is 'valid and applicable.' 1.
I suspect that some of this respect comes from the earliest and most colourful advance directive story ever: Odysseus and the Sirens. Continue reading →

Image: https://the-conscious-mind.com
I can't avoid Steven Pinker at the moment. He seems to be on every page I read. I hear him all the time, insisting that I'm cosmically insignificant; that my delusional thoughts, my loves, my aspirations, and the B Minor Mass's effect on me are merely chemical events. I used to have stuck up above my desk (on the principle that you should know your enemy), his declaration (as stridently irrational as the sermon of a Kentucky Young Earth Creationist): 'A major breakthrough of the Scientific Revolution – perhaps its greatest breakthrough – was to refute the intuition that the Universe is saturated with purpose.' 1
He tells me that everything is getting better. Has been getting better since the first eruption of humans into the world.2 That there's demonstrable progress (towards what, one might ask, if the universe has no purpose? – but I'll leave that for the moment). That there's less violence; there are fewer mutilated bodies per capita. He celebrates his enlightenment by mocking my atavism: he notes that the Enlightenment came after the Upper Palaeolithic, and (for the law of progress admits no exceptions) concludes that that means that our Enlightenment age is better than what went before. Continue reading →

By Charles Foster
It's said that 2022 is going to be a bumper year for UFO revelations. Secret archives are going to be opened and the skies are going to be probed as never before for signs of extraterrestrial life.
This afternoon we might be presented with irrefutable evidence not just of life beyond the Earth, but of intelligences comparable in power and subtlety to our own. What then? Would it change our view of ourselves and the universe we inhabit? If so, how? Would it change our behaviour? If so how?
Much would depend, no doubt, on what we knew or supposed about the nature and intentions of the alien intelligences. If they seemed hostile, intent on colonising Planet Earth and enslaving us, our reactions would be fairly predictable. But what if the reports simply disclosed the existence of other intelligences, together with the fact that those intelligences knew about and were interested in us? Continue reading →
There are many corrosive forms of discrimination. But one of the most dangerous is the bias in favour of consciousness, and the consequent denigration of the unconscious.
We see it everywhere. It's not surprising. For when we're unreflective – which is most of the time – we tend to suppose that we are our conscious selves, and that the unconscious is a lower, cruder part of us; a seething atavistic sea full of monsters, from which we have mercifully crawled, making our way ultimately to the sunlit uplands of the neocortex, there to gaze gratefully and dismissively back at what we once were.  It's a picture encoded in our self-congratulatory language: 'Higher cognitive function'; 'She's not to be blamed: she wasn't fully conscious of the consequences.': 'In the Enlightenment we struck off the shackles of superstition and freed our minds to roam.' Continue reading →
By Charles Foster
This week I went to the launch of the latest book by Iain McGilchrist, currently best known for his account of the cultural effects of brain lateralisation, The Master and His Emissary: The Divided Brain and the Making of the Western World.  The new book, The Matter with Things: Our brains, our delusions, and the unmaking of the world is, whatever, you think of the argument, an extraordinary phenomenon. It is enormously long – over 600,000 words packed into two substantial volumes. To publish such a thing denotes colossal confidence: to write it denotes great ambition.
It was commissioned by mainstream publishers who took fright when they saw its size. There is eloquent irony in the rejection on the ground of its length and depth of a book whose main thesis is that reductionism is killing us. It was picked up by Perspectiva press. That was brave. But I'm predicting that Perspectiva's nerve will be vindicated. It was suggested at the launch that the book might rival or outshine Kant or Hegel. That sounds hysterical. It is a huge claim, but this is a huge book, and the claim might just be right.
Nobody can doubt that we're in a terrible mess. The planet is on fire; we're racked with neuroses and governed by charlatans, and we have no idea what sort of creatures we are. We tend to intuit that we are significant animals, but have no language in which to articulate that significance, and the main output of the Academy is to scoff at the intuition. Continue reading →
By Charles Foster

An unprecedented editorial has just appeared in many health journals across the world. It relates to climate change.
The authors say that they are 'united in recognising that only fundamental and equitable changes to societies will reverse our current trajectory.'
Climate change, they agree, is the major threat to public health. Here is an excerpt: there will be nothing surprising here:
'The risks to health of increases above 1.5°C are now well established. Indeed, no temperature rise is "safe." In the past 20 years, heat related mortality among people aged over 65 has increased by more than 50%.Hi gher temperatures have brought increased dehydration and renal function loss, dermatological malignancies, tropical infections, adverse mental health outcomes, pregnancy complications, allergies, and cardiovascular and pulmonary morbidity and mortality. Harms disproportionately affect the most vulnerable, including children, older populations, ethnic minorities, poorer communities, and those with underlying health problems.' Continue reading →
By Charles Foster
Over the 40,000 years or so of the history of behaviourally modern humans, the overwhelming majority of generations have been, so far as we can see, animist. They have, that is, believed that all or most things, human and otherwise, have some sort of soul.
We can argue about the meaning of 'soul', and about the relationship of 'soul' to consciousness, but most would agree that whatever 'soul' and 'consciousness' mean, and however they are related, there is some intimate and necessary connection between them – even if they are not identical.
Consciousness is plainly not a characteristic unique to humans. Indeed the better we get at looking for consciousness, the more we find it. The universe seems to be a garden in which consciousness springs up very readily. Continue reading →
By Charles Foster
From the time of the decision of the House of Lords in Airedale NHS Trust v Bland (1993) until the decision of the Supreme Court in An NHS Trust v Y (2018) (which I will refer to here as 'Y") it had been understood that the withdrawal of life-sustaining treatment (typically clinically assisted nutrition and hydration – 'CANH') from patients in a vegetative state should be endorsed by the court. Over the years, this practice had been extended to cover such withdrawals in Minimally Conscious States too.
In Y, the Supreme Court held that there was no requirement for court review or endorsement. Why? Continue reading →
By Charles Foster
A couple of lockdown conversations:
The other day I met a friend in the street. We hadn't seen one another for over a year. We mimed the hugs that we would have given in a saner age, and started to talk. 'There's nothing to tell you', she said. 'Nothing's happened since we last saw you. And that's just as well, because, as you'll find, I've forgotten how to talk, how to relate, and how to read ordinary cues. We've not been out. We've not changed anything. I wonder if we've been changed?'
Another friend. 'Zoom's great, isn't it? You switch off your camera and your microphone, and the meeting just goes on perfectly happily without you. Everyone thinks you're there. Your name's up on their screen. But you are just getting on with your own business.'
And a lockdown fact: Lockdown has been great for book sales. 2020 saw an estimated rise of 5.2% in volume sales of print books in the UK compared with 2019 sales. This was the biggest annual rise since 2007: Continue reading →
By Jonathan Pugh, Dominic Wilkinson and Julian Savulescu
This work was supported by the UKRI/ AHRC funded UK Ethics Accelerator project, grant number AH/V013947/1. The UK Ethics Accelerator project can be found at https://ukpandemicethics.org/
As mass vaccination continues to be rolled out, the UK is beginning to see encouraging signs that the number of COVID deaths is reducing, and that the vaccines may be reducing the transmission of coronavirus.
While this is very welcome news, a mass vaccination programme is unlikely to be enough to eliminate the virus, so we need to turn our thoughts towards the ethics of the long-term management of COVID-19.
One strategy would be to aim for the elimination of the virus within the UK. New Zealand successfully implemented an elimination strategy earlier in the pandemic and is now in a post-elimination stage.
An elimination strategy in the UK would require combining the mass vaccination programme with severe restrictions on international travel to stop new cases and variants of the virus being imported. However, the government has been reluctant to endorse an elimination strategy, given the importance of international trade to the UK economy.
One of the main alternatives to the elimination strategy is to treat coronavirus as endemic to the UK and to aim for long-term suppression of the virus to acceptable levels. But adopting a suppression strategy for the long term will require us to make a societal decision about the harms we are and are not willing to accept.