Image: The Great Sphinx and Pyramids of Gizeh (Giza), 17 July 1839, by David Roberts: Public Domain, via Wikimedia Commons

Words are powerful. When a word is outlawed, the prohibition tends to chill or shut down debate in a wide area surrounding that word. That tendency is much discussed, but it's not my concern here. It's one thing declaring a no-go area: it's another when the mere use or non-use of a word is so potent that it makes it impossible to see something that's utterly obvious.
There has recently been an excellent and troubling example. Some museums have started to change their labels. They consider that the use of the word 'mummy' demeans the dead, and are using instead the adjective 'mummified': thus, for instance 'mummified person' or 'mummified remains'. Fair enough. I approve. Too little consideration is given to the enormous constituency of the dead. But using an adjective instead of a noun doesn't do much moral work.
Consider this: The Great North Museum: Hancock, has on display a mummified Egyptian woman, known as Irtyru.  Visitor research showed that many visitors did not recognise her as a real person. The museum was rightly troubled by that. It sought to display her 'more sensitively'. It's not clear from the report what that means, but it seems to include a change in the labelling. She will no longer be a 'mummy', but will be 'mummified'.  She is a 'mummified person':  She'll still remain in a case, gawped at by mawkish visitors. Continue reading →

Image: Heidi Crowter: Copyright Don't Screen Us Out
Scene: A pub in central London
John: They did something worthwhile there today, for once, didn't they? [He motions towards the Houses of Parliament]
Jane: What was that?
John: Didn't you hear? They've passed a law saying that a woman can abort a child up to term if the child turns out to have red hair.
Jane: But I've got red hair!
John: So what? The law is about the fetus. It has nothing whatever to do with people who are actually born.
Jane: Eh?
That's the gist of the Court of Appeal's recent decision in the case of Aidan Lea-Wilson and Heidi Crowter (now married and known as Heidi Carter).  Continue reading →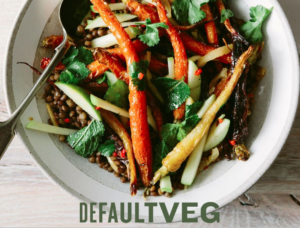 Today (1 November) is 'world vegan day'. This is a good moment to reflect on a decision that the Oxford Uehiro Centre for Practical Ethics took almost exactly a year ago. In October 2021, we chose to firmly commit to a DefaultVeg approach to help reduce meat and dairy consumption. Such reduction will help transform our current farming practices, which are extremely harmful to our planet, and all those who live on it. [National Food Strategy. Independent Review for the Government]
What does this DefaultVeg commitment entail? Over the past year, we have provided plant-based food and drinks by default for all meetings and events that we host, and for our staff and visitors at the Centre during normal workdays. The choice to opt for meat and/or dairy remains, but those who want this have to opt in. Given the high numbers of vegans among our admin team, staff and students, we had already adopted a DefaultVeg approach to some extent, but DefaultVeg has ensured that we do this more consistently and explicitly. As we expected, almost everyone opts for the default: plant-based options.
We hope that, by explicitly and firmly committing to a DefaultVeg approach, the Uehiro Centre also sets an example for other research centres, institutions, and workplaces in general. Going DefaultVeg is not difficult in a world with an increasing variety of plant-based food and drinks.
'Why are we opting for DefaultVeg and not going vegan 'all the way'?', you may wonder.
We think that preserving freedom of choice is valuable. Food is deeply embedded in cultural and social values, and we realise that people do not always find it easy or desirable to entirely change their eating habits overnight. It is important to acknowledge this, and not rush people into different food choices, though, we hope that most people will opt for plant-based diets eventually. Forcing a food choice onto people may not always be the best way to convince people that they should eat less meat and dairy. It may make some people feel hostile towards, and hence resist, veganism. And this may result in a slower transition to a society in which most people are happy to eat (mostly) plant-based food.
Last year, the Oxford City Council approved a proposal to only offer plant-based options during council meetings. Conservative councillors objected and said whether one opts for a vegan lunch should remain a choice: "Veganism should not be forced down people's throats. It should be a matter of choice and education."  At the first lunch, two conservative councillors walked out in protest, and around 15 Conservative councillors enjoyed a self-funded lunch at a nearby pub and one of the councillors confirmed it 'contained meat'.
I'm not saying that the Oxford City Council took the wrong decision by making the lunches vegan. But as the strong reaction shows, perhaps a more incremental approach towards a vegan society may work better in some contexts. Perhaps when not forced, people may find it easier to shift. And changing the default to vegan, helps to shift people towards the vegan options. As more people reduce their meat and dairy consumption, more plant-based food options will become available, which, in turn will make it easier, and thus more attractive, to become vegan. Both approaches (all vegan, and DefaultVeg) have benefits.
We find that, for the Centre, the DefaultVeg approach, has worked well (though it has taken some trial and error to find caterers and restaurants with enough good vegan options). It has been an exciting and positive journey, and we look forward to continuing it.
For those of you who are interested in adopting a DefaultVeg approach, feel free to get in touch (katrien.devolder@philosophy.ox.ac.uk) if you would like more information about how to get started.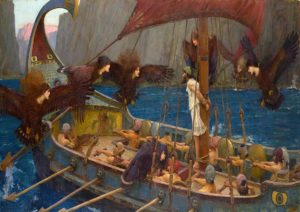 By Charles Foster
[Image: Ulysses and the Sirens: John William Waterhouse, 1891: National Gallery of Victoria, Melbourne]
We shouldn't underestimate Homer's hold on us. Whether or not we've ever read him, he created many of our ruling memes.
I don't think it's fanciful (though it might be ambitious) to suggest that he, and the whole heroic ethos, are partly responsible for our uncritical adoption of a model of autonomy which doesn't do justice to the sort of creatures we really are. That's a big claim. I can't justify it here. But one manifestation of that adoption is our exaggerated respect for advance directives – declarations made when one is capacitous about how one would like to be treated if incapacitous, and which are binding if incapacity supervenes if (in English law) the declaration is 'valid and applicable.' 1.
I suspect that some of this respect comes from the earliest and most colourful advance directive story ever: Odysseus and the Sirens. Continue reading →

Image: https://the-conscious-mind.com
I can't avoid Steven Pinker at the moment. He seems to be on every page I read. I hear him all the time, insisting that I'm cosmically insignificant; that my delusional thoughts, my loves, my aspirations, and the B Minor Mass's effect on me are merely chemical events. I used to have stuck up above my desk (on the principle that you should know your enemy), his declaration (as stridently irrational as the sermon of a Kentucky Young Earth Creationist): 'A major breakthrough of the Scientific Revolution – perhaps its greatest breakthrough – was to refute the intuition that the Universe is saturated with purpose.' 1
He tells me that everything is getting better. Has been getting better since the first eruption of humans into the world.2 That there's demonstrable progress (towards what, one might ask, if the universe has no purpose? – but I'll leave that for the moment). That there's less violence; there are fewer mutilated bodies per capita. He celebrates his enlightenment by mocking my atavism: he notes that the Enlightenment came after the Upper Palaeolithic, and (for the law of progress admits no exceptions) concludes that that means that our Enlightenment age is better than what went before. Continue reading →

By Charles Foster
It's said that 2022 is going to be a bumper year for UFO revelations. Secret archives are going to be opened and the skies are going to be probed as never before for signs of extraterrestrial life.
This afternoon we might be presented with irrefutable evidence not just of life beyond the Earth, but of intelligences comparable in power and subtlety to our own. What then? Would it change our view of ourselves and the universe we inhabit? If so, how? Would it change our behaviour? If so how?
Much would depend, no doubt, on what we knew or supposed about the nature and intentions of the alien intelligences. If they seemed hostile, intent on colonising Planet Earth and enslaving us, our reactions would be fairly predictable. But what if the reports simply disclosed the existence of other intelligences, together with the fact that those intelligences knew about and were interested in us? Continue reading →
There are many corrosive forms of discrimination. But one of the most dangerous is the bias in favour of consciousness, and the consequent denigration of the unconscious.
We see it everywhere. It's not surprising. For when we're unreflective – which is most of the time – we tend to suppose that we are our conscious selves, and that the unconscious is a lower, cruder part of us; a seething atavistic sea full of monsters, from which we have mercifully crawled, making our way ultimately to the sunlit uplands of the neocortex, there to gaze gratefully and dismissively back at what we once were.  It's a picture encoded in our self-congratulatory language: 'Higher cognitive function'; 'She's not to be blamed: she wasn't fully conscious of the consequences.': 'In the Enlightenment we struck off the shackles of superstition and freed our minds to roam.' Continue reading →
By Charles Foster
This week I went to the launch of the latest book by Iain McGilchrist, currently best known for his account of the cultural effects of brain lateralisation, The Master and His Emissary: The Divided Brain and the Making of the Western World.  The new book, The Matter with Things: Our brains, our delusions, and the unmaking of the world is, whatever, you think of the argument, an extraordinary phenomenon. It is enormously long – over 600,000 words packed into two substantial volumes. To publish such a thing denotes colossal confidence: to write it denotes great ambition.
It was commissioned by mainstream publishers who took fright when they saw its size. There is eloquent irony in the rejection on the ground of its length and depth of a book whose main thesis is that reductionism is killing us. It was picked up by Perspectiva press. That was brave. But I'm predicting that Perspectiva's nerve will be vindicated. It was suggested at the launch that the book might rival or outshine Kant or Hegel. That sounds hysterical. It is a huge claim, but this is a huge book, and the claim might just be right.
Nobody can doubt that we're in a terrible mess. The planet is on fire; we're racked with neuroses and governed by charlatans, and we have no idea what sort of creatures we are. We tend to intuit that we are significant animals, but have no language in which to articulate that significance, and the main output of the Academy is to scoff at the intuition. Continue reading →
By Charles Foster

An unprecedented editorial has just appeared in many health journals across the world. It relates to climate change.
The authors say that they are 'united in recognising that only fundamental and equitable changes to societies will reverse our current trajectory.'
Climate change, they agree, is the major threat to public health. Here is an excerpt: there will be nothing surprising here:
'The risks to health of increases above 1.5°C are now well established. Indeed, no temperature rise is "safe." In the past 20 years, heat related mortality among people aged over 65 has increased by more than 50%.Hi gher temperatures have brought increased dehydration and renal function loss, dermatological malignancies, tropical infections, adverse mental health outcomes, pregnancy complications, allergies, and cardiovascular and pulmonary morbidity and mortality. Harms disproportionately affect the most vulnerable, including children, older populations, ethnic minorities, poorer communities, and those with underlying health problems.' Continue reading →
By Charles Foster
Over the 40,000 years or so of the history of behaviourally modern humans, the overwhelming majority of generations have been, so far as we can see, animist. They have, that is, believed that all or most things, human and otherwise, have some sort of soul.
We can argue about the meaning of 'soul', and about the relationship of 'soul' to consciousness, but most would agree that whatever 'soul' and 'consciousness' mean, and however they are related, there is some intimate and necessary connection between them – even if they are not identical.
Consciousness is plainly not a characteristic unique to humans. Indeed the better we get at looking for consciousness, the more we find it. The universe seems to be a garden in which consciousness springs up very readily. Continue reading →