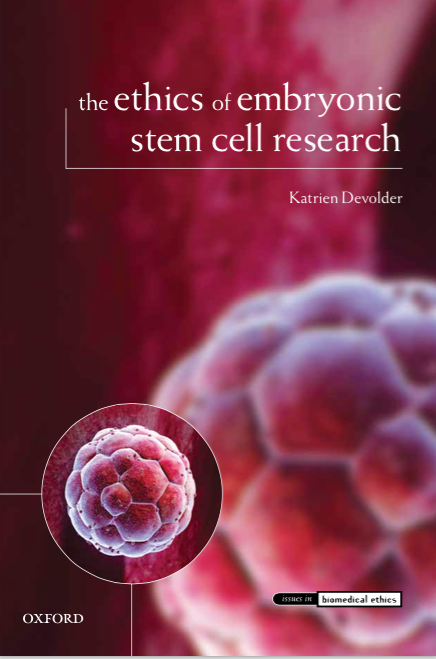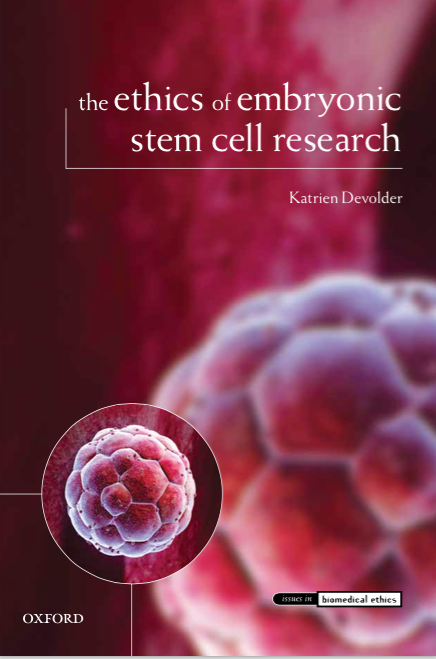 There is wide agreement that embryonic stem cell research holds unique promise for developing therapies for currently incurable diseases and conditions, and for important biomedical research. However, as it is currently done, the isolation of embryonic stem cells involves a process in which an early embryo is destroyed, which many find highly problematic.
This has resulted in what I refer to in my book as
The Problem. Either one supports embryonic stem cell research and accepts resulting embryo destruction, or one opposes embryonic stem cell research and accepts that the potential benefits of this research will be foregone. Continue reading →
In an article soon to be published in the Journal of Medical Ethics, Rob Sparrow imagines a procedure via which multiple generations of human embryos might be created in the laboratory. Egg and sperm cells would first be generated from existing or new human pluripotent stem cell lines. The resulting eggs would be fertilised using the sperm to create zygotes and ultimately embryos. Embryonic stem cells would then be harvested from these embryos and used to create new egg and sperm cells, which would in turn be used to fertilise one another to create further embryos. This process could be iterated, in principle indefinitely.
Let's call this procedure 'iterated in vitro reproduction' (Sparrow calls it 'in vitro eugenics'). Iterated in vitro reproduction is not yet possible, but, citing recent developments in the science of stem cell-derived gametes, Sparrow argues that it may well become so, though he acknowledges are number of significant hurdles to its development. He also discusses a number of possible applications of the technology and calls for an ethical debate on these. The most controversial application would be in the creation of designer children. Consider the following case, which is a variant on one of the scenarios imagined by Sparrow:
Jack and Jill present to a fertility clinic. Jack provides a sperm sample, and fertility doctors harvest a number of eggs from Jill. These eggs are fertilized with Jack's sperm to create embryos, from which embryonic stem cells are derived. These stem cells are then induced to develop into eggs or sperm which are used to fertilise one another, and so on. The process is iterated numerous times, and at each stage, the embryos are genetically screened via pre-implantation genetic diagnosis. This screening is used to inform a process of selective crossing, so that, over several generations, the population of embryos evolves towards certain genetic dispositions desired by Jack and Jill (a disposition towards longevity, say). This process is aided by adding small amounts of genetic material from stem cell lines derived from other individuals. Eventually, doctors identify an embryo with almost exactly the desired combination of genes, and this embryo is implanted into Jill's womb and carried to term. A child, Jarvis, is born.
Cases like this raise numerous ethical issues, some of which are discussed by Sparrow and the seven commentators on his paper. However, they also raise an interesting conceptual question: would the users of such a technology be the genetic parents of the resulting offspring? Would Jack and Jill be the genetic parents of Jarvis?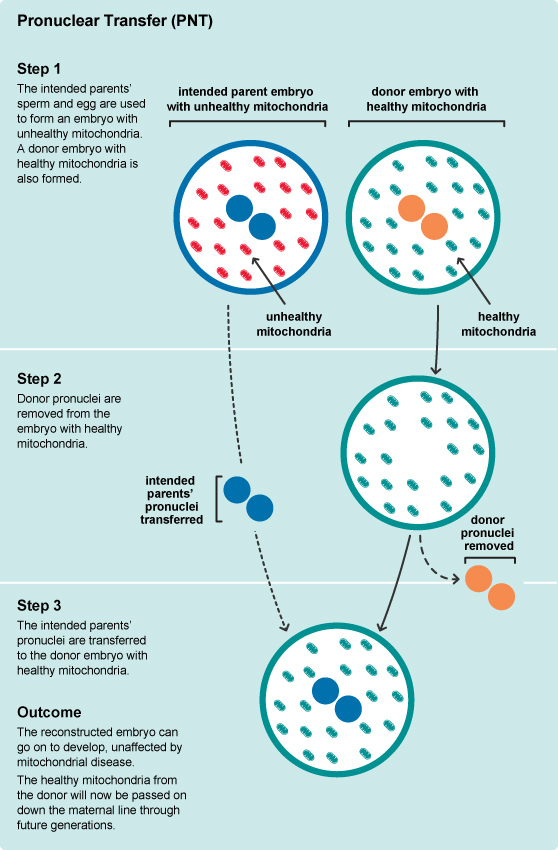 The agency that regulates fertility treatment and embryo research in the UK, the Human Fertilisation and Embryology Authority (HFEA), has asked for public views on two possible new forms of fertility treatment that promise to prevent the transmission of mitochondrial diseases to children. These diseases can be extremely severe, leading to (among other things) diabetes, deafness, progressive blindness, seizures, dementia, muscular dystrophy, and death.
by Julian Savulescu, Uehiro Chair in Practical Ethics & Director, Oxford Uehiro Centre for Practical Ethics
Yamaka and Gurdon have jointly won the Nobel Prize for Physiology or Medicine, for the discovery that mature cells can be reprogrammed to become pluripotent: that is, already specialized cells can be taken, and using iPS technology, transformed into unspecialized stem cells, which can be used for research and treatment. This technology may ultimately allow us to replace embryonic stem cells entirely in research and treatment thus avoiding ethical issues raised by the destruction of embryos for this purpose.
This is not only a giant leap for science, it is a giant leap for mankind. Yamanaka and Gurdon have shown how science can be done ethically. Yamanaka has taken people's ethical concerns seriously about embryo research and modified the trajectory of research into a path that is acceptable for all. He deserves not only a Nobel Prize for Medicine, but a Nobel Prize for Ethics.
For those of us doing Catholic moral theology, we most often hear and read the name "Peter Singer" invoked by our colleagues in a dismissive way.  Indeed, if one can somehow show that another's argument is heading in a Singer-like direction, then for many of us one essentially has reduced it to the absurd.  Furthermore, and very unfortunately, Singer remains consistently dismissed as a 'popularizer' who can't be taken seriously as an academic given how widely his work is read.
But when I actually look carefully and systematically at his work I see not only how consistent and even rigorous it often is, but also how much it common it has with Christian Ethics.  Consider, for instance, the topic of abortion.  Though Peter Singer is pro-choice for abortion and infanticide, and the Catholic position condemns the intentional killing the fetus and early embryo as intrinsically evil, the actual disagreement between the two on this very complex topic turns out to be very narrow. Both believe that public policy cannot retreat into a privacy-centered moral neutrality with regard to (1) the moral status of the fetus and (2) whether one can kill or refuse to sustain a fetus.  Both also agree, assuming for the sake of argument that a fetus is a person, that no unintended negative effects of making abortion illegal would justify allowing for the legal killing of fetuses. Both reject the American Supreme Court abortion decision Roe v. Wade.  Both agree (again, assuming a fetus is a person) that not only would it be morally wrong to kill a fetus, but that one has a moral duty to support a fetus for nine months with one's body.  Both reject the idea that viability is a morally significant dividing line.  Both also see a strong logical connection between one's view of abortion and one's view of infanticide.  In fact, it is my contention that the wide divergence in their ultimate conclusions comes from a very complex argument involving the distinction that Aristotle and Thomas made between "active" and "passive" potential.  On every issue but that one, Peter Singer looks a lot like John Paul II on abortion.
Singer also criticizes Christianity for being speciesist, but he (along with, to be fair, many Christians) is largely unaware of how complex the tradition is on this topic. For instance, the traditional definition of a person is "an individual substance of a rational nature"—with no mention of biological species as morally significant. Indeed, the Christian tradition makes explicit room for non-human persons (angels and aliens are good examples) and even (in the past) for the concept of human non-persons (human beings who are "slaves by nature", for instance). Furthermore, the Catechism of the Catholic Church insists that it is seriously morally wrong to needlessly cause non-human animals pain and suffering, and even PETA has used the words of Pope Benedict (now known as "the Green Pope" for his heroic ecological work) criticizing factory farming in their advertisements. This should not be a surprise to anyone who reads Genesis and learns that not only are non-human animals created "good" without any reference to human beings, but that God intended other animals to be our companions, not our food.
The most overwhelming case of all for overlap involves how each understands our duties to the poor. Singer broke on the academic scene with his 1972 article on Famine, Affluence and Morality, and continues to hammer away at the problem of poverty through his continued work (especially his recent book: The Life You Can Save) and personal giving. Modern-day Roman Catholic movements to aid the impoverished (led by the American Bishops via their poverty arm called Catholic Relief Services) are not only absolutely massive in scale and trend-setting among their peer organizations, but their roots go back to the very beginnings of Christianity. Indeed, though Jesus himself rarely speaks of Hell, when he does so it is almost always connected to a failure of one's duties to the poor, and the early Christian Church largely served as the social welfare system of the ancient world.  Singer himself built on precisely this point when, in the second edition of Practical Ethics, he suggested we give 10% of our resources to those in absolute poverty in part because this was the tithing percentage required by the social welfare mechanism of the age: the Catholic Church. In a shocking indictment of most of us, I suspect, both approaches insist that a selfish failure meet one's duty to aid the global poor is seriously immoral behavior—akin to something like indirect homicide.
Those who are familiar with ethical theory are probably the most skeptical of conversation between Peter Singer and Christian Ethics—especially because Singer is utilitarian and the Church is a big fan of exceptionless moral norms. But even here the possibilities for overlap are striking and important. The Catholic Church has a teleological ethic which, yes, is ultimately directed toward union with God, but is proximately directed at the flourishing of the "universal common good."  Even exceptionless moral norms are teleological in nature given that they are at the service of this kind of flourishing. Furthermore, Singer is exploring a new kind of objectivity in his moral theory—even to the point where it is no longer clear that he will remain a preference utilitarian. Indeed, in his latest edition of Practical Ethics he admits that preference utilitarianism is at variance with his moral intuitions about replacement theory (especially of persons), the good of distant future persons, and whether the existence of persons at all is a morally good thing. Especially as Singer moves to include more objectivity into his theory and go beyond preference utilitarianism, he becomes an even better conversation partner for Christian Ethics.
Much more needs to be said to back up these ideas and arguments, of course, and I try to do just that in my new book Peter Singer and Christian Ethics: Beyond Polarization—just released this weekend in the United States by Cambridge University Press. (Available in both paperback and Kindle versions.)  I'm certainly interested in any feedback about the book, so feel free to send me a note (either here or via e-mail: camosy@fordham.edu), or join the discussion on the book's Facebook page.  The book will also serve as the basis of an exchange/debate between Julian Savulescu and myself next Autumn, so if you are in or around Oxford October 17th-19th, come by and see us.
Charlie Camosy
Fordham University (webpage is here)
Procedures that involve human embryonic stem cells cannot be patented, the European Court of Justice recently declared. Apparently on the basis that patents "would be contrary to ethics and public policy"
"The decision from the European court of justice is a legal clarification for a court case brought by Greenpeace against a German scientist, Oliver Brüstle, who patented a way to turn stem cells into healthy brain cells. The environmental group argued that Brüstle's work was "contrary to public order" because embryos were destroyed to gather the stem cells used.
"The judgment effectively supports the Greenpeace view and imposes a ban on patenting work that uses embryonic stem cells on the grounds that it represents an immoral "industrial" use of human embryos." (http://www.guardian.co.uk/science/2011/oct/18/european-patents-embryonic-stem-cells)
This ruling is deeply immoral. In effect, it shuts down embryonic stem cell research by the back door. This ruling is only supported by a narrow, controversial position on the moral status of the human embryo. It imposes a conservative morality on all Europeans to the detriment of their future health.
By Julian Savulescu
Reneuron has today announced the first transfer of stem cells in the UK to treat stroke. This follows quickly from Geron's recent trial in spinal cord injury.
This is a historic moment which may be viewed in the same way as the first attempts to use antibiotics. Stem cells offer the door to entirely new form of medical treatment called regenerative medicine. When cells (the building blocks) or tissues of the body are damaged, they are generally not replaced. The dead tissue is replaced by scar that holds the rest of the organ together. So when a person has a stroke (or heart attack) a blood vessel to an area of brain is typically blocked and that area of the brain dies, being replaced by a scar that is functionless. Stem cell therapy offers the hope of replacing that dead or damaged tissue and cells with functioning new cells, in this case nerve cells. This trial is the very first stage to see if the transfer can be done safely.
Researchers have managed to produce live-born mice (original article) descended from induced pluripotent stem cells (IPS cells), cells taken from adult animals and treated to become stem cells. That individuals could be produced from embryonic stem cells was already known, but this proves that the IPS cells can produce all kinds of cells in an adult body. Good news for people uneasy about the need for embryonic stem cells… or is it?
If one argues that it is wrong to use embryonic stem cells because embryos carry moral rights, then the question is whether the creation of IPS cells produce something that also has moral rights.
Umbilical
cord blood (UCB) contains haematopoietic stem cells, which can be used for the
treatment of several lethal disorders, including leukaemia
and several types of anaemia. Other sources of haematopoietic stem cells are bone marrow and ordinary peripheral
blood. Unlike bone marrow donation, which requires general anaesthesia, UCB
donation does not cause any inconvenience or significant risks for the donor. Peripheral
blood contains very few stem cells. Another major advantage of using UCB stem
cells is that less genetic similarity is required between donor and recipient.
This increases the chance of finding a 'match' and thus of the transplantation
being successful.
Scientists have been able to create a new windpipe using stem cells. They took a windpipe from a dead patient, removed all the cells, and placed stem cells from a patient onto the remaining scaffolding to create what was in effect a new windpipe, with the patient's own cells. The patient had an irreparably damaged her windpipe from TB.
The significance of this is that it opens the door to creating whole organs, like kidneys, livers and perhaps even hearts and lungs. This is a radical advance because up until now, stem cells have only really been useful to replace tissue, or bits of the body without a complex organized structure. But this means we could potentially replace any part of the body with a person's own stem cells. New livers for people with liver failure, new kidneys from those with kidney failure – and because the cells would come from the patient, there would be no rejection. Indeed, this patient has shown no signs of rejection.
Does this raise any ethical issues?