Do we want "genetically modified children"? Yes, of course!
The agency that regulates fertility treatment and embryo research in the UK, the Human Fertilisation and Embryology Authority (HFEA), has asked for public views on two possible new forms of fertility treatment that promise to prevent the transmission of mitochondrial diseases to children. These diseases can be extremely severe, leading to (among other things) diabetes, deafness, progressive blindness, seizures, dementia, muscular dystrophy, and death.
How do mitochondrial diseases occur? Most people know that a human cell has DNA in its nucleus that contains the vast majority of the 20-25,000 protein-coding genes constituting the human genome. It is less well known that a human cell also contains additional genetic material, stored in small, energy-producing packets called mitochondria that float in the cytoplasm within the cell membrane. Mitochondria – probably evolved from bacteria that developed a symbiotic relationship with their hosts – have their own membranes and, within them, circular strands of DNA: it's called mitochondrial DNA (mtDNA). Human mtDNA contains 13 protein-coding genes. Because mitochondria are vital to the functioning of the human cell, mutations in mtDNA that cause mitochondrial dysfunction can result in mitochondrial diseases. Human sperm and eggs both contain mitochondria, but the sperm's mitochondria are destroyed upon fertilisation, leaving only the mitochondria from the egg in a developing embryo. A child therefore inherits all its mtDNA from its maternal line, and it can also inherit genetic mutations in mtDNA and mitochondrial diseases from its mother.
The fertility treatments in question promise to allow mothers and fathers to have their own biological children while preventing the transmission of mutations in mtDNA to their descendants. Two alternative methods of mitochondrial replacement may be used. In the first method, Maternal Spindle Transfer (MST), scientists transfer the nuclear DNA "spindle" from the mother's egg cell which has mutated mitochondria into a donor egg with healthy mitochondria, then fertilise that egg by the father's sperm in vitro and, finally, implant it in the mother's uterus. In the second, known as pronucelar transfer (PNT), scientists fertilise both the mother's egg with its mutated mitochondria and also a healthy donor egg in vitro, then transfer the nuclear DNA-containing material from the mother's embryo into the "shell" of the donor embryo, before implanting it into the mother's uterus. The treatments have been called "three parent IVF" by the popular press because the resulting child's genetic inheritance has three sources – its nuclear DNA comes from its gestational mother and father, but its mitochondria, and thus its 13 protein-coding mtDNA genes, come from the donor.
The achievements of the researchers who have developed the treatments this far should be cause for celebration. Who would oppose scientific progress that promises to enable more women to give birth to healthy, happy children who are genetically related to them?
The Anscombe Bioethics Centre, a Catholic institute located here in Oxford (though not affiliated with Oxford University or its colleges), blasted my inbox a day or two ago with a panicky press release urging Christians and non-Christians to submit comments to the HFEA urgently opposing the proposed treatments. Here is how the centre's Senior Research Fellow Dr Helen Watt describes the procedures:
Mitochondrial replacement has been called '3-parent IVF', but only one technique being considered would in fact produce 3-parent babies.  The other technique involves a form of cloning from an early IVF embryo, using a second embryo as a shell, to produce a third, clone embryo who might then be transferred to the womb of the first embryo's mother to be born.  The first and second embryo would be killed to create the third, clone embryo.

One technique would split genetic motherhood and give the child three genetic parents.  The other technique would produce a child with no genetic parents:  a child cloned instead from 'spare parts' harvested from earlier living embryos.

Both techniques would affect not only individuals conceived and born but also their descendants.   Both should be urgently opposed, and the Anscombe Centre has produced a briefing which we hope will be helpful to those wishing to respond to the consultation.
Dr Watt is right that that "Both techniques would affect not only the individuals conceived but also their descendants," but why should this be construed as a bad thing? The techniques are intended to affect these individuals and also their descendancts, precisely by ridding them of inheritable genetic mutations that would otherwise result in very nasty diseases!
Dr Watt's and the Anscombe Bioethics Centre's description of PNT as producing "clone" children with "no genetic parents" may sound quite horrifying – but it is scientifically inaccurate. There is no cloning involved in PNT. Cloning is, conceptually speaking, a kind of copying – you can't clone a thing by simply moving it (or moving part of it) from one place to another. When you clone something, it must be at least conceptually possible (though it may not be technically possible) to leave the cloned thing intact. But this is clearly not the case for PNT, as the following diagram from the HFEA illustrates: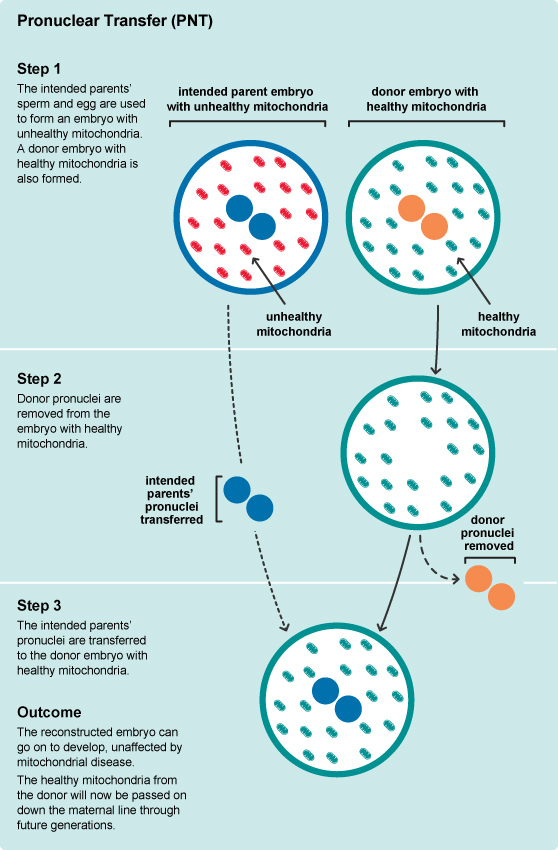 Dr Watt apparently calls the result of the procedure a "clone embryo" because it is produced by a technique similar to one used in cloning Dolly the Sheep (that is: replacing the nuclear material in an egg or embryo). But the mere use of such a technique does not necessarily make the result a clone, any more than the use of a scalpel would necessarily have made the result an appendectomy. The child produced from PNT would have two very obvious genetic parents who directly provided the vast majority of its DNA in the usual way – via their egg and sperm, as well as a donor mother who makes a very small but important genetic contribution to its heritage, by providing healthy mitochondria.
If concerns about cloning here are unjustified, should we instead oppose the new procedures because they would lead to a novel spectre of "three-parent babies", and all kinds of potential identity disorders for the resulting children? No we should not! This is not just because there is no reason to think that children with three genetic parents should have any such difficulties, nor just because these children would only receive 0.1% of their genes from the donor, but also because "three-parent children" already exist, and studies have shown that they do not sufffer any psychological harm. Children are already born to surrogate mothers who have a genetically unrelated embryo implanted – this procedure is called gestational or IVF surrogacy and it has been happening since the 1980s. You might think that we should distinguish between this old procedure and the proposed new ones, because the child of a gestational surrogate mother receives no genetic inheritance from her. But this could not be further from the truth. Around ninety percent of the cells in the human body are not our own cells, but are microbial flora with which we live in a symbiotic relationship. They are essential to our survival and health, and they influence all sorts of our individual characteristics. The science of understanding these flora is in its infancy, but it has been shown that particular genetic variants of gut bacteria, for example, are inherited by children from their gestational mothers, and that there are identifiable genetic differences in flora between different ethnic groups (for example, Japanese people have seaweed-digesting flora in their gut that is not present in Americans). When we recognize the close similarity in form and in bodily function between mitochondria and bacteria, we should also recognize that there is about as much reason to call the child of a gestational surrogate a genetic "three-parent baby" as there is to call a PNI child the same thing. These children have more than two sources for their genetic inheritance. So what?
As the Anscombe Bioethics Centre rightly notes in its briefing paper: "This would be the first time UK scientists were permitted deliberately to engineer (in the sense of replacing) the genes that would be passed on to future generations … Now is the moment when we decide about the principle: Do we want genetically modified children?"
Let me put that question another way: Should potential mothers with mitochondrial diseases be enabled to bear their own healthy children, or should the rest of us restrict them to the following three options: bear no children, bear diseased children, or bear genetically unrelated children? It may be worth noting you can answer "yes" to the first question without also endorsing a complete free-for-all in human genetic engineering. The proposed treatments aim to prevent the transmission of serious diseases to future generations: if that's not a good ethical reason for doing great medical science, I'll eat my hat.
Do take a moment to report your views to the HFEA and let us know if you've done so in the comments. You can find more information at their web site here:
http://mitochondria.hfea.gov.uk/mitochondria/
and you can report your views here:
14 Responses to Do we want "genetically modified children"? Yes, of course!