Written by Miriam Rosenbaum and Sajda Ouachtouki 
This article was originally published in First Things.
Women's-only hours at swimming pools are nothing new. Many secular institutions have long hosted separate swim hours for women and girls who, for reasons of faith or personal preference, desire to swim without the presence of men. The list includes Barnard College, Harvard University, Yale University, and swim clubs, JCCs, and YMCAs across the country. Recently, women's-only swimming hours have become a topic of debate, especially in New York, where promoters of liberal secularist ideology (including the editorial page of the New York Times) are campaigning against women's-only hours at a public swimming pool on Bedford Avenue in Brooklyn. They claim that women's-only swimming hours, even for a small portion of the day, must be abolished in the interest of "general fairness and equal access" and to avoid "discrimination" in favor of certain religions. Continue reading →
The Oxford Union.
The Motion: This House Believes the Manipulation of Human DNA is an Ethical Necessity.
The Speakers: Julian Savulescu closed the case for the Proposition, as the fifth speaker of six in the debate.
By Brian D. Earp (@briandavidearp)
* Note: this article was first published online at Quillette magazine.
Introduction
Alice Dreger, the historian of science, sex researcher, activist, and author of a much-discussed book of last year, has recently called attention to the loss of ambivalence as an acceptable attitude in contemporary politics and beyond. "Once upon a time," she writes, "we were allowed to feel ambivalent about people. We were allowed to say, 'I like what they did here, but that bit over there doesn't thrill me so much.' Those days are gone. Today the rule is that if someone—a scientist, a writer, a broadcaster, a politician—does one thing we don't like, they're dead to us."
I'm going to suggest that this development leads to another kind of loss: the loss of our ability to work together, or better, learn from each other, despite intense disagreement over certain issues. Whether it's because our opponent hails from a different political party, or voted differently on a key referendum, or thinks about economics or gun control or immigration or social values—or whatever—in a way we struggle to comprehend, our collective habit of shouting at each other with fingers stuffed in our ears has reached a breaking point.
It's time to bring ambivalence back. Continue reading →
It has long been known that cognitive diversity is important to collective performance. Diverse groups are more productive, more innovative and better at solving complex problems than less diverse groups. And recent research suggests that cognitive diversity also drives scientific progress.
Such research has direct implications for how we regulate reproductive technologies. Late last year, the London Sperm Bank was criticised for its decision to ban sperm donors who suffer from minor neurological disorders, including dyslexia and Asperger's syndrome. Continue reading →
Following a horrific act of sexual violence against a 14-year-old girl, the president of Indonesia, Joko Widodo, recently signed a decree into law, which, among other things, authorised the death penalty for convicted child sex offenders, and also the use of chemical castration of such offenders.
The main justification cited by Widodo was that castration would act as a deterrent. But how do such interventions fit in the criminal justice system? Are they likely to be successful? Continue reading →
Imagine that an out of control trolley is speeding towards a group of five people. You are standing on a footbridge above, next to a large man. If you push him off the bridge onto the track below, his body will stop the trolley before it hits the five people. He will die, but the five others will be saved. Should you push the man off the bridge?
Before you make your decision, you should know that your popularity could depend on it. According to a new study of more than 2,400 participants, which we carried out with David Pizarro from Cornell University, the way you answer the "trolley problem" can have a big impact on how much people trust you. So let's have a look at your options.
You might say yes; saving five lives outweighs the harm of killing one person. And you wouldn't be alone: you'd be making a moral decision in line with "consequentialist" theories of morality. Consequentialists believe that we should aim to maximise the greatest good for the greatest number of people, even if this means causing some harm – for example, by killing one person to save five.
On the other hand, you might say no; killing someone is just wrong, regardless of any positive consequences there might be. Here, you'd be making a moral decision in line with "deontological" moral theories, which focus on moral rules, rights and duties. Maxims such as "thou shalt not kill" and "treat others as you would like to be treated" (otherwise known asthe golden rule) fit into this category.
Continue reading →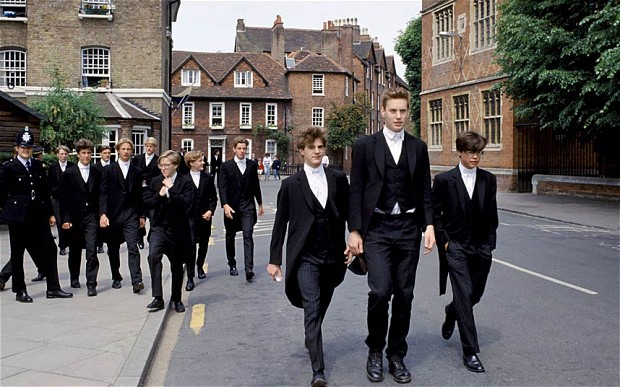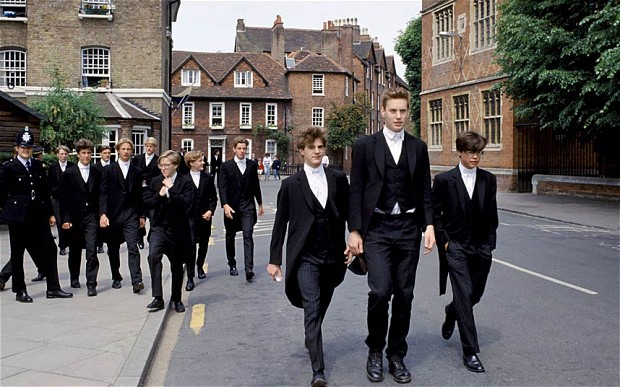 (Photo: Daily Telegraph)
I am a bitter opponent of private education. All my political hackles rise whenever the subject is mentioned.
Yet of my four currently school-aged children, one ('A') is educated privately (at a specialist choir school), and another ('B', who is dyslexic) will shortly be in private education (at a hip, Indian-cotton swathed, high-fibre, bongo-drumming, holistic school). The two others ('C' and 'D') are currently in state primary schools. There are two older children too ('E' and 'F') They were both educated privately, at a fairly traditional school.
How can I live with myself?
One way would be to avert my eyes from the apparently plain discrepancy between my actions and my political convictions. That's often been my strategy. But I want to attempt some kind of defence – at least in relation to A and B, and lay the ground for a potential defence in relation to C and D, should we choose to educate them privately. Continue reading →