This article received an honourable mention in the graduate category of the 2023 National Oxford Uehiro Prize in Practical Ethics
Written by University of Manchester student Thomas Long
Abstract
This essay presents, first and foremost, the recollections of a doctoral anthropologist as they attempt to make sense of a moment of embodied, ethical dissonance: a moment where the "familiar" of their own ethical positionality was suddenly and violently made very "strange" to them through participation in applause. Applause is one of the most practical ways we can perform our support for a cause, idea or individual within corporeal social space. Through a vignette, I examine the ethical challenge presented by my own, unexpected applause – applause for the Pro-Life movement – that occurred during fieldwork with Evangelical Christians in the U.S.A. I use this vignette to question the impact of the field on an anthropologist's capacity to practice what they see as good ethics, and in doing so, consider the practical ethical limits of conducting ethnographic research with so called "repugnant cultural others" (Harding 1991). I argue that moments of uncomfortable alienation from one's own perceived ethical positionality present not a moral, but a conceptual challenge, in that through this alienation the elasticity of our ethical selves is laid bare. I conclude by suggesting that the challenge presented by doing ethnography with ethically divergent interlocutors constitutes an "object dissolving critique" (Robbins, 2003, p.193) of our implicit conception of what it means to be a coherent ethical subject at all. Continue reading →
This article received an honourable mention in the undergraduate category of the 2023 National Oxford Uehiro Prize in Practical Ethics
Written by Tanae Rao, University of Oxford student
There are some crimes, such as killing non-combatants and mutilating corpses, so vile that they are clearly impermissible even in the brutal chaos of war. Upholding human dignity, or whatever is left of it, in these situations may require us to hold someone morally responsible for violation of the rules of combat. Common sense morality dictates that we owe it to those unlawfully killed or injured to punish the people who carried out the atrocity. But what if the perpetrators weren't people at all? Robert Sparrow argues that, when lethal autonomous weapons cause war crimes, it is often impossible to identify someone–man or machine–who can appropriately be held morally responsible (Sparrow 2007; Sparrow 2016). This might explain some of our ambivalence about the deployment of autonomous weapons, even if their use would replace human combatants who commit war crimes more frequently than their robotic counterparts. Continue reading →
This article received an honourable mention in the undergraduate category of the 2023 National Oxford Uehiro Prize in Practical Ethics
Written by Leah O'Grady, University of Oxford
This essay will argue that it is wrong to use slurs in a non-derogatory context due to the phenomena of constitutive prohibition, put forward by Alexandre and Lepore (2013). That is, I will argue that slurs are wrong because they are considered wrong. Throughout, I will use 'offensive' interchangeably with 'considered wrong (by the marginalised community to which it applies)'. I wish to distinguish 'offensive' with 'wrong'. A slur is wrong if and only if it does harm to the marginalised community to which it applies. I will begin the essay from the assumption that an offensive slur is not necessarily wrong and vice versa. However, through argument I will conclude that slurs are wrong because they are offensive, that is, it is wrong to say slurs because it implies either an ignorance of or a disregard to the wishes of marginalised communities. Continue reading →

We are pleased to announce the four finalists for the National Oxford Uehiro Prize in Practical Ethics 2023 and to invite you to attend the final where they will present their entries. Two finalists have been selected from each category to present their ideas to an audience and respond to a short Q&A as the final round in the competition.
The Presentation will be held on Tuesday 14th March from 5:30pm in the Lecture Room, Faculty of Philosophy, Radcliffe Observatory Quarter, Oxford OX2 6HT, followed by a drinks reception until 7:45 pm in the Colin Matthew Room.
All are welcome to attend the final and are warmly invited to join the finalists for a drinks reception after the event. Please sign up by the 12th March at: https://bookwhen.com/uehiro/e/ev-sqat-20230314173000
If you are unable to join the event in person, the presentation section will be presented as a hybrid zoom webinar. To register in advance for this webinar sign in here: https://us02web.zoom.us/webinar/register/WN_2FEbKuvyRCiu59Wa4soa0w
Please book now and support the next generation of Practical Ethicists.
Written by Muriel Leuenberger
The question of who gets to be a person is one of those old but never outdated classics in philosophy. Throughout history, philosophers have discussed which human beings are persons, when human beings start to be persons, when they are no longer the same person, and whether non-human beings can be persons – and the discussion continues.
The task of defining the concept of a person can be approached from a purely ontological angle, by looking at what kind of entities exist in the world. There are those beings we want to call persons – what unites them and what separates them from non-persons? This ontological project has, at least at first sight, nothing to do with how the world should be and purely with how it is.
But many moral practices are connected to this concept. Persons deserve praise and blame, they should not be experimented on without their consent, they can make promises, they should be respected. The status of personhood is connected to a moral status. Because of the properties persons have they deserve to be treated and can act in a certain way. Personhood is what can be called a thick concept. It combines descriptive and normative dimensions. To be a person one must meet certain descriptive conditions. But being a person also comes with a distinctive moral status.
Provided my eyes are not withdrawn from that spectacle, of which they never tire; provided I may look upon the sun and the moon and gaze at the other planets; provided I may trace their risings and settings, their periods and the causes of their travelling faster or slower; provided I may behold all the stars that shine at night – some fixed, others not travelling far afield but circling within the same area; some suddenly shooting forth, and others dazzling the eye with scattered fire, as if they are falling, or gliding past with a long trail of blazing light; provided I can commune with these and, so far as humans may, associate with the divine, and provided I can keep my mind always directed upwards, striving for a vision of kindred things – what does it matter what ground I stand on?  

Seneca, Consolation to Helvia, translated by C. D. N. Costa
Guest post by Morgan Carpenter, bioethicist; co-founder and executive director, Intersex Human Rights Australia; Magda Rakita co-founder and executive director, Fundacja Interakcja (Poland), and co-chair, OII Europe; and Bo Laurent, founder, Intersex Society of North America
We love Greta Thunberg. But we were hurt and disappointed that she chose "small dick energy" as a pejorative in her recent Twitter exchange with the self-proclaimed "misogynist influencer" Andrew Tate. This particular choice of words was not, in our view, the self-evidently praiseworthy retort that many progressive commentators took it to be.
Don't get us wrong. Rhetorically taking someone down a notch is undoubtedly sometimes appropriate. Especially if they have an inflated ego, an objectionable moral character, and regularly disrespect others, as appears to be the case with Tate.
We aren't against mocking misogynists.
But we are against doing so by alluding to, or making disparaging comments about, body parts or mental attributes possessed by marginalized people — people who suffer unjust stigma due to those very traits. Continue reading →
Written by Dr Daniel D'Hotman, DPhil student studying mental health and ethics at the Oxford Uehiro Centre
The original version of this article was published in the Sydney Morning Herald
Unprecedented times called for unprecedented measures. COVID-19 was the most significant health crisis many of us had ever faced. While the physical effects were much discussed, the mental health burden was arguably just as devastating. In response, the previous Government doubled subsidised mental health appointments under the Better Access Program, allowing Australians suffering from mental illnesses like anxiety, PTSD and depression to claim an extra 10 appointments per year.
Now we are trying to convince ourselves COVID-19 and its impacts are over. In addition to requiring referrals for some PCR tests, the Australian Government is cutting the number of mental health visits available under Medicare to pre-pandemic levels, arguing this is a necessary step to improve equity. According to a review of the program, extra appointments clogged up waitlists and reduced access for those not engaging with services. Continue reading →

Written by Muriel Leuenberger
A modified version of this post is forthcoming in Think edited by Stephen Law.
Spoiler warning: if you want to watch the movie Don't Worry Darling, I advise you to not read this article beforehand (but definitely read it afterwards).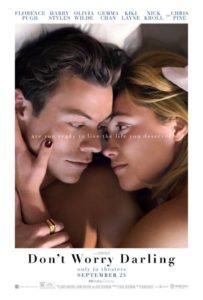 One of the most common reoccurring philosophical thought experiments in movies must be the simulation theory. The Matrix, The Truman Show, and Inception are only three of countless movies following the trope of "What if reality is a simulation?". The most recent addition is Don't Worry Darling by Olivia Wilde. In this movie, the main character Alice discovers that her idyllic 1950s-style housewife life in the company town of Victory, California, is a simulation. Some of the inhabitants of Victory (most men) are aware of this, such as her husband Jack who forced her into the simulation. Others (most women) share Alice's unawareness. In the course of the movie, Alice's memories of her real life return, and she manages to escape the simulation. This blog post is part of a series of articles in which Hazem Zohny, Mette Høeg, and I explore ethical issues connected to the simulation theory through the example of Don't Worry Darling.
One question we may ask is whether living in a simulation, with a simulated and potentially altered body and mind, would entail giving up your true self or if you could come closer to it by freeing yourself from the constraints of reality. What does it mean to be true to yourself in a simulated world? Can you be real in a fake world with a fake body and fake memories? And would there be any value in trying to be authentic in a simulation?

Written By Mette Leonard Høeg
This blogpost is a prepublication draft of an article forthcoming in THINK.
It is well-known that rational insight and understanding of scientific facts do not necessarily lead to psychological change and shifts in intuitions. In his paper "Grief and the inconsolation of philosophy" (unpublished manuscript), Dominic Wilkinson sheds light on this gap between insight and emotions as he considers the potential of philosophy for offering consolation in relation to human mortality. More specifically, he looks at the possibility of Derek Parfit's influential reductionist definition of personal identity for providing psychological consolation in the face of the death of oneself and of others. In Reasons and Persons, Parfit argues that personal identity is reducible to physical and psychological continuity of mental states, and that there is no additional fact, diachronic entity or essence that determines identity; and he points to the potential for existential liberation and consolation in adopting this anti-essentialist perspective: "Is the truth depressing? Some might find it so. But I find it liberating, and consoling. When I believed that my existence was such a further fact, I seemed imprisoned in myself. My life seemed like a glass tunnel, through which I was moving faster every year, and at the end of which there was darkness. When I changed my view, the walls of my glass tunnel disappeared. I now live in the open air."