Written by César Palacios-González
It seems that in the not-so-distant future, scientists will be able to create functional human gametes (i.e. eggs and sperm) in a laboratory setting. In other words, they will be able to create human gametes outside of the human body. And just as there is in vitro fertilization (IVF), there will be in vitro gametogenesis (IVG). This means that our already long list of human reproductive acronyms –IVF, PGD, ICSI, PNT, PBT1, PBT2, MST, UTx, CT, etc.–  will get a bit longer. At present, some of the best biology labs from around the world are actively working on how to achieve such goal, and non-human animal models have shown some amazing results.
For starters, scientists have successfully derived in a laboratory setting mouse oocyte-like cells and sperm-like cells from induced pluripotent stem cells and embryonic stem cells. And, most surprisingly, they have been able to create what has been called "cross-sex gametes". This means that they have been able to create sperm-like cells from female mice, and oocyte-like cells from male mice (I use the terms 'sperm-like' and 'oocyte-like' because these cells are not identical to naturally occurring gametes). Some of such cross-sex gametes have, in turn, been capable of producing live offspring. Continue reading →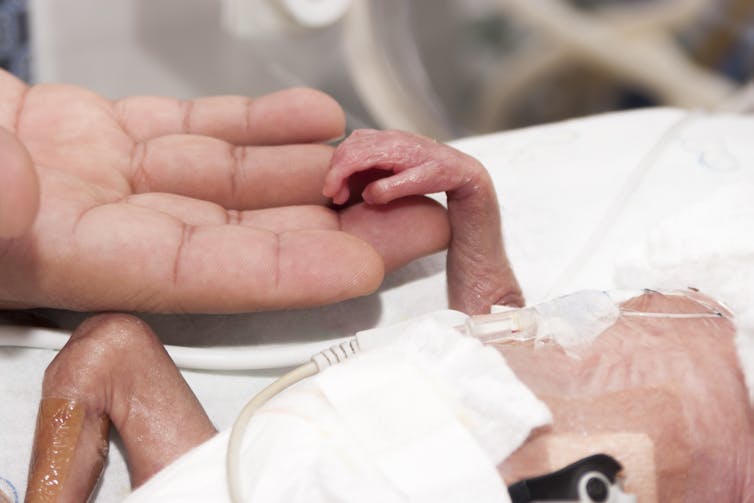 Written by Julian Koplin, University of Melbourne and
Julian Savulescu, University of Oxford
This article is republished from The Conversation under a Creative Commons license. Read the original article.
Researchers have grown groups of brain cells in the lab –
known as 'organoids' – that produce brain waves resembling
those found in premature infants.
from www.shutterstock.com
Scientists have become increasingly adept at creating brain organoids – which are essentially miniature human brains grown in the laboratory from stem cells.
Although brain organoid research might seem outlandish, it serves an important moral purpose. Among other benefits, it promises to help us understand early brain development and neurodevelopmental disorders such as microcephaly, autism and schizophrenia.
Written by Carissa Véliz
Dr Carissa Véliz, Oxford Uehiro Centre research fellow, has recently published a provocative article in the Harvard Business Review:
The ability to collect and exploit consumers' personal data has long been a source of competitive advantage in the digital economy. It is their control and use of this data that has enabled the likes of Google, Amazon, Alibaba, and Facebook to dominate online markets.
But consumers are increasingly concerned about the vulnerability that comes with surrendering data. A growing number of cyberattacks — the 2017 hacking of credit watch company Experian being a case in point, not to mention the likely interference by Russian government sponsored hackers in the 2016 US Presidential elections — have triggered something of a "techlash".
Even without these scandals, it is likely that sooner or later every netizen will have suffered at some point from a bad data experience: from their credit card number being stolen, to their account getting hacked, or their personal details getting exposed; from suffering embarrassment from an inappropriate ad while at work, to realizing that their favorite airline is charging them more than they charge others for the same flight.
See here for the full article, and to join in the conversation.
Written by University of Oxford DPhil student, Tena Thau
Prior to this year's final exams, Oxford University announced a crackdown on "trashing," the post-exam tradition of dousing finalists in champagne, 'silly string,' confetti, and the like.   In conjunction with this announcement, the University released a memo outlining its objections to trashing.
In Part I of this post, I will present a point-by-point refutation of the arguments made in this memo. In Part II, I will sketch out what I think is the central moral concern with trashing: that it is an expression of elitism.  I will conclude that this 'elitism objection' to trashing should be rejected, showing why it is not trashing – but rather, the campaign against it – that is guilty of elitism. Continue reading →
Written by Rebecca Brown
Last month, one of the largest music streaming services in the world, Spotify, announced a new 'hate content and hateful conduct' policy. In it, they state that "We believe in openness, diversity, tolerance and respect, and we want to promote those values through music and the creative arts." They condemn hate content that "expressly and principally promotes, advocates, or incites hatred or violence against a group or individual based on characteristics, including, race, religion, gender identity, sex, ethnicity, nationality, sexual orientation, veteran status, or disability." Content that is found to fulfil these criteria may be removed from the service, or may cease to be promoted, for example, through playlists and advertisements. Spotify further describe how they will approach "hateful conduct" by artists: 
We don't censor content because of an artist's or creator's behavior, but we want our editorial decisions – what we choose to program – to reflect our values. When an artist or creator does something that is especially harmful or hateful (for example, violence against children and sexual violence), it may affect the ways we work with or support that artist or creator.
An immediate consequence of this policy was the removal from featured playlists of R. Kelly and XXXTentacion, two American R&B artists. Whilst the 20 year old XXXTentacion has had moderate success in the US, R. Kelly is one of the biggest R&B artists in the world. As a result, the decision not to playlist R. Kelly attracted significant attention, including accusations of censorship and racism. Subsequently, Spotify backtracked on their decision, rescinding the section of their policy on hateful conduct and announcing regret for the "vague" language of the policy which "left too many elements open to interpretation." Consequently, XXXTentacion's music has reappeared on playlists such as Rap Caviar, although R. Kelly has not (yet) been reinstated. The controversy surrounding R. Kelly and Spotify raises questions about the extent to which commercial organisations, such as music streaming services, should make clear moral expressions. 
Continue reading →
By Lauren Notini and Brian D. Earp
*Note: a condensed version of this article titled "Iceland's Proposed Circumcision Ban" is being cross-published at Pursuit.
For a small country, Iceland has had a big impact on global media coverage recently, following its proposed ban on male circumcision before an age of consent.
Iceland's proposed legislation seeks to criminalise circumcision on male minors that is unnecessary "for health reasons," stating individuals who remove "part or all of the sexual organs shall be imprisoned for up to 6 years."
The bill claims circumcision violates children's rights to "express their views on the issues [concerning them]" and "protection against traditions that are harmful."
According to bill spokesperson Silja Dögg Gunnarsdóttir, a key reason for the bill is that all forms of female genital cutting (FGC), no matter how minor, have been illegal in Iceland since 2005, but no similar legislation exists for males.
"If we have laws banning circumcision for girls," she said in an interview, then for consistency "we should do so for boys." Consequently, the bill is not specific to male circumcision, but adapts the existing law banning FGC, changing "girls" to "children."
There is much to unpack here. We first discuss self-determination and informed consent, before addressing claims about potential health benefits and harms. We then explore the religious significance of circumcision for some groups, and ask what implications this should have.
Written by Simon Beard
University of Cambridge
After years of deliberation, a US moratorium on so-called 'gain of function' experiments, involving the production of novel pathogens with a high degree of pandemic potential, has been lifted [https://www.nih.gov/about-nih/who-we-are/nih-director/statements/nih-lifts-funding-pause-gain-function-research]. At the same time, a ground-breaking new set of guidelines about how and when such experiments can be funded has been published [https://thebulletin.org/new-pathogen-research-rules-gain-function-loss-clarity11540] by the National Institutes of Health. This is to be welcomed, and I hope that these guidelines stimulate broader discussions about the ethics and funding of duel use scientific research, both inside and outside of the life sciences. At the very least, it is essential that people learn from this experience and do not engage in the kind of intellectual head banging that has undermined important research, and disrupted the careers of talented researchers.
Yet, there is something in these guidelines that many philosophers may find troubling.
These new guidelines insist, for the first time it seems, that NIH funding will depend not only on the benefits of scientific research outweighing the potential risks, but also on whether or not the research is "ethically justified". In defining what is ethically justifiable, the NIH make specific reference to standards of beneficence, non-maleficence, justice, scientific freedom, respect for persons and responsible stewardship.
Much has been made of this additional dimension of evaluation and whether or not review committees will be up to assessing it. Whereas before, it is said, they merely had to assess whether research would have good or bad outcomes, they now have to determine whether it is right or wrong as well! Continue reading →
This essay was the runner up in the Oxford Uehiro Prize in Practical Ethics Graduate Category
Written by University of Oxford student James Kirkpatrick
It is widely accepted that valid consent is necessary for the permissibility of sexual acts. This requirement explains why it is impermissible to have sex with non-human animals, children, and agents with severe cognitive impairments. This paper explores the implications of this requirement for the conditions under which
conjoined twins may have sex.[1] I will argue that sex with conjoined twins is impermissible if one of them does not consent. This observation generalises to prohibitions on a wide range of everyday activities, such as masturbation, blood donations, and taking drugs to cure one's headache. While these implications are
highly counterintuitive, it is dificult to articulate the relevant moral difference between these cases. Continue reading →
This essay was the winner in the Oxford Uehiro Prize in Practical Ethics Graduate Category
Written by University of Oxford student Miles Unterreiner
Question to be answered: Why is it wrong to benefit from injustice?
In the 2005 film Thank You for Smoking, smooth-talking tobacco company spokesman Nick Naylor (Aaron Eckhart) is charged with publicly defending the interests of Big Tobacco. Naylor is invited to a panel discussion on live TV, where he faces an unfriendly studio audience; Robin Williger, a 15-year-old cancer patient who has recently quit smoking; and anti-smoking crusader Ron Goode, who works for an organization dedicated to fighting tobacco consumption. Naylor boldly goes on the attack against Goode, accusing him and his organization of benefiting from the well-publicized deaths of lung cancer patients:
Naylor: The Ron Goodes of this world want the Robin Willigers to die.
Goode: What?
 Naylor: You know why? So that their budgets will go up. This is nothing less than trafficking in human misery, and you, sir, ought to be ashamed of yourself. Continue reading →