Written by Daniela Cutas Lund University
What are genetic relatives to each other if they are not de facto relatives? Is there no relation between a donor-conceived person and their gamete donor? Between the donor-conceived person and the donor´s other offspring or parents or aunts and uncles? Should parents facilitate acquaintance between their children and their children´s gamete donors or donor siblings or other close genetic relatives?
Answers to these questions will differ depending on how one regards the significance of genetic ties. For some, genetic ties equal real relatedness between people: blood is thicker than water, and your genetic relatives ultimately are your family. Anything else is at best a proxy, and at worst a lie. For others, the focus on genes and genetic relatedness is irrational and potentially harmful. It reinforces prejudice and reduces people to their biological components and the relationships between them to combinations of genes. Both these and other attitudes are simultaneously represented in many cultures and legislatures in the Western world. Sometimes, parents of donor-conceived children, who see themselves without a doubt as their children´s rightful parents, may fear that their children may choose to see the gamete donors as their parents instead. Other parents and children may be blissfully in sync with each other but find themselves in extended families and communities in which others see things differently and behave accordingly. Continue reading →
Written by Tess Johnson, University of Oxford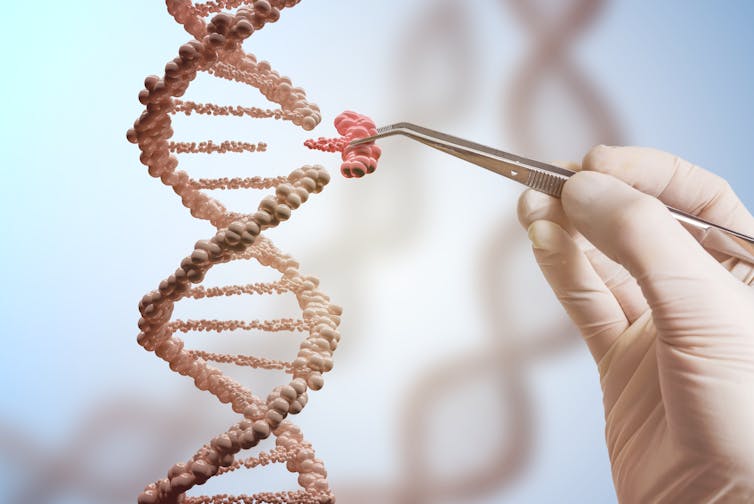 How far will we allow genetic enhancement to go?
vchal/ Shutterstock
The first genetically edited children were born in China in late 2018. Twins Lulu and Nana had a particular gene – known as CCR5 – modified during embryonic development. The aim was to make them (and their descendants) resistant to HIV. By some definitions, this would be an example of human enhancement.
Although there is still a long way to go before the technology is safe, this example has shown it's possible to edit genes that will continue being inherited by genetic offspring for generations. However, we don't yet know what effect these genetic changes will have on the overall health of the twins throughout life. Potential unintended changes to other genes is a grave concern which is limiting our use of gene editing technology at the moment – but this limit won't always be present. Continue reading →
A Guest Post Written by Jonny Anomaly
It's been 20 years since Allen Buchanan and his colleagues published From Chance to Choice: Genetics and Justice. The book was a landmark, and it repays careful reading.
But there is at least one kind of question that has been largely (if not entirely) ignored in discussions about whether we should regulate parental choice, once parents have access to technologies that allow them to sculpt the genetic endowment of their children. How should we think about reproductive choices that are good for each but not for all? What should we do when there is a conflict between parents selecting the best traits for their children, when a different distribution of traits might be better from a social standpoint? Another way of asking the question is this: how should we think about situations in which there is a potential conflict between the principle of procreative beneficence and the principle of procreative altruism? Continue reading →
By Jonathan Pugh
The below is a slightly extended version of my two 5min presentations at the European Youth Event 2018, at the European Parliament in Strasbourg. I was asked to present on the following questions:
What are the ethical issues surrounding gene-editing, particularly with respect to eradicating mosquitoes?
Should the EU legislate on gene-editing mosquitoes?
Written by Dr Christopher Gyngell Research Fellow in Biomedical Ethics, Murdoch Childrens Research Institute, and Professor Julian Savulescu Uehiro Chair in Practical Ethics,Visiting Professor in Biomedical Ethics, Murdoch Childrens Research Institute and Distinguished Visiting Professor in Law, Melbourne University, University of Oxford
This article was originally published on The Conversation
One of the greatest mysteries in life is why only about one in three embryos formed naturally ever go on to produce a baby. Most miscarry. By genetically engineering human embryos, scientists in the UK have identified a key gene in enabling embryos to develop.
Kathy Niakan, of the Francis Crick Institute in London, led a team which used gene editing technique CRISPR to investigate the role of a particular gene in the development of embryos. The study could potentially lead to better understanding of miscarriage, and hopefully prevention of it, and improve treatment of infertility.
However, this ground-breaking research would be illegal in Australia. Scientists doing this in Australia could be imprisoned. It's time to review Australia's laws in this area, which are 15 years old. Continue reading →

Could genetic engineering one day allow parents to have designer babies?
Tatiana Vdb/flickr, CC BY
William Isdale, University of Melbourne
What if humans are genetically unfit to overcome challenges like climate change and the growing inequality that looks set to define our future?
Julian Savulescu, visiting professor at Monash University and Uehiro professor of Practical Ethics at Oxford University, argues that modifying the biological traits of humans should be part of the solution to secure a safe and desirable future.
The University of Melbourne's William Isdale spoke to Julian Savulescu about what aspects of humanity could be altered by genetic modifications and why it might one day actually be considered unethical to withhold genetic enhancements that could have an overwhelmingly positive effect on a child's life. Continue reading →
Written by Dr Chris Gyngell
Last year, the first truly novel synthetic life form was created. The Minimal Cell created by the Venter Lab, contains the smallest genome of any known independent organism.[1] While the first synthetic microbe was created in 2010, that was simply a like for like synthetic copy of the genome of an existing bacterium.  Nothing like the Minimal Cell exists in nature.
This great advance in synthetic biology comes at a time where natural life forms are being manipulated in ways never seen before.  The CRISPR gene editing system has been used to create hulk-like dogs, malaria proof mosquitoes, drought resistant wheat and hornless cows. The list of CRISPR-altered animals grows by the month. Continue reading →
Written by Dr Christopher Gyngell
This article originally appeared on the OMS website
The Nuffield Council of Bioethics released a report last Friday outlining the key ethical issues raised by genome editing technologies.
Genome editing (GE) is a powerful, and extremely rapidly developing technology. It uses engineered enzymes to make precise, controlled modification to DNA. It has the potential to radically transform many industries, including medicine, agriculture and ecology.  Despite only being developed in the past few years', GE has already been used to create malaria-fighting mosquitoes, drought resistant wheat, hornless cows and cancer killing immune cells. The potential applications of GE in a decade are difficult to imagine. It raises a wide range of ethical issues that require careful scrutiny. Continue reading →
Written by Charles Dupras and Vardit Ravitsky
Bioethics Programs, School of Public Health, University of Montreal
Environmental epigenetics is a rising field of scientific research that has been receiving much attention. It explores how exposure to various physical and social environments (e.g. pollution or social adversity) affects gene expression and, eventually, our health. Environmental epigenetics can sometimes explain why some of us carry increased risks of developing specific diseases. It provides activists a powerful vocabulary to promote environmental awareness and social justice. This new vocabulary, which allows us to discuss the consequences of disparities at the molecular level, has been enthusiastically mobilized as an effective way of stimulating political will for promoting public health preventive strategies. Continue reading →
Dr Christopher Gyngell (Oxford) comments on the HFEA's decision to give green light to UK researchers to genetically modify human embryos for research. A clear analysis of the most common concerns, and a suggestion for what direction the debate should take.