This article received an honourable mention in the graduate category of the 2023 National Oxford Uehiro Prize in Practical Ethics
Written by Lucy Simpson, Nottingham Trent University student
Throughout the catalogue of work produced by Jeff McMahan, he has discussed what constitutes a being's moral status, and has advocated the theories of moral individualism and reflective equilibrium intuitionism.[1] It is not my intention in this paper to dispute  these positions. Instead, I argue that if we accept McMahan's position, then logically, we must accept that a being's moral character is a morally relevant property which we ought to consider when determining their moral status. As I will explain, this therefore means that moral status is not static; it is fluid. Further to this, in the latter stages of this paper, I consider that if we do accept that moral status is action dependant, then there might be negative moral status. On the topic of negative moral status, I do not aim to give any in-depth arguments either for or against its existence, but rather just flag this as a potential avenue for further exploration if we do indeed follow McMahan's theories of intuitionism and moral individualism. Continue reading →
This article received an honourable mention in the graduate category of the 2023 National Oxford Uehiro Prize in Practical Ethics
Written by University of Oxford student Samuel Iglesias
In­tro­duc­tion
6.522. "There are, in­deed, things that can­not be put into words. They make them­selves man­i­fest. They are what is mys­ti­cal". —Lud­wig Wittgen­stein, Trac­ta­tus Logi­co Philo­soph­icus.
What de­ter­mines whether an ar­ti­fi­cial in­tel­li­gence has moral sta­tus? Do men­tal states, such as the vivid and con­scious feel­ings of plea­sure or pain, mat­ter? Some ethicists ar­gue that "what goes on in the in­side mat­ters great­ly" (Ny­holm and Frank 2017). Oth­ers, like John Dana­her, ar­gue that "per­for­ma­tive ar­ti­fice, by it­self, can be suf­ficient to ground a claim of moral sta­tus" (2018). This view, called eth­i­cal be­hav­ior­ism, "re­spects our epis­temic lim­its" and states that if an en­ti­ty "con­sis­tent­ly be­haves like anoth­er en­ti­ty to whom we af­ford moral sta­tus, then it should be grant­ed the same moral sta­tus." Continue reading →
Written by Dominic McGuire, DPhil Student, Queen's College Oxford
Jonathan Pugh's interesting Practical Ethics blog of October 14th, 2022, http://blog.practicalethics.ox.ac.uk/2022/10/brain-cells-slime-mold-and-sentience-semantics/, prompted several additional thoughts. Pugh's blog considered some of the implications from recent media reports about laboratory grown brains, also called minibrains, which can play the video game of Pong. Pong is a simple representation of the game of table tennis.
In his blog, Pugh concludes that the Pong playing minibrains are not sentient. This is because in his view they do not possess phenomenal consciousness and thus are unable to experience pain or pleasure. To some the property of phenomenal consciousness is an essential requirement for moral status. This is because they claim that only entities that are phenomenally conscious have the kinds of interests that warrant strong forms of moral protection.   Continue reading →
Panpsychism is the view that sentience is ubiquitous in the world. Some people find it attractive because it sidesteps the challenge for dualists of explaining why there are two radically different types of things in the world, physical things and mental things.  And panpsychism seems to avoid some of of the challenges that face physicalist accounts of consciousness of explaining how mental properties are related to physical properties; since pan-psychism says that "mentality" is everywhere, the task left for cognitive scientists is simply to explain why that mentality is organized in a particular way rather than needing to directly address the "hard problem of consciousness'" head on.
Many people also find sentientism, the view that sentience is sufficient for moral status, attractive.  So it can be tempting to combine panpsychism and sentientism and conclude that we can assume that all animals, including oysters, snails, and fruit flies, must necessarily have moral status.  This move is a mistake.
The problem with the above move is that it rests on an equivocation on the term "sentient."  One definition of sentient means "the ability to feel pleasure and pain."  Another definition means "the ability to have any types of conscious experiences."  The link to moral status requires the first definition of sentience.  But panpsychism, if true, only entails the second.
Beyond just the definitions, it certainly seems like there are a lot of experiences that are neither positive nor negative…they are simply neutral.  So the fact that some experiences occurred doesn't tell us that anything morally significant occurred in the absence of further knowledge about what types of experiences they were, even for a sentientist.
But what about observing avoidance behaviour?  If we see that, and we think that mentality is everywhere, shouldn't we conclude that the avoidance behaviour is indicative of suffering?  But this seems contrary to what we know about pain.  People can still have withdrawal reactions that rely on spinal reflexes, even when they self-report that they don't feel pain.  In fact, in rare cases, people even report feeling pains but not finding them unpleasant.
So panpsychism doesn't really sidestep the challenge of determining which types of behaviours in nonverbal populations are indicative of positive or negative experiences.  They may avoid having to take on the hard problem of consciousness but they are left with the hard problem of morally relevant consciousness.
By Mackenzie Graham
The article was originally published at the Conversation
Around the world thousands of people are on organ donor waiting lists. While some of those people will receive the organ transplants they need in time, the sad reality is that many will die waiting. But controversial new research may provide a way to address this crisis.
Japan has recently overturned its ban on the creation of human-animal hybrids, or "chimeras", and approved a request by researchers from the University of Tokyo to create a human-mouse hybrid.
Scientists will attempt to grow a human pancreas inside a mouse, using a certain kind of stem cell known as "induced pluripotent stem cells". These are cells that can grow into almost any kind of cell. The stem cells will be injected into a mouse embryo, which has been genetically modified to be incapable of producing a pancreas using its own cells. This hybrid embryo is then implanted in a mouse surrogate and allowed to grow. The goal is to eventually grow a human pancreas in a larger animal – such as a pig – which can be transplanted into a human.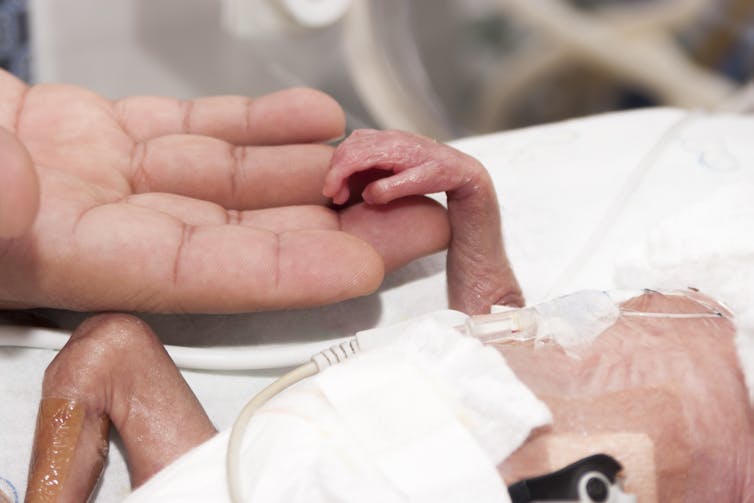 Written by Julian Koplin, University of Melbourne and
Julian Savulescu, University of Oxford
This article is republished from The Conversation under a Creative Commons license. Read the original article.
Researchers have grown groups of brain cells in the lab –
known as 'organoids' – that produce brain waves resembling
those found in premature infants.
from www.shutterstock.com
Scientists have become increasingly adept at creating brain organoids – which are essentially miniature human brains grown in the laboratory from stem cells.
Although brain organoid research might seem outlandish, it serves an important moral purpose. Among other benefits, it promises to help us understand early brain development and neurodevelopmental disorders such as microcephaly, autism and schizophrenia.
Should we increase the cognitive capacities of fish if we can? If we enhanced a chimpanzee so that it had the same cognitive capacities as us, would it have exactly the same moral status as us? Is it morally preferable to kill a mouse or to destroy a robot? Could there be beings with a higher moral status than us? These are some of the questions Professor Shelly Kagan (Yale) answers in this interview with Katrien Devolder (Oxford) (Professor Kagan delivered the 2016 Uehiro Lectures on animal ethics at the University of Oxford. The Audio files of these lectures can be downloaded at http://www.practicalethics.ox.ac.uk/l….)
Julian Savulescu
While politicians wring their hands about sensible solutions to the organ shortage, scientists are progressing with genetic manipulations that may see human organs grown in pigs.
US scientists are creating novel life forms: "human pig chimeras". These are a blend of human and pig characteristics. They are like mules who will provide organs to us. A mule is the offspring of a male donkey (jack) and a female horse (mare). Horses and donkeys are different species, with different numbers of chromosomes but they can breed together.
In this case, they take a skin cell from a person and turn it back in time to make stem cells capable of producing any cell or tissue in the body, "induced pluripotent stem cells." They then inject this into a pig embryo. This makes a pig human chimera.
However they do a modification to the pig embryo first. They use gene editing, or CRISPR, to knock out the pig's genes which produce an organ, say the pancreas. The human stem cells for the pancreas then make an almost entirely human pancreas in the pig human chimera. It functions like an organ mule. (The blood vessels are still porcine.)
In this way, your skin cell could grow a new liver, heart, pancreas, or lung.
This is a technique with wider possibilities: other US teams are working on a chimera –based treatment, this time for Parkinson's disease which will use chimeras to create human neurones.
CRISPR is also credited with enhancing the safety of this technique, with the BBC reporting  that a Harvard team were able to use the new and revolutionary technique to remove copies of a pig retrovirus.
Safety is always a major concern when science crosses new boundaries. But even if a sufficient guarantee of safety could be reached, are there ethical problems?
Recently I attended a fascinating Society for Applied Philosophy lecture by Shelly Kagan, entitled 'What's Wrong with Speciesism?'. Kagan began the lecture by explaining how, while teaching a course involving some of Peter Singer's writings on non-human animals, he had begun to doubt the view, defended by Singer, that other things equal the suffering of animals matters no less than that of human beings. Continue reading →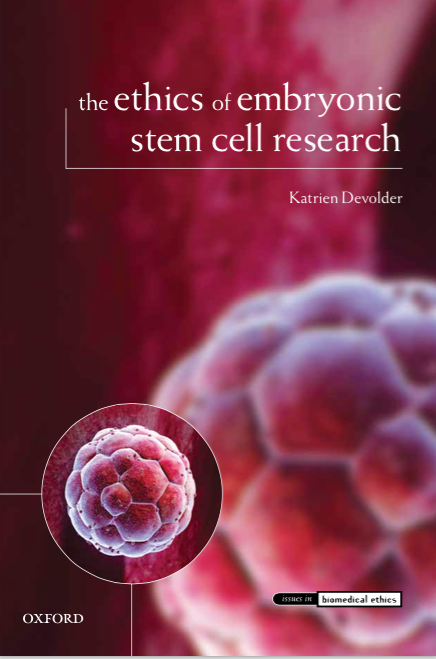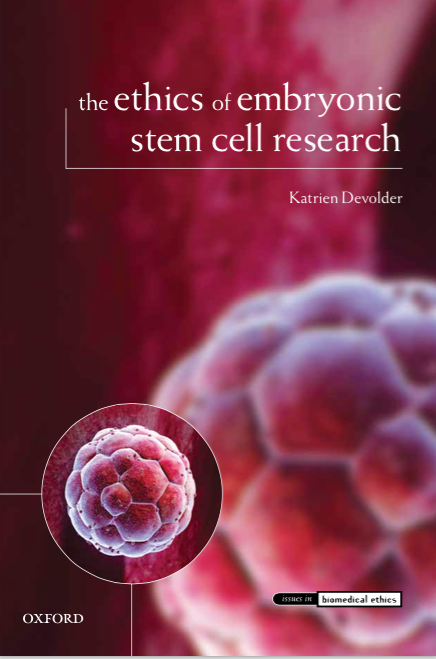 There is wide agreement that embryonic stem cell research holds unique promise for developing therapies for currently incurable diseases and conditions, and for important biomedical research. However, as it is currently done, the isolation of embryonic stem cells involves a process in which an early embryo is destroyed, which many find highly problematic.
This has resulted in what I refer to in my book as
The Problem. Either one supports embryonic stem cell research and accepts resulting embryo destruction, or one opposes embryonic stem cell research and accepts that the potential benefits of this research will be foregone. Continue reading →