Guest Post by Philipp Kellmeyer
Imagine you had epilepsy and, despite taking a daily cocktail of several anti-epileptic drugs, still suffered several seizures per week, some minor, some resulting in bruises and other injuries. The source of your epileptic seizures lies in a brain region that is important for language. Therefore, your neurologist told you, epilepsy surgery – removing brain tissue that has been identified as the source of seizures in continuous monitoring with intracranial electroencephalography (iEEG) – is not viable in your case because it would lead to permanent damage to your language ability.
There is however, says your neurologist, an innovative clinical trial under way that might reduce the frequency and severity of your seizures. In this trial, a new device is implanted in your head that contains an electrode array for recording your brain activity directly from the brain surface and for applying small electric shocks to interrupt an impending seizure.
The electrode array connects wirelessly to a small computer that analyses the information from the electrodes to assess your seizure risk at any given moment in order to decide when to administer an electric shock. The neurologist informs you that trials with similar devices have achieved a reduction in the frequency of severe seizures in 50% of patients so that there would be a good chance that you benefit from taking part in the trial.
Now, imagine you decided to participate in the trial and it turns out that the device comes with two options: In one setting, you get no feedback on your current seizure risk by the device and the decision when to administer an electric shock to prevent an impending seizure is taken solely by the device.
This keeps you completely out of the loop in terms of being able to modify your behaviour according to your seizure risk and – in a sense – relegates some autonomy of decision-making to the intelligent medical device inside your head.
In the other setting, the system comes with a "traffic light" that signals your current risk level for a seizure, with green indicating a low, yellow a medium, and red a high probability of a seizure. In case of an evolving seizure, the device may additionally warn you with an alarm tone. In this scenario, you are kept in the loop and you retain your capacity to modify your behavior accordingly, for example to step from a ladder or stop riding a bike when you are "in the red."
The Oxford Union.
The Motion: This House Believes the Manipulation of Human DNA is an Ethical Necessity.
The Speakers: Julian Savulescu closed the case for the Proposition, as the fifth speaker of six in the debate.
By Brian D. Earp (@briandavidearp)
* Note: this article was first published online at Quillette magazine.
Introduction
Alice Dreger, the historian of science, sex researcher, activist, and author of a much-discussed book of last year, has recently called attention to the loss of ambivalence as an acceptable attitude in contemporary politics and beyond. "Once upon a time," she writes, "we were allowed to feel ambivalent about people. We were allowed to say, 'I like what they did here, but that bit over there doesn't thrill me so much.' Those days are gone. Today the rule is that if someone—a scientist, a writer, a broadcaster, a politician—does one thing we don't like, they're dead to us."
I'm going to suggest that this development leads to another kind of loss: the loss of our ability to work together, or better, learn from each other, despite intense disagreement over certain issues. Whether it's because our opponent hails from a different political party, or voted differently on a key referendum, or thinks about economics or gun control or immigration or social values—or whatever—in a way we struggle to comprehend, our collective habit of shouting at each other with fingers stuffed in our ears has reached a breaking point.
It's time to bring ambivalence back. Continue reading →
Imagine that an out of control trolley is speeding towards a group of five people. You are standing on a footbridge above, next to a large man. If you push him off the bridge onto the track below, his body will stop the trolley before it hits the five people. He will die, but the five others will be saved. Should you push the man off the bridge?
Before you make your decision, you should know that your popularity could depend on it. According to a new study of more than 2,400 participants, which we carried out with David Pizarro from Cornell University, the way you answer the "trolley problem" can have a big impact on how much people trust you. So let's have a look at your options.
You might say yes; saving five lives outweighs the harm of killing one person. And you wouldn't be alone: you'd be making a moral decision in line with "consequentialist" theories of morality. Consequentialists believe that we should aim to maximise the greatest good for the greatest number of people, even if this means causing some harm – for example, by killing one person to save five.
On the other hand, you might say no; killing someone is just wrong, regardless of any positive consequences there might be. Here, you'd be making a moral decision in line with "deontological" moral theories, which focus on moral rules, rights and duties. Maxims such as "thou shalt not kill" and "treat others as you would like to be treated" (otherwise known asthe golden rule) fit into this category.
Continue reading →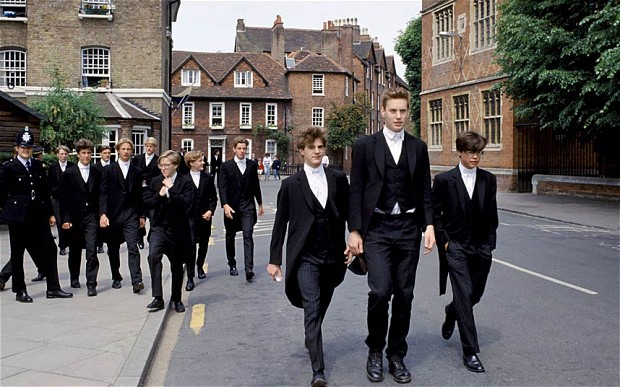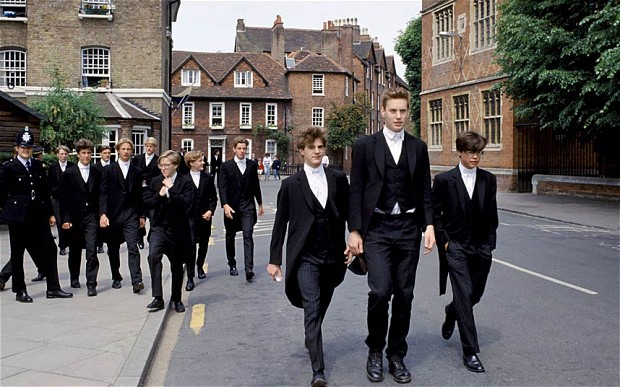 (Photo: Daily Telegraph)
I am a bitter opponent of private education. All my political hackles rise whenever the subject is mentioned.
Yet of my four currently school-aged children, one ('A') is educated privately (at a specialist choir school), and another ('B', who is dyslexic) will shortly be in private education (at a hip, Indian-cotton swathed, high-fibre, bongo-drumming, holistic school). The two others ('C' and 'D') are currently in state primary schools. There are two older children too ('E' and 'F') They were both educated privately, at a fairly traditional school.
How can I live with myself?
One way would be to avert my eyes from the apparently plain discrepancy between my actions and my political convictions. That's often been my strategy. But I want to attempt some kind of defence – at least in relation to A and B, and lay the ground for a potential defence in relation to C and D, should we choose to educate them privately. Continue reading →

Philosophers Take On the World is based on this blog, 'Practical Ethics in the News', and edited by David Edmonds. It is published by OUP and is due out in September 2016.
Every day the news shows us provoking stories about what's going on in the world, about events which raise moral questions and problems. In Philosophers Take On the World a team of philosophers get to grips with a variety of these controversial issues, from the amusing to the shocking, in short, engaging, often controversial pieces. Covering topics from guns to abortion, the morality of drinking alone, hating a sports team, and being rude to cold callers, the essays will make you think again about the judgments we make on a daily basis and the ways in which we choose to conduct our lives.
This item is not yet published, but may be pre-ordered now for delivery when available.
https://global.oup.com/academic/product/philosophers-take-on-the-world-9780198753728?cc=gb&lang=en&#
Published: 01 September 2016 (Estimated)
ISBN: 9780198753728
Written by Richard Christian.
In a stimulating and controversial post on this blog, and later in a paper published in Think, Ole Martin Moen has argued that you should not give to beggars. His argument is simple and familiar. It is that the beggar one encounters in the rich world is, in the scheme of things, doing very well for herself. The London beggar is hungry, ragged, addicted, and schizophrenic; but she is like unto a king in comparison to the starving Ethiopian. If she receives only a few pounds a day and falls asleep in a doorway, she is still much better off than the millions of people in the world now dying for lack of food or clean water. It follows that a pound put in the hand of that beggar is a pound wasted: it should have gone to the person whose need is most urgent. Moen counsels you to ignore the beggar as you pass her on the street, and to give all your spare pounds instead to charities that assist the world's most needy. In general, in your action, you should aim to do the most good you can. I wish to say here a word in favour of the beggar, and to show what I think is wrong with this currently fashionable line of reasoning in applied ethics. Continue reading →
This essay was a finalist in the Graduate Category of the 2nd Annual Oxford Uehiro Prize in Practical Ethics
Written by University of Oxford Student, Yutang Jin
In a family, parents can exert enormous influence on their children. Parents tend to implant in their children's mind, for good or ill, values and ideas which go on to guide their whole lives. This essay focuses on this relationship and discusses what justification we can have for parental influence over their children.
The dominant discourse in addressing the parent-child relationship is that of moral rights. I argue, however, that the liberal discourse of rights, sound as it may be, has lots of drawbacks that disqualify it from being a cogent account of family relationships. I then go on to craft a Confucian framework whereby to discuss how parents and children should behave to each other. My main argument is that parents' influence is justifiable insofar as parents comply with moral rules that regulate their relationship with children, and these rules are subject to public justification and rectification. Continue reading →
Written by Richard Ngo , an undergraduate student in Computer Science and Philosophy at the University of Oxford.
Neil Levy's Leverhulme Lectures start from the admirable position of integrating psychological results and philosophical arguments, with the goal of answering two questions:
(1) are we (those of us with egalitarian explicit beliefs but conflicting implicit attitudes) racist?
(2) when those implicit attitudes cause actions which seem appropriately to be characterised as racist (sexist, homophobic…), are we morally responsible for these actions? Continue reading →