Shocking behavior: Government scare tactics, smoking, and public health
Coming to a mini-mart near you. The FDA has just approved nine very grisly looking warning labels—to be slapped on cigarette packs throughout the USA. But will they work to cut smoking … or will they backfire?
Here are some of the top reasons why these labels may not only fail to achieve the FDA's desired outcome, but could actually do the opposite – leading to more smoking, not less.
Reactance. This is a technical term in psychology based on the notion that people don't like being told what to do, what to feel, or how to think. Our good friends at Wikipedia explain the idea this way:
Reactance is an emotional reaction in direct contradiction to rules or regulations that threaten or eliminate specific behavioral freedoms. Reactance can occur when someone is heavily pressured to accept a certain view or attitude. Reactance can cause the person to adopt or strengthen a view or attitude that is contrary to what was intended, and also increases resistance to persuasion.
You probably see where I'm going with this. Considering that these new labels could not possibly be more heavy-handed—coupled with the fact that reactance is one of the most well-validated concepts in all of psychology—my hunch is that a lot of smokers will dig in their heels and light up just to spite. And if the "resistance to persuasion" part is right, it'll be even harder to change their attitudes down the road. In fact, research has already linked reactance directly to smoking. Claude Miller, for example, has shown that it's one of the major risk factors for teenagers starting up the practice in the first place.
Wear-out. According to the LA Times, FDA Commissioner Margaret Hamburg has "emphasized that the FDA would continue to study the effects the images have on the public, and would probably update them yearly in an effort to keep them and their message fresh in consumers' minds. Outside experts said the government would have to vary the messages to avoid what psychologists call wear out."
How exactly might they update the images year to year? Make them even more disgusting and gruesome? If so, reactance theory predicts ever-increasing backfiring, with smokers becoming more and more irritated by the in-your-face warnings, more and more likely to assert their agency and freedom by doing the opposite of what they're told, and more and more resistant to changing their minds. So you'd have an arms race between ramped up shock-and-awe on the part of the FDA, and ramped up reactance on the part of smokers. Is that really going to solve the problem?
Fun thought: Maybe they'll vary the images along some other dimension. Maybe they'll go 3-D or holographic. Or maybe they'll install a singing-telegram computer chip that warbles out an anti-smoking jingle every time you reach for your pack!
Pop quiz. What do smokers do when they're stressed out, upset, irritated, annoyed, or otherwise ruffled or disturbed? They smoke. Smokers know this, people who know smokers know this, and in case you weren't convinced, there's a lot of research to prove it. There's also a lot of research showing that when people are exposed to really gruesome or disgusting images, it kind of stresses them out. Put these two pieces together and you get one more reason why the warning labels will probably backfire. Here is a diagram I made: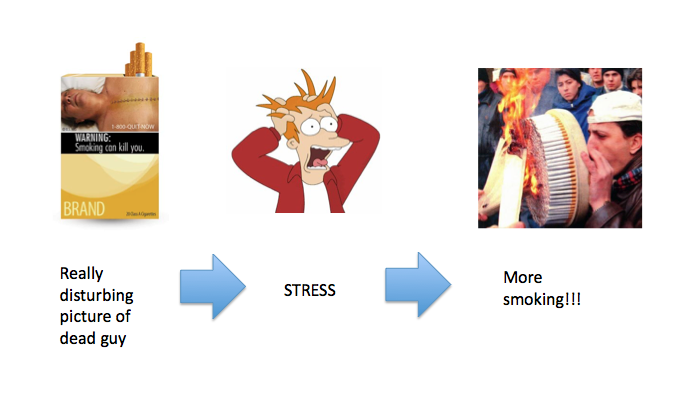 Any cue will do. On a related note, I recently presented some research on a very similar topic to the British Psychological Society annual meeting in Glasgow. My colleagues and I were investigating some ironic effects that can occur when the brain has to process a negation—like the "no" in "no-smoking" signs. We found that passive exposure to these signs—of the sort that might happen while walking down the street—actually increased craving for cigarettes in smokers, even when they didn't consciously notice the signs. Their brains dropped the negation and activated "smoking" instead, just like what happens when I tell you "don't think of a pink elephant." Sure, I said not to do it, but I got you thinking about a pink elephant just the same, didn't I?
Policy thought: Plastering cities full of smokers with thousands upon thousands of bright red little craving reminders might not be the best way to dampen public smoking.
Smokers crave nicotine. All they need is a reminder, any reminder, and the urge to smoke is triggered—whether it's a picture of a lit cigarette, a picture of a lit cigarette with a red line through it, a really scary warning label, or anything else smoking-related.
Now, to be fair—and to get back to our main topic—if a smoker has gotten far enough to see one of these new warning labels, it means they already have a pack in hand, and  their craving is full-blown to start with. It's not like the government is handing these images out to unsuspecting passers-by (at least not yet). But the "no-smoking signs" finding is a related example for my bigger point, which is that heavy-handed public health measures can backfire if you don't understand the details of human psychology. As concerns the present case, the best way to win someone over, it turns out, is not to broadcast that they're an idiot for doing what they're doing. Even if they are an idiot for doing what they're doing.
In closing, let me state that I'm no fan of smoking. I think it's gross. And clearly it's bad for your health. Furthermore, I think efforts to reduce public smoking are probably a good thing—especially considering the harm that can be done to innocent third parties, through second-hand smoke and through the boosted healthcare costs everyone has to shoulder when smokers end up in the emergency room [Note: readers have disputed this "healthcare" claim; see comments section].
But you have to be smart about how you try to change behavior. People are pretty sensitive to the means you use, and paternalistic condescension, or shrill reminders about truths you already know, are unlikely to be very effective. They might even blow right back in your face.
[Update: I've changed the title of this post from something unfunny and glib to something cleverer and more serious, in response to a thoughtful reader comment and my own reflective judgement. Sorry if you miss the old one.]
64 Responses to Shocking behavior: Government scare tactics, smoking, and public health