Let's get rid of Heaven, Hell is what we need! (?)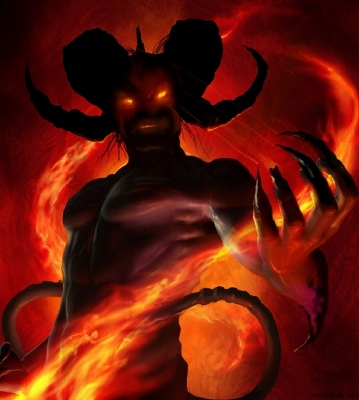 In the beginning of this week, PLoS ONE published an interesting article suggesting that a country's crime rates depend on the religious believes its population holds: Societies that believe in heaven are more criminal than societies that believe in hell.
For this study, Azim Shariff (director of the Culture and Morality Lab of the University of Oregon) and Mijke Rhemtulla analysed data on people's beliefs the World Values Surveys collected over 26 years on 143 197 participants from 67 countries. In these surveys, participants were presented a list of concepts – including "heaven" and "hell" – and asked to indicate whether or not they believed in each of them. Shariff & Rhemtulla compared these belief data (using a series of linear regression equations) to standardised crime rates which they derived from statistics the United Nations Office on Drugs and Crime collected on crimes like homicide, robbery, and burglary.
The authors found that in most countries more people believe in heaven than in hell. When they examined crime rates as a function of the degree to which a greater percentage of people believe in heaven than in hell, they found that national crime rates are typically higher in countries with more belief in heaven than in countries with more belief in hell. This effect is not only strong, but also stable when controlling for a bunch of variables that are often discussed as determinants of crime, namely poverty and income inequality (measured by GPD and Gini coefficient), national imprisonment rates, life expectancy, urban density, and also some personality factors.
So, does this mean that X commits some crimes because he believes in heaven and Y goes straight because he believes in hell – and that we can see the effects of this world-wide in our crime statistics?
Obviously, there are a lot of reasons why we cannot directly infer that from Shariff & Rhemtulla's paper: The study is correlational, so causation might be reverse (higher crime rates in their society might lead people to believe in a better life after their deaths) or a third, still undiscovered variable might be underlying the effect. Moreover, we can assume that there is some noise in the data.* And, importantly, the authors investigate effects on a societal level, so we cannot simply break down their findings to individuals.
But yet we have reason to believe what the study's author Shariff said: "At this stage, we can only speculate about mechanisms, but it's possible that people who don't believe in the possibility of punishment in the afterlife feel like they can get away with unethical behavior." Recent experiments from his lab showed that students who believe in a forgiving God tended to cheat more in an academic task than students believing in a punitive God. Another (still unpublished) study is reported to show that people who were given the opportunity to commit a petty theft took significantly more money when they were primed on God's forgiving nature, compared to people being primed on God's punitive nature.
What do you think about these findings?
If a belief in hell leads to lower crime rates and a belief in heaven to higher crime rates, what should we take from that? Should we talk people out of their belief in a better live after their death even if this belief might be good for their health – and even if we believe in heaven ourselves? Should we tell children that there is a cruel and punishing God, even if this might impair their self-esteem – and even if we do not believe in hell ourselves? Or should what we say on the question whether or not there is a God, heaven and hell be purely a matter of what we regard as true? Is this the type of knowledge gained from science that should not be instrumentalised to shape society in a desired way?
——————————————–
* To give some examples: For each country the number of believers in hell was subtracted from the number of believers in heaven which makes a nation where everybody believes in both heaven and hell ending up with the same score as a nation consisting only of people believing in neither heaven nor hell. Moreover, we do not know what concepts of heaven and hell individuals from different countries had in mind when they were asked about their beliefs. And looking at the crime rates the different countries have been assigned – Sweden has one of the highest – makes me think that they are not totally "noiseless" as well.
13 Responses to Let's get rid of Heaven, Hell is what we need! (?)