Hell, Damnation, The Royal Wedding, And The Thrashing Of Schoolboys
By Charles Foster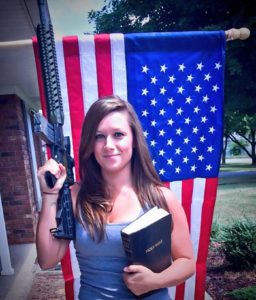 Image: Holly Fisher, a Conservative Christian blogger from West Virginia, posing with gun, Bible, and US flag:  from www.nydailynews.com
There was a near universal consensus that Bishop Michael Curry's sermon at the wedding of Prince Harry and Meghan Markle was magnificent.  'Frock Star', panted the Sun.  The Bishop 'stole the show…and is the 'new Pippa Middleton'' He left for the US, the Sun continued, 'leaving Britain still raving about his electrifying sermon.' The Bishop 'just stole the show', said Vox.com 'Prince Harry and Meghan were all but upstaged by the Episcopal priest's fiery sermon….You might say Curry just made the Anglican communion great again.'
'The Rev Michael Curry', tweeted Ed Miliband, 'could almost make me a believer, ' and Piers Morgan tweeted: 'Wow. Still reeling from Rev Curry. What a moment. What a man!' The BBC commentator Jeremy Vine said that the preacher was 'doing 50 in a 30 zone, and it's brilliant.'
It was, of course, a sermon about love. The full text is here:
Here is a sample: 'Love is not selfish and self-centered. Love can be sacrificial. And in so doing, becomes redemptive, and that way of unselfish, sacrificial, redemptive love, changes lives. And it can change this world. If you don't believe me, just stop and think or imagine. Think and imagine, well, think and imagine a world where love is the way. Imagine our homes and families when love is the way. Imagine neighborhoods and communities where love is the way. Imagine governments and nations where love is the way. Imagine business and commerce when love is the way. Imagine this tired old world when love is the way, unselfish, sacrificial redemptive. When love is the way, then no child will go to bed hungry in this world ever again. When love is the way, we will let justice roll down like a mighty stream and righteousness like an ever-flowing brook. When love is the way, poverty will become history. When love is the way, the earth will be a sanctuary. When love is the way, we will lay down our swords and shields down, down by the riverside to study war no more. When love is the way, there's plenty good room, plenty good room, for all of God's children. Because when love is the way, we actually treat each other, well, like we are actually family.'
The theological spin might chafe on secular listeners, but surely this is uncontroversially heart-warming stuff?
Not so. Many conservative evangelicals did not join in the applause. An article in Christian Today  asserted that the sermon 'distorted the gospel for the whole world. The Bishop did not speak, as he should have done, about 'sin [and] the danger of false teachers.' Tom Habib at the Gospel Coalition said: 'Curry did not preach a gospel of salvation from sin, but salvation through love.  Our love.  Our redemptive love to save the world.  It was humanism in all its glory, and a message that the world can get on board with.  And they did.' David Anderson, commenting on a web article http://garrettkell.com/what-would-jesus-say-about-bishop-currys-royal-wedding-sermon/, spoke for many evangelicals: 'He preached the part that nobody minds hearing and which isn't sufficient to know our need of salvation. He left out the part that we need to hear so that we can avoid going to hell.'
The article on which this is a comment sets out explicitly the 'part we need to hear'. It is the cornerstone of evangelical theology – the notion of penal substitution: the idea that Jesus died in our place – suffering the pains and enduring the death that were justly ours.
'….[T]he part [Bishop Curry] left out is essential to understand what love really is. 
Romans 5:8: "God shows His love for us in that while we were still sinners, Christ died for us." 
1 Peter 3: 18: "Christ also suffered once for sins, the righteous for the unrighteous, that he might bring us to God." 
"[Jesus] was pierced for our transgressions; He was crushed for our iniquities; upon him was the chastisement that brought us peace, and with his wounds we are healed." 
Jesus didn't die just to give us an example of love; He died to forgive our sins.
If we're going to talk about love, we must talk about true love—that the sinless Son of God died a gruesome death to take the judgment sinners like you, me, Bishop Curry, the Prince and Princess, and everyone else watching deserved.
Jesus did not die to warm our hearts or inspire us to feel love toward others. Jesus died because we did not love God and are destined to an eternity apart from Him in judgment.'
For these evangelicals, Bishop Curry's sermon was heretical because it was about love and not about violence, separation and threat.
The language of penal substitution is very violent. This forensic explication of the atonement (which has become a defining characteristic of evangelicalism) did not become prominent until Calvin, and did not take its distinctively modern American form until the mid 19th century, when it was popularized by the Princeton theologian Charles Hodge. There are audible echoes of the doctrine in St. Paul and the early Church fathers, but throughout the church's history the dominant way of understanding atonement has always been Christus Victor: all the forces of death and evil descended on Jesus, and he neutralized them. On this view, violence is disarmed by the cross, not vindicated and normalized: see Colossians 2:15
For the mainstream church penal substitution was and is a metaphor used to enlighten some aspects of Christus Victor. Penal substitution as a core belief is a very late mutation of historic Christianity.
Some of the attitudes of many evangelical Christians are puzzlingly bellicose. Take the support of White evangelical support for the NRA, for instance.
It is popularly supposed that this support is primarily political – to do with an insistence on fundamental freedoms, or a (perhaps twisted expression of belief in the sanctity of life (the life, that is, of the gun-bearer).
But perhaps the support is really a function of the violent language and nature of penal substitution. If your core belief is that the greatest good in the world came out of sickening violence – and that the violence was specifically planned in order that the good might result – perhaps you will tend to endorse violence in other contexts too.
This possibility has been raised in discussion of the case of John Smyth, the evangelical barrister who is alleged to have beaten young men with a cane until they bled, in order to make them more acceptable to God. Some of the victims are said to have had to wear nappies to soak up the blood. One later attempted suicide.
'It was in January 1977, when I reached 16,' wrote one of the victims, 'that Smyth first introduced the topic of being beaten by him. Quoting from the Bible – Hebrews in particular – he said it wasn't enough to repent your sins; that they needed to be purged by beatings. I had to bleed for Jesus.'
'Preaching the gospel in this way of thinking is not about introducing an individual to a fuller way of life under God, but about snatching them from the jaws of hell. If you occupy such a world-view which is obsessed with rescuing people from the eternal flames of torture, then any method, even violence, may be justified. When violence and punishment are in this way at the forefront of the imagination, it is not surprising that in some places, the actions and theology of an individual like John Smyth will happen.'
Alan Wilson, the Bishop of Buckingham, observed that:
'…the theology that these people bring to the table very often has an element of violence and sort of nastiness in it, a kind of element of punitive behaviour. God is seen as this punitive figure who is somehow out to 'get' people and I suppose it does blind people to what's going on in front of them sometimes, when there is that kind of violent basic theology.'
He referred to a House of Bishops' report on domestic violence that included a discussion of harmful theology that blinds people to what is happening in front of them.
This seems intuitively right. If the language of extreme violence is invoked routinely – in church, around the family dinner table, in schools – it does not seem surprising that violence in wider society is tolerated or even encouraged. If there is a link between penal substitution and the endorsement of violence, the political consequences – particularly in the US, where the votes of conservative evangelicals are demographically decisive – are obvious and depressing. An appeal to that constituency on the basis of love or compassion might not just fall on deaf ears: it may be regarded, precisely because it has been made on that basis, as frankly demonic – and so justify action in the opposite direction.
6 Responses to Hell, Damnation, The Royal Wedding, And The Thrashing Of Schoolboys