Why You Should Not (Be Allowed To) Have That Picnic in the Park, Even if it Does Not Make a Difference
Written by Alberto Giubilini
(a slightly longer version of this blogpost will appear in the journal Think. Link will be provided as soon as available)
It's a sunny Sunda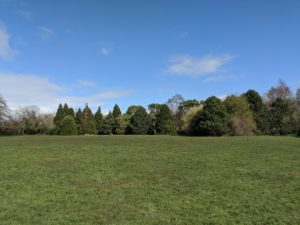 y afternoon, early spring. The kind of afternoon that seems to be inviting you out for a stroll by the river. Maybe have a picnic on the green grass, in that spot over there, away from everyone. Why not?
The simple answer is: because there is a pandemic and the Government is enforcing a lockdown. You should stay home. End of the story.
And there isn't a complex answer. The simple answer really is the end of the story.
But why? You probably understand the reasons for the lockdown. But that is a matter of policy, a general rule for the population. What difference does it make if I just go over there, where there is no one, keeping at distance from everyone? I am not going to harm anyone.
You are (probably) right: it (likely) does not make a difference, and you are (likely) not harming anyone. However, that is not the only relevant question to ask when we ask what we morally ought to do, or what a Government may permissibly require of us.
Let us consider the ethically relevant aspects of this situation.
"Social distancing"
The keyword underpinning the current lockdown, in the UK and elsewhere, is "social distancing". We need to (try to) stay at least 2 meters apart from each other – except for members of the same household – to (try to) block the transmission of this coronavirus (Covid 19). Covid 19 is thought to be twice as contagious as the flu and much more lethal (though the actual morbidity and mortality rates are still uncertain). Ideally, we need to stay home, but the Government understands how demanding this could be. It therefore allows "one form of exercise per day" outdoor, as well as going out once per day to buy basic necessities, or for essential work that cannot be done from home.
What you might be thinking
"I understand the rationale behind the lockdown. The whole point is to keep distance so that the virus cannot be transmitted from one person to another. But I don't need to comply with the policy in order to comply with the rationale. It won't hurt anyone if I sit by myself in an empty park, or if my family and I have a picnic far away from others. It's exactly the same as staying at home or in my own garden. Except that it's Sunday, it's springtime, and the weather is so nice (not really the best time to enforce a lockdown, admittedly). So maybe I can just go out and do what I would still be doing at home, as far away from people as I would be at home.
Actually, I can make my case even more compelling to myself. Suppose my neighbour and I both decided to have a picnic in our respective gardens. That's allowed by the current Governmental measures. If we both do that, we would likely be closer to each other than we would if we both, or if one of us, had the picnic in the park.
I do not think everyone should feel free to have a picnic in the park. But since very few are doing it, I don't see the problem in me having my picnic outdoors".
Enter ethics
The story you have just told yourself is a nice one. Unfortunately, there is a different and, I will argue, more convincing story that makes it unethical for you to have your picnic in the park.
One common-sense approach to morality that might be used to explain why it is wrong is a simplified version of what moral philosophers would call 'universalisation test'.
Very simply, the universalisation test consists in asking: What if everyone did that? It's not that you are special or more entitled than others to break the rule. If you had your picnic just because you enjoy it and in spite of the rules, then everyone else who is as non-special as you may do the same. There are two ways to explain why this conclusion might make having the picnic morally wrong.
First, one could tell you that this conclusion would contradict the very notion of 'rule': if everyone thought that they could break a rule whenever they feel like, the very concept of 'rule' would become self-contradictory and therefore meaningless and unusable. By definition, a rule is something that people ought to respect even if they preferred not to.
Second, someone else could tell you, in a more pragmatic and intuitive fashion, that if everyone adopted the same approach, soon the park would be full of people. Which would make the virus very happy.
(These two approaches, roughly, reflect a Kantian approach and a rule-consequentialist approach to ethics, respectively).
Admittedly, by itself the universalisation test as presented is not too convincing (unless you really buy into Kant's rationalistic approach, which is very unlikely, unless you are a certain type of philosopher). You might want to reply to the common-sense universalisation test that the maxim – or principle of action – you are following is not the quite general one: 'I am going to have my picnic in the park even if the law does not allow it, just because I like it'. You might be holding a more specific and sophisticated one, along the lines of: 'I am going to have my picnic in the park even if the law does not allow it, just because I like it, but only as long as very few other people do it". This maxim does survive the universalisation test (at least within the consequentialist framework): if everyone did that, it would still be possible to have the required social distancing and, on top of that, some people would be able to enjoy their picnic in the park. It seems optimal.
(This is, roughly, how the philosopher R.M Hare defended his version of rule-utilitarianism, i.e., by building the necessary or desirable exceptions to general rules into the rules themselves, making them universalisable in their more specific form).
Problem solved, then? No way.
Maintaining social distance is a collective action problem. It requires cooperation by a sufficiently large portion of the population. No single individual, or no small group of people within a community, can successfully ensure that social distancing is maintained. Granted, we can tolerate a small number of people acting upon that very specific maxim, as long as we have the assurance that the number remains small. But here are 2 problems:
1) how do we pick out the few privileged ones that can enjoy themselves in the park while the others stay home?
2) how do we have the assurance that enough people cooperate?
The first question shows why there is a moral obligation not to have that picnic even if it does not make a difference – i.e. even if no else is in the park. Very simply, it is unfair. If the obligation to maintain social distancing is a matter of collective responsibility, then the burdens of this collective responsibility ought to be fairly shared across the individual members of the collective. To the extent that we value fairness in itself – as many of us do – then there is a moral obligation on each of us to make our fair contribution, even if it does not make a difference. It is fair that each of us stays home, especially given that each of us will benefit from the good that social distancing will bring about.
You might not be convinced by all this. You might think that yes, fairness is a nice idea, but it can't be that important. What really matters is not harming others.
Even if you thought that, you might still want to consider why it is that people value fairness. We are less inclined to make our contributions, where our contributions make a negligible difference to the collective good and when we know that other people are not doing their fair share. That's just part of our psychology. Fairness is one of the foundations of human interactions and societies. We make our contributions but we want to know that others do the same. You hold yourself up to a certain standard to the extent that you expect other people to live up to the same standard.
It is easy to see this mechanism at work in many everyday situations, including in these days. Suppose there is a rule in place – e.g. prohibition of picnics in the park, but it can be something else – and you make some sacrifice in order to respect it. But then you see that other people are not making the same sacrifices as you. You take your daily walk in the park and you see people having their picnic there. Your immediate reaction would probably be either to tell these people that they should not do what they are doing – thus creating some form of social pressure to comply, at the cost of coming across as the annoying moraliser in the park; or to relax your attitude and to feel inclined to break the rule as well. That is because you perceive that fairness requirements have been violated.
This is an instantiation of what philosophers call the 'problem of assurance': we need some reassurance that everyone makes their fair contribution in order to be motivated to make ours. We don't tolerate freeriders because freeriders bring to light how worthless our individual efforts are if not everyone cooperated (there is a plausible evolutionary explanation for this, but that would take us too far away from the focus of this article).
How can we be reassured that everyone makes their fair contribution, so that we can feel motivated to make ours? This is the second aforementioned question.
State coercion
Often collective action problems require state coercion to ensure that everyone makes their fair contribution. State coercion might, for instance, remove incentives to free ride by imposing large enough penalties – if the state merely asked people to please pay their taxes or to please pay for the bus fare, many (most) people would not do it. Without tax revenue and revenue from tickets, state services and bus service would no longer be guaranteed. State coercion is the more justified, the more important the collective good at stake is, and therefore the more important it is that people cooperate. State coercion gives me enough reassurance that whatever sacrifice I am required to make, other people are likely to do the same. And it gives the same reassurance, and therefore the same motivation, to everyone. We don't need to worry about other people's sense of fairness, because by coercing me the state is automatically coercing other people as well. Maybe some people could get away with having their picnic in the park – or with evading taxes, or not paying the bus ticket, and so on – but it is no longer up to me to check whether they comply. The state is assuring me that there is a mechanism in place that motivates or forces them to comply whether or not they would independently want.
State coercion is necessary to solve the problem of assurance, thus preserving fairness and making it more likely that the kind of cooperation necessary to achieve the collective good is realised.
You ought to (be coerced to) stay home, even if it makes no difference.
55 Responses to Why You Should Not (Be Allowed To) Have That Picnic in the Park, Even if it Does Not Make a Difference