This article received an honourable mention in the graduate category of the 2023 National Oxford Uehiro Prize in Practical Ethics
Written by University of Oxford student Pablo Neira
If the interests of sentient animals matter, then there are (at least pro tanto) reasons to prevent the harms they suffer. There are many different natural harms that wild animals suffer, including hunger, disease, parasitism and extreme weather conditions (Singer 1975; Clark 1979; Sapontzis 1984; Cowen 2003; Fink 2005; Simmons 2009; Horta 2010; McMahan 2010; Ebert and Mavhan 2012; Keulartz 2016; Palmer 2013; Sözmen 2013; Bruers 2015; Tomasik 2015; McMahan 2016; Bramble 2021; Johannsen 2021). One of these (on which I will focus in this paper) is the suffering caused by predation. Predation is an antagonistic relationship in which a predator obtains energy by consuming a prey animal—either wholly or partially—which is alive when it is attacked (Begon et al. 2006, 266). The harms predation cause to prey animals can vary greatly, depending on the kind of injuries they suffer in the process and how painful they are, the amount of time it takes them to die, the release of endorphins that reduce pain or the extent to which psychological suffering—mostly distress—affects them during the process. In addition, beyond the pain of predation itself, there are other substantial harms related to predation. Continue reading →
Written by Muriel Leuenberger
The question of who gets to be a person is one of those old but never outdated classics in philosophy. Throughout history, philosophers have discussed which human beings are persons, when human beings start to be persons, when they are no longer the same person, and whether non-human beings can be persons – and the discussion continues.
The task of defining the concept of a person can be approached from a purely ontological angle, by looking at what kind of entities exist in the world. There are those beings we want to call persons – what unites them and what separates them from non-persons? This ontological project has, at least at first sight, nothing to do with how the world should be and purely with how it is.
But many moral practices are connected to this concept. Persons deserve praise and blame, they should not be experimented on without their consent, they can make promises, they should be respected. The status of personhood is connected to a moral status. Because of the properties persons have they deserve to be treated and can act in a certain way. Personhood is what can be called a thick concept. It combines descriptive and normative dimensions. To be a person one must meet certain descriptive conditions. But being a person also comes with a distinctive moral status.
Recent media reports have highlighted a study suggesting that so-called "lab grown brain cells" can "play the video game 'Pong'". Whilst the researchers have described the system as 'sentient', others have maintained that we should use the term "thinking system" to describe the system that the researchers created.
Does it matter whether we describe this as a thinking system, or a sentient one?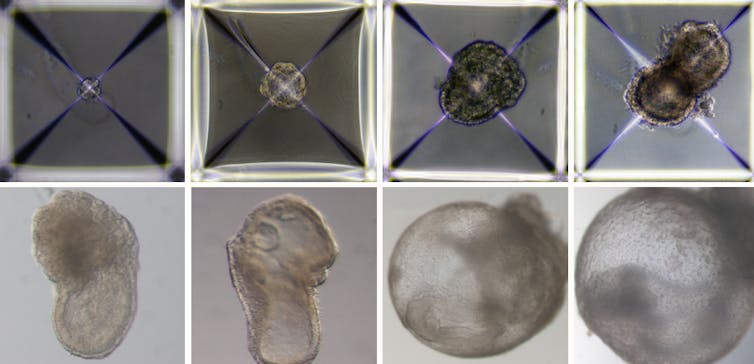 Julian Savulescu, University of Oxford; Christopher Gyngell, The University of Melbourne, and Tsutomu Sawai, Hiroshima University
Children, even some who are too young for school, know you can't make a baby without sperm and an egg. But a team of researchers in Israel have called into question the basics of what we teach children about the birds and the bees, and created a mouse embryo using just stem cells.
It lived for eight days, about half a mouse's gestation period, inside a bioreactor in the lab.
In 2021 the research team used the same artificial womb to grow natural mouse embryos (fertilised from sperm and eggs), which lived for 11 days. The lab-created womb, or external uterus, was a breakthrough in itself as embryos could not survive in petri dishes.
If you're picturing a kind of silicone womb, think again. The external uterus is a rotating device filled with glass bottles of nutrients. This movement simulates how blood and nutrients flow to the placenta. The device also replicates the atmospheric pressure of a mouse uterus.
Some of the cells were treated with chemicals, which switched on genetic programmes to develop into placenta or yolk sac. Others developed into organs and other tissues without intervention. While most of the stem cells failed, about 0.5% were very similar to a natural eight-day-old embryo with a beating heart, basic nervous system and a yolk-sac.
These new technologies raise several ethical and legal concerns.

Image: https://the-conscious-mind.com
I can't avoid Steven Pinker at the moment. He seems to be on every page I read. I hear him all the time, insisting that I'm cosmically insignificant; that my delusional thoughts, my loves, my aspirations, and the B Minor Mass's effect on me are merely chemical events. I used to have stuck up above my desk (on the principle that you should know your enemy), his declaration (as stridently irrational as the sermon of a Kentucky Young Earth Creationist): 'A major breakthrough of the Scientific Revolution – perhaps its greatest breakthrough – was to refute the intuition that the Universe is saturated with purpose.' 1
He tells me that everything is getting better. Has been getting better since the first eruption of humans into the world.2 That there's demonstrable progress (towards what, one might ask, if the universe has no purpose? – but I'll leave that for the moment). That there's less violence; there are fewer mutilated bodies per capita. He celebrates his enlightenment by mocking my atavism: he notes that the Enlightenment came after the Upper Palaeolithic, and (for the law of progress admits no exceptions) concludes that that means that our Enlightenment age is better than what went before. Continue reading →
No, Plant-Based Meals Do Not Undermine Freedom of Choice
Written by Joanna Demaree-Cotton
Last month, TV personality Jeremy Clarkson took centre-stage in our local county politics with an argument against plant-based meals. His fury—expressed on television, on Twitter, and in a strongly-worded column in The Sun—was sparked by the Oxfordshire County Council's decision to provide only plant-based meals at council-catered events as a move towards environmental sustainability.
Local farmers—including Jeremy Clarkson, whose farm in Oxfordshire was the focus of his latest TV venture Clarkson's Farm—protested the measures. There is nothing surprising about this. There's a straightforward conflict of interest here. It's in the interests of people who make a living from selling animal products to promote diets based around animal products. (As local arable farmer John Richardson was reported to have said at the protest, "[we're] just trying to promote the good food we produce".)
More curious, however, is the claim that it's morally wrong to have policies committing to plant-based catering. More specifically, one of Clarkson's arguments was that deciding to provide plant-based catering is morally wrong because it interferes with freedom of choice. Standing with protesting farmers, Clarkson reportedly argued:
"I think people have to have choice. If people want to eat seeds and weeds, fine. If people want to eat meat, fine. … You can't dictate. You might be a vegetarian but you can't make everyone else a vegetarian just because you are."
written by Neil Levy
There are no more free range eggs in the UK. They're a victim of the pandemic – not COVID, but avian flu. Avian flu is devastating to the poultry industry, most immediately because outbreaks lead to the culling of all the birds. Avian flu can infect humans and has caused multiple deaths over the years; prevention in domestic birds is therefore aimed not only at reducing the costs to producers but also at reducing the risks to human health. Keeping them indoors is aimed at preventing the virus spreading from wild birds to the poultry. Continue reading →
By Charles Foster
Over the 40,000 years or so of the history of behaviourally modern humans, the overwhelming majority of generations have been, so far as we can see, animist. They have, that is, believed that all or most things, human and otherwise, have some sort of soul.
We can argue about the meaning of 'soul', and about the relationship of 'soul' to consciousness, but most would agree that whatever 'soul' and 'consciousness' mean, and however they are related, there is some intimate and necessary connection between them – even if they are not identical.
Consciousness is plainly not a characteristic unique to humans. Indeed the better we get at looking for consciousness, the more we find it. The universe seems to be a garden in which consciousness springs up very readily. Continue reading →
Written by Julian Savulescu and Julian Koplin 
This article was first published on Pursuit. Read the original article.
The 1968 classic Planet of the Apes tells the story of the Earth after a nuclear war destroys human civilisation. When three astronauts return to our planet after a long space voyage, they discover that humans have lost the power of verbal communication and live much like apes currently do.
Meanwhile, non-human primates have evolved speech and other human-like abilities, and are now running the earth with little regard for human life.
The astronaut George Taylor, played by Charlton Heston, is rendered temporarily mute when he is shot in the throat and captured. In one scene he is brought before the Apes, as he appears more intelligent than other humans.
He regains the power of speech, and his first words are: "Take your stinking paws off me, you damned dirty ape."
Planet of the Apes may be fiction, but this month the world's first human-monkey lifeforms were created by Juan Carlos Belmonte at the Salk Institute for Biological Studies in the US, using private funding. Professor Belmonte and his group injected stem cells from the skin of a human foetus into a monkey embryo.
This part-human lifeform is called a chimera.
If implanted into a monkey uterus, the chimera could theoretically develop into a live-born animal that has cells from both a monkey and a human.
While it has been possible to make chimeras for more than 20 years using a different technique that involves fusing the embryos of two animals together, this technique has not been used in humans. It has been used to create novel animals like the geep – a fusion of a sheep and goat embryo.
Professor Belmonte used a different technique– called "blastocyst complementation" – which is more refined. It enables greater control over the number of human cells in the chimera.
But why is this research being done?