On June 30th, the Supreme Court of the United States handed down its decision in Burwell vs. Hobby Lobby. The case required the court to consider whether closely held for-profit companies owned by individuals with sincere religious objections to abortion should receive a special exemption from providing healthcare coverage for contraceptives that may act after fertilisation but before implantation of an egg. Coverage of twenty types of contraceptives – including the four specific types that the owners consider to be abortifacients – is otherwise legally required as part of the employer-sponsored health insurance mandated by the Patient Protection and Affordable Care Act 2010 (ACA). For a more in depth overview of the facts of the Hobby Lobby case and the key questions before the court, see my previous post on this blog. Continue reading →
Last week, the Crown Prosecution Service announced that it would not pursue further action against Oxford Union president Ben Sullivan, due to insufficient evidence arising from an investigation into the two accusations of rape and attempted rape made against him. In early May, Sullivan was arrested and released on bail, prompting a chaotic six-week period for the Union as the Thames Valley Police investigated the claims made against him. After Sullivan refused to resign, a number of high-profile speakers, including the UK director of Human Rights Watch, the Interpol secretary-general, and a Nobel Peace prize winner, pulled out of their speaking commitments as part of a larger boycott of Union events.
In an open letter (which has since been taken down) calling for the boycott, students Sarah Pine, who is Oxford University Student Union's Vice President for Women, and Helena Dollimor wrote, "Remaining in his presidency continues to offer prestige and power to someone who is being investigated for rape. This undermines the severe nature of allegations of sexual offences." In contrast, Oxford professor A.C. Grayling penned a response to the letter refusing to cancel his scheduled talk at the Union, noting, "I simply cannot, in all conscience, allow myself to act only on the basis of allegations and suspicions, or of conviction by the kangaroo court of opinion, or trial by press…" In this post, I look at the spectrum of responses in the wake of Sullivan's arrest, of which these two examples represent the poles. More broadly, I consider how we ought to respond – both as individuals and a society – when those in positions of power are accused of rape or other sexual offences. Continue reading →
Within the next month, the United States Supreme Court will decide whether for-profit corporations shall receive an exemption from providing certain types of contraceptives that are otherwise mandated for healthcare coverage by federal law to employees on the basis of the religious objections of the corporations' owners.  The two cases considered in tandem by the Supreme Court, Sebelius v Hobby Lobby Stores, Inc., and Conestoga Wood Specialties Corporation v Sebelius (Hobby Lobby from here on out), feature a Christian-owned arts and crafts chain and a Mennonite Christian-owned furniture manufacturer, the owners of which object to four specific forms of birth control that they claim cause abortions.
In making their argument for an exemption, the claimants rely mainly on the Religious Freedom Restoration Act (RFRA) passed by Congress in 1993. The RFRA states, "Government shall not substantially burden a person's exercise of religion…" unless "that application of the burden to the person – 1) is furtherance of a compelling governmental interest; and 2) is the least restrictive means of furthering that compelling governmental interest." This sets up three tests for judging the permissibility of a government act: the substantial burden test, the compelling interest test, and the least restrictive means test. For the claimants in Hobby Lobby to be successful under the RFRA, the Supreme Court would need to decide first that the government's 'contraception mandate' is indeed a 'substantial burden' and second that the provision of contraception is both a compelling government interest and that employer based health insurance is the least restrictive method for securing that interest.
Scholars and journalists have taken various approaches in responding to the range of questions related to these three tests. However, I argue here that Hobby Lobby's exemption claim can be denied without diving into this spectrum by showing that it fails to meet the first test: the government does not place a substantial burden on the exercise of religion by Hobby Lobby and Conestoga Wood in its 'contraception mandate.' Continue reading →
It has become commonplace in recent years to note that the 'abortion debate' in America has become entrenched. Indeed, there seem to be few issues in contemporary politics that elicit less common ground than the abortion debate finds in its stalwartly pro-choice and pro-life opponents. It is just as common, if not more so, these days to speak of the 'attack on Roe v. Wade' or 'the attack on women's rights,' particularly in light of recent findings that more abortion restrictions were enacted between 2011 and 2013 in the U.S. than in the entire previous decade. Now more than ever, especially for the pro-choice movement, it is necessary to conceptualize novel approaches to the questions of the beginning, end, and quality of life that sit at the heart of the abortion debate. Here I examine a recent case and how it has the potential to advance this debate. Continue reading →
In a particularly eye-catching pull quote in the November issue of The Atlantic, journalist and scholar Robert Wright claims, "The world's gravest conflicts are not over ethical principles or disputed values but over disputed facts."[1]
The essay, called "Why We Fight – And Can We Stop?" in the print version and "Why Can't We All Just Get Along? The Uncertain Biological Basis of Morality" in the online version, reviews new research by psychologists Joshua Greene and Paul Bloom on the biological foundations of our moral impulses. Focusing mainly on Greene's newest book, Moral Tribes: Emotion, Reason, and the Gap Between Us and Them, Wright details Greene's proposed solution to the rampant group conflict we see both domestically and internationally. Suggesting that we are evolutionarily wired to cooperate or 'get along' with members of groups to which we belong, Greene identifies the key cause of fighting as different groups' "incompatible visions of what a moral society should be."[2] And his answer is to strive for a 'metamorality' – a universally shared moral perspective (he suggests utilitarianism) that would create a global in-group thus facilitating cooperation.
In the final Uehiro Seminar of Trinity Term, Pak-Hang Wong offered a novel approach to the ethics of geoengineering. He argues that if we view geoengineering as a large socio-technical system (LTS), which he asserts we should, then traditional approaches to the ethics of geoengineering that focus on intentions and outcomes are inadequate.
The first two weeks of 2013 were marked by a flurry of news articles considering "the new science" of pedophilia. Alan Zarembo's article for the Los Angeles Times focused on the increasing consensus among researchers that pedophilia is a biological predisposition similar to heterosexuality or homosexuality. Rachel Aviv's piece for The New Yorker shed light upon the practice of 'civil commitment' in the US, a process by which inmates may be kept in jail past their release date if a panel decides that they are at risk of molesting a child (even if there is no evidence that they have in the past). The Guardian's Jon Henley quoted sources suggesting that perhaps some pedophilic relationships aren't all that harmful after all. And Rush Limbaugh chimed in comparing the 'normalization' of pedophilia to the historical increase in the acceptance of homosexuality, suggesting that recognizing pedophilia as a sexual orientation would be tantamount to condoning child molestation.
So what does it all mean? While most people I talked to in the wake of these stories (I include myself) were fascinated by the novel scientific evidence and the compelling profiles of self-described pedophiles presented in these articles, we all seemed to have a difficult time wrapping our minds around the ethical considerations at play. Why does it matter for our moral appraisal of pedophiles whether pedophilia is innate or acquired? Is it wrong to imprison someone for a terrible crime that they have not yet committed but are at a "high risk" of committing in the future? And if we say that we can't "blame" pedophiles for their attraction to children because it is not their "fault" – they were "born this way" – is it problematic to condemn individuals for acting upon these (and other harmful) desires if it can be shown that poor impulse control is similarly genetically predisposed? While I don't get around to fully answering most of these questions in the following post, my aim is to tease out the highly interrelated issues underlying these questions with the goal of working towards a framework by which the moral landscape of pedophilia can be understood.  Continue reading →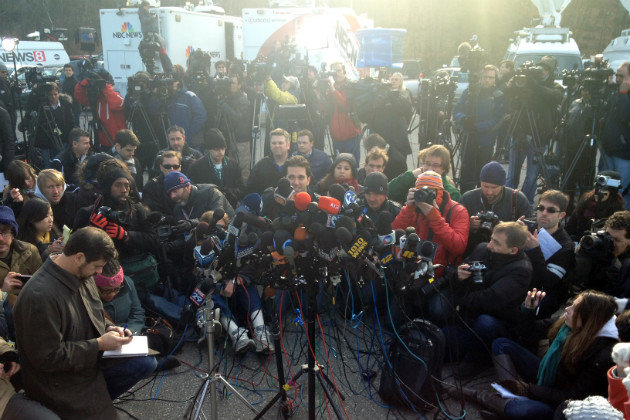 On the morning of December 14th, 20-year old Adam Lanza opened fire within the halls of Sandy Hook Elementary School in Newtown, Connecticut, killing 20 children and six adult staff members before turning his gun on himself. In the hours that followed, journalists from every major news station in the nation inundated the tiny town, and in the days that followed, the country as a whole started down a familiar path characterized best by the plethora of 'if only-isms'.
It began in the immediate hours following the shooting: if only we had stricter gun control laws, this wouldn't have happened. This is perhaps an unsurprising first response in a country that represents 4.5% of the world's population and 40% of the world's civilian firearms.[1] Over the next few days, as a portrait of the shooter began to emerge and friends and family revealed that he was an avid gamer, a second theory surfaced in the headlines: if only our children weren't exposed to such violent video games, this tragedy never would have occurred.[2] [3] And just in the past few days, public discourse has converged on the gunman's mental health, the general conclusion being that if only we had better mental health services in place, this wouldn't have happened.[4][5] (The National Rifle Association [NRA] even tried to jump on board, suggesting that "26 innocent lives might have been spared" if only we had an armed police guard in every school in America.[6] They seem to be the only ones taking themselves seriously.[7]) Continue reading →