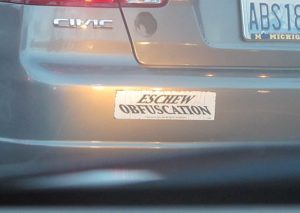 Written by Mette Leonard Høeg
At the What's the Point of Moral Philosophy congress held at the University of Oxford this summer, there was near-consensus among the gathered philosophers that clarity in moral philosophy and practical ethics is per definition good and obscurity necessarily bad. Michael J.  Zimmerman explicitly praised clarity and accessibility in philosophical writings and criticised the lack of those qualities in especially continental philosophy, using some of Sartre's more recalcitrant writing as a cautionary example (although also conceding that a similar lack of coherence can occasionally be found in analytical philosophy too). This seemed to be broadly and whole-heartedly supported by the rest of the participants.

Written by Mette Leonard Høeg
The common intuition in literary criticism, in art criticism in general and in the public cultural sphere is that it is wrong to engage in criticism of a work if you have a personal relation to its author. The critic who reviews the book of a friend, a professional contact or a former lover is biased and could draw private benefits from this, have ulterior motives of revenge or social/professional advancement. It is the convention in literary criticism to strive for objectivity in the assessment and review of a work, and the critic is generally expected to refrain from referencing personal experiences and using private and autobiographical material, in order to be considered professional, expertly and ethically responsible.