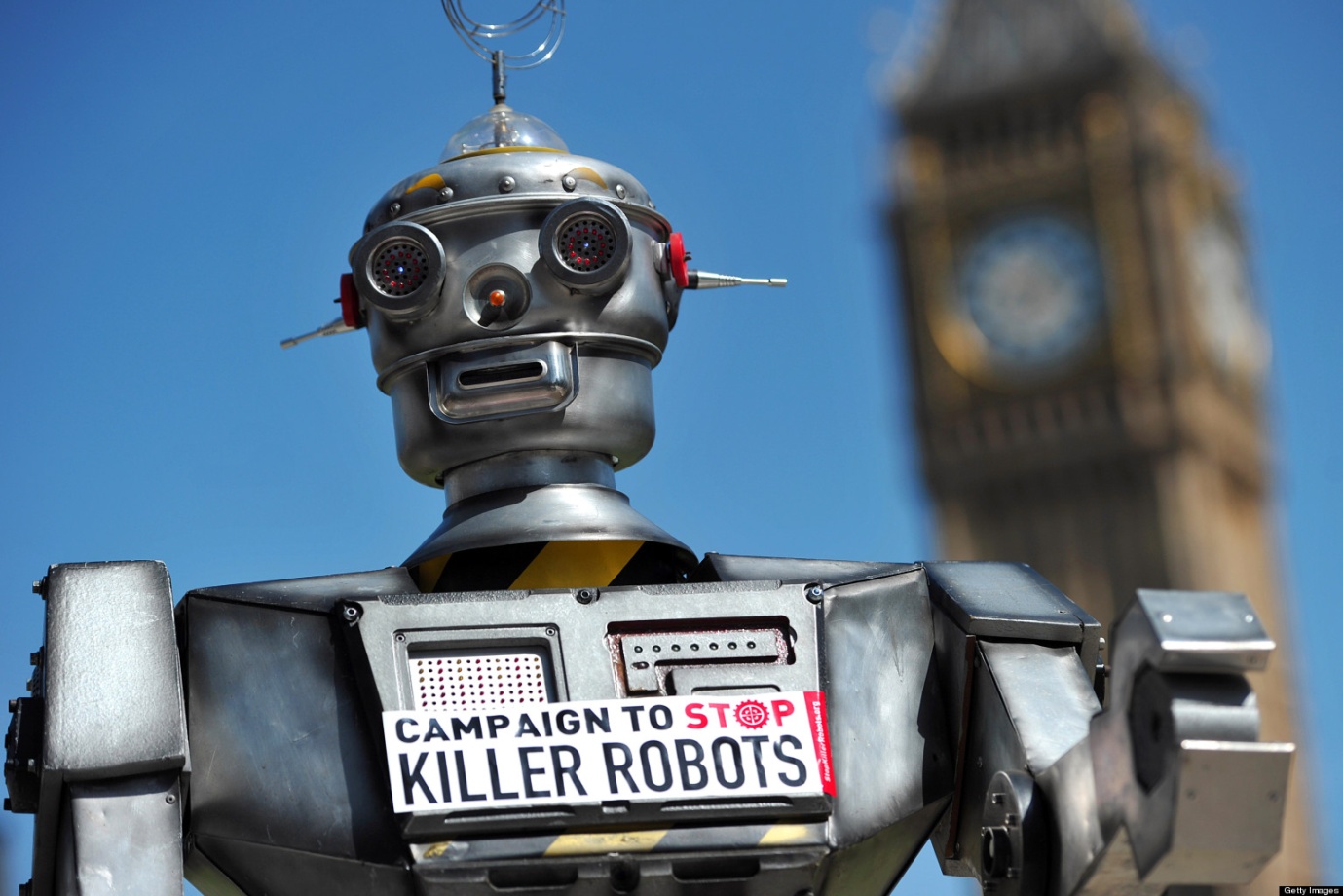 Written by Darlei Dall'Agnol[1]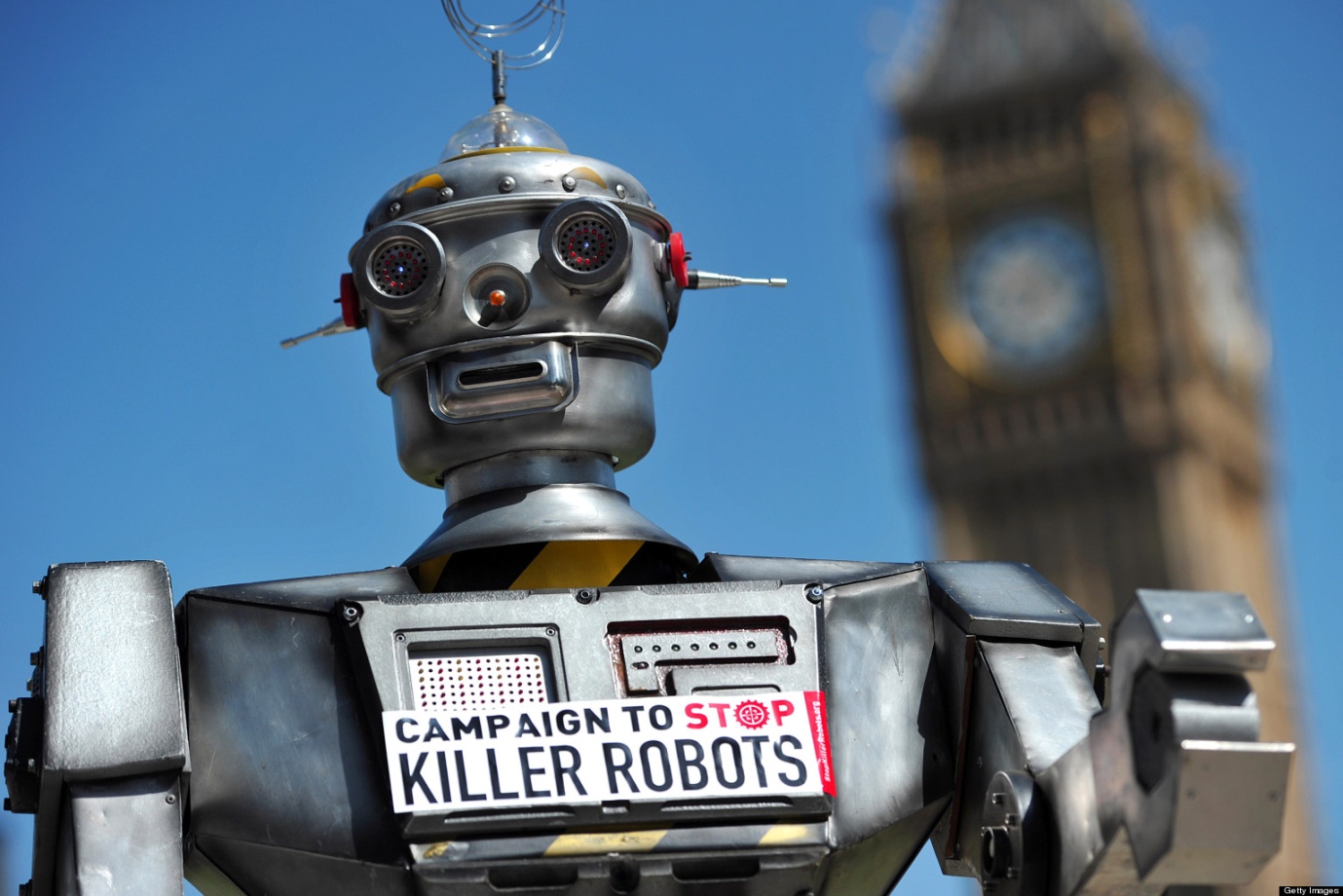 I attended, recently, the course Drones, Robots and the Ethics of Armed Conflict in the 21st Century, at the Department for Continuing Education, Oxford University, which is, by the way, offering a wide range of interesting courses for 2015-6 (https://www.conted.ox.ac.uk/). Philosopher Alexander Leveringhaus, a Research Fellow at the Oxford Institute for Ethics, Law and Armed Conflict, spoke on "What, if anything, is wrong with Killer Robots?" and ex-military Wil Wilson, a former RAF Regiment Officer, who is now working as a consultant in Defence and Intelligence, was announced to talk on "Why should autonomous military machines act ethically?" changed his title, which I will comment on soon. The atmosphere of the course was very friendly and the discussions illuminating. In this post, I will simply reconstruct the main ideas presented by the main speakers and leave my impression in the end on this important issue.  Continue reading →
Written by Anke Snoek
Macquarie University
I have a 3 year old who doesn't eat. He seems not to be interested in food in general. We were offered many explanations for why he doesn't eat and most specialists suspect a psychological source for his lack of appetite. But recently a friend suggested that maybe there is something wrong with the muscles in his mouth that makes it hard to swallow. I wondered: why didn't I get offered more of these physical explanations as opposed to psychological ones? What makes 'not eating' almost by definition a mental disorder for most people? What other behaviour are we inclined to label as a mental disorder rather than staying open for other explanations? Continue reading →
Written by Christopher Chew
Monash University
Early one September morning, plaintiffs at a rural Alabama County court in the US, were greeted with an unexpected and highly unusual offer. To quote presiding Judge Marvin Wiggins:
"There's a blood drive outside, and if you don't have any money, and you don't want to go to jail, as an option to pay it, you can give blood today…bring in a receipt indicating you gave blood…as a discount rather than putting you in jail…or the sheriff has enough handcuffs for those who do not have money." Continue reading →
Written by William Isdale
University of Queensland
This year is the 70th anniversary of the atomic bombing of Hiroshima and Nagasaki. Are there any moral lessons we can learn from that historical episode? I think so.
Recently I delivered a talk on radio about this topic. I argue that one key reason to study history is to learn lessons about human nature. The war in the Pacific against Japan can tech us about, (1) our tribal natures, (2) the limits of empathy when we kill from a distance, and (3) the ratchet-up effect of retaliatory violence.
We have a moral obligation to take heed of those lessons, for instance by reining in our more dangerous traits. The existence of nuclear weapons, because of their destructive power, makes the imperative to understand and control our natures all the more significant.
Below is a slightly adapted version of what I said.
---
This year marks 70 years since the end of World War Two. A conflict that ended with the use of the most destructive weapons ever invented – the atomic bombs, dropped on Hiroshima and Nagasaki.
Has it ever occurred to you to ask, just what is the point of commemorating wars? Do we commemorate them because they are interesting, or are there more important reasons?
If you've ever attended a war commemoration ceremony, you've probably heard speakers talking about the gratitude that we owe to those who fought to defend our way of life. Or speeches that urge us to reflect on the tragedy of lives lost, and the risks of rushing into conflict. And those are good reasons for remembering wars. But, in my view, they're not the most important ones.
The Scottish philosopher David Hume once wrote that the principal reason to study history is to discover  "the constant and universal principles of human nature". And in no other area of human life is learning those lessons more important, than when they concern war.
By studying wars we can learn lessons about ourselves. About how we get into them – why we keep fighting them – and what we do to justify extraordinary levels of cruelty and destruction visited on others.
Today I want to uncover three lessons about human nature that are revealed to us by the war in the Pacific against Japan – and particularly, from the nuclear bombing of Hiroshima and Nagasaki.
Written by Anke Snoek
Macquarie University
In the UK around 500 soldiers each year get fired because they fail drug-testing. The substances they use are mainly recreational drugs like cannabis, XTC, and cocaine. Some call this a waste of resources, since new soldiers have to be recruited and trained, and call for a revision of the zero tolerance policy on substance use in the army.
This policy stems from the Vietnam war. During the First and Second World War, it was almost considered cruel to deny soldiers alcohol. The use of alcohol was seen as a necessary coping mechanism for soldiers facing the horrors of the battlefield. The public opinion on substance use by soldiers changed radically during the Vietnam War. Influenced by the anti-war movement, the newspapers then were dominated by stories of how stoned soldiers fired at their own people, and how the Vietnamese sold opioids to the soldiers to make them less capable of doing their jobs. Although Robins (1974) provided evidence that the soldiers used the opioids in a relatively safe way, and that they were enhancing rather than impairing the soldiers' capacities, the public opinion on unregulated drug use in the army was irrevocably changed. Continue reading →
Catia Faria, Pompeu Fabra University
Follow Catia on Twitter here
 Throughout history, countless species have come into existence only to later become extinct. Whether extinction is caused by natural processes or human agency, environmental scientists and the general public seem to agree that extinction is a bad thing and that, therefore, conservation efforts should be made to counteract, and perhaps revert, the losses. Resources are often devoted to the reintroduction of endangered species into ecosystems in which they have long been absent. In other cases, states implement measures to protect autochthonous species (that is, species which are native to a certain natural environment, as opposed to introduced as a result of human activity) which are threatened by the presence of a foreign species by eradicating the members of the latter. There are entire organisations dedicated simply to the aim of preventing the extinction of species whose continued existence is at risk.  However, these practices rely on rather controversial assumptions.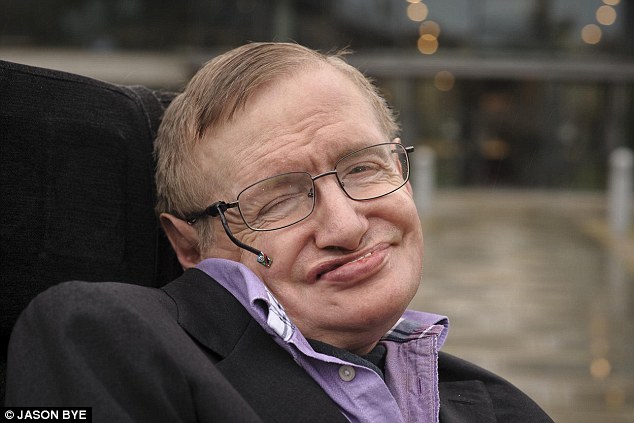 Written by Darlei Dall'Agnol[1]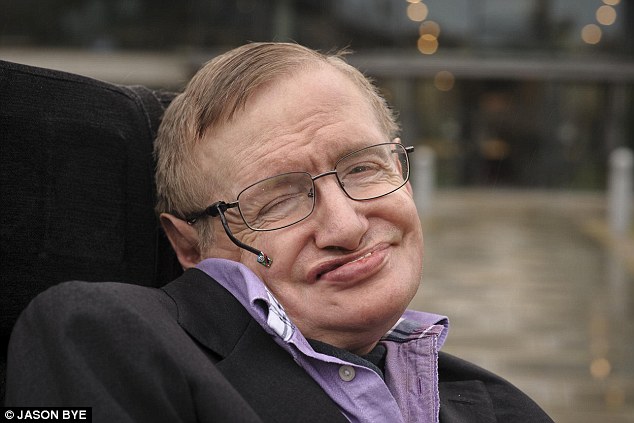 Stephen Hawking has recently made two very strong declarations:
Philosophy is dead;
Artificial intelligence could spell the end of the human race.
I wonder whether there is a close connection between the two. In fact, I believe that the second will be true only if the first is. But philosophy is not dead and it may undoubtedly help us to prevent the catastrophic consequences of misusing science and technology. Thus, I will argue that it is through the enhancement of our wisdom that we can hope to avoid artificial intelligence (AI) causing the end of mankind.  Continue reading →
 Guest post by Barbara Sahakian,
FMedSci, DSc, a professor in the department of psychiatry at the University of Cambridge,
and president of the International Neuroethics Society.
This article was originally published on the Dana Foundation Blog, and can be read here: http://danablog.org/2015/07/28/mental-health-disorders-in-prison-neuroethical-and-societal-issues/
More than half of all prison and jail inmates have a mental health problem.[i] In addition, according to a 2010 report released by the Treatment Advocacy Center and the National Sheriffs' Association,[ii] more mentally ill persons are in jails and prisons than in hospitals, and many of those remain untreated. Those in prison have a higher risk of substance abuse, and suicide rates are four to five times higher than within the general population.[iii] Deaths are also increased upon release, with the most common reasons being drug overdose, cardiovascular disease, homicide, and suicide.[iv]
Many people in prison have lower than average IQs, and it is well-established that lower IQ is a known risk factor for mental health problems.[v] Rates of problems for children in the youth justice system are at least three times higher than within the general population, and are highest amongst children in custody.[vi] Almost a quarter of children who offend have very low IQs of less than 70.[vii]
At the International Neuroethics Society Annual Meeting 2015 in Chicago (Oct. 15-16), there will be a panel entitled, "Mental health disorders in prison: Neuroethical and societal issues," which will consider vulnerabilities to mental health problems of those in prison, and whether there are inequalities in access to psychiatrists, psychologists, and other professionals for diagnosis and treatment. This panel will also reflect on what steps, in terms of improving cognition, functionality, and wellbeing, society should be taking to ensure better life trajectories when inmates with mental health problems are released.
For example, suicide mortality is reduced by antidepressant treatment,[viii] and there is evidence that for at least some disorders, such as attention deficit hyperactivity disorder (ADHD), treatment leads to a significant reduction in criminality rates in men (Lichtenstein et al, 2012).[ix] Effective treatment of neuropsychiatric disorders and education, including skill training in prisons, could help to increase cognitive reserve and resilience, helping prisoners successfully address the many challenges encountered on release.[x]
The highly distinguished panel includes Dr. James Blair, Dr. Laurie R. Garduque, and Professor Hank Greely. The panel's moderator, Dr. Alan Leshner, has been director of the National Institute on Drug Abuse, deputy director and acting director of the National Institute of Mental Health, and chief executive officer of the American Association for the Advancement of Science. He was one of the first to highlight the neuroscientific evidence of brain changes in addiction.
[i] James DJ, Glaze LE (2006) Mental health problems of prison and jail inmates. Bureau of Justice Statistics, NCJ 213600
[ii] Torrey E, Kennard A, Eslinger D, Lamb R, Pavle J (2010) More Mentally Ill Persons are in Jails and Prisons than Hospitals: A Survey of the States. Treatment Advocacy Center.
[iii] Fazel S, Grann M, Kling B, Hawton K (2011) Prison suicide in 12 countries: An ecological study of 861 suicides during 2003–2007. Soc Psychiatry Psychiatr Epidemiol, 46, 191-195.
[iv] Binswanger IA, Stern MF, Deyo RA, Heagerty PJ, Cheadle A, Elmore JG, Koepsell TD (2007) Release from prison: A high risk of death for former inmates. New England Journal of Medicine, 356, 157-165.
[v] Barnett JH, Salmond CH, Jones PB, Sahakian BJ (2006) Cognitive reserve in neuropsychiatry. Psychological Medicine, 36, 1053-1064.
[vi] Hagell A (2002) The mental health needs of young offenders—a report commissioned by the Mental Health Foundation MHF: London.
[vii] Harrington R, Bailey S (2005) Mental health needs and effectiveness of provision for young offenders in custody and in the community YJB: London.
[viii] Morgan OWC, Griffiths C, Majeed A (2004) Association between mortality from suicide in England and antidepressant prescribing: an ecological study. BMC Public Health, 4.
[ix] Lictenstein P, Halldner L, Zetterqvist J, Sjolander A, Serlachius E, Fazel S, Langstrom N, Larsson H (2012) Medication for attention deficit-hyperactivity disorder and criminality. The New England Journal of Medicine, 367.
[x] Beddington J, Cooper CL, Field J, Goswami U, Huppert FA, Jenkins R, Jones HS, Kirkwood TB, Sahakian BJ, Thomas SM (2008) The mental wealth of nations. Nature, 23, 1057-1060.
Written By Johanna Ahola-Launonen
University of Helsinki
Chronic diseases, their origins, and issues of responsibility are a prevalent topic in current health care ethics and public discussion; and obesity is among one of the most discussed themes. Usually the public discussion has a tendency to assume that when information about health lifestyle choices exist, the individual should be able to make those choices. However, studies increasingly pay attention to the concept of food environment[1] and its huge influence. If obesity really is that serious an issue to public health, health care costs, and economy as many suggest, focus should be directed to the alteration of food environment instead of having the individual as the primary target of intervention.   Continue reading →