Search Results for:
end of life
By Charles Foster
From the time of the decision of the House of Lords in Airedale NHS Trust v Bland (1993) until the decision of the Supreme Court in An NHS Trust v Y (2018) (which I will refer to here as 'Y") it had been understood that the withdrawal of life-sustaining treatment (typically clinically assisted nutrition and hydration – 'CANH') from patients in a vegetative state should be endorsed by the court. Over the years, this practice had been extended to cover such withdrawals in Minimally Conscious States too.
In Y, the Supreme Court held that there was no requirement for court review or endorsement. Why? Continue reading →

This essay was the joint runner up in the graduate category of the 7th Annual Oxford Uehiro Prize in Practical Ethics.
Written by University of Oxford student Rebecca L Clark
A UBI is a regularly remitted, non-means-tested cash grant which is given to every individual with no conditions attached.[1] Within these constraints, UBI proposals can differ considerably. Firstly, there is a Question of Scope – namely, who constitutes 'every individual'? Secondly, there is a Question of Specification, which can be broken down into three interrelated issues:
At what level of income should a UBI be set?
Should a UBI supplement or replace existing welfare structures?
How should a UBI be funded?
I will set aside the complexities raised by the Question of Scope and focus on a UBI given to adult citizens. In response to the Question of Specification, I will consider a UBI set at a liveable wage which supplements existing welfare institutions and is funded through revenues from publicly owned assets.[2] This is for two reasons. Firstly, I take this to be the most appealing version of a UBI; hence a conclusion that feminists should reject this version would suggest that feminists should reject any UBI proposal. Secondly, I am wary of building in hard limits of political or economic feasibility into my analysis since this forecloses utopian theorising, which is valuable precisely because it challenges conventional views about what is possible. Continue reading →
Audio and Video recordings of Professor Morten L. Kringlebach (Aarhus University, Denmark; University of Oxford) online St Cross Seminar (21 January 2021) are now available.
PRESS RELEASE: Free all non-violent criminals jailed on minor drug offences, say experts
Non-violent offenders serving time for drug use or possession should be freed immediately and their convictions erased, according to research published in the peer-reviewed The American Journal of Bioethics.
More than 60 international experts including world-leading bioethicists, psychologists and drug experts have joined forces to call for an end to the war on drugs which they argue feeds racism.
All drugs currently deemed illicit – even crack cocaine and heroin – should be decriminalized as a matter of urgency, according to this new alliance. Legalisation and regulation should then follow with restrictions on age, advertising and licensing, they say.
They have analysed evidence from over 150 studies and reports, concluding that prohibition unfairly affects Black and Hispanic people, damages communities, and violates the right to life as illustrated by the killing of medical worker Breonna Taylor in March last year.
"The 'war on drugs' has explicitly racist roots and continues to disproportionately target certain communities of color," say lead study authors Brian D. Earp from Yale University and the University of Oxford and Jonathan Lewis from Dublin City University.
"Drug prohibition and criminalization have been costly and ineffective since their inception. It's time for these failed policies to end.
"The first step is to decriminalize the personal use and possession of small amounts of all drugs currently deemed to be illicit, and to legalize and regulate cannabis. Policymakers should pursue these changes without further delay."
Their research adds to growing calls for drug policy reform at a time of renewed focus on injustices faced by Black people, and cannabis legalisation for recreational use by a growing list of US states.
The study is based on evidence from existing research into how drug prohibition affects users, communities and human rights, and the impact of decriminalisation by governments.
The authors found that prohibition creates conditions for individuals to commit offences such as burglaries to fund their habit. This lowers life expectancy because people end up in prison, and triggers a 'multitude' of health-related costs from unsafe drug use.
Communities are damaged by illicit markets which undermine drug purity, with Black and Hispanic men more likely to end up in the criminal justice system. The war on drugs makes people more vulnerable to violations of their rights including what they choose to put in their bodies.
In contrast, the study highlights the liberal approach of countries such as Portugal where drug-related deaths have fallen and where users are encouraged to seek treatment.
An estimated £43.5bn ($58bn) could be generated in federal, state and local tax revenues through the legalization of drugs, according to the findings. This compares with an annual federal, state and local spend of more than £35bn ($47bn) on prohibition.
The authors stress that non-violent prisoners found with a small amount of illegal substances should be released.
Further Information
The study's senior author Carl L. Hart was Columbia University's first tenured African American professor of sciences. He is open about the fact he uses recreational drugs and his book Drug Use for Grown Ups is set for publication in January 2021.
For an interview, please contact:
Brian D. Earp (brian.earp@yale.edu), Jonathan Lewis (Jonathan.Lewis@dcu.ie), or Carl L. Hart (c.hart@columbia.edu)
For a copy of the paper, visit: https://newsroom.taylorandfrancisgroup.com/embargoed-releases/ 
For a copy of the journal article, please contact:
Simon Wesson, Press & Media Relations Executive
Email: newsroom@taylorandfrancis.com
Tel.: +44 (0)20 701 74468
Follow us on Twitter: @tandfnewsroom
The article will be freely available once the embargo has lifted via the following link: https://www.tandfonline.com/doi/full/10.1080/15265161.2020.1861364
What is your gender? A friendly guide to the public debate
Brian D. Earp
Note: This is a lightly edited transcript of an informal lecture, based on coursework submitted as part of my Ph.D. It was recorded on Whidbey Island, Washington, and published online on January 15th, 2020. A link to the video is here: https://youtu.be/LZERzw9BGrs. 
Video description:  I'm a philosopher and cognitive scientist who studies gender, sex, identity, sexuality and related topics and I am offering this video as a friendly guide to the (often very heated) public debate that is going on around these issues. This is my best attempt, not to score political points for any particular side, but to give an introductory map of the territory so you can think for yourself, investigate further, and reach your own conclusions about such controversial questions as "What does mean to be a man or a woman?" This video is not meant to be authoritative; it is not the final word; experts on these topics will find much to quibble with (and perhaps some things to disagree with outright). But for those who would like to take some first steps in getting a sense of the landscape without feeling intimidated, I hope this will be of some use. Continue reading →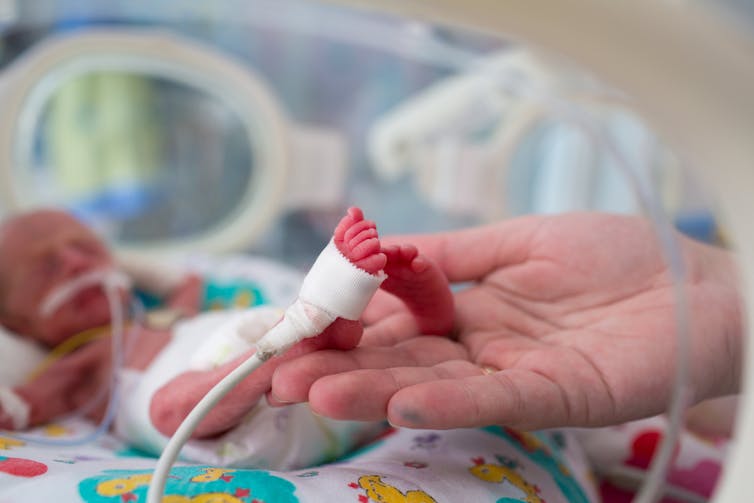 Dominic Wilkinson, University of Oxford
When new guidance relating to the outcome and medical care of babies born extremely prematurely was recently released, it led some to call for UK abortion law to be revised.
This was because one of the new recommendations from the British Association of Perinatal Medicine is that it is sometimes appropriate to provide resuscitation and active medical treatment for babies born at 22 weeks gestation (four and a half months before their due date). This is a week earlier than was recommended in the last version of the framework, published in 2008.
The argument goes that the new guidance creates a "contradiction in British law" because extremely premature infants can now be resuscitated before the point in pregnancy where abortion law changes.
A spokesperson for campaign group Right to Life UK said: "In one room of a hospital, doctors could be working to save a baby born alive before 24 weeks whilst in another room a doctor could perform an abortion which would end the life of a baby at the same age. Surely this contradiction needs to end?" Continue reading →
by Dominic Wilkinson @Neonatalethics
This week the legal case around medical treatment for five-year old Tafida Raqeeb has begun in the High Court. She sustained severe brain damage from bleeding in the brain seven months ago. Her parents wish to take her to a hospital in Italy for further treatment, while the doctors at the London hospital caring for her believe that it would be best to stop life support and allow Tafida to die.
In a previous press release, I addressed several common questions about the case:
This seems to be another case like that of Charlie Gard and Alfie Evans. How common are cases of disagreement in the medical care of children?
Why do disagreements occur?
Why don't parents have the final say about treatment?
Who is right in Tafida's case, her parents, or the doctors?
There appear to be two central questions in her case –
Is there any realistic chance of her condition improving if life-support continues?
If Tafida's condition does not improve, should treatment to keep her alive continue, or should it stop (particularly, if her parents do not give permission to withdraw treatment)?
Dominic Wilkinson, University of Oxford
Shortly before Frenchman Vincent Lambert's life support was due to be removed, doctors at Sebastopol Hospital in Reims, France, were ordered to stop. An appeal court ruled that life support must continue.
Lambert was seriously injured in a motorcycle accident in 2008 and has been diagnosed as being in a persistent vegetative state. Since 2014, his case has been heard many times in French and European courts.
His wife, who is his legal guardian, wishes artificial nutrition and hydration to be stopped and Vincent to be allowed to die. His parents are opposed to this. On Monday, May 20, the parents succeeded in a last-minute legal appeal to stop Vincent's doctors from withdrawing feeding, pending a review by a UN Committee on the Rights of Persons with Disabilities.
Lambert's case is the latest example of disputed treatment for adult patients with profound brain injury. The case has obvious parallels with that of Terri Schiavo, in the US who died in 2005 following seven years of legal battles. And there have been other similar high-profile cases over more than 40 years, including Elena Englaro (Italy, court cases 1999-2008), Tony Bland (UK 1993) Nancy Cruzan (US 1988-90) and Karen Ann Quinlan (US 1975-76). Continue reading →
Alberto Giubilini
Wellcome Centre for Ethics and Humanities and Oxford Martin School, University of Oxford
I am writing this post on the 25th of May, as the Irish abortion referendum is taking place. However, you will probably be reading it once the results are already known. I am not going to write in support of either side of the debate here anyway. I want to write about the appropriateness (from an ethical point of view) of this referendum itself. I want to suggest that a referendum is not the appropriate way to solve the dispute at stake.
Irish people have been asked whether they wanted to repeal the Eight Amendment of the Irish Constitution, which gives foetuses and pregnant women an "equal right to life". It is commonly assumed that the Eight Amendment was preventing the Irish Government from legalizing abortion, except in extreme and very rare circumstances in which abortion is necessary to save the life of a pregnant woman. If the majority of Irish people votes "yes", abortion can become legal in the country. If the majority votes "no", abortion will remain a crime in the country, with the exception of a few extreme and very rare circumstances. More specifically, voting "no" means voting in favour of the idea that in Ireland a foetus does have a right to life equal to the right to life of the woman. Voting "yes" means voting in favour of the idea that in Ireland the foetus does not have a right to life comparable to the right to life of a woman; in other words, that it can be considered merely as part of the woman's body for the purpose of attributing it a right to life (though not necessarily for other purposes), and therefore something that a woman can permissibly decide not to keep alive as a matter of bodily autonomy or, in many cases, and depending on what definition of "health" we adopt, as a matter of basic healthcare.