Written by Rebecca Brown, Stephanie Tierney, Amadea Turk.
This post was originally published on the NIHR School for Primary Care Research website which can be accessed here. 
Health problems often co-occur with social and personal factors (e.g. isolation, debt, insecure housing, unemployment, relationship breakdown and bereavement). Such factors can be particularly important in the context of non-communicable diseases (NCDs), where they might contribute causally to disease, or reduce that capacity of patients to self-manage their conditions (leading to worse outcomes). This results in the suffering of individuals and a greater burden being placed on healthcare resources.
A potential point of intervention is at the level of addressing these upstream contributors to poor health. A suggested tool – gaining momentum amongst those involved in health policy – is the use of 'social prescribing'. Social prescribing focuses on addressing people's non-medical needs, which it is hoped will subsequently reduce their medical needs. In primary care, social prescribing can take a range of forms. For example, it may involve upskilling existing members of staff (e.g. receptionists) to signpost patients to relevant local assets (e.g. organisations, groups, charities) to address their non-medical needs. It is also becoming common for GPs to refer patients (or people may self-refer) to a link worker (sometimes called a care navigator) who can work with them to identify their broader social and personal needs. Together, they then develop a plan for how those needs could be met through engagement with activities, services or events in the local community. The resources that link workers direct people towards are often run by voluntary organisations and might include, among other things, sports groups, arts and crafts, drama, gardening, cookery, volunteering, housing advice, debt management, and welfare rights.
Supporting people to establish more stable and fulfilling social lives whilst at the same time reducing healthcare costs seems like a win-win. However, it is essential to evaluate the justifications for the introduction of social prescribing schemes, including their effectiveness. This raises a number of complicating factors, including some questions that require not just a consideration of empirical evidence, but a commitment to certain philosophical and ethical positions.
Written by Rebecca Brown
There has been recent concern over CRUK's (Cancer Research UK) latest campaign, which features the claim 'obesity is a cause of cancer too' made to look like cigarette packets. It follows criticism of a previous, related campaign which also publicised links between obesity and cancer. Presumably, CRUK's aim is to increase awareness of obesity as a risk factor for cancer and, in doing so, encourage people to avoid (contributors to) obesity. It may also be hoped to encourage public support for policies which tackle obesity, pushing the Overton window in a direction which is likely to permit further political action in this domain.
The backlash is mostly focused around the comparison with smoking, and the use of smoking-related imagery to promote the message (there is further criticism of the central causal claim, since it is actually quite difficult to establish that obesity causes cancer). 
Rebecca Brown and Julian Savulescu
Cross-posted from the Journal of Medical Ethics blog, available here.
There is a rich literature on the philosophy of responsibility: how agents come to be responsible for certain actions or consequences; what conditions excuse people from responsibility; who counts as an 'apt candidate' for responsibility; how responsibility links to blameworthiness; what follows from deciding that someone is blameworthy. These questions can be asked of actions relating to health and the diseases people may suffer as a consequence. A familiar debate surrounds the provision of liver transplants (a scarce commodity) to people who suffer liver failure as a result of excessive alcohol consumption. For instance, if they are responsible for suffering liver failure, that could mean they are less deserving of a transplant than someone who suffers liver failure unrelated to alcohol consumption.
In his 2018 book, the philosopher of science, Jacob Stegenga defends the view "that we should have little confidence in the effectiveness of medical interventions." (Stegenga 2018) On the face of it, he acknowledges, this position seems unreasonable: most of us can think of myriad ways in which modern medicine has improved – perhaps saved – our own lives and the lives of those close to us. The asthma attack I had as a baby, effectively treated at the time and subsequently managed through the use of seemingly magical medications which relax the muscles around the airways, opening them up and allowing air to pass freely again. Or the schoolfriend whose ruptured appendix could have resulted in a fatal infection, but for emergency surgery and the administration of antibiotics. Or the countless lives made less painful by the availability of cheap and safe painkillers. 
Medical sceptics tend to get a bad rep – anti-vaxxers who risk the lives of children by regurgitating debunked myths about the links between vaccines and autism, leading to dips in herd immunity and disease outbreaks; credulous folk who believe in the mystical powers of homeopathy and eschew conventional therapies in favour of potions that contain little more than water. This is not the sort of company one wishes to associate with. Continue reading →
Written by Alberto Giubilini
Oxford Martin School, Wellcome Centre for Ethics and Humanities, University of Oxford
Following a measles outbreak, Rockland County in New York has enforced a 30 day emergency measure that involves barring unvaccinated children and teenagers from any public place (not just schools, but also restaurants, shopping centres, places of worship, and so on). Parents face up to 6 months in jail and/or a $500 fine if they are found to have allowed their unvaccinated children in public spaces. In fact, this measure resembles quite closely a form of quarantine. Some might think this kind of policy is too extreme. However, I think the problem is that the measure is not extreme enough. It is necessary and justified given the state of emergency, but it is not sufficient as a vaccination policy. Parents can still decide not to vaccinate their children and keep them at home for the 30 days the order will last. Thus, the policy still gives some freedom to parents, who are responsible for the situation, and this freedom comes at the cost of penalizing the children, who are not responsible. We need to contain and to prevent measles cases and measles outbreaks by forcing parents to vaccinate their children, not simply by preventing children from leaving their homes when emergencies arise. Continue reading →
Why do some people refuse to have their child vaccinated? Are there any good reasons not to vaccinate one's child? Why should one have one's child vaccinated if this doesn't make a difference to whether the community is protected? Why is vaccinating one's child an ethical issue? In this interview with Dr Katrien Devolder, Dr Alberto Giubilini (Philosophy, Oxford) discusses these and other questions, which he addresses in his new book 'The Ethics of Vaccination' (downloadable for free).
written by Andreas Kappes (@AnKappes), Anne-Marie Nußberger (@amnussberger ), Molly Crockett (@mollycrockett ) & Julian Savulescu  (@juliansavulescu)
Measles is making a comeback in Britain and Europe with numbers rising to record levels this year. Last year in Europe, measles killed 35 people, including young children . The re-emergence of measles can be traced to falling rates of vaccination and might make you want to re-think your summer plans. Crowded environments with low levels of hygiene, also known as summer festivals, are something to avoid if unsure about whether you have been properly vaccinated. And maybe re-think going for holidays to Romania, Italy and Greece, the countries with the highest rates of measles outbreaks this year.
But of course, even if you are not vaccinated, your chances of getting measles are low. And if you are infected, dying from measles is rare. The people that die during measles outbreaks are vulnerable babies that are too young to be vaccinated and unvaccinated people with compromised immune systems. And what are the chances that you infect one of these vulnerable people? Extremely low. Your intuition then might be that even if you are unsure about your vaccination status, the low odds don't seem to justify the effort to engage with the NHS or any other health care provider. Maximize your benefits, and others will surely be fine. Individually, this feels right, but for the communities and countries we live in, this is disastrous, slowly eroding herd immunity that protects the most vulnerable.
By Jonathan Pugh
The below is a slightly extended version of my two 5min presentations at the European Youth Event 2018, at the European Parliament in Strasbourg. I was asked to present on the following questions:
What are the ethical issues surrounding gene-editing, particularly with respect to eradicating mosquitoes?
Should the EU legislate on gene-editing mosquitoes?
By Mackenzie Graham
Crosspost from The Conversation. Click here to read the full article.
The development of accessible treatment options for pregnant women is a significant public health issue. Yet, very few medications are approved for use during pregnancy. Most drug labels have little data to inform prescribing decisions. This means that most medicines taken during pregnancy are used without data to guide safe and effective dosing.
The United States Food and Drug Administration recently published draft ethical guidelines for how and when to include pregnant women in drug development clinical trials. These guidelines call for "the judicious inclusion of pregnant women in clinical trials and careful attention to potential foetal risk". The guidelines also distinguish between risks that are related to the research and those that are not, and the appropriate level of risk to which a foetus might be exposed. Continue reading →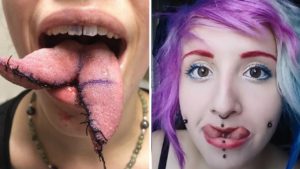 By Charles Foster
Image: 'Split tongue: procedure, safety, result': Tattoo World: Standard YouTube licence.
The appellant in R v BM was a tattooist and body piercer who also engaged in 'body modification'. He was charged with three offences of wounding with intent to do grievous bodily harm. These entailed: (a) Removal of an ear; (b) Removal of a nipple; and (c) division of a tongue so that it looked reptilian. In each case the customer had consented. There was, said the appellant, no offence because of this consent.
Where an adult decides to do something that is not prohibited by the law, the law will generally not interfere.
In Schloendorff v Society of New York Hospital (1914) 105 NE 92 Cardozo J said:
"Every human being of adult years and sound mind has a right to determine what shall be done with his own body."[1]
This principle has been fairly consistently recognised in the English law.[2] Thus, for instance, In In re T (Adult: Refusal of Treatment, Butler-Sloss LJ cited with approval this section of the judgment of Robins JA in Malette v Shulman[3]:
'The right to determine what shall be done with one's own body is a fundamental right in our society. The concepts inherent in this right are the bedrock upon which the principles of self-determination and individual autonomy are based. Free individual choice in matters affecting this right should, in my opinion, be accorded very high priority.' Continue reading →