Written by Muriel Leuenberger
The more philosophers I have come to know, the more I realize how deeply personal philosophy is. Philosophical positions often emerge from personal experience and character – even the seemingly most technical, detached, and abstract ones. As Iris Murdoch wrote: "To do philosophy is to explore one's own temperament, and yet at the same time to attempt to discover the truth." Philosophy is an expression of how one sees the world, a clarification, development, and defense of "an outlook that defines who someone is" to add the words of Kieran Setiya.
This personal dimension of philosophy becomes evident in the new philosophical positions and topics that emerge when people with different personal experiences and points of view start to do philosophy. The most prominent example is how women in philosophy, particularly in the last 50 years, have contributed new perspectives – a brush of fresh air in old, stuffy rooms. Philosophy's allegedly objective view from nowhere was rather the view from a particularly male perspective. Care ethics, feminist philosophy, and philosophy of pregnancy are just some areas where the inclusion of women in philosophy with their own outlook and priorities has advanced the discipline.[i]

Image: Easter on Santorini: Georgios Michos, CC BY-SA 4.0 <https://creativecommons.org/licenses/by-sa/4.0>, via Wikimedia Commons: Link to image here.
I spent Orthodox Easter in Greece. Then, and for the week afterwards, the neon displays over the main roads announced 'Christ is Risen', and the shopkeepers wished me a 'Good Resurrection'.
This piety isn't reserved for Easter. Almost everyone wears a cross around their neck. Drivers, without interrupting the high volume argument with their passengers, cross themselves when they pass a church.
'Superstition, not true religion', sneers the ardent Protestant – for whom, drawing on a Puritan tradition, diligent examination of conscience and the deliberate orientation of the will towards God are the only completely acceptable mental states. The professional philosopher typically agrees: what is philosophy, these days, other than the disciplined examination of propositions and reasons – and of course disciplined examination demands strenuous, conscious attention.
But I'm not so sure. Religion is part of the web and weave of these Greeks: a way primarily of being, and only secondarily of doing, and often not at all of thinking, in the sense that philosophers typically mean by 'thinking'. It's a reflex – or at the root of a reflex –  which has ethical consequences. If one sees the right result (rather than the means to that result) as the most important thing about ethics, a reflex which produces the right result fast, invariably and unconsciously might be preferable to a process of highly cognitive deliberation which could be derailed before it produces the ethically appropriate end. And if what matters is general moral character, who is more praiseworthy: someone who is constitutionally altruistic (for instance), or someone who decides on a case by case basis whether or not to be altruistic? Continue reading →
Written by Muriel Leuenberger
The question of who gets to be a person is one of those old but never outdated classics in philosophy. Throughout history, philosophers have discussed which human beings are persons, when human beings start to be persons, when they are no longer the same person, and whether non-human beings can be persons – and the discussion continues.
The task of defining the concept of a person can be approached from a purely ontological angle, by looking at what kind of entities exist in the world. There are those beings we want to call persons – what unites them and what separates them from non-persons? This ontological project has, at least at first sight, nothing to do with how the world should be and purely with how it is.
But many moral practices are connected to this concept. Persons deserve praise and blame, they should not be experimented on without their consent, they can make promises, they should be respected. The status of personhood is connected to a moral status. Because of the properties persons have they deserve to be treated and can act in a certain way. Personhood is what can be called a thick concept. It combines descriptive and normative dimensions. To be a person one must meet certain descriptive conditions. But being a person also comes with a distinctive moral status.

Image: The Great Sphinx and Pyramids of Gizeh (Giza), 17 July 1839, by David Roberts: Public Domain, via Wikimedia Commons

Words are powerful. When a word is outlawed, the prohibition tends to chill or shut down debate in a wide area surrounding that word. That tendency is much discussed, but it's not my concern here. It's one thing declaring a no-go area: it's another when the mere use or non-use of a word is so potent that it makes it impossible to see something that's utterly obvious.
There has recently been an excellent and troubling example. Some museums have started to change their labels. They consider that the use of the word 'mummy' demeans the dead, and are using instead the adjective 'mummified': thus, for instance 'mummified person' or 'mummified remains'. Fair enough. I approve. Too little consideration is given to the enormous constituency of the dead. But using an adjective instead of a noun doesn't do much moral work.
Consider this: The Great North Museum: Hancock, has on display a mummified Egyptian woman, known as Irtyru.  Visitor research showed that many visitors did not recognise her as a real person. The museum was rightly troubled by that. It sought to display her 'more sensitively'. It's not clear from the report what that means, but it seems to include a change in the labelling. She will no longer be a 'mummy', but will be 'mummified'.  She is a 'mummified person':  She'll still remain in a case, gawped at by mawkish visitors. Continue reading →

Image: Heidi Crowter: Copyright Don't Screen Us Out
Scene: A pub in central London
John: They did something worthwhile there today, for once, didn't they? [He motions towards the Houses of Parliament]
Jane: What was that?
John: Didn't you hear? They've passed a law saying that a woman can abort a child up to term if the child turns out to have red hair.
Jane: But I've got red hair!
John: So what? The law is about the fetus. It has nothing whatever to do with people who are actually born.
Jane: Eh?
That's the gist of the Court of Appeal's recent decision in the case of Aidan Lea-Wilson and Heidi Crowter (now married and known as Heidi Carter).  Continue reading →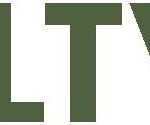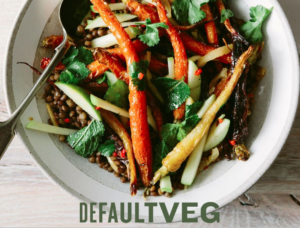 Today (1 November) is 'world vegan day'. This is a good moment to reflect on a decision that the Oxford Uehiro Centre for Practical Ethics took almost exactly a year ago. In October 2021, we chose to firmly commit to a DefaultVeg approach to help reduce meat and dairy consumption. Such reduction will help transform our current farming practices, which are extremely harmful to our planet, and all those who live on it. [National Food Strategy. Independent Review for the Government]
What does this DefaultVeg commitment entail? Over the past year, we have provided plant-based food and drinks by default for all meetings and events that we host, and for our staff and visitors at the Centre during normal workdays. The choice to opt for meat and/or dairy remains, but those who want this have to opt in. Given the high numbers of vegans among our admin team, staff and students, we had already adopted a DefaultVeg approach to some extent, but DefaultVeg has ensured that we do this more consistently and explicitly. As we expected, almost everyone opts for the default: plant-based options.
We hope that, by explicitly and firmly committing to a DefaultVeg approach, the Uehiro Centre also sets an example for other research centres, institutions, and workplaces in general. Going DefaultVeg is not difficult in a world with an increasing variety of plant-based food and drinks.
'Why are we opting for DefaultVeg and not going vegan 'all the way'?', you may wonder.
We think that preserving freedom of choice is valuable. Food is deeply embedded in cultural and social values, and we realise that people do not always find it easy or desirable to entirely change their eating habits overnight. It is important to acknowledge this, and not rush people into different food choices, though, we hope that most people will opt for plant-based diets eventually. Forcing a food choice onto people may not always be the best way to convince people that they should eat less meat and dairy. It may make some people feel hostile towards, and hence resist, veganism. And this may result in a slower transition to a society in which most people are happy to eat (mostly) plant-based food.
Last year, the Oxford City Council approved a proposal to only offer plant-based options during council meetings. Conservative councillors objected and said whether one opts for a vegan lunch should remain a choice: "Veganism should not be forced down people's throats. It should be a matter of choice and education."  At the first lunch, two conservative councillors walked out in protest, and around 15 Conservative councillors enjoyed a self-funded lunch at a nearby pub and one of the councillors confirmed it 'contained meat'.
I'm not saying that the Oxford City Council took the wrong decision by making the lunches vegan. But as the strong reaction shows, perhaps a more incremental approach towards a vegan society may work better in some contexts. Perhaps when not forced, people may find it easier to shift. And changing the default to vegan, helps to shift people towards the vegan options. As more people reduce their meat and dairy consumption, more plant-based food options will become available, which, in turn will make it easier, and thus more attractive, to become vegan. Both approaches (all vegan, and DefaultVeg) have benefits.
We find that, for the Centre, the DefaultVeg approach, has worked well (though it has taken some trial and error to find caterers and restaurants with enough good vegan options). It has been an exciting and positive journey, and we look forward to continuing it.
For those of you who are interested in adopting a DefaultVeg approach, feel free to get in touch (katrien.devolder@philosophy.ox.ac.uk) if you would like more information about how to get started.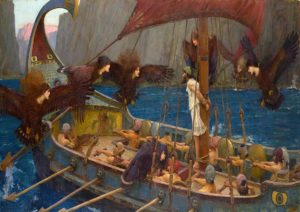 By Charles Foster
[Image: Ulysses and the Sirens: John William Waterhouse, 1891: National Gallery of Victoria, Melbourne]
We shouldn't underestimate Homer's hold on us. Whether or not we've ever read him, he created many of our ruling memes.
I don't think it's fanciful (though it might be ambitious) to suggest that he, and the whole heroic ethos, are partly responsible for our uncritical adoption of a model of autonomy which doesn't do justice to the sort of creatures we really are. That's a big claim. I can't justify it here. But one manifestation of that adoption is our exaggerated respect for advance directives – declarations made when one is capacitous about how one would like to be treated if incapacitous, and which are binding if incapacity supervenes if (in English law) the declaration is 'valid and applicable.' 1.
I suspect that some of this respect comes from the earliest and most colourful advance directive story ever: Odysseus and the Sirens. Continue reading →

Image: https://the-conscious-mind.com
I can't avoid Steven Pinker at the moment. He seems to be on every page I read. I hear him all the time, insisting that I'm cosmically insignificant; that my delusional thoughts, my loves, my aspirations, and the B Minor Mass's effect on me are merely chemical events. I used to have stuck up above my desk (on the principle that you should know your enemy), his declaration (as stridently irrational as the sermon of a Kentucky Young Earth Creationist): 'A major breakthrough of the Scientific Revolution – perhaps its greatest breakthrough – was to refute the intuition that the Universe is saturated with purpose.' 1
He tells me that everything is getting better. Has been getting better since the first eruption of humans into the world.2 That there's demonstrable progress (towards what, one might ask, if the universe has no purpose? – but I'll leave that for the moment). That there's less violence; there are fewer mutilated bodies per capita. He celebrates his enlightenment by mocking my atavism: he notes that the Enlightenment came after the Upper Palaeolithic, and (for the law of progress admits no exceptions) concludes that that means that our Enlightenment age is better than what went before. Continue reading →

By Charles Foster
It's said that 2022 is going to be a bumper year for UFO revelations. Secret archives are going to be opened and the skies are going to be probed as never before for signs of extraterrestrial life.
This afternoon we might be presented with irrefutable evidence not just of life beyond the Earth, but of intelligences comparable in power and subtlety to our own. What then? Would it change our view of ourselves and the universe we inhabit? If so, how? Would it change our behaviour? If so how?
Much would depend, no doubt, on what we knew or supposed about the nature and intentions of the alien intelligences. If they seemed hostile, intent on colonising Planet Earth and enslaving us, our reactions would be fairly predictable. But what if the reports simply disclosed the existence of other intelligences, together with the fact that those intelligences knew about and were interested in us? Continue reading →
There are many corrosive forms of discrimination. But one of the most dangerous is the bias in favour of consciousness, and the consequent denigration of the unconscious.
We see it everywhere. It's not surprising. For when we're unreflective – which is most of the time – we tend to suppose that we are our conscious selves, and that the unconscious is a lower, cruder part of us; a seething atavistic sea full of monsters, from which we have mercifully crawled, making our way ultimately to the sunlit uplands of the neocortex, there to gaze gratefully and dismissively back at what we once were.  It's a picture encoded in our self-congratulatory language: 'Higher cognitive function'; 'She's not to be blamed: she wasn't fully conscious of the consequences.': 'In the Enlightenment we struck off the shackles of superstition and freed our minds to roam.' Continue reading →