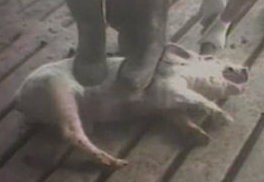 Covertly filming shocking animal abuse in the meat industry (and other industries involving animals) is a common tactic of animal welfare charities such as the Humane Society, Mercy for Animals, Animal Aid, and PETA. The footage is generally obtained by workers for the charities who gain employment at slaughterhouses, farms, laboratories and the like; and it has been instrumental in prosecuting abusers and applying pressure on meat producers to improve welfare standards, as the New York Times reported at the weekend.
The same article also reports a disturbing response to this practice by several US states:
They proposed or enacted bills that would make it illegal to covertly videotape livestock farms, or apply for a job at one without disclosing ties to animal rights groups. They have also drafted measures to require such videos to be given to the authorities almost immediately, which activists say would thwart any meaningful undercover investigation of large factory farms.
Those who flout this so-called 'ag-gag'  legislation may, among other things, be placed on a 'terrorist registry'.