Written by Dominic Wilkinson and Jonathan Pugh
This article is republished from The Conversation under a Creative Commons license. Read the original article.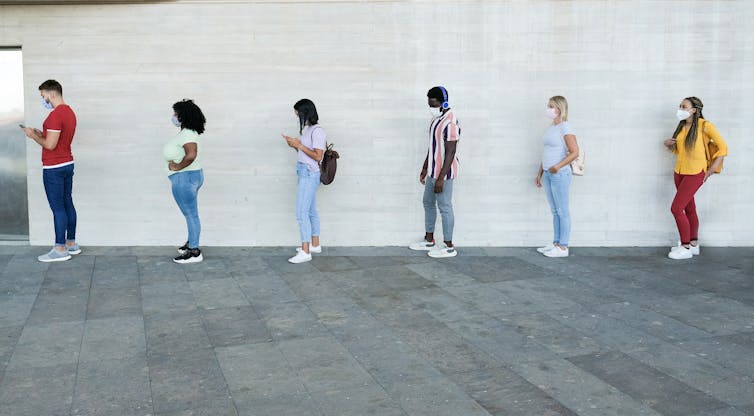 In the UK, an Oxford city councillor has been suspended after mentioning on social media that she had received a COVID vaccination from a private doctor. Meanwhile, media reports suggest that two Spanish princesses, who did not yet qualify for vaccination in Spain were vaccinated while visiting their father in the United Arab Emirates. They are among a number of ultra-wealthy people getting vaccinated in that country.
There have also been reports of people accessing vaccines early in the UK, despite not being in any of the groups prioritised for vaccination at the time.
So how concerned should we be about these cases? Continue reading →
Written By Tom Douglas
This is a (slightly modified) cross-post from The Brussels Times.
Should we all be required to produce a 'vaccine passport'—proving that we have been vaccinated against Covid-19—before being allowed to enter a cafe, travel abroad, or work in a high-risk job?
Some governments are taking tentative steps in this direction. Belgium may require that its soldiers be vaccinated before travelling abroad on peace-keeping missions. In other countries, companies are introducing requirements of their own. Air New Zealand will begin trialling vaccine passports in April.
Many governments have been reluctant to go down this route. Yet the case for vaccine passports is clear: they could allow us to end some lockdown and distancing measures for vaccinated individuals sooner than it would be safe to end them for everyone. This would be a large benefit, since these measures involve severe interference with freedom of movement, and we know that they have serious economic and psychological costs. Continue reading →
Written by Ben Davies
Last week brought the news that an additional 1.7m people in the UK had been asked to take additional 'shielding' measures against COVID-19, following new modelling which considered previously ignored factors such as ethnicity, weight and deprivation. Since many of this group have not yet been vaccinated, they were bumped up the priority list for vaccine access, moving into group 4 of the government's vaccine plan.
Two other groups, however, have not yet been incorporated into this plan despite appeals from some quarters that they should be. First, new figures reinforced the sense that the virus is disproportionately affecting prisoners, with one in eight of the prison population having had COVID-19, compared with roughly one in twenty in the wider population (in the United States, the prison figure has been estimated to be one in five).
Second, some GP groups and local councils have offered priority vaccination to homeless residents, despite their not officially qualifying for prioritisation on the government's plan. There have also been calls for the government to incorporate this into national plans, rather than being left to more local decision-making.
First interview in the new  Thinking Out Loud series on 'Animals and Pandemics': Katrien Devolder in conversation with Jeff Sebo, Associate Professor of Environmental Studies at NYU, on how our treatment of animals increases the risk of future pandemics arising, and on what we should do to reduce that risk!
Written by
Dominic Wilkinson and Jonathan Pugh,
The UK government announced that from February 15, British and Irish residents travelling to England from "red list" countries will have to quarantine in a government-sanctioned hotel for ten days, at a personal cost of £1,750. Accommodation must be booked in advance, and people will need to have two COVID tests during the quarantine period.
Failing to quarantine in a designated hotel carries a fine of up to £10,000, and those who lie about visiting a red list country could face a ten-year prison sentence.
Other countries have already implemented mandatory hotel quarantines for travellers, including Australia, New Zealand, China and India. When are such quarantines ethical? And who should pay for them if they are?
Jonathan Pugh, University of Oxford and Julian Savulescu, University of Oxford
Regulators in Europe are at odds over whether the Oxford/AstraZeneca vaccine should be given to the elderly. In the UK, the vaccine has been approved for use in adults aged 18 and up, but France, Germany, Sweden and Austria say the vaccine should be prioritised for those under the age of 65. Poland only recommends it for those younger than 60. Italy goes one step further and only recommends it for those 55 and younger.
It is only ethical to approve a vaccine if it is safe and effective. Crucially, the reluctance to approve the AstraZeneca vaccine in the elderly is grounded only in concerns about its efficacy.
The concern is not that there is data showing the vaccine to be ineffective in the elderly, it's that there is not enough evidence to show that it is effective in this age group. The challenge is in how we manage the degree of uncertainty in the efficacy of the vaccine, given the available evidence. Continue reading →
Written by Alberto Giubilini, Oxford Uehiro Centre for Practical Ethics, University of Oxford
Cross posted with The Conversation
"We are all in this together", except that we are not. One of the most widely used slogans of the pandemic might need to be adjusted. Maybe: "We are all in this together, until there is a way out."
The way out is the COVID-19 vaccine. Or more precisely, the many COVID-19 vaccines. The UK has already approved three, with two more pending a decision by the drugs regulator.
Of these, one has been developed in the UK by the University of Oxford, with millions of pounds of funding from the UK government (aka, UK taxpayers), and made by the British/Swedish company AstraZeneca. Part of its manufacturing is in Europe, where Belgian plants have had production problems that have threatened the future supply to the EU.
Three vaccines are produced by US pharmaceutical companies (Pfizer, Moderna and Novavax), although the Pfizer vaccine has been developed in partnership with the German biotechnology company BioNTech, and the Novavax one is being made in the UK. One vaccine is made by Janssen, based in Belgium but owned by the American firm, Johnson & Johnson.
These geographical details might seem superfluous, but they are already making post-Brexit vaccine distribution more complicated than it should be. In the meantime, the World Health Organization has expressed concerns over the fading commitment to Covax, the programme set up to guarantee equitable access to COVID-19 vaccines around the world.
This is the moment countries part ways in their fight against COVID-19. We are no longer in this together. That is because we never chose to be in it together. We just happened to find ourselves in a pandemic that didn't spare anyone. Now that we do have some choice, each country is taking care of their own first. Continue reading →

Written by Alberto Giubilini
Oxford Uehiro Centre for Practical Ethics and Wellcome Centre for Ethics and Humanities
University of Oxford
Former UK supreme court justice and historian Lord Jonathan Sumption recently made the following claim:
"I don't accept that all lives are of equal value. My children's and my grandchildren's life is worth much more than mine because they've got a lot more of it ahead. The whole concept of quality life years ahead is absolutely fundamental if one's going to look at the value of these things."
This wasn't very well received, to say the least. Experts were quickly recruited by the press to rebut his claims. Headlines were made to convey people's outrage at the idea that we can put a value on human life, and what is worse, different values on different human lives (which, by the way, is precisely what the NHS regularly does whenever it decides whom to put on a ventilator when there are not enough ventilators for everyone, or when it decides not provide life-saving treatments that cost more than £ 30k per quality-adjusted-life-year). Continue reading →
Written by Stephen Rainey
If we had a machine that could eradicate coronavirus at the press of a button, there would likely be a queue to do the honours. Rather than having such a device, we have a science-policy interface, and a general context of democratic legitimacy. This isn't a push-button, but a complex of socio-political liberties and privations. We can't push the button, but we can learn how to use the technology we do have – by collectively following policies like staying inside, wearing masks outside, and keeping distance from others.
Because of the coronavirus pandemic a novel form of this scientific research, technological application, and influence or control of nature (including humans) is emerging. In this case, the application is public policy, as based on multitudes of scientific advice. That over which control is sought is twofold: the virus, and people. Control of the virus is not really possible without some control over the people. Likewise, control of the people becomes harder where the virus is not controlled. Public trust in tough policies wanes if there is no end in sight, or no clear rationale in place. Continue reading →
Written by Alberto Giubilini (Oxford Uehiro Centre for Practical Ethics and WEH, University of Oxford )
Vageesh Jaini (University College London)
(Cross posted with the Conversation)
To be properly protective, COVID-19 vaccines need to be given to most people worldwide. Only through widespread vaccination will we reach herd immunity – where enough people are immune to stop the disease from spreading freely. To achieve this, some have suggested vaccines should be made compulsory, though the UK government has ruled this out. But with high rates of COVID-19 vaccine hesitancy in the UK and elsewhere, is this the right call? Here, two experts to make the case for and against mandatory COVID-19 vaccines.
Alberto Giubilini, Senior Research Fellow, Oxford Uehiro Centre for Practical Ethics, University of Oxford
COVID-19 vaccination should be mandatory – at least for certain groups. This means there would be penalties for failure to vaccinate, such as fines or limitations on freedom of movement.
The less burdensome it is for an individual to do something that prevents harm to others, and the greater the harm prevented, the stronger the ethical reason for mandating it.
Continue reading →