Responses to the UK COVID-19 Challenge Studies: 
"In a pandemic, time is lives.  So far, over a million people have died.

"There is a moral imperative to develop to a safe and effective vaccine – and to do so as quickly as possible.  Challenge studies are one way of accelerating vaccine research.  They are ethical if the risks are fully disclosed and they are reasonable.  The chance of someone aged 20-30 dying of COVID-19 is about the same as the annual risk of dying in a car accident.  That is a reasonable risk to take, especially to save hundreds of thousands of lives.  It is surprising challenge studies were not done sooner.  Given the stakes, it is unethical not to do challenge studies."
Prof Julian Savulescu, Uehiro Chair in Practical Ethics, and Director of the Oxford Uehiro Centre for Practical Ethics, and Co-Director of the Wellcome Centre for Ethics and Humanities, University of Oxford
"Human challenge studies are an important and powerful research tool to help accelerate our understanding of infectious diseases and vaccine development.  They have been used for many years for a range of different infections.

"The announcement of the UK Human Challenge Program is a vital step forward for the UK and the world in our shared objective of bringing the COVID-19 pandemic to an end.  With cases climbing across Europe, and more than 1.2 million deaths worldwide, there is an urgent ethical imperative to explore and establish COVID-19 challenge trials.

"All research needs ethical safeguards.  Challenge trials need to be carefully designed to ensure that those who take part are fully informed of the risks, and that the risks to volunteers are minimised.  Not everyone could take part in a challenge trial (only young, healthy volunteers are likely to be able to take part).  Not everyone would choose to take part.  But there are hundreds of young people in the UK and elsewhere who have already signed up to take part in COVID challenge studies.  They deserve our admiration, our support and our thanks."
Prof Dominic Wilkinson, Professor of Medical Ethics, Oxford Uehiro Centre for Practical Ethics, University of Oxford
Further Research
Read more about the ethics of challenge studies:

Written by: Alberto Giubilini; Oxford Uehiro Centre for Practical Ethics, &
Wellcome Centre for Ethics and Humanities, University of Oxford
It's that time of the year again, when Christmas decorations start to appear way too early in shopping malls. It's beginning to look a bit too much like Christmas. Except that, being it 2020, of course this year "it will be different".
Pubs are very optimistically accepting bookings for Christmas dinners, but many Christmas markets are (un)fortunately being cancelled. You might still see your distant relatives on Christmas day, but (un)fortunately no more than 6 of them at any one time.
Amidst the inevitable confusion, one obvious question is whether Santa Claus should deliver presents this year.
There are various factors to consider when deciding what Santa – but indeed everyone else – should be allowed to do over Christmas. The most relevant are probably the following:
COVID-19 infection rate over Christmas.
Risks and benefits for others of Santa's job.
Risks and benefits for Santa
Alberto Giubilini
Julian Savulescu
Oxford Uehiro Centre for Practical Ethics
University of Oxford
Supported by the UKRI/AHRC funded project "The Ethical Exit Strategy"
(Grant number AH/V006819/1)
https://practicalethics.web.ox.ac.uk/ethical-exit-strategy-covid-19
These are the "Main Points" and the Executive Summary of a Statement on key ethical considerations and recommendations for the UK "Exit Strategy", that is, the strategy informing the series of measures to move the country from the state of lockdown introduced in March 2020 to a 'new normality'.
The full Statement can be found at https://practicalethics.web.ox.ac.uk/files/covidexitstatement1octaccpdf
The document has been produced also on the basis of the discussion among academics and stakeholders from different fields (ethics, economics, medicine, paediatrics, mental health, nursing), who participated in an online workshop on the "Ethical Exit Strategy", held on the 8th of July 2020. Continue reading →
After healthcare and some other essential workers, it might seem the most obvious candidates for a Covid-19 vaccine (if we have one) are the elderly and other groups that are more vulnerable to the virus. But Alberto Giubilini argues that prioritising children may be a better option as this could maximise the benefits of indirect immunity for elderly and other vulnerable groups.
Written by Stephen Rainey
It is presently feared that 'lockdown' may be beginning to fray at the edges, as people tire of their restrictions. From the start of the emergency, discussion focussed upon the ability of the public to stay the course where restrictions were at stake. This neatly ignores the public's being ahead of the government in acknowledging the severity of the situation before the 23rd March announcement to restrict social freedoms. At any rate, concerns over policy effectiveness were addressed through faith in behavioural science (via 'Behavioural Insights', née 'The Nudge Unit'), and communications devices such as the repeated phrase, 'following the science'.
'Following the science' raises reasonable questions including, which science and why? In what sense 'follow'? To what degree? The idea of creating arguments 'from science' for any given policy is presumed sufficient as a motivation, or a reason for citizens to submit themselves to policy demands. However, given the expert basis for these arguments, it is not a safe bet that any given citizen will share the assumptions or knowledge base of the experts, let alone adopt them as straightforward reasons to alter their behaviour. Few people like to be told what to do without at least understanding what is being asked of them and why, so this can be a problem.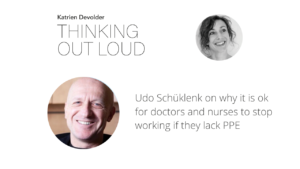 Philosopher Udo Schüklenk argues that it is morally permissible for doctors, nurses and other care workers to stop working if they lack PPE (personal protective equipment).  To listen to the interview, follow this link to the podcast: https://podcasts.apple.com/gb/podcast/is-it-morally-permissible-for-healthcare-workers-to/id1509190881?i=1000472576406
By Doug McConnell and Dominic Wilkinson
Post originally appeared on the Journal of Medical Ethics Blog
While the general public enjoy the relative safety of social distancing, key workers are at a higher risk of both contracting COVID-19 and transmitting it to their families. This is especially the case for 'frontline' workers who are frequently exposed to the virus and may not have access to adequate personal protective equipment (PPE). Tragically, many key workers have died of COVID-19 around the world already, including over 100 in the UK.
Although it is relatively rare for key workers to die from COVID-19, the risk of death is obviously much greater than one would usually expect in these roles and key workers clearly have good reason to be anxious. For 'frontline' workers, the distress is compounded by working in harrowing conditions where so many are dying alone. Furthermore, frontline workers have to take on the burdens of ensuring they do not transmit infections to their families, by moving in with patients, living in hotels, or maintaining rigorous social distancing in their own homes.
These atypical costs, risks, and burdens suggest that key workers are owed compensation in addition to their usual pay and a few instances of nationally coordinated applause. Continue reading →
By Julian Savulescu and James Cameron
Cross-posted with the Journal of Medical Ethics Blog
Countries all around the world struggle to develop policies on how to exit the COVID-19 lockdown to restore liberty and prevent economic collapse, while also protecting public health from a resurgence of the pandemic. Hopefully, an effective vaccine or treatment will emerge, but in the meantime the strategy involves continued containment and management of limited resources.
One strategy is a staged relaxation of lockdown. This post explores whether a selective continuation of lockdown on certain groups, in this case the aged, represents unjust discrimination. The arguments extend to any group (co-morbidities, immunosuppressed, etc.) who have significantly increased risk of death.
Oxford Uehiro Centre's Director of Medical Ethics, Professor Dominic Wilkinson, has led a UK ethical framework for treatment decisions in acute paediatric settings during the Covid-19 Pandemic.
This ethical framework is a modification of guidance developed for treatment decisions relating to adults. The principles relating to decisions for children in the setting of the pandemic are the same as those for adults. The framework emphasises that decisions should be ethically consistent and apply to patients both with COVID-related and non-COVID related illness.

The focus of the ethical framework provides guidance for a situation where there is extremely high demand and limited critical care capacity. However, it is important to note that at the time of writing (14 April 2020) there is enough paediatric critical care capacity across the UK. At the present time decisions about children in need of critical care should reflect the same fundamental ethical considerations as apply in normal times. Those decisions should be focused on the best interests of the child, and actively involve parents in decision-making.
Written by Joshua Parker and Ben Davies
One of the impending tragedies of the COVID-19 pandemic is a grave mismatch between the supply of ventilators and the numbers needing them. This situation, as seen in Italy, is predicted to be mirrored here in the UK. Coronavirus can cause acute respiratory distress syndrome for which the management is mechanical ventilation on the ICU. This represents these patients' only chance at survival. Part of the response to the incoming tsunami of patients requiring ventilation is to produce more ventilators. This is a reasonable way to try to lessen the mismatch between supply and demand. However, producing more ventilators cannot be the solution in isolation. As a complex piece of medical equipment, ventilators need trained staff to operate them and provide the additional care ventilated patients require. There has been a significant push to attempt to ensure enough ventilator trained staff as possible. Both staff and ventilator shortages present significant issues; yet it is shortages of ventilators that account for the bulk of ethical discussion so far. It is therefore worth exploring some of the ethical problems that might arise should there be plenty of ventilators, but not enough staff.