Written by: Jonathan Pugh, Dominic Wilkinson, and Julian Savulescu
Some countries already have vaccine passport schemes to travel or enter certain public spaces. The passports treat those who have had vaccines – or have evidence of recent infection – differently from those who have not had a vaccine. But the proposed selective lockdowns would radically increase the scope of restrictions for the unvaccinated.
Lockdowns can be ethically justified where they are necessary and proportionate to achieve an important public health benefit, even though they restrict individual freedoms. Whether selective lockdowns are justified, though, depends on what they are intended to achieve. Continue reading →
Written by Barbara Jacquelyn Sahakian, University of Cambridge; Christelle Langley, University of Cambridge,
and Julian Savulescu, University of Oxford
As more and more people get vaccinated, some governments are relying on "vaccine passports" as a way of reopening society. These passports are essentially certificates that show the holder has been immunised against COVID-19, which restaurants, pubs, bars, sports venues and others can use to grant them entry.
Israel currently operates a "green pass" system, which allows vaccinated people access to theatres, concert halls, indoor restaurants and bars. The UK government, had to roll back plans to trial vaccine passports after some of the venues involved experienced significant backlash against the proposals.
This is perhaps not surprising – vaccine passport schemes are controversial, with some arguing that they will reinforce inequalities. But there is an ethical case for using some form of certification of COVID status, as long as it is designed properly and as long as everyone has access to vaccines.
Let's look at the ethics of vaccination and certification. Continue reading →
Written by Maximilian Kiener, University of Oxford
When the doctor realised that he wouldn't be able to dissuade her of her beliefs, he decided to present her with another one:
Have you considered the possibility that anti-vaccine propaganda could be an attempt by the Russians or the Chinese to weaken the health of the United States population?
The doctor deliberately deceived the woman and probably reinforced her belief in conspiracy theories by pretending to find them plausible himself. But the tactic worked. The mother consented to have her child vaccinated.
Right now, vaccination is key to overcoming the COVID-19 pandemic and regaining safe individual freedom. Yet a minority of people, like the woman in our example, still refuse vaccination on mistaken beliefs. But how far can we go to change their minds?
Would the doctor be justified in using similar tactics to make the woman consent to her own COVID-19 vaccination? Continue reading →
By Jonathan Pugh, Dominic Wilkinson and Julian Savulescu
This work was supported by the UKRI/ AHRC funded UK Ethics Accelerator project, grant number AH/V013947/1. The UK Ethics Accelerator project can be found at https://ukpandemicethics.org/
As mass vaccination continues to be rolled out, the UK is beginning to see encouraging signs that the number of COVID deaths is reducing, and that the vaccines may be reducing the transmission of coronavirus.
While this is very welcome news, a mass vaccination programme is unlikely to be enough to eliminate the virus, so we need to turn our thoughts towards the ethics of the long-term management of COVID-19.
One strategy would be to aim for the elimination of the virus within the UK. New Zealand successfully implemented an elimination strategy earlier in the pandemic and is now in a post-elimination stage.
An elimination strategy in the UK would require combining the mass vaccination programme with severe restrictions on international travel to stop new cases and variants of the virus being imported. However, the government has been reluctant to endorse an elimination strategy, given the importance of international trade to the UK economy.
One of the main alternatives to the elimination strategy is to treat coronavirus as endemic to the UK and to aim for long-term suppression of the virus to acceptable levels. But adopting a suppression strategy for the long term will require us to make a societal decision about the harms we are and are not willing to accept.
Written By: Julian Savulescu, University of Oxford; Dominic Wilkinson, University of Oxford;
Jonathan Pugh, University of Oxford, and Margie Danchin, Murdoch Children's Research Institute
This article is republished from The Conversation under a Creative Commons license. Read the original article.
For instance, reports of blood clots associated with the AstraZeneca vaccine led to several European countries suspending their vaccination programs recently, only to resume them once these clots were judged to be a coincidence. However, authorities couldn't rule out increased rates of a rare brain blood clot associated with low levels of blood platelets.
There are also problems with the Pfizer and Moderna vaccines. By early February 2021, among the over 20 million people vaccinated in the United States, there have been 20 reported cases of immune thrombocytopenia, a blood disorder featuring a reduced number of platelets in the blood. Experts suspect this is probably a rare vaccine side-effect but argue vaccination should continue.
So what happens with the next safety scare, for these or other vaccines? We argue it's best to give people the facts so they have the autonomy to make their own decisions. When governments pause vaccine rollouts while investigating apparent safety issues, this is paternalism, and can do more harm than good. Continue reading →
Written by Dominic Wilkinson and Jonathan Pugh
This article is republished from The Conversation under a Creative Commons license. Read the original article.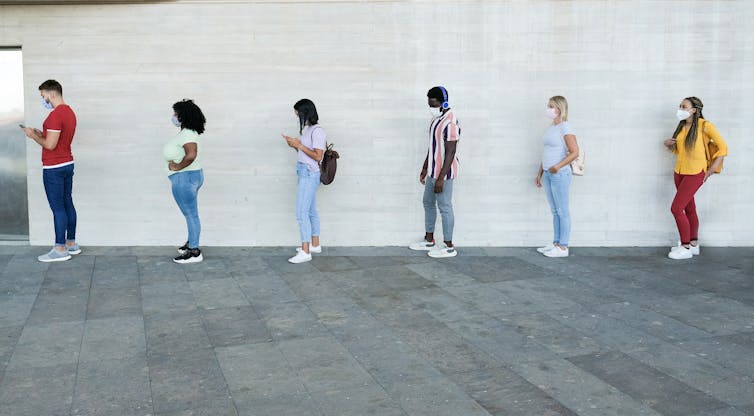 In the UK, an Oxford city councillor has been suspended after mentioning on social media that she had received a COVID vaccination from a private doctor. Meanwhile, media reports suggest that two Spanish princesses, who did not yet qualify for vaccination in Spain were vaccinated while visiting their father in the United Arab Emirates. They are among a number of ultra-wealthy people getting vaccinated in that country.
There have also been reports of people accessing vaccines early in the UK, despite not being in any of the groups prioritised for vaccination at the time.
So how concerned should we be about these cases? Continue reading →
Written by
Dominic Wilkinson and Jonathan Pugh,
The UK government announced that from February 15, British and Irish residents travelling to England from "red list" countries will have to quarantine in a government-sanctioned hotel for ten days, at a personal cost of £1,750. Accommodation must be booked in advance, and people will need to have two COVID tests during the quarantine period.
Failing to quarantine in a designated hotel carries a fine of up to £10,000, and those who lie about visiting a red list country could face a ten-year prison sentence.
Other countries have already implemented mandatory hotel quarantines for travellers, including Australia, New Zealand, China and India. When are such quarantines ethical? And who should pay for them if they are?
Jonathan Pugh, University of Oxford and Julian Savulescu, University of Oxford
Regulators in Europe are at odds over whether the Oxford/AstraZeneca vaccine should be given to the elderly. In the UK, the vaccine has been approved for use in adults aged 18 and up, but France, Germany, Sweden and Austria say the vaccine should be prioritised for those under the age of 65. Poland only recommends it for those younger than 60. Italy goes one step further and only recommends it for those 55 and younger.
It is only ethical to approve a vaccine if it is safe and effective. Crucially, the reluctance to approve the AstraZeneca vaccine in the elderly is grounded only in concerns about its efficacy.
The concern is not that there is data showing the vaccine to be ineffective in the elderly, it's that there is not enough evidence to show that it is effective in this age group. The challenge is in how we manage the degree of uncertainty in the efficacy of the vaccine, given the available evidence. Continue reading →
By Jonathan Pugh
This article was originally published here by the Conversation, on 22nd Dec 2020
The mass testing of asymptomatic people for COVID-19 in the UK was thrown into question by a recent study. In a pilot in Liverpool, over half the cases weren't picked up, leading some to question whether using tests that perform poorly is the best use of resources.
The tests involved in this study were antigen tests. These see whether someone is infected with SARS-CoV-2 by identifying structures on the outside of the virus, known as antigens, using antibodies. If the coronavirus is present in a sample, the antibodies in the test bind with the virus's antigens and highlight an infection.
Antigen tests are cheap and provide results quickly. However, they are not always accurate. But what do we mean when we say that a test is inaccurate? And is it really the case that "an unreliable test is worse than no test"? Continue reading →