By Hazem Zohny and Tom Douglas
Scientists who want to study the effects of passing electric currents through prisoners' brains have a PR problem: it sounds shady. Even if that electric current is so small as to go largely unnoticed by its recipient – as in the case of transcranial direct current stimulation (tDCS) – for some, such experiments evoke historical abuses of neuroscience in criminal justice, not to mention bringing to mind some of the more haunting scenes in films like One Flew Over the Cuckoo's Nest and A Clockwork Orange.
And so, last week the Spanish Interior Ministry put on hold an impending experiment in two Spanish prisons investigating the impact of brain stimulation on prisoners' aggression. At the time of writing, it remains unclear what the ministry's reasoning for the halt is, though the optics of the experiment might be part of the story.
Written by Dr Tom Douglas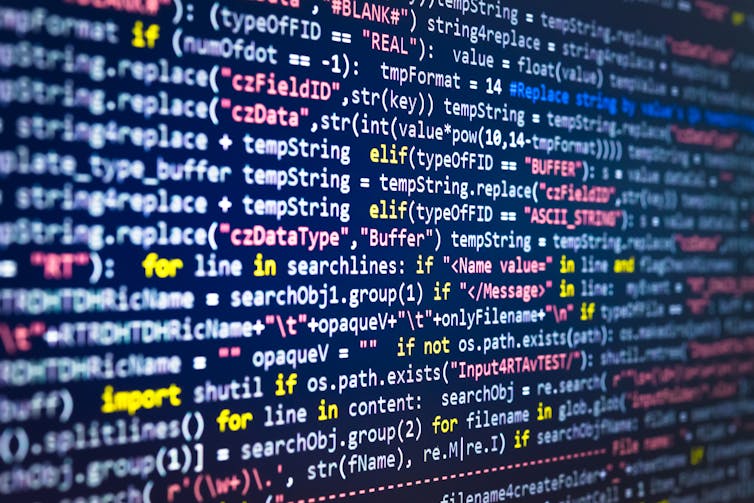 Our lives are increasingly affected by algorithms. People may be denied loans, jobs, insurance policies, or even parole on the basis of risk scores that they produce.
Yet algorithms are notoriously prone to biases. For example, algorithms used to assess the risk of criminal recidivism often have higher error rates in minority ethic groups. As ProPublica found, the COMPAS algorithm – widely used to predict re-offending in the US criminal justice system – had a higher false positive rate in black than in white people; black people were more likely to be wrongly predicted to re-offend.
Corrupt code.
Vintage Tone/Shutterstock
By Tom Douglas
Jack has smoked a packet a day since he was 22. Now, at 52, he needs a heart and lung transplant.
Should he be refused a transplant to allow a non-smoker with a similar medical need to receive one? More generally: does his history of smoking reduce his claim to scarce medical resources?
If it does, then what should we say about Jill, who has never touched a cigarette, but is predicted to become a smoker in the future? Perhaps Jill is 20 years old and from an ethnic group with very high rates of smoking uptake in their 20s. Or perhaps a machine-learning tool has analysed her past facebook posts and google searches and identified her as a 'high risk' for taking up smoking—she has an appetite for risk, an unusual susceptibility to peer pressure, and a large number of smokers among her friends. Should Jill's predicted smoking count against her, were she to need a transplant? Intuitively, it shouldn't. But why not?
Jonathan Pugh
Tom Douglas
The Durham Police force plans to use an artificial intelligence system to inform decisions about whether or not to keep a suspect in custody.
Developed using data collected by the force, The Harm Assessment Risk Tool (HART) has already undergone a 2 year trial period to monitor the accuracy of the tool. Over the trial period, predictions of low risk were accurate 98% of the time, whilst predictions of high risk were accurate 88% of the time, according to media reports. Whilst HART has not so far been used to inform custody sergeants' decisions during this trial period, the police force now plans to take the system live.
Given the high stakes involved in the criminal justice system, and the way in which artificial intelligence is beginning to surpass human decision-making capabilities in a wide array of contexts, it is unsurprising that criminal justice authorities have sought to harness AI. However, the use of algorithmic decision-making in this context also raises ethical issues. In particular, some have been concerned about the potentially discriminatory nature of the algorithms employed by criminal justice authorities.
These issues are not new. In the past, offender risk assessment often relied heavily on psychiatrists' judgements. However, partly due to concerns about inconsistency and poor accuracy, criminal justice authorities now already use algorithmic risk assessment tools. Based on studies of past offenders, these tools use forensic history, mental health diagnoses, demographic variables and other factors to produce a statistical assessment of re-offending risk.
Beyond concerns about discrimination, algorithmic risk assessment tools raise a wide range of ethical questions, as we have discussed with colleagues in the linked paper. Here we address one that it is particularly apposite with respect to HART: how should we balance the conflicting moral values at stake in deciding the kind of accuracy we want such tools to prioritise?
Written by Tom Douglas
This is an unedited version of an article originally published by The Conversation
'Calais Jungle Camp littered with asbestos', 'Buckingham Palace could be vacated to remove asbestos', 'Safety concerns for refugees and workers as Nauru asbestos removal program kicks off'.
Headlines such as these occur with monotonous regularity. Widespread asbestos use throughout much of the 20th century has ensured that the next contamination scandal is never far off, and asbestos-related legal decisions and personal tragedies often make the news as well. But despite the ongoing media attention, asbestos has not captured the public imagination as a public health threat, at least, not in comparison to other comparable threats like excessive sun exposure and drink driving.
Asbestos is a versatile fibrous mineral that can be cheaply mined and has unusual fire resistance and durability. Its use exploded in the twentieth century, when it was included in such diverse products as automobile brake linings, pipe insulation, ceiling and floor tiles, textured paints, concrete, mattresses, electric blankets, heaters, ironing boards and even piano felts. There is no safe threshold for exposure to asbestos dust, with even single exposures having been linked to cancer. Rates of asbestos-related cancer have recently been on the rise in Europe and Japan and look set to climb in many developing countries where asbestos is still being widely used, often without safety precautions. According to WHO estimates, asbestos now causes more deaths globally than excessive sun exposure. In the UK it is estimated to cause almost three times as many deaths as road traffic accidents.
Written by Dr Chris Gyngell, Dr Tom Douglas and Professor Julian Savulescu
A crucial international summit on gene editing continues today in Washington DC. Organised by the US National Academy of Sciences, National Academy of Medicine, the Chinese Academy of Sciences, and the U.K.'s Royal Society, the summit promises to be a pivotal point in the history of the gene editing technologies.
Gene editing (GE) is a truly revolutionary technology, potentially allowing the genetic bases of life to be manipulated at will. It has already been used to create malaria-fighting mosquitoes, drought resistant wheat, hornless cows and cancer killing immune cells. All this despite the fact GE only become widely used in the past few years. The potential applications of GE in a decade are difficult to imagine. It may transform the food we eat, the animals we farm, and the way we battle disease. Continue reading →
Former Auschwitz SS officer Oskar Gröning is currently being tried as an accessory to murder for his role as an administrator in the extermination camp, and the trial has stirred up a lot of debate. One strand of the debate addresses the question whether Gröning was complicit in the extermination of prisoners, and whether he was culpable for this complicity. (Roger Crisp wrote a fascinating post on this a couple of weeks back.) But another strand – and the strand that I want to look at here – has addressed the question whether former Nazi war criminals should be tried and punished for deeds in their distant past. Eva Mozes Kor, an Auschwitz survivor and witness in Gröning's trial has claimed that he shouldn't be tried, though he should use his knowledge to help fight holocaust denial.
Let's suppose that Gröning was indeed a culpable accomplice to murder. Should he then be punished? More generally, should serious crimes from decades go be punished? My intuition is that they should, but reflecting on why I have found it is not straightforward to defend this view. Continue reading →
In an article soon to be published in the Journal of Medical Ethics, Rob Sparrow imagines a procedure via which multiple generations of human embryos might be created in the laboratory. Egg and sperm cells would first be generated from existing or new human pluripotent stem cell lines. The resulting eggs would be fertilised using the sperm to create zygotes and ultimately embryos. Embryonic stem cells would then be harvested from these embryos and used to create new egg and sperm cells, which would in turn be used to fertilise one another to create further embryos. This process could be iterated, in principle indefinitely.
Let's call this procedure 'iterated in vitro reproduction' (Sparrow calls it 'in vitro eugenics'). Iterated in vitro reproduction is not yet possible, but, citing recent developments in the science of stem cell-derived gametes, Sparrow argues that it may well become so, though he acknowledges are number of significant hurdles to its development. He also discusses a number of possible applications of the technology and calls for an ethical debate on these. The most controversial application would be in the creation of designer children. Consider the following case, which is a variant on one of the scenarios imagined by Sparrow:
Jack and Jill present to a fertility clinic. Jack provides a sperm sample, and fertility doctors harvest a number of eggs from Jill. These eggs are fertilized with Jack's sperm to create embryos, from which embryonic stem cells are derived. These stem cells are then induced to develop into eggs or sperm which are used to fertilise one another, and so on. The process is iterated numerous times, and at each stage, the embryos are genetically screened via pre-implantation genetic diagnosis. This screening is used to inform a process of selective crossing, so that, over several generations, the population of embryos evolves towards certain genetic dispositions desired by Jack and Jill (a disposition towards longevity, say). This process is aided by adding small amounts of genetic material from stem cell lines derived from other individuals. Eventually, doctors identify an embryo with almost exactly the desired combination of genes, and this embryo is implanted into Jill's womb and carried to term. A child, Jarvis, is born.
Cases like this raise numerous ethical issues, some of which are discussed by Sparrow and the seven commentators on his paper. However, they also raise an interesting conceptual question: would the users of such a technology be the genetic parents of the resulting offspring? Would Jack and Jill be the genetic parents of Jarvis?
Suppose that the government is proposing a new policy regarding buildings of historical significance. Rather than simply banning the destruction of 'listed' buildings, the new policy would allow their destruction, provided that whoever destroys the building agrees to construct, somewhere nearby, a new building of a similar size, in a similar style, exhibiting a similar range of architectural innovations, and of a similar level of beauty. Blenheim Palace could be flattened and built over with a shopping mall and carpark, provided that mall developers agreed to construct a replica of the palace somewhere nearby.
Most would be disturbed by such a policy. Part of the reason that they would be disturbed, I presume, is that it seems to manifest a failure to recognise the true value of historical buildings. Not all of the value of historical buildings consists in their possession of generic properties like 'being beautiful', 'being in the baroque style' or 'using space to dramatic effect'. Some of their value is value that they have as particular objects, and that could thus not be realised in any other object. Part of the value of Blenheim Palace derives from it's being the birthplace of Winston Churchill. This value could not be realised in a replica of the palace built 5 miles down the road.
Of course, no-one is proposing a policy of sort I've just outlined. I bring it up because I think reflecting on this kind of case may throw some light on recent discussion regarding biodiversity offsetting (see, for example, here, here  and here). Continue reading →