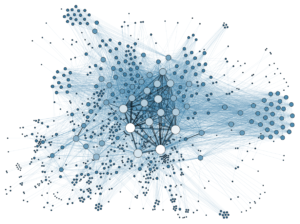 by Joao Fabiano
Moral philosophers often prefer to conceive thought experiments, dilemmas and problem cases of single individuals who make one-shot decisions with well-defined short-term consequences. Morality is complex enough that such simplifications seem justifiable or even necessary for philosophical reflection.  If we are still far from consensus on which is the best moral theory or what makes actions right or wrong – or even if such aspects should be the central problem of moral philosophy – by considering simplified toy scenarios, then introducing group or long-term effects would make matters significantly worse. However, when it comes to actually changing human moral dispositions with the use of technology (i.e., moral enhancement), ignoring the essential fact that morality deals with group behaviour with long-ranging consequences can be extremely risky. Despite those risks, attempting to provide a full account of morality in order to conduct moral enhancement would be both simply impractical as well as arguably risky. We seem to be far away from such account, yet there are pressing current moral failings, such as the inability for proper large-scale cooperation, which makes the solution to present global catastrophic risks, such as global warming or nuclear war, next to impossible. Sitting back and waiting for a complete theory of morality might be riskier than attempting to fix our moral failing using incomplete theories. We must, nevertheless, proceed with caution and an awareness of such incompleteness. Here I will present several severe risks from moral enhancement that arise from focusing on improving individual dispositions while ignoring emergent societal effects and point to tentative solutions to those risks. I deem those emergent risks fundamental problems both because they lie at the foundation of the theoretical framework guiding moral enhancement – moral philosophy – and because they seem, at the time, inescapable; my proposed solution will aim at increasing awareness of such problems instead of directly solving them.
Written by Ben Bambery and Julian Savulescu
Rosie Anderson, aged 8, died from influenza infection last Friday the 15th of September. Her tragic death followed the recent death of young father, Ben Ihlow, aged 30, who died suddenly on Father's Day this year, also from influenza infection.
Contrary to public perception, "the flu" is a deadly disease. In Victoria this year, at least 97 people have lost their lives to influenza. The majority of these deaths are amongst the elderly, who are particularly vulnerable to severe disease, but as made painfully clear by Rosie and Ben's deaths, the flu kills young people too. Continue reading →
Introduction
In a series of five harrowing judgments, the President of the Family Division, Sir James Munby, expressed his frustration with the system that endangered the life of a child who was the subject of care proceedings. He was forthright. Some of his words were quoted in the press. A headline in the Guardian read: 'Judge warns of 'blood on our hands' if suicidal girl is forced out of secure care.' 'Why won't NHS help?' asked the Sun. 'State will have 'blood on its hands' if suicidal teen doesn't get hospital bed soon, top judge warns.'
While the judge's comments seemed generally to be applauded by the media, not all were happy. Here is a typical example of a commentator who was not:
'To use a rhetorical outburst in one case to make broader political points about the state of public services jeopardises the principle of judicial separation. In saying that there are occasions when doing right "includes speaking truth to power", and openly condemning the lack of adequate public resources, is to leave the respected realm of judicial neutrality and to enter the political fray. Language and tone matter. Even if the diagnosis is fair, for a judge to use this tactic is, well, pretty ill-judged.' Continue reading →
Written by Dr Christopher Gyngell Research Fellow in Biomedical Ethics, Murdoch Childrens Research Institute, and Professor Julian Savulescu Uehiro Chair in Practical Ethics,Visiting Professor in Biomedical Ethics, Murdoch Childrens Research Institute and Distinguished Visiting Professor in Law, Melbourne University, University of Oxford
This article was originally published on The Conversation
One of the greatest mysteries in life is why only about one in three embryos formed naturally ever go on to produce a baby. Most miscarry. By genetically engineering human embryos, scientists in the UK have identified a key gene in enabling embryos to develop.
Kathy Niakan, of the Francis Crick Institute in London, led a team which used gene editing technique CRISPR to investigate the role of a particular gene in the development of embryos. The study could potentially lead to better understanding of miscarriage, and hopefully prevention of it, and improve treatment of infertility.
However, this ground-breaking research would be illegal in Australia. Scientists doing this in Australia could be imprisoned. It's time to review Australia's laws in this area, which are 15 years old. Continue reading →
Recent newspaper reports covered the story of Jemima Layzell, a 13 year old who died suddenly of a brain aneurysm in 2012. According to reports, shortly before Jemima died, the subject of organ donation had come up in discussions with her family, prompted by the death of a family friend in a car accident. As a result, Jemima's family were confident she would have wanted her organs to be donated. Subsequently, Jemima's kidneys, liver, lungs, pancreas, small bowel and heart were transplanted. This meant that a record eight people's lives were saved, prolonged or dramatically enhanced as a consequence of Jemima's and her family's decision.
Decisions about organ donation are extremely difficult. Family members are approached about the prospect of donating their loved one's organs at a time of extraordinary distress. Uncertainty about the wishes of the person who has died, along with confusion or scepticism about brain death criteria, religious or other spiritual beliefs about bodily integrity, fear about how donated organs will be used, and inability or unwillingness to engage with any form of decision-making can result in the refusal of family members to allow organs to be donated. In England, family members can prevent donation even when the individual has expressed a wish to donate her organs, for instance, by signing up to the organ donor register. Continue reading →
The issue of public sector pay rises has been at the forefront of political discussions in the UK in recent months. The controversy can be traced back to at least 2013, when the government placed a 1% limit on such pay rises, a figure that falls below recent levels of inflation, meaning that the cap has made public sector workers financially worse off in real terms. Earlier last week, the government announced that it would allow ministers some flexibility to breach this limit, as well as announcing small rises in the pay of some public sector workers. However, critics have labelled these measures as divisive and insufficient.
Len McCluskey, the leader of the Unite union in the UK, has recently added to this controversy when he told a BBC interviewer that he would be willing to back illegal strike action in order to oppose the cap on public sector pay rises. Under legislation introduced last year, legal industrial strike action in the UK public sector now requires the support of at least 40% of all those entitled to vote in the relevant ballot. Moreover, the ballot itself must also have at least 50% turnout in order to be valid. In his interview, McCluskey intimated that he would support strikes that did not meet this second condition. In turn, this has led commentators to call on Jeremy Corbyn, the leader of the opposition, to clarify whether he too would support illegal strikes.
I do not intend to address the moral and economic considerations involved in the question of the amount that a fair society should pay to its public sector workers. Rather, I shall be interested in the nature of the reasons that we may have to obey laws we disagree with, and the implications that our answer to this question may have for whether we should support illegal strikes of this sort.
The issue of the legality in England and Wales of physician-assisted suicide has recently been revisited by the Divisional Court. Judgment is awaited. The judgment of the Court of Appeal, granting permission for judicial review, is here.
The basic issue before the Court of Appeal was the same as that in Nicklinson v Ministry of Justice and R (Purdy) v DPP: does the right to determine how one lives one's private life (protected by Article 8 of the European Convention on Human Rights)  confer a right to have an assisted death?
Many factors have been said to be relevant to decisions about assisted dying. They include intractable pain (rather a weak criterion, given modern palliative methods), hopeless prognosis – likely to result in death in a short time –  and simple autonomy ('It's my right to determine where, when, and in what circumstances I end my life, and that's an end of the matter'). One factor, commonly in the minds of patients asking for help in ending their lives, but rarely mentioned by advocates of assisted dying, is that the patient feels that she is a burden to her family and carers. Continue reading →
By Stephen Rainey
In June 2017, the European Court of Justice ruled that it was legal for a French citizen to sue a drug company for damages following a vaccination, and an illness. The ruling caused some consternation as it seemed a legal vindication of anecdote over scientific rigour.
This is a dramatic case, not least owing to the position in which vaccines find themselves, post Andrew Wakefield and the rise of the anti-vaxxer movement. Nevertheless, it forms a part of a wider narrative in which scientific activity is not always very open to questions from outside science. This broader theme is worth some scrutiny. Continue reading →
Michael S. Dauber, MA
 According to a story by Catherine Caruso published in STAT News this week, authorities at the International Association of Athletics Federations (IAAF) are getting set to debate whether or not women with hyperandrogenism, or higher-than-expected testosterone levels, should be restricted from competing against women with "normal" or "expected" levels. The debate over the IAAF rules began in 2011, when a rule was first created to prevent women with high testosterone levels competing because of the belief that their hormone levels gave them an unfair advantage. The rule was challenged in 2015, and the IAAF was given two years to provide further justification for its position.
As Caruso writes, the main focus of the current controversy is the legal case of Dutee Chand, an Indian athlete whose testosterone levels exceed "the 10 nanomoles per liter limit, the level deemed to be the lower end of the 'male range,'" i.e., the amount of testosterone in the blood typically exhibited by male athletes. Testosterone is widely considered a hormone that assists in athletic performance, given that it increases the rate of muscle development and bone mass, among other traits. The idea behind the IAAF's position is that "unnaturally" high levels of testosterone that exceed levels typical of one's gender would give such athletes an unfair advantage over other competitiors. Insofar as the IAAF is concerned with creating the fairest competition possible, the presence of elevated testosterone levels in a select group of athletes, like Chand, presents a serious problem.
The problem with the IAAF's position, however, is that it overlooks one of the central nuances of sporting ethics. It is true that sporting events are supposed to be fair in a wide sense: we would not consider the competition just if one athlete took some action that made it impossible for other athletes to win. This is why athletes are given certain rules to which they must conform. In basketball, for example, one is forbidden from reaching out and grabbing the opposing player's arm to prevent them from dribbling; in hockey, players are forbidden from tripping each other; and soccer players cannot decide to randomly touch the ball with their hands (unless, of course, they are a goalie).