In a fascinating presentation hosted in March by the Oxford Uehiro Centre in Practical Ethics, Professor Seumas Miller spoke about what is now known as 'moral injury' and its relation to PTSD, especially in the context of war fighting and police work. Continue reading →
Written by: Carl Tollef Solberg, Senior Research Fellow, Bergen Centre for Ethics and Priority Setting (BCEPS), University of Bergen.
Espen Gamlund, Professor of Philosophy, Department of Philosophy, University of Bergen.
In 2015, there were 56.4 million deaths worldwide (WHO 2017).[i] Most people would say that the majority of these deaths were bad. If this is the case, why is it so, and are these deaths equally bad?
Death is something we mourn or fear as the worst thing that could happen—whether the deaths of close ones, the deaths of strangers in reported accidents or tragedies, or our own. And yet, being dead is not something we will ever live to experience. This simple truth raises a host of challenging philosophical questions about the negativity surrounding our sense of death, and how and for whom exactly it is harmful. The question of whether death is bad has occupied philosophers for centuries, and the debate emerging in the philosophical literature is referred to as the "badness of death." Are deaths primarily negative for the survivors, or does death also affect the decedent? What are the differences between death in fetal life, just after birth, or in adolescence? When is the worst time to die? These philosophical questions, although of considerable theoretical interest, is particularly relevant for how we evaluate deaths in global health, and policy-makers spending money to finance different health programs need to know how to answer them.  Continue reading →
Dominic Wilkinson, University of Oxford
Shortly before Frenchman Vincent Lambert's life support was due to be removed, doctors at Sebastopol Hospital in Reims, France, were ordered to stop. An appeal court ruled that life support must continue.
Lambert was seriously injured in a motorcycle accident in 2008 and has been diagnosed as being in a persistent vegetative state. Since 2014, his case has been heard many times in French and European courts.
His wife, who is his legal guardian, wishes artificial nutrition and hydration to be stopped and Vincent to be allowed to die. His parents are opposed to this. On Monday, May 20, the parents succeeded in a last-minute legal appeal to stop Vincent's doctors from withdrawing feeding, pending a review by a UN Committee on the Rights of Persons with Disabilities.
Lambert's case is the latest example of disputed treatment for adult patients with profound brain injury. The case has obvious parallels with that of Terri Schiavo, in the US who died in 2005 following seven years of legal battles. And there have been other similar high-profile cases over more than 40 years, including Elena Englaro (Italy, court cases 1999-2008), Tony Bland (UK 1993) Nancy Cruzan (US 1988-90) and Karen Ann Quinlan (US 1975-76). Continue reading →
Written by Stephen Rainey and Christoph Bublitz
Increasing use of brain data, either from research contexts, medical device use, or in the growing consumer brain-tech sector raises privacy concerns. Some already call for international regulation, especially as consumer neurotech is about to enter the market more widely. In this post, we wish to look at the regulation of brain data under the GDPR and suggest a modified understanding to provide better protection of such data.
In medicine, the use of brain-reading devices is increasing, e.g. Brain-Computer-Interfaces that afford communication, control of neural or motor prostheses. But there is also a range of non-medical applications devices in development, for applications from gaming to the workplace.
Currently marketed ones, e.g. by Emotiv, Neurosky, are not yet widespread, which might be owing to a lack of apps or issues with ease of use, or perhaps just a lack of perceived need. However, various tech companies have announced their entrance to the field, and have invested significant sums. Kernel, a three year old multi-million dollar company based in Los Angeles, wants to 'hack the human brain'. More recently, they are joined by Facebook, who want to develop a means of controlling devices directly with data derived from the brain (to be developed by their not-at-all-sinister sounding 'Building 8' group). Meanwhile, Elon Musk's 'Neuralink' is a venture which aims to 'merge the brain with AI' by means of a 'wizard hat for the brain'. Whatever that means, it's likely to be based in recording and stimulating the brain.
Written by Steve Clarke,Wellcome Centre for Ethics and Humanities and Uehiro Centre for Practical Ethics, University of Oxford,
& School of Humanities and Social Sciences, Charles Sturt University
Shamima Begum, who left the UK in 2015 at age 15, to join the Islamic State, has been the subject of consistent media attention since she was discovered in the Al-Hawl refugee camp in Northern Syria, in February this year. Soon after being discovered in the refugee camp Begum was controversially stripped of her UK citizenship by Home Secretary Sajid Javid. Citizenship can be removed by the Home Secretary if doing so is deemed to be 'conducive to the public good'. While it is illegal to render a person stateless, the Home Secretary is entitled to deprive UK citizens of their citizenship if they are also citizens of another country, or if they are eligible for citizenship in another country. Begum may be eligible for citizenship of Bangladesh, given that she has Bangladeshi ancestry, and there is a legal argument that she already is a citizen of Bangladesh.[1]
The Home Secretary's decision has been much discussed in the media. Some commentators have argued that Begum's interests should not be trumped by considerations of the public good. Others have questioned the legality of the decision. Still others have complained about the secretive nature of the decision-making process that led the Home Office to recommend to the Home Secretary that Begum be deprived of her citizenship. Here I will be concerned with a different issue. I will set aside considerations of Begum's interests and I will set aside legal and procedural considerations. I will focus on the question of whether or not it is actually conducive to the public good in the UK to deprive Begum of her citizenship. Like most people, I do not have access to all of the information that the Home Secretary may have been apprised of, regarding Begum's activities while she was living in the Islamic State, which would have informed his decision. So what I will have to say is necessarily speculative.
Written by Julian Savulescu, University of Oxford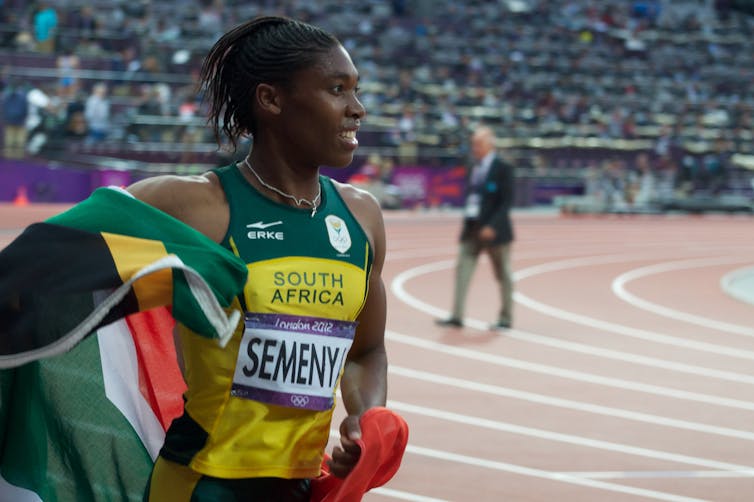 Middle-distance runner Caster Semenya will need to take hormone-lowering agents, or have surgery, if she wishes to continue her career in her chosen athletic events.
The Court of Arbitration in Sport (CAS) decided last week to uphold a rule requiring athletes with certain forms of what they call "disorders of sex development" (DSD) – more commonly called "intersex" conditions – to lower their testosterone levels in order to still be eligible to compete as women in certain elite races.
The case was brought to CAS by Semenya, as she argued discrimination linked to a 2018 decision preventing some women, including herself, from competing in some female events.
This ruling is flawed. On the basis of science and ethical reasoning, there are ten reasons CAS's decision does not stand up. Continue reading →
Guest Post: Torbjörn Tännsjö, Kristian Claëson Emeritus Professor of Practical Philosophy
Statistically speaking, women perform less well than men in most sports. Their top results are 10-12 % worse than those of men. If they are to have a chance to compete at the top level, they need a protected space. At least, this has been the received wisdom among sports authorities. The example of Caster Semenya means that this policy has reached the end of the road. What has surfaced is the fact that the idea of a special protected female sphere within sports doesn't stand up to recent knowledge within medicine and psychology. Caster Semenya is the stone that tipped the scales. The very notion of being female has been put under pressure.
The theory of science teaches us that a fruitful classification must serve an important purpose. In addition to this, the classes used should be mutually exclusive and exhaustive. Every classified individual should belong to one class only and everyone should belong to some class. Historically, we have tended to think that this is true of the classification of human beings into the classes of being female and male. We were wrong. And today it is common knowledge that we were wrong. However, the sports authorities have turned a blind eye to this knowledge.
To break it down in simple terms, there are three main ways of distinguishing between female and male. We may look at sex chromosomes, at external sex organs, or at perceived identity. It is possible to be male in terms of sex chromosomes but female in terms of both external sex organs and psychological identity. Caster Semenya gives witness to this (See Robert Johnson, 'What No One is Telling You About Caster Semenya: She Has XY Chromosomes', LetsRun, 2 May 2019). We know also that some individuals with female sex chromosomes (XX) and external female sex organs don't identify as female. They seek 'correction' of their external sex organs. And it is the other way around with some individuals with male sex chromosomes (XY) and male external sex organs. They don't identify as male and they seek correction of their external sex organs. Even  classification based purely on sex chromosomes is not as simple as one may think. Some individuals lack an X chromosome (X, Turner syndrome) while some have an extra X chromosome (XXY, Klinefelter). And there are other variations as well.
How should sports authorities best handle this? Should they keep turning a blind eye to these facts or should they try to face up to them?
Written by Ben Davies
We recently saw a legal challenge to the current UK law that compels fertility clinics to destroy frozen eggs after a decade. According to campaigners, the ten-year limit may have had a rationale when it was instituted, but advances in freezing technology have rendered the limit "arbitrary". Appeals to arbitrariness often form the basis of moral and political criticisms of policy. Still, we need to be careful in relying on appeals to arbitrariness; it is not clear that arbitrariness is always a moral 'deal-breaker'.
On the face of it, it seems clear why arbitrary policies are ethically unacceptable. To be arbitrary is to lack basis in good reasons. An appeal against arbitrariness is an appeal to consistency, to the principle that like cases should be treated alike. Arbitrariness may therefore seem to cut against the very root of fairness.
By Charles Foster
Statistically there is a good chance that I will ultimately develop dementia. It is one of the most feared conditions, but bring it on, I say.
It will strip me of some of my precious memories and some of my cognitive function, but it will also strip me of many of the neuroses that make life wretched. It may (but see below) make me anxious because the world takes on an unaccustomed form, but surely there are worse anxieties that are dependent on full function – such as hypochondriacal worries, or the worry that comes from watching the gradual march of a terminal illness. On balance the trade seems a good one. Continue reading →
Julian Savulescu
The Court of Arbitration for Sport (CAS) has announced that multiple Olympic and World Champion runner Caster Semenya and other athletes with disorders of sex (DSD) conditions will have to take testosterone lowering agents in order to be able to compete in her events.
Reducing the testosterone levels of existing intersex female athletes is unfair and unjust.
The term intersex covers a range of conditions. While intersex athletes have raised levels of testosterone, its effect on individual performance is not clear.  Some disorders which cause intersex change the way the body responds to testosterone. For example, in Androgen Insensitivity syndrome, the testosterone receptor may be functionless or it may be partly functional. In the complete version of the disorder, although there are high levels of testosterone present, it has no effect.
As we don't know what effect testosterone has for these athletes , setting a maximum level is sketchy because we are largely guessing from physical appearance to what extent it is affecting the body. It is not very scientific. We simply don't know how much advantage some intersex athletes are getting even from apparently high levels of testosterone. Continue reading →