Applications are now open for September 2020 entry to the MSt in Practical Ethics, taught by the Oxford Uehiro Centre for Practical Ethics.
Deadlines:
12:00 midday UK time on:
Friday 24 January 2020
Latest deadline for most Oxford scholarships
Tuesday 3 March 2020
Final application deadline for entry in 2020-21
Applications for the modules as standalone courses are also available.
This flexible, part -time course consists of six modules and a dissertation. The MSt in Practical Ethics is a part-time course consisting of six taught modules and a dissertation. Modules may also be taken as standalone courses. Continue reading →
Co-authored with Daniel D'Hotman de Villiers
In the first St. Cross seminar of the term, Dr. Neil Armstrong talked about ethical challenges raised by mounting bureaucratic processes in the institutional provision of mental healthcare. Drawing on vignettes from his ethnographic fieldwork, Dr. Armstrong argued that the bureaucratization of mental healthcare has led to a situation in which the provision of care involves conflicts of the sort that make it irretrievably morally confusing. The podcast will follow shortly here.

Thanks to a generous grant from Open Philanthropy, last year the Uehiro Centre for Practical Ethics and the Wellcome Centre for Ethics and Humanities co-sponsored a workshop with the Royal Society for the Prevention of Cruelty to Animals (RSPCA) examining the ethical and legal implications of recent advancements in our ability to assess the mental states and well-being of nonhuman animals.  The impetus for the meeting was that since 2009, the United Kingdom had been operating under article 13 of the Lisbon Treaty which states that the European Union and member states, "shall, since animals are sentient beings, pay full regard to the welfare requirements of animals." However, after voting to leave the European Union, the United Kingdom was tasked with deciding which rules and provisions to retain, and controversy erupted several years ago when MPs voted against transferring this provision of the Lisbon Treaty to the United Kingdom post-Brexit.
By César Palacios-González
More than a year after the fallout from He Jiankui's announcement to the world that he had edited human embryos in order to made them resistant to HIV, the debate on whether we should move ahead with heritable human genome editing has given no signs of slowing down. For example, just a couple of days ago the UK House of Lords was debating this issue, and the WHO's advisory committee on genome editing is running a consultation on the governance framework that should rule over human genome editing. While there are many ethical questions surrounding human genome editing, there is a question that recently has gained prominence: is heritable human genome editing therapeutic? Continue reading →
By Ben Davies
Most people accept that patients have a strong claim (perhaps with some exceptions) to be told information that is relevant to their health and medical care. Patients have a Right to Know. More controversial is the claim that this control goes the other way, too. Some people claim, and others deny, that patients also have a Right Not to Know.
A number of considerations (harm to the patient; autonomy; privacy) have been marshalled on either side of this debate over the past few decades (e.g. Laurie 2004; Robertson and Savulescu 2001; Herring and Foster 2012; Takala 2019). In this post, I focus on a distinct argument and its apparently unassailable logic. This is the view that a comprehensive Right Not to Know cannot be justified because in many cases a patient's ignorance will likely lead harm to third parties (Council of Europe 1997; Rhodes 1998; Harris and Keywood 2001).
Written by Gabriel De Marco
Suppose that two patients are in need of a complicated, and expensive, heart surgery. Further suppose that they are identical in various relevant respects: e.g., state of the heart, age, likelihood of success of surgery, etc. However, they differ on one feature: for one of these patients, call her Blair, the need for the heart surgery is due to her lifestyle (suppose she was a smoker), whereas the other, Ingrid, has not had this lifestyle, nor any other that would lead to the need for the surgery.
Some people think that:
We can be responsible and blameworthy for our actions and their consequences.
Some of those people also think that:
We can, or should, take this into account when making decisions about how to distribute healthcare resources.
For the purposes of this blog post, let's assume 1 and 2 are true. Commonly, it is thought that, in order to be blameworthy for something, one must be responsible for it. Further, it is commonly thought that, whatever the appropriate response is to blameworthiness for something or other (assuming that there is an appropriate response), it will be negative in some sense or other. Now further suppose that Blair is blameworthy for her illness. Given 1 and 2, this fact about Blair, combined with the fact that Ingrid is innocent with regard to her illness, suggests that, at least in some contexts, we should treat them differently (or at least it would be permissible to do so). Call a healthcare policy that adopts, and reflects, 1 and 2 a Responsibility-Sensitive Policy, or RSP for short.
By Rebecca Brown
Many people will be broadly familiar with the 'heuristics and biases' (H&B) program of work, made prominent by the psychologists Amos Tversky and Daniel Kahneman in the 1970s. H&B developed alongside the new sub-discipline of Behavioural Economics, both detailing the ways in which human decision-makers deviate from what would be expected of homo economicus – an imaginary, perfectly rational being that always aims at maximising utility. For instance, in a famous experiment, Tversky and Kahneman gave people the following information (1983: 297):
Linda is 31 years old, single, outspoken and very bright. She majored in philosophy. As a student, she was deeply concerned with issues of discrimination and social justice, and also participated in anti-nuclear demonstrations. 
Participants were then asked which of the two alternatives was more probable:
1. Linda is a bank teller.
2. Linda is a bank teller and is active in the feminist movement.
By Charles Foster

There are lots of big and clever books about epistemology. It's a complex business. Although one can do some epistemology (some icy thinkers say all) without making any empirical claims about what the senses show (and hence how the senses work), such empirical claims are essential for the discipline to get any real traction on the world.
Whenever this is acknowledged (and it often is not), the emphasis is very much on sight. There is the same bias in lay speech and thought – so much so that sight and some sort of cognitive process or conclusion are commonly conflated. 'Seeing is believing', we say. 'I see', we say, when we really mean that we understand.
This is not surprising. Language and cognition are intimately entangled, and so are vision and cognition. Vision and 'higher order' cognition (important inverted commas, those) are spatially close to one another in the brain: that spatial closeness is reflected in functional closeness. Evolutionarily older centres – notably olfaction – are buried deep in the brain. Since they don't have an office near to 'higher order' cognition, their contribution tends to be overlooked in the cognitive league tables. The insights of the nose tend to be denigrated. Continue reading →
On Sunday 3 November, OUC's Dr Alberto Giubilini participated in a debate on compulsory vaccination at 2019 Battle of Ideas Festival (Barbican Centre, London). Chaired by Ellie Lee, the session also featured Dr Michael Fitzpatrick (GP and author, MMR and Autism: what parents need to know and Defeating Autism: a damaging delusion); Emilie Karafillakis (Vaccine Confidence Project); and Nancy McDermott (author, The Problem with Parenting: a therapeutic mode of childrearing).
What is passive aggression? Why is it so annoying? What message does the person being passive aggressive try to convey? Is it usually better to speak our mind about what bothers us, or to be passive aggressive? Is it sometimes better to just swear at people? In this interview with Dr Katrien Devolder (Oxford Uehiro Centre for Practical Ethics), philosopher Dr Rebecca Roache  (Royal Holloway) talks us through the philosophy of passive aggression!

Announcement: Brian Earp and Julian Savulescu's new book 'Love Drugs: The Chemical Future of Relationships', published by (Stanford University Press) is now available.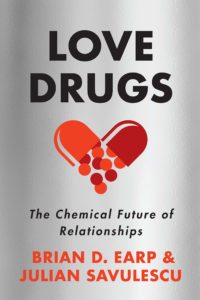 Is there a pill for love? What about an "anti-love drug", to help us get over an ex? This book argues that certain psychoactive substances, including MDMA—the active ingredient in Ecstasy—may help ordinary couples work through relationship difficulties and strengthen their connection. Others may help sever an emotional connection during a breakup. These substances already exist, and they have transformative implications for how we think about love. This book builds a case for conducting research into "love drugs" and "anti-love drugs" and explores their ethical implications for individuals and society. Scandalously, Western medicine tends to ignore the interpersonal effects of drug-based interventions. Why are we still in the dark about the effects of these drugs on romantic partnerships? And how can we overhaul scientific research norms to take relationships more fully into account?