By Jonathan Pugh
In the second of his three Uehiro lectures on the theme of 'illness and the social self', Richard Holton turned to the moral questions raised by addiction. In the first half of the lecture, he outlined an account of addictive behaviour according to which addictive substances disrupt the link between wanting and liking. In the second half of the lecture, he discusses the implications of this account for the moral significance of preferences, and for how we might structure environments to avoid triggering addictive desires.

By Charles Foster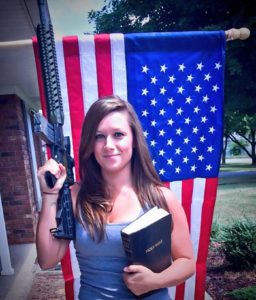 Image: Holly Fisher, a Conservative Christian blogger from West Virginia, posing with gun, Bible, and US flag:  from www.nydailynews.com
There was a near universal consensus that Bishop Michael Curry's sermon at the wedding of Prince Harry and Meghan Markle was magnificent.  'Frock Star', panted the Sun.  The Bishop 'stole the show…and is the 'new Pippa Middleton'' He left for the US, the Sun continued, 'leaving Britain still raving about his electrifying sermon.' The Bishop 'just stole the show', said Vox.com 'Prince Harry and Meghan were all but upstaged by the Episcopal priest's fiery sermon….You might say Curry just made the Anglican communion great again.'
'The Rev Michael Curry', tweeted Ed Miliband, 'could almost make me a believer, ' and Piers Morgan tweeted: 'Wow. Still reeling from Rev Curry. What a moment. What a man!' The BBC commentator Jeremy Vine said that the preacher was 'doing 50 in a 30 zone, and it's brilliant.' Continue reading →
Is discrimination against unattractive people (lookism) a serious problem? What are the costs of lookism ? What should we do about lookism? In this interview with Katrien Devolder, Dr Francesca Minerva (Philosopher, Ghent University) addresses these thorny questions.
By Jonathan Pugh
The number of individuals suffering with dementia is steadily increasing; as such, the moral issues raised by the neurodegenerative diseases that bring about the symptoms typifying dementia are of pressing practical concern. In this context, Richard Holton's topic for the first of his three 2018 Uehiro lectures (on the theme "Illness and the Social Self") is a timely one: What are the ethical implications of the progressive and pervasive loss of memory that is a central feature of dementia?
I shall be blogging a synopsis of each lecture in the series on the Practical Ethics blog – I will update the blog with a link to the podcast of the lecture when it becomes available.
By Mackenzie Graham
Crosspost from The Conversation. Click here to read the full article.
The development of accessible treatment options for pregnant women is a significant public health issue. Yet, very few medications are approved for use during pregnancy. Most drug labels have little data to inform prescribing decisions. This means that most medicines taken during pregnancy are used without data to guide safe and effective dosing.
The United States Food and Drug Administration recently published draft ethical guidelines for how and when to include pregnant women in drug development clinical trials. These guidelines call for "the judicious inclusion of pregnant women in clinical trials and careful attention to potential foetal risk". The guidelines also distinguish between risks that are related to the research and those that are not, and the appropriate level of risk to which a foetus might be exposed. Continue reading →
Applications are invited for a full-time Research Fellow position (Grade 7: £31,604 – £38,883 p.a.) to conduct research in philosophy and applied ethics for the research project: Neurointerventions in Crime Prevention: An Ethical Analysis, which is hosted by the Oxford Uehiro Centre for Practical Ethics within the Faculty of Philosophy.
This post is fixed-term for 1 year from the date of appointment with excellent opportunities for career advancement.
The Fellow will conduct collaborative research under the supervision of Dr Thomas Douglas (Principal Investigator for the research project), with a focus on 'The Ethics of Environmental and Biological Behavioural Influence in Crime Prevention', examining the nature and moral status of different kinds of behavioural influence (including coercion, manipulation, nudging and biological intervention).
The Fellow will produce publications of high quality research, undertake literature reviews, and participate in other project activities. This participation may involve developing collaborative relationships, contributing to public engagement activities, grant applications and event planning, and performing other occasional duties such as event organisation, administration and teaching.
The postholder is required to hold the degree of PhD (or equivalent), or be a doctoral candidate near completion, in philosophy or other relevant discipline (such as law or political theory) with specialisation in applied ethics, normative ethics, political philosophy or other related sub-discipline. Also essential are excellent research skills, an outstanding research record, and demonstrated ability to publish in journals in applied ethics, normative ethics, or political philosophy.
Applications are to be submitted no later than 12.00 midday on Friday 8 June 2018. Further details including how to apply
By Neil Levy
Last week, I found myself seeing a film I hadn't planned to. The film I wanted to see (The Death of Stalin) was sold out, so rather than miss my weekly fix, I picked the Amy Schumer comedy I Feel Pretty. I don't mind a chick flick and I enjoyed Trainwreck, but the reviews of I Feel Pretty were pretty bad, so I was going to give it a miss. Actually, I Feel Pretty was a better film than the reviews suggested (it was in fact better than the much better reviewed film The Party, which I saw the previous week). It was quite funny, after a slow beginning, and that's about all one can reasonably ask from these entertainments. From an ethical perspective, however, it is rather troubling. Continue reading →
Last January, an article in the Financial Times broke a story about a men-only charity event run by the Presidents Club, a charitable trust set up to raise money for "worthy children's causes." Allegations were made by undercover journalists who attended the black tie event as 'hostesses,' 130 of whom were hired to attend the event where they were required to wear a uniform of short tight black dresses, "sexy" black high heels and matching black underwear in order to "keep [the attendees] happy – and fetch drinks when required." According to the FT, the selection criteria for women to work at the event were that they be "tall, thin and pretty". Women interviewed by the FT described being repeatedly groped, propositioned for sex, and instructed to "down that glass, rip off your knickers and dance on that table." The Presidents Club has closed as a result of the negative attention following the article, and many prominent figures in business, entertainment and politics have been publicly named as attending the dinner, and required to defend their involvement.
by Dominic Wilkinson
In the light of the media attention today, I have gathered together some of the material relating to the ethics of this case Continue reading →