The MSt offers high-quality training in practical ethics, drawing on the internationally recognised expertise of Oxford's Uehiro Centre for Practical Ethics, the Ethox Centre and the Faculty of Philosophy.
Applications for entry to the MSt in 2022-23 are currently closed. Entry for 2023-24 will open in Autumn this year, and will be available here.
Applications for the modules as standalone courses are still available.
This flexible, part -time course consists of six modules and a dissertation. The MSt in Practical Ethics is a part-time course consisting of six taught modules and a dissertation. Modules may also be taken as standalone courses. Continue reading →
Written by Dominic McGuire, DPhil Student, Queen's College Oxford
Jonathan Pugh's interesting Practical Ethics blog of October 14th, 2022, http://blog.practicalethics.ox.ac.uk/2022/10/brain-cells-slime-mold-and-sentience-semantics/, prompted several additional thoughts. Pugh's blog considered some of the implications from recent media reports about laboratory grown brains, also called minibrains, which can play the video game of Pong. Pong is a simple representation of the game of table tennis.
In his blog, Pugh concludes that the Pong playing minibrains are not sentient. This is because in his view they do not possess phenomenal consciousness and thus are unable to experience pain or pleasure. To some the property of phenomenal consciousness is an essential requirement for moral status. This is because they claim that only entities that are phenomenally conscious have the kinds of interests that warrant strong forms of moral protection.   Continue reading →
By Alberto Giubilini
The forthcoming World Cup in Qatar is perhaps the most controversial in football history.  Qatari social, religious, and legal norms clash with values that many people from other parts of the world hold dear.  For example, things like extramarital sex, same-sex behaviour, and importation of religious books are illegal in Qatar. A Qatari ambassador for the World Cup said that homosexuality is a 'damage of the mind' and a 'spiritual harm'. He added that people going to Qatar will have to accept their rules.
This flies in the face of the fact that many players, commentators, and other stakeholders who will go to Qatar have been openly condemning Qatari social, religious, and legal norms in many ways. For example, Australian footballers have released a video condemning human rights violations in Qatar, including the treatment of migrant workers. German defender Leon Goretzcka said that by displaying messages against Qatari norms players want to "set an example for the values we want to stand for". Is this hypocritical?
Written by Theron Pummer
This article originally appeared in the OUPBlog
 You can save a stranger's life. Right now, you can open a new tab in your internet browser and donate to a charity that reliably saves the lives of people living in extreme poverty. Don't have the money? Don't worry—you can give your time instead. You can volunteer, organize a fundraiser, or earn money to donate. Be it using money or time, there are actions you can take now that will save lives. And it's not just now. You can expect to face such opportunities to help strangers pretty much constantly over the remainder of your life.
I doubt you are morally required to help distant strangers at every opportunity, taking breaks only for food and sleep. Helping that much would be enormously costly. It would involve a lifetime of sacrificing your well-being, freedom, relationships, and personal projects. But even if you are not required to go that far, surely there are some significant costs you are required to incur over the course of your life, to prevent serious harms to strangers. Continue reading →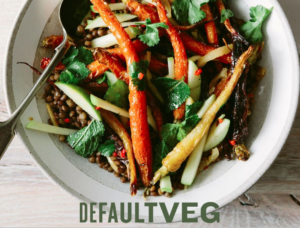 Today (1 November) is 'world vegan day'. This is a good moment to reflect on a decision that the Oxford Uehiro Centre for Practical Ethics took almost exactly a year ago. In October 2021, we chose to firmly commit to a DefaultVeg approach to help reduce meat and dairy consumption. Such reduction will help transform our current farming practices, which are extremely harmful to our planet, and all those who live on it. [National Food Strategy. Independent Review for the Government]
What does this DefaultVeg commitment entail? Over the past year, we have provided plant-based food and drinks by default for all meetings and events that we host, and for our staff and visitors at the Centre during normal workdays. The choice to opt for meat and/or dairy remains, but those who want this have to opt in. Given the high numbers of vegans among our admin team, staff and students, we had already adopted a DefaultVeg approach to some extent, but DefaultVeg has ensured that we do this more consistently and explicitly. As we expected, almost everyone opts for the default: plant-based options.
We hope that, by explicitly and firmly committing to a DefaultVeg approach, the Uehiro Centre also sets an example for other research centres, institutions, and workplaces in general. Going DefaultVeg is not difficult in a world with an increasing variety of plant-based food and drinks.
'Why are we opting for DefaultVeg and not going vegan 'all the way'?', you may wonder.
We think that preserving freedom of choice is valuable. Food is deeply embedded in cultural and social values, and we realise that people do not always find it easy or desirable to entirely change their eating habits overnight. It is important to acknowledge this, and not rush people into different food choices, though, we hope that most people will opt for plant-based diets eventually. Forcing a food choice onto people may not always be the best way to convince people that they should eat less meat and dairy. It may make some people feel hostile towards, and hence resist, veganism. And this may result in a slower transition to a society in which most people are happy to eat (mostly) plant-based food.
Last year, the Oxford City Council approved a proposal to only offer plant-based options during council meetings. Conservative councillors objected and said whether one opts for a vegan lunch should remain a choice: "Veganism should not be forced down people's throats. It should be a matter of choice and education."  At the first lunch, two conservative councillors walked out in protest, and around 15 Conservative councillors enjoyed a self-funded lunch at a nearby pub and one of the councillors confirmed it 'contained meat'.
I'm not saying that the Oxford City Council took the wrong decision by making the lunches vegan. But as the strong reaction shows, perhaps a more incremental approach towards a vegan society may work better in some contexts. Perhaps when not forced, people may find it easier to shift. And changing the default to vegan, helps to shift people towards the vegan options. As more people reduce their meat and dairy consumption, more plant-based food options will become available, which, in turn will make it easier, and thus more attractive, to become vegan. Both approaches (all vegan, and DefaultVeg) have benefits.
We find that, for the Centre, the DefaultVeg approach, has worked well (though it has taken some trial and error to find caterers and restaurants with enough good vegan options). It has been an exciting and positive journey, and we look forward to continuing it.
For those of you who are interested in adopting a DefaultVeg approach, feel free to get in touch (katrien.devolder@philosophy.ox.ac.uk) if you would like more information about how to get started.
Written by Neil Levy
Everyone agrees that ignorance of fact can excuse. If I take your suitcase thinking it was mine, and my belief that it was mine was faultless (perhaps the coach driver handed it to me, saying "this is yours", and it looked exactly like mine), I seem excused of blame for taking it. But philosophers and ordinary people have been reluctant to excuse people on the basis of their moral ignorance. Think, for example, about recent debates concerning memorials to people we now recognize as deeply racist. Of course, it's perfectly possible to demand that such memorials be removed on the grounds that it's inappropriate to laud bad people, but the demand is often combined with blame directed at the racist (conversely, those who defend the memorials often think it's sufficient to deflect blame on the grounds that the person was "a man of his time"). Continue reading →
Recent media reports have highlighted a study suggesting that so-called "lab grown brain cells" can "play the video game 'Pong'". Whilst the researchers have described the system as 'sentient', others have maintained that we should use the term "thinking system" to describe the system that the researchers created.
Does it matter whether we describe this as a thinking system, or a sentient one?
NATIONAL OXFORD UEHIRO PRIZE IN PRACTICAL ETHICS 2023
• All graduate and undergraduate students (full and part-time) currently enrolled at any UK university, in any subject, are invited to enter the National Oxford Uehiro Prize in Practical Ethics by submitting an essay of up to 2000 words on any topic relevant to practical ethics.
• Two undergraduate papers and two graduate papers will be shortlisted from those submitted to go forward to a public presentation and discussion, where the winner of each category will be selected.
• The winner from each category will receive a prize of £500, and the runner up £200. Revised versions of the two winning essays will be considered for publication in the Journal of Practical Ethics. The two winners from the prize will be invited to take part in an online Q&A, as part of the Oxford Uehiro Festival of Arguments.
• To enter, please submit your written papers by the end of Tuesday 7th February 2023 to rocci.wilkinson@philosophy.ox.ac.uk. Finalists will be notified by Tuesday 21st February of selection. The public presentation will take place on Tuesday 14th March, from 5:30pm. Please save this presentation date, as you will need to attend if selected as a finalist.
Detailed instructions are available here 
by Roger Crisp
It's often been said (including by Socrates) that the most important, ultimate, or fundamental question in ethics is: 'How should one live?'. Continue reading →
We are pleased to announce the publication of Volume 10 Issue 1 of the Journal of Practical Ethics, our open access journal on moral and political philosophy. You can read our complete open access archive online and hard copies will be available to be purchased at cost price shortly.
Anderson, E. S., (2022) "Can We Talk?: Communicating Moral Concern in an Era of Polarized Politics", Journal of Practical Ethics 10(1). doi: https://doi.org/10.3998/jpe.1180
Renzo, M., (2022) "Defective Normative Powers: The Case of Consent", Journal of Practical Ethics 10(1). doi: https://doi.org/10.3998/jpe.2382
Hosein, A., (2022) "Illusions of Control", Journal of Practical Ethics 10(1). doi: https://doi.org/10.3998/jpe.2381
By Maximilian Kiener. First published on the Public Ethics Blog
AI, Today and Tomorrow
77% of our electronic devices already use artificial intelligence (AI). By 2025, the global market of AI is estimated to grow to 60 billion US dollars. By 2030, AI may even boost global GDP by 15.7 trillion US dollars.  And, at some point thereafter, AI may come to be the last human invention, provided it optimises itself and takes over research and innovation, leading to what some have termed an 'intelligence explosion'. In the grand scheme of things, as Google CEO Sundar Pichai thinks, AI will then have a greater impact on humanity than electricity and fire did.
Some of these latter statements will remain controversial. Yet, it is also clear that AI increasingly outperforms humans in many areas that no machine has ever entered before, including driving cars, diagnosing illnesses, selecting job applicants, and more. Moreover, AI also promises great advantages, such as making transportation safer, optimising health care, and assisting scientific breakthroughs, to mention only a few.
There is, however, a lingering concern. Even the best AI is not perfect, and when things go wrong, e.g. when an autonomous car hits a pedestrian, when Amazon's Alexa manipulates a child, or when an algorithm discriminates against certain ethnic groups, we may face a 'responsibility gap', a situation in which no one is responsible for the harm caused by AI.  Responsibility gaps may arise because current AI systems themselves cannot be morally responsible for what they do, and the humans involved may no longer satisfy key conditions of moral responsibility, such as the following three.