Blog Authors: Julian Savulescu, Brian D. Earp, Jim A.C. Everett, Nadira Faber, and Guy Kahane
This blog reports on the paper, Kahane G, Everett J, Earp BD, Caviola L,  Faber N, Crockett MJ, Savulescu J, Beyond Sacrificial Harm: A Two Dimensional Model of Utilitarian Decision-Making, Psychological Review
How Utilitarian are you? Answer these 9 questions to find out…
Utilitarianism is one of the oldest and most influential theories about what the right thing to do is. It says that the right act is the one which has the best consequences. In the first formulation by Jeremy Bentham, hedonistic utilitarianism, the right act is the one which maximises happiness and minimises suffering. Richard Hare and Peter Singer made preference utilitarianism famous: the right act is the one which maximises satisfaction of preferences.
Utilitarianism was a novel egalitarian theory when it was developed in the 1700s. It was a radical departure from authoritarian, aristocratic or otherwise hierarchical ways of thinking, positing that each person's happiness and suffering was to count the same. In stark contrast to the social norms of the day, utilitarianism held that the happiness of the pauper is just as important as the happiness of the Prince or the Pope.
Utilitarianism has fallen into disrepute. It is now equated with Machiavellianism: the end justifies the means, whatever those ends may be. It is also seen as coldly calculating, or else simplistically pragmatic. The German philosopher Friedrich Nietzsche described it as a morality appropriate for shop keepers. Recently it has even been portrayed a doctrine for psychopaths. Pope Paul II put it succinctly in 1995:
"Utilitarianism is a civilization of production and of use, a civilization of 'things' and not of 'persons,' a civilization in which persons are used in the same way as things are used."
Written by Dr Rebecca Brown
It has become commonplace to identify a lack of impulse control as a major cause of poor health. A popular theory within behavioural science tells us that our behaviour is regulated via two systems: the fast, impulsive system 1 (the 'impulsive' or 'automatic' system) and the slower, deliberative system 2 (the 'reflective' system). Much of our behaviour is routine and repeated in similar ways in similar contexts: making coffee in the morning, travelling to work, checking our email. Such behaviours develop into habits, and we are able to successfully perform them with minimal conscious input and cognitive effort. This is because they come under the control of our impulsive system.
Habits have become a focus of health promoters. It seems that many of these routine, repeated behaviours actually have a significant impact on our health over a lifetime: what we eat and drink and how active we are can affect our risk of developing chronic diseases like type II diabetes, heart disease, lung disease and cancer. Despite considerable efforts to educate people as to the risks of eating too much, exercising to little, smoking and drinking, many people continue to engage in such unhealthy habits. One reason for this, it is proposed, is people's limited ability to exert conscious (reflective) control over their habitual (impulsive) behaviour.
Given this, one might think that it would be preferable if people were generally able to exhibit more reflective control; that behaviour was less frequently determined by impulsive processes and more frequently determined by reflective deliberation. Perhaps this could form part of the basis for advising people to be more 'mindful' in their everyday activities, such as eating, and regimes for training one's willpower 'muscle' to ensure confident conscious control over one's behaviour. Continue reading →
Novel gene editing technologies, such as CRISPR/Cas9, allow scientists to make very precise changes in the genome of human embryos. This could prevent serious genetic diseases in future children. But the use of gene editing in human embryos also raises questions: Is it safe? Should prospective parents be free to choose the genetic characteristics of their children? What if they want to use gene editing to have a deaf child, or a child with fair skin and blue eyes? Should gene editing be regulated globally, or should each country have their own legislation? In this interview with Katrien Devolder, John Harris (Professor Emeritus, University of Manchester &  Visiting Professor in Bioethics, King's College London) answers these and other questions, and defends the view that we have the strongest moral obligation to gene-edit human embryos, not only to prevent disease but also for the purpose of enhancement.

By Brian D. Earp (@briandavidearp)
Republican politician Roy Moore has been accused of initiating sexual contact with a 14-year-old girl when he was in his early 30s. Social media sites have since exploded with comments like these:
Roy Moore is now FUNDRAISING to conservative Christians after being outed as a pedophile.

This is truly sick. pic.twitter.com/NF5NLIGWKA

— Mikel Jollett (@Mikel_Jollett) November 9, 2017
Roy Moore is a sick man. He is a pedophile. This story is deeply sourced. It is credible and I believe the women.

— Steve Schmidt (@SteveSchmidtSES) November 9, 2017
Should we pay people to quit smoking or lose weight? Would paying them amount to coercion?  Is there a risk that if we start paying for healthy behaviour, its value will be corrupted? Is paying unhealthy people unfair to those who already lead healthy life styles? In this video interview (with Katrien Devolder),  Dr Rebecca Brown from the Oxford Uehiro Centre for Practical Ethics responds to these and other concerns and defends the use of financial incentives as a tool for health promotion.
Julian Savulescu
Contains spoilers for both Blade Runner films. This is a longer version of a shorter piece without spoilers, Blade Runner 2049: Identity, Humanity, and Discrimination, in Pursuit 
Blade Runner 2049, like the original, is about identity, humanity and discrimination.
Identity and Humanity
In both films, bioengineered humans are known as replicants.  Blade Runners "retire" or kill these replicants when they are a threat to society. In the original, Blade Runner Rick Deckard (Harrison Ford) has all the memories and feelings of a human and believes himself to be a human, only at the end to discover he is a replicant. In the sequel, K (Ryan Gosling) is a replicant but comes to believe (falsely) that he is Deckard's child. In Blade Runner 2049, we are left to watch K dying, realising his memories were implanted by Deckard's daughter.
In both films we are left wondering what difference there is between a human and a replicant. In the original, rogue replicant Roy Batty (Rutger Hauer) saves Deckard's life (as Deckard was trying to kill him) and delivers famous "Tears in the Rain" speech:
"I've seen things you people wouldn't believe. Attack ships on fire off the shoulder of Orion. I watched C-beams glitter in the dark near the Tannhäuser Gate. All those moments will be lost in time, like tears in rain. Time to die."
Roy comes across as more human than the humans in the film. Indeed, in a preceding scene, a thorn or spike appears through his hand reminiscent of Christ, whose own identity as fully human and fully divine has puzzled Theologians for two millenia.
Both films challenge what it is to be human. In 2049, K believes the child of Deckard might have a soul because it was born.
Who are we?
The films both raise fundamental questions about personal identity: who are we? What fundamentally defines the existence of a person from one moment to the next? In both films, there is the suggestion that the biological mass, the body, is not what matters but the mind. In the original, bioengineered Roy seems as human as Deckard, as human as someone could be. In 2049, the idea is extended further still: K's girlfriend Joi is an AI but seems as real as the other characters and her death is equally tragic.
Derek Parfit died in January this year. He was the world's most famous moral philosopher (and his favourite film was another Ridley Scott classic, The Duellists). One of his famous ideas is that "identity" is not what matters. He articulated this in his masterpiece, Reasons and Persons (Oxford: Clarendon Press, 1984). According to Parfit, what matters is psychological continuity and connectedness, that is, the unity of our mental states.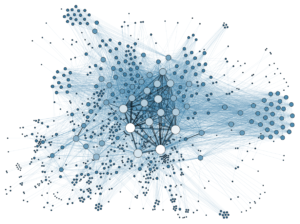 by Joao Fabiano
Moral philosophers often prefer to conceive thought experiments, dilemmas and problem cases of single individuals who make one-shot decisions with well-defined short-term consequences. Morality is complex enough that such simplifications seem justifiable or even necessary for philosophical reflection.  If we are still far from consensus on which is the best moral theory or what makes actions right or wrong – or even if such aspects should be the central problem of moral philosophy – by considering simplified toy scenarios, then introducing group or long-term effects would make matters significantly worse. However, when it comes to actually changing human moral dispositions with the use of technology (i.e., moral enhancement), ignoring the essential fact that morality deals with group behaviour with long-ranging consequences can be extremely risky. Despite those risks, attempting to provide a full account of morality in order to conduct moral enhancement would be both simply impractical as well as arguably risky. We seem to be far away from such account, yet there are pressing current moral failings, such as the inability for proper large-scale cooperation, which makes the solution to present global catastrophic risks, such as global warming or nuclear war, next to impossible. Sitting back and waiting for a complete theory of morality might be riskier than attempting to fix our moral failing using incomplete theories. We must, nevertheless, proceed with caution and an awareness of such incompleteness. Here I will present several severe risks from moral enhancement that arise from focusing on improving individual dispositions while ignoring emergent societal effects and point to tentative solutions to those risks. I deem those emergent risks fundamental problems both because they lie at the foundation of the theoretical framework guiding moral enhancement – moral philosophy – and because they seem, at the time, inescapable; my proposed solution will aim at increasing awareness of such problems instead of directly solving them.
Recent newspaper reports covered the story of Jemima Layzell, a 13 year old who died suddenly of a brain aneurysm in 2012. According to reports, shortly before Jemima died, the subject of organ donation had come up in discussions with her family, prompted by the death of a family friend in a car accident. As a result, Jemima's family were confident she would have wanted her organs to be donated. Subsequently, Jemima's kidneys, liver, lungs, pancreas, small bowel and heart were transplanted. This meant that a record eight people's lives were saved, prolonged or dramatically enhanced as a consequence of Jemima's and her family's decision.
Decisions about organ donation are extremely difficult. Family members are approached about the prospect of donating their loved one's organs at a time of extraordinary distress. Uncertainty about the wishes of the person who has died, along with confusion or scepticism about brain death criteria, religious or other spiritual beliefs about bodily integrity, fear about how donated organs will be used, and inability or unwillingness to engage with any form of decision-making can result in the refusal of family members to allow organs to be donated. In England, family members can prevent donation even when the individual has expressed a wish to donate her organs, for instance, by signing up to the organ donor register. Continue reading →
The issue of the legality in England and Wales of physician-assisted suicide has recently been revisited by the Divisional Court. Judgment is awaited. The judgment of the Court of Appeal, granting permission for judicial review, is here.
The basic issue before the Court of Appeal was the same as that in Nicklinson v Ministry of Justice and R (Purdy) v DPP: does the right to determine how one lives one's private life (protected by Article 8 of the European Convention on Human Rights)  confer a right to have an assisted death?
Many factors have been said to be relevant to decisions about assisted dying. They include intractable pain (rather a weak criterion, given modern palliative methods), hopeless prognosis – likely to result in death in a short time –  and simple autonomy ('It's my right to determine where, when, and in what circumstances I end my life, and that's an end of the matter'). One factor, commonly in the minds of patients asking for help in ending their lives, but rarely mentioned by advocates of assisted dying, is that the patient feels that she is a burden to her family and carers. Continue reading →
By Stephen Rainey
In June 2017, the European Court of Justice ruled that it was legal for a French citizen to sue a drug company for damages following a vaccination, and an illness. The ruling caused some consternation as it seemed a legal vindication of anecdote over scientific rigour.
This is a dramatic case, not least owing to the position in which vaccines find themselves, post Andrew Wakefield and the rise of the anti-vaxxer movement. Nevertheless, it forms a part of a wider narrative in which scientific activity is not always very open to questions from outside science. This broader theme is worth some scrutiny. Continue reading →