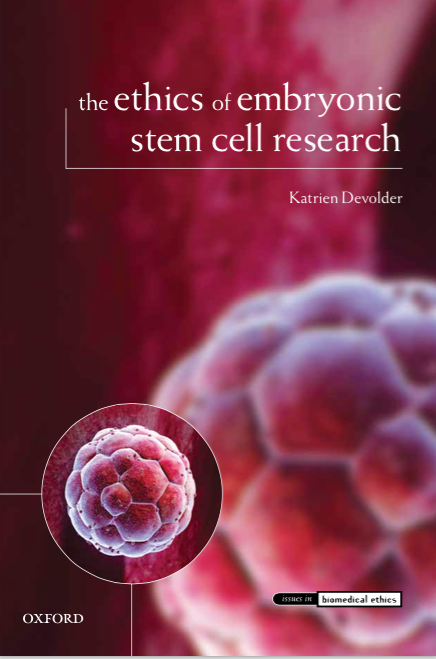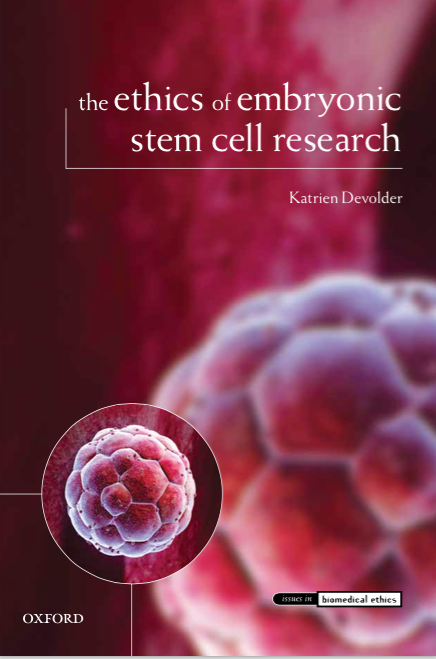 There is wide agreement that embryonic stem cell research holds unique promise for developing therapies for currently incurable diseases and conditions, and for important biomedical research. However, as it is currently done, the isolation of embryonic stem cells involves a process in which an early embryo is destroyed, which many find highly problematic.
This has resulted in what I refer to in my book as
The Problem. Either one supports embryonic stem cell research and accepts resulting embryo destruction, or one opposes embryonic stem cell research and accepts that the potential benefits of this research will be foregone. Continue reading →
I was recently lucky enough to receive an advance copy of Charles Camosy's forthcoming book to review – 'Beyond the abortion wars: a way forward for a new generation'. In this book, Camosy masterfully traverses the 'battleground' between the 'pro-life' and 'pro-choice'1 camps in order to show that this battleground is in fact no such thing. In fact, as Camosy notes, the majority of the American public actually agree on a middle-ground position on abortion. Despite what one might think from reading certain media outlets and Twitter wars, there is actually a large consensus in the public regarding abortion. This insight is deceptively powerful. By demonstrating the areas of agreement, Camosy is able to help guide us beyond the abortion wars to allow a way forward for a new generation.
An elegant example of biopsychosocial (BPS) impacts on our health has been reported today.
It has long been reported that chronic stress reduces fertility: it reduces libidos, reduces the likelihood of a pregnancy, and increases the risk of miscarriage.
Scientists from the University of Berkeley have shown that blocking the gene for a hormone – called gonadotropin inhibitory hormone (GnIH) removes the impact of the stress on fertility levels in rats, and restored a normal rate of pregnancy.
If this translates to humans, it could have major impact. According to the University of Berkeley press release:
"Stress is thought to be a major contributor to today's high levels of infertility: Approximately three-quarters of healthy couples under 30 have trouble conceiving within three months of first trying, while 15 percent are unable to conceive after a year."
The BPS model explores causal interaction between the biological, psychological, and social factors in illness (usually in the context of understanding mental illness). This might be one of the more simple biopsychosocial interactions. Kenneth Kendler's fascinating Loebel Lecture series unpicked some complex interactions (video and audio available on the Oxford Loebel Lectures and Research Programme website).
But it raises an interesting ethical question, and one that frequently arises in the enhancement debate. Should we take a biological solution, when an environmental solution is available?
Consider:
An 11 year-old girl, J.J., is diagnosed with high-risk acute lymphoblastic leukemia, a type of cancer that arises in the bone marrow. She is put on a 32-day course of chemotherapy with an estimated success rate of over 90%. Her doctors don't know of anyone who has survived this illness without such a course of treatment. However, after just 10 days, her mother withdraws her consent to J.J.'s chemotherapy in order to pursue alternative, non-western remedies. J.J. doesn't object, but both of her doctors believe that J.J. doesn't understand either her illness or the importance of the treatment she is on. In all matters, she defers to her mother who is also her surrogate decision maker. The hospital in which J.J. is a patient appeals to Child Services, stating that by ceasing treatment J.J.'s mother has put J.J. into the position of a child in need of protection. Such a status would permit the hospital to continue treatment despite disagreement from J.J's mother (in her capacity as surrogate decision maker). The case goes to trial, and a ruling is made in favour of J.J.'s mother. J.J. is taken out of the hospital in order to pursue non-western treatment alternatives. It is very likely that J.J. will die. Continue reading →
A placebo can be understood as a medical intervention that lacks direct specific therapeutic effects on the condition for which it has been prescribed, but which can nonetheless help to ameliorate a patient's condition. In March 2013, a study by Howick et al. suggested that the vast majority of UK general practitioners (GPs) have prescribed a placebo at some point in their career. This finding was somewhat controversial and received national media coverage in the UK (here and here). Part of the reason for this controversy is that the use of placebos in clinical practice is often deemed to be morally problematic, in so far as it often involves the intentional deception of the patient. Continue reading →
By Dominic Wilkinson @Neonatalethics
On the 3rd December, as part of the Uehiro lecture series, the Centre for Practical Ethics held a workshop on Animal Ethics at the Oxford Martin School.*
The workshop included first a short summary of her Uehiro lectures by Professor Christine Korsgaard, and then a series of responses by invited guest speakers from the University of Oxford and elsewhere including Professor Jeff McMahan, Professor Cecile Fabre, Dr Mark Sheehan, Professor Valentin Muresan, Dr Emilian Mihailov, Dr Caroline Bergmann and Dr James Yeates. Continue reading →
A case currently before the UK Court of Appeal could have far-reaching implications for mothers who drink during pregnancy.  Lawyers for a seven-year-old child with foetal alcohol syndrome caused by her mother's heavy drinking, argue she should receive compensation from the government-funded Criminal Injuries Compensation Authority as she has been the victim of a crime. Continue reading →
Dominic Wilkinson @NeonatalEthics
In the news this morning, the NHS has released data on individual surgeons' performance, so called "surgeon report cards". This represents the latest move towards increased transparency and accountability in the National Health Service. Elsewhere in the media today, there are numerous reports of the UK couple who were apparently charged £100 after posting a negative hotel review on an online website.
These parallel stories highlight one concern about certain types of health accountability: sensitivity to the negative impact of reviews (or poor performance figures) could lead to harmful changes in behaviour. For surgeon report cards, one frequently cited concern is that publishing report cards could lead surgeons to avoid high-risk cases. If surgeons choose patients with lower risk of dying, they will potentially end up with a better report card. However, then the results would be misleading (it would be the equivalent of someone getting a higher mark by choosing to sit an easier test). More worrying, it may mean that some high-risk patients are unable to access surgery.
Should we be worried about the negative effect of report cards on surgeons behaviour? Continue reading →
Guest Post: Charles Camosy, Associate Professor of Christian Ethics at Fordham University, New York City
E-mail: ccamosy@gmail.com Twitter: @nohiddenmagenta
The discipline of theological bioethics is in trouble.
Especially as theology continues to morph into religious studies in many university departments, "social ethics" now swallows everything in its path—with almost all questions of ethics becoming questions exclusively about history, sociology and/or economics. Furthermore, especially in the Roman Catholic world, academic and ecclesial politics push against academics working on issues like abortion, euthanasia, health care distribution, and artificial reproductive technologies. After all, regardless of the position one takes on these issues, it is bound to run afoul of one of two orthodoxies: that of the Church or that the secular academy. Especially if not yet established in one's academic career, it can be dangerous to be branded a heretic by one of these power brokers. Unsurprisingly, good universities are struggling even to find marginally viable candidates for excellent bioethics jobs. Most theological ethicists have decided not to write on bioethics.
But there is another reason that theological bioethics is in trouble. Today's centers of power in academic and clinical bioethics (at least in the developed West) generally don't take theology seriously. I recently attended the annual meeting of the American Society of Bioethics and Humanities and was dismayed—though, I must say, not surprised—to see that a grand total of zero papers had an explicitly theological argument. Those of us who do theological bioethics know that, in order to get a paper accepted by today's ASBH, one is forced to hide or translate one's theological commitments. The reason I was able to present this year was because I was invited by the Christian theology interest group—the one place at ASBH (during the evening, apart from the formal sessions) where theologians can actually present and discuss theology.
The first advert for the sale of a clinical trial place offers, for $2 million, the chance to participate as a patient in a trial investigating the Farmington virus (FARV) and its potential efficacy in treating certain forms of brain tumours. Meanwhile, Alexander Masters has written convincingly about his idea for a clinical trial dating agency: matching wealthy but sick donors with scientists who have an idea for a cure but no money for a trial (shorter version also available). In Masters' idea as in the real life case, the proposal is that the wealthy donor will pay not just for himself or herself, but enough for the trial to go ahead with a full complement of those who could not otherwise afford it, recruited on the same basis as any trial.
Predictably, ethical concerns have been raised, perhaps the main one being equality: "In the UK, the principles in participating in clinical trials include open and equal access for those who chose to participate" (Kate Law, director of clinical and population research at Cancer Research UK, quoted in The Telegraph ).