Written by Neil Levy
One of the latest flare ups in the culture wars concerns book publishing. Recent books by Mike Pence, Woody Allen and by Milo Yiannopoulos have all been met with protests, many of them stemming from staff within the publishing houses. Sometimes, these protests have been successful, at least to the extent that the publisher has decided not to publish the book.
Conflict over these books has pitted younger staff at publishing houses against older. It's also pitted advocates of (relatively) unconstrained free speech against those who support no-platforming certain speakers. Perhaps showing my age, I find myself on both sides of these debates. These are very different cases, and the case for no-platforming Yiannopoulos seems strong; in the other cases, I am less certain. Elsewhere, I have given an underappreciated reason why we might often want to no-platform (a strong reason; not necessarily a decisive reason). In this post, though, I want to rebut some common arguments against cancelling books. Continue reading →
By Charles Foster
A couple of lockdown conversations:
The other day I met a friend in the street. We hadn't seen one another for over a year. We mimed the hugs that we would have given in a saner age, and started to talk. 'There's nothing to tell you', she said. 'Nothing's happened since we last saw you. And that's just as well, because, as you'll find, I've forgotten how to talk, how to relate, and how to read ordinary cues. We've not been out. We've not changed anything. I wonder if we've been changed?'
Another friend. 'Zoom's great, isn't it? You switch off your camera and your microphone, and the meeting just goes on perfectly happily without you. Everyone thinks you're there. Your name's up on their screen. But you are just getting on with your own business.'
And a lockdown fact: Lockdown has been great for book sales. 2020 saw an estimated rise of 5.2% in volume sales of print books in the UK compared with 2019 sales. This was the biggest annual rise since 2007: Continue reading →
By Charles Foster

 [This is a review of The Flip: Who you really are, and why it matters, by  Jeffrey J. Kripal. Penguin, 2020]
A few years ago I dislocated my shoulder. I went off to hospital, and breathed nitrous oxide while they tried to put it back. Something very strange yet very common happened. 'I' rose out of 'my' body, and looked down at it. I could see the nurse's centre parting and the top of my own bald head. 'I' was aware of the pain in the shoulder, and regretted it, but it wasn't really my business.
My mind was hovering over the skull that encased my brain, and so it seemed ludicrous to say that mind and brain were identical. The experience ousted my residual materialism. Out went Aristotle: in came Plato. This change was a 'flip', as Kripal describes such events in this exhilarating, bold, timely, and profoundly important book.
Personal experience of this kind often produces tectonic philosophical conversions in professional philosophers and scientists. Mere reflection rarely does. This observation itself is likely to elicit howls of derision from the materialists. For them, to intrude oneself into an inquiry is necessarily to invalidate it. And of course the humanities are supremely to be mocked, for they are all to do with subjectivity. Continue reading →
By Charles Foster

Arthur Conan Doyle's estate has issued proceedings, complaining that Enola Holmes,  a recently released film about Sherlock Holmes' sister, portrays the great detective as too emotional.
Sherlock Holmes was famously suspicious of emotions. 1 ' [L]ove is an emotional thing', he icily observed, 'and whatever is emotional is opposed to that true cold reason which I place above all things. '2  "I am a brain', he told Watson. 'The rest of me is a mere appendix'.3
I can imagine that many professional scientists and philosophers would feel affronted if they were accused of being emotional animals. Holmes is a model for them. He's rigorous, empirical, and relies on induction.
But here's the thing. He's not actually very good. Mere brains might be good at anticipating the behaviour of mere brains, but they're not good for much else. In particular Holmes is not a patch on his rival, Chesterton's Father Brown, a Roman Catholic priest. Gramsci writes that Brown 'totally defeats Sherlock Holmes, makes him look like a pretentious little boy, shows up his narrowness and pettiness.' 4 Brown is faster, more efficient, and, for the criminal, deadlier. This is because, not despite, his use of his emotions. Continue reading →

Announcement: Brian Earp and Julian Savulescu's new book 'Love Drugs: The Chemical Future of Relationships', published by (Stanford University Press) is now available.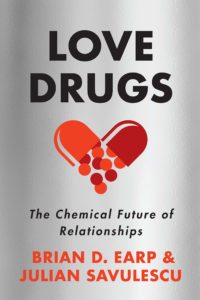 Is there a pill for love? What about an "anti-love drug", to help us get over an ex? This book argues that certain psychoactive substances, including MDMA—the active ingredient in Ecstasy—may help ordinary couples work through relationship difficulties and strengthen their connection. Others may help sever an emotional connection during a breakup. These substances already exist, and they have transformative implications for how we think about love. This book builds a case for conducting research into "love drugs" and "anti-love drugs" and explores their ethical implications for individuals and society. Scandalously, Western medicine tends to ignore the interpersonal effects of drug-based interventions. Why are we still in the dark about the effects of these drugs on romantic partnerships? And how can we overhaul scientific research norms to take relationships more fully into account?
By Charles Foster
Statistically there is a good chance that I will ultimately develop dementia. It is one of the most feared conditions, but bring it on, I say.
It will strip me of some of my precious memories and some of my cognitive function, but it will also strip me of many of the neuroses that make life wretched. It may (but see below) make me anxious because the world takes on an unaccustomed form, but surely there are worse anxieties that are dependent on full function – such as hypochondriacal worries, or the worry that comes from watching the gradual march of a terminal illness. On balance the trade seems a good one. Continue reading →
Why do some people refuse to have their child vaccinated? Are there any good reasons not to vaccinate one's child? Why should one have one's child vaccinated if this doesn't make a difference to whether the community is protected? Why is vaccinating one's child an ethical issue? In this interview with Dr Katrien Devolder, Dr Alberto Giubilini (Philosophy, Oxford) discusses these and other questions, which he addresses in his new book 'The Ethics of Vaccination' (downloadable for free).
By Charles Foster
A friend of mine has written a brilliant and justly celebrated biography. I am worried about her, and about her readers.
The biography is brilliant and engaging precisely because of the degree of rapport the author has established with her subject, and the rapport she brokers between her subject and her readers. What is the cost of that rapport?
My friend has had to keep the company of her (dead) subject for years. Her book is an invitation to others to keep that company for hours. Two ethical questions arise. Continue reading →

Philosophers Take On the World is based on this blog, 'Practical Ethics in the News', and edited by David Edmonds. It is published by OUP and is due out in September 2016.
Every day the news shows us provoking stories about what's going on in the world, about events which raise moral questions and problems. In Philosophers Take On the World a team of philosophers get to grips with a variety of these controversial issues, from the amusing to the shocking, in short, engaging, often controversial pieces. Covering topics from guns to abortion, the morality of drinking alone, hating a sports team, and being rude to cold callers, the essays will make you think again about the judgments we make on a daily basis and the ways in which we choose to conduct our lives.
This item is not yet published, but may be pre-ordered now for delivery when available.
https://global.oup.com/academic/product/philosophers-take-on-the-world-9780198753728?cc=gb&lang=en&#
Published: 01 September 2016 (Estimated)
ISBN: 9780198753728