By Charles Foster

Arthur Conan Doyle's estate has issued proceedings, complaining that Enola Holmes,  a recently released film about Sherlock Holmes' sister, portrays the great detective as too emotional.
Sherlock Holmes was famously suspicious of emotions. 1 ' [L]ove is an emotional thing', he icily observed, 'and whatever is emotional is opposed to that true cold reason which I place above all things. '2  "I am a brain', he told Watson. 'The rest of me is a mere appendix'.3
I can imagine that many professional scientists and philosophers would feel affronted if they were accused of being emotional animals. Holmes is a model for them. He's rigorous, empirical, and relies on induction.
But here's the thing. He's not actually very good. Mere brains might be good at anticipating the behaviour of mere brains, but they're not good for much else. In particular Holmes is not a patch on his rival, Chesterton's Father Brown, a Roman Catholic priest. Gramsci writes that Brown 'totally defeats Sherlock Holmes, makes him look like a pretentious little boy, shows up his narrowness and pettiness.' 4 Brown is faster, more efficient, and, for the criminal, deadlier. This is because, not despite, his use of his emotions. Continue reading →

Announcement: Brian Earp and Julian Savulescu's new book 'Love Drugs: The Chemical Future of Relationships', published by (Stanford University Press) is now available.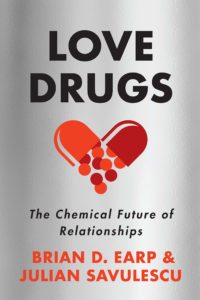 Is there a pill for love? What about an "anti-love drug", to help us get over an ex? This book argues that certain psychoactive substances, including MDMA—the active ingredient in Ecstasy—may help ordinary couples work through relationship difficulties and strengthen their connection. Others may help sever an emotional connection during a breakup. These substances already exist, and they have transformative implications for how we think about love. This book builds a case for conducting research into "love drugs" and "anti-love drugs" and explores their ethical implications for individuals and society. Scandalously, Western medicine tends to ignore the interpersonal effects of drug-based interventions. Why are we still in the dark about the effects of these drugs on romantic partnerships? And how can we overhaul scientific research norms to take relationships more fully into account?
By Charles Foster
Statistically there is a good chance that I will ultimately develop dementia. It is one of the most feared conditions, but bring it on, I say.
It will strip me of some of my precious memories and some of my cognitive function, but it will also strip me of many of the neuroses that make life wretched. It may (but see below) make me anxious because the world takes on an unaccustomed form, but surely there are worse anxieties that are dependent on full function – such as hypochondriacal worries, or the worry that comes from watching the gradual march of a terminal illness. On balance the trade seems a good one. Continue reading →
Why do some people refuse to have their child vaccinated? Are there any good reasons not to vaccinate one's child? Why should one have one's child vaccinated if this doesn't make a difference to whether the community is protected? Why is vaccinating one's child an ethical issue? In this interview with Dr Katrien Devolder, Dr Alberto Giubilini (Philosophy, Oxford) discusses these and other questions, which he addresses in his new book 'The Ethics of Vaccination' (downloadable for free).
By Charles Foster
A friend of mine has written a brilliant and justly celebrated biography. I am worried about her, and about her readers.
The biography is brilliant and engaging precisely because of the degree of rapport the author has established with her subject, and the rapport she brokers between her subject and her readers. What is the cost of that rapport?
My friend has had to keep the company of her (dead) subject for years. Her book is an invitation to others to keep that company for hours. Two ethical questions arise. Continue reading →

Philosophers Take On the World is based on this blog, 'Practical Ethics in the News', and edited by David Edmonds. It is published by OUP and is due out in September 2016.
Every day the news shows us provoking stories about what's going on in the world, about events which raise moral questions and problems. In Philosophers Take On the World a team of philosophers get to grips with a variety of these controversial issues, from the amusing to the shocking, in short, engaging, often controversial pieces. Covering topics from guns to abortion, the morality of drinking alone, hating a sports team, and being rude to cold callers, the essays will make you think again about the judgments we make on a daily basis and the ways in which we choose to conduct our lives.
This item is not yet published, but may be pre-ordered now for delivery when available.
https://global.oup.com/academic/product/philosophers-take-on-the-world-9780198753728?cc=gb&lang=en&#
Published: 01 September 2016 (Estimated)
ISBN: 9780198753728
There are a few ethicists who are interested in encouraging right behaviour, rather than simply discussing it.
Here is something for them from A.L. Kennedy:
'As Vonnegut mentioned, Nazi Germany trained a population to be blind to the dignity and humanity of some others. A diet of soft porn, cheap sentimentality and hate proved effective. Radio Mille Collines pedaled fear, poisonous pop music and a sense of unhinged communal power – it helped to push Rwanda into the abyss.' 1 Continue reading →
Written by William Isdale,
of The University of Queensland
 As many readers will be aware, this year will mark the conclusion of the Millennium Development Goals. For some of these goals, expectations have been exceeded; for instance, the goal of halving global poverty (defined as living on less then US$1.25 a day) was achieved back in 2010.
There are good grounds for believing that extreme poverty can be almost entirely eradicated within our lifetimes. But, for now, a lot of work remains to be done; the average life expectancy among the 'bottom billion' remains a miserable fifty years, and the most recent UNICEF estimate of poverty-related deaths among children is 6.3 million each year. Continue reading →
Practical ethics should be all about really having an impact on the world. This requires, among other things, working on the topic regarding which we are expected to produce the most good. Plausibly, these are topics that have been traditionally neglected or at least that remain under-researched. These are also moral issues that may seriously affect a great number of individuals.
This year marks the 40th anniversary of the publication of Animal Liberation, in 1975. With it Australian philosopher Peter Singer initiated one of the highest impact careers in philosophy of the last century. It is not surprising that in 2005, Time magazine included him among the list of the 100 most influential people. It is remarkable, though, that the growing respect for Peter Singer has not been accompanied by a similar change of attitude regarding animal ethics —precisely the field in which he is recognised to have made a greater difference.
Animal Liberation boosted the contemporary academic debate on animal ethics and inspired the work of many other philosophers. This book contributed significantly to the growth of the movement for the equal consideration of nonhuman animals. It has influenced countless individuals to adopt veganism and to become activists in defence of animals. Even though the end of speciesist attitudes lies in the far future, very few other moral aims can produce a similar or greater good. Given the importance of the book, it is worth reviewing, on occasion of its anniversary, the position that Singer defended in it as well as some of the controversies it raises and issues it leaves open.
Animal Liberation is a non-academic book targeted at the general public. It is written by a  philosopher with a particular moral outlook —utilitarianism— and with particular views about specific moral problems. Its aim is clear: denouncing speciesism and abandoning the consumption of animals, especially for food. Its method is effective: using arguments that most people already accept without having to commit to some of the author's most controversial views.
The book's main thesis is that the interests of all those who can suffer and enjoy should be equally considered. This is derived from the combination of two premises many of us find uncontroversial. Firstly, the widely shared and robust intuition about the equal consideration of all human beings and, secondly, the need for consistency in moral reasoning. The acceptance of the first idea is what leads us to reject assigning different weight to the interests of some individuals based, for example, in certain biological attributes such as sex or skin colour. Analogously, inasmuch as species membership does not condition the weight of an individual's interests, it should also be rejected as a morally relevant attribute. The unequal consideration of similar interests based on the species of individuals should thus, for the sake of consistency, be abandoned as another form of discrimination (speciesism).
Furthermore, the argument from 'species overlap' shows us that any attempt to draw a moral line between human and nonhuman animals will ultimately fail. No matter what attribute one may appeal to, some human beings will lack it and/or some nonhumans will possess it. Of course, it is implausible to derive from this that those humans who lack the selected attribute should be denied moral consideration. Instead, Singer claims, equality in the consideration of interests should be extended beyond the human species to cover all sentient individuals. Since suffering has negative value, we have reasons to prevent it or alleviate it whenever we can, no matter the species of the individual who experiences it.
Perhaps the most controversial aspect in Singer's view has been the one related to the ethics of killing animals. As it is suggested in Animal Liberation, and later clearly stated in Practical Ethics (2011), Singer believed at the time that only those individuals with a capacity to see themselves as extended over time can have an interest in continuing to live and thus be harmed by dying. Singer took this to follow from his version of preference utilitarianism, according to which death can only be bad if it frustrates a desire in being alive. Given that most nonhuman animals lack the necessary psychological capacities to harbour the relevant desire, this would entail that death cannot harm them. Thus, their interests would give us no reasons against killing them. If those reasons exist they will be given by other considerations, such as the maximisation of net positive experiences.
However, recently, Singer changed his view about the badness of death, prompted by his transition from preference utilitarianism to hedonistic utilitarianism. In The Point of View of the Universe (Lazari-Radek & Singer 2014), he acknowledges that all sentient beings with a life worth living (understood in hedonistic terms as containing a surplus of positive experiences) are harmed by death, since they are thereby deprived of the benefits they would have otherwise enjoyed.
Nevertheless, Peter Singer has not yet completely fleshed out his new account of the badness of death and the wrongness of killing animals. In fact, in a recent talk, he identified this topic as one of three most important open questions in animal ethics. The other two are, according to Singer, (a) the problem of performing interspecies comparisons of well-being and (b) whether we have reasons to intervene in nature to prevent or alleviate wild animal suffering.
Even if we disagree with Singer's general utilitarian approach (e.g., if one believes, as I do, that equality matters as such) we must concede that very few philosophers can be said to have had an equally high impact. Forty years ago, Peter Singer realised that working on animal ethics was one of the most effective ways of doing good. Given the work that needs to be done and the billions that can benefit from it (considering both animals under human control and those living in the wild), that is still true today.
References
Singer, P. (2004). Animal Liberation, 4th Edition. New York: HarperCollins.
Singer, P. (2011). Practical Ethics, 3rd Edition. Cambridge: Cambridge University Press.
Lazari-Radek, K. & Singer, P. (2014). The Point of View of the Universe. Sidgwick and Contemporary Ethics. Oxford: Oxford University Press.