Written by Joseph Moore
This year, Peter Singer published Animal Liberation Now, a significantly updated version of his 1975 animal rights classic. Both the original and revised text argue that humans should refrain from inflicting unnecessary suffering on non-human animals, especially the cruel practices still commonly employed in factory farming and animal experimentation. And as a step towards this collective action, Singer urges his readers to modify their individual purchasing practices by preferring cruelty-free products or, even better, committing to vegetarianism or veganism.
The bulk of the revisions in the new edition concern the empirical facts on the ground, both the positive changes in the treatment of non-human animals since the original printing as well as ongoing, legally sanctioned cruel practices. Unfortunately, the philosophically weakest part of Singer's influential argument, which occurs in the first chapter, has received no additional support in this edition. This is his claim that 'the capacity for suffering and enjoyment is a prerequisite for having interests, a condition that must be satisfied before we can properly speak of interests at all'. The supposed necessity of sentience for having interests is why Singer limits his 'principle of equal consideration of interests' to (some) animals and does not extend it to living things in other kingdoms—plants, fungi, bacteria, etc.—or other kinds of subjects. But this relatively undefended assertion was dubious in 1975 and is even more dubious now. Singer's restriction of interests to sentient beings is just as arbitrary as the speciesism he decries. Continue reading →
Press release and an interview with Prof Dominic Wilkinson on the new book, Pandemic Ethics: From Covid-19 to Disease X, which he has co-authored with Prof Julian Savulescu.
1 May 2023
According to some estimates, there is more than a one in four chance in the next decade of another global pandemic. We don't know whether this will be influenza, a coronavirus (like SARS and COVID), or something completely new. The World Health Organisation refers to this unknown future threat as "Disease X". Continue reading →

Written by Mette Leonard Høeg
The common intuition in literary criticism, in art criticism in general and in the public cultural sphere is that it is wrong to engage in criticism of a work if you have a personal relation to its author. The critic who reviews the book of a friend, a professional contact or a former lover is biased and could draw private benefits from this, have ulterior motives of revenge or social/professional advancement. It is the convention in literary criticism to strive for objectivity in the assessment and review of a work, and the critic is generally expected to refrain from referencing personal experiences and using private and autobiographical material, in order to be considered professional, expertly and ethically responsible.

Image: https://the-conscious-mind.com
I can't avoid Steven Pinker at the moment. He seems to be on every page I read. I hear him all the time, insisting that I'm cosmically insignificant; that my delusional thoughts, my loves, my aspirations, and the B Minor Mass's effect on me are merely chemical events. I used to have stuck up above my desk (on the principle that you should know your enemy), his declaration (as stridently irrational as the sermon of a Kentucky Young Earth Creationist): 'A major breakthrough of the Scientific Revolution – perhaps its greatest breakthrough – was to refute the intuition that the Universe is saturated with purpose.' 1
He tells me that everything is getting better. Has been getting better since the first eruption of humans into the world.2 That there's demonstrable progress (towards what, one might ask, if the universe has no purpose? – but I'll leave that for the moment). That there's less violence; there are fewer mutilated bodies per capita. He celebrates his enlightenment by mocking my atavism: he notes that the Enlightenment came after the Upper Palaeolithic, and (for the law of progress admits no exceptions) concludes that that means that our Enlightenment age is better than what went before. Continue reading →
By Charles Foster
This week I went to the launch of the latest book by Iain McGilchrist, currently best known for his account of the cultural effects of brain lateralisation, The Master and His Emissary: The Divided Brain and the Making of the Western World.  The new book, The Matter with Things: Our brains, our delusions, and the unmaking of the world is, whatever, you think of the argument, an extraordinary phenomenon. It is enormously long – over 600,000 words packed into two substantial volumes. To publish such a thing denotes colossal confidence: to write it denotes great ambition.
It was commissioned by mainstream publishers who took fright when they saw its size. There is eloquent irony in the rejection on the ground of its length and depth of a book whose main thesis is that reductionism is killing us. It was picked up by Perspectiva press. That was brave. But I'm predicting that Perspectiva's nerve will be vindicated. It was suggested at the launch that the book might rival or outshine Kant or Hegel. That sounds hysterical. It is a huge claim, but this is a huge book, and the claim might just be right.
Nobody can doubt that we're in a terrible mess. The planet is on fire; we're racked with neuroses and governed by charlatans, and we have no idea what sort of creatures we are. We tend to intuit that we are significant animals, but have no language in which to articulate that significance, and the main output of the Academy is to scoff at the intuition. Continue reading →
Written by Neil Levy
One of the latest flare ups in the culture wars concerns book publishing. Recent books by Mike Pence, Woody Allen and by Milo Yiannopoulos have all been met with protests, many of them stemming from staff within the publishing houses. Sometimes, these protests have been successful, at least to the extent that the publisher has decided not to publish the book.
Conflict over these books has pitted younger staff at publishing houses against older. It's also pitted advocates of (relatively) unconstrained free speech against those who support no-platforming certain speakers. Perhaps showing my age, I find myself on both sides of these debates. These are very different cases, and the case for no-platforming Yiannopoulos seems strong; in the other cases, I am less certain. Elsewhere, I have given an underappreciated reason why we might often want to no-platform (a strong reason; not necessarily a decisive reason). In this post, though, I want to rebut some common arguments against cancelling books. Continue reading →
By Charles Foster
A couple of lockdown conversations:
The other day I met a friend in the street. We hadn't seen one another for over a year. We mimed the hugs that we would have given in a saner age, and started to talk. 'There's nothing to tell you', she said. 'Nothing's happened since we last saw you. And that's just as well, because, as you'll find, I've forgotten how to talk, how to relate, and how to read ordinary cues. We've not been out. We've not changed anything. I wonder if we've been changed?'
Another friend. 'Zoom's great, isn't it? You switch off your camera and your microphone, and the meeting just goes on perfectly happily without you. Everyone thinks you're there. Your name's up on their screen. But you are just getting on with your own business.'
And a lockdown fact: Lockdown has been great for book sales. 2020 saw an estimated rise of 5.2% in volume sales of print books in the UK compared with 2019 sales. This was the biggest annual rise since 2007: Continue reading →
By Charles Foster

 [This is a review of The Flip: Who you really are, and why it matters, by  Jeffrey J. Kripal. Penguin, 2020]
A few years ago I dislocated my shoulder. I went off to hospital, and breathed nitrous oxide while they tried to put it back. Something very strange yet very common happened. 'I' rose out of 'my' body, and looked down at it. I could see the nurse's centre parting and the top of my own bald head. 'I' was aware of the pain in the shoulder, and regretted it, but it wasn't really my business.
My mind was hovering over the skull that encased my brain, and so it seemed ludicrous to say that mind and brain were identical. The experience ousted my residual materialism. Out went Aristotle: in came Plato. This change was a 'flip', as Kripal describes such events in this exhilarating, bold, timely, and profoundly important book.
Personal experience of this kind often produces tectonic philosophical conversions in professional philosophers and scientists. Mere reflection rarely does. This observation itself is likely to elicit howls of derision from the materialists. For them, to intrude oneself into an inquiry is necessarily to invalidate it. And of course the humanities are supremely to be mocked, for they are all to do with subjectivity. Continue reading →
By Charles Foster

Arthur Conan Doyle's estate has issued proceedings, complaining that Enola Holmes,  a recently released film about Sherlock Holmes' sister, portrays the great detective as too emotional.
Sherlock Holmes was famously suspicious of emotions. 1 ' [L]ove is an emotional thing', he icily observed, 'and whatever is emotional is opposed to that true cold reason which I place above all things. '2  "I am a brain', he told Watson. 'The rest of me is a mere appendix'.3
I can imagine that many professional scientists and philosophers would feel affronted if they were accused of being emotional animals. Holmes is a model for them. He's rigorous, empirical, and relies on induction.
But here's the thing. He's not actually very good. Mere brains might be good at anticipating the behaviour of mere brains, but they're not good for much else. In particular Holmes is not a patch on his rival, Chesterton's Father Brown, a Roman Catholic priest. Gramsci writes that Brown 'totally defeats Sherlock Holmes, makes him look like a pretentious little boy, shows up his narrowness and pettiness.' 4 Brown is faster, more efficient, and, for the criminal, deadlier. This is because, not despite, his use of his emotions. Continue reading →

Announcement: Brian Earp and Julian Savulescu's new book 'Love Drugs: The Chemical Future of Relationships', published by (Stanford University Press) is now available.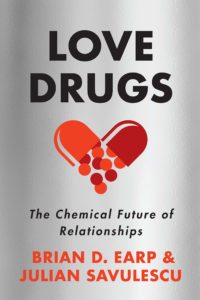 Is there a pill for love? What about an "anti-love drug", to help us get over an ex? This book argues that certain psychoactive substances, including MDMA—the active ingredient in Ecstasy—may help ordinary couples work through relationship difficulties and strengthen their connection. Others may help sever an emotional connection during a breakup. These substances already exist, and they have transformative implications for how we think about love. This book builds a case for conducting research into "love drugs" and "anti-love drugs" and explores their ethical implications for individuals and society. Scandalously, Western medicine tends to ignore the interpersonal effects of drug-based interventions. Why are we still in the dark about the effects of these drugs on romantic partnerships? And how can we overhaul scientific research norms to take relationships more fully into account?