Written by Julian Savulescu
Hypothetical Case 1: Enzyme Replacement Therapy for Gaucher's Disease
Consider a hypothetical version of a real life disease, Gaucher's Disease. Gaucher's disease is an inherited disorder caused by a genetic mutation. The mutation means an enzyme–  glucocerebrosidase — is not produced. A a result, glucerebrosides (fats) build up, damaging cells. This can cause bone fractures, liver enlargement, and bleeding but most importantly, brain damage. Once this has occurred it is irreversible.
Enzyme Replacement Therapy (ERT) is now available and for the purposes of this hypothetical case, the treatment offered, if given from the moment of birth, will prevent all damage (in real life current enzyme replacement treatments do prevent most symptoms, but do not affect nervous system involvement).
In our hypothetical case, a child is born to parents known to carry the mutation for Gaucher's Disease, and prenatal testing has already confirmed that the baby is affected. ERT must be started at birth in order to prevent brain and other damage. However, the parents are Christian Scientists and refuse medical treatment. They believe prayer can cure their child's condition.
Doctors are concerned the missing enzyme needs to be replaced before the child's brain is damaged. They take the case to court where judges agree that therapy is in the child's best interests.
Is addiction within or beyond our control? What turns something into an addiction? What should we do (more of) to tackle addiction? In this interview with Dr Katrien Devolder (philosophy, Oxford), Professor Richard Holton (philosophy, Cambridge) discusses these questions.
Alberto Giubilini
Wellcome Centre for Ethics and Humanities and Oxford Martin School, University of Oxford
I am writing this post on the 25th of May, as the Irish abortion referendum is taking place. However, you will probably be reading it once the results are already known. I am not going to write in support of either side of the debate here anyway. I want to write about the appropriateness (from an ethical point of view) of this referendum itself. I want to suggest that a referendum is not the appropriate way to solve the dispute at stake.
Irish people have been asked whether they wanted to repeal the Eight Amendment of the Irish Constitution, which gives foetuses and pregnant women an "equal right to life". It is commonly assumed that the Eight Amendment was preventing the Irish Government from legalizing abortion, except in extreme and very rare circumstances in which abortion is necessary to save the life of a pregnant woman. If the majority of Irish people votes "yes", abortion can become legal in the country. If the majority votes "no", abortion will remain a crime in the country, with the exception of a few extreme and very rare circumstances. More specifically, voting "no" means voting in favour of the idea that in Ireland a foetus does have a right to life equal to the right to life of the woman. Voting "yes" means voting in favour of the idea that in Ireland the foetus does not have a right to life comparable to the right to life of a woman; in other words, that it can be considered merely as part of the woman's body for the purpose of attributing it a right to life (though not necessarily for other purposes), and therefore something that a woman can permissibly decide not to keep alive as a matter of bodily autonomy or, in many cases, and depending on what definition of "health" we adopt, as a matter of basic healthcare.
By Jonathan Pugh
The number of individuals suffering with dementia is steadily increasing; as such, the moral issues raised by the neurodegenerative diseases that bring about the symptoms typifying dementia are of pressing practical concern. In this context, Richard Holton's topic for the first of his three 2018 Uehiro lectures (on the theme "Illness and the Social Self") is a timely one: What are the ethical implications of the progressive and pervasive loss of memory that is a central feature of dementia?
I shall be blogging a synopsis of each lecture in the series on the Practical Ethics blog – You can find a recording of the lecture here
By Mackenzie Graham
Crosspost from The Conversation. Click here to read the full article.
The development of accessible treatment options for pregnant women is a significant public health issue. Yet, very few medications are approved for use during pregnancy. Most drug labels have little data to inform prescribing decisions. This means that most medicines taken during pregnancy are used without data to guide safe and effective dosing.
The United States Food and Drug Administration recently published draft ethical guidelines for how and when to include pregnant women in drug development clinical trials. These guidelines call for "the judicious inclusion of pregnant women in clinical trials and careful attention to potential foetal risk". The guidelines also distinguish between risks that are related to the research and those that are not, and the appropriate level of risk to which a foetus might be exposed. Continue reading →
By Lauren Notini and Brian D. Earp
*Note: a condensed version of this article titled "Iceland's Proposed Circumcision Ban" is being cross-published at Pursuit.
For a small country, Iceland has had a big impact on global media coverage recently, following its proposed ban on male circumcision before an age of consent.
Iceland's proposed legislation seeks to criminalise circumcision on male minors that is unnecessary "for health reasons," stating individuals who remove "part or all of the sexual organs shall be imprisoned for up to 6 years."
The bill claims circumcision violates children's rights to "express their views on the issues [concerning them]" and "protection against traditions that are harmful."
According to bill spokesperson Silja Dögg Gunnarsdóttir, a key reason for the bill is that all forms of female genital cutting (FGC), no matter how minor, have been illegal in Iceland since 2005, but no similar legislation exists for males.
"If we have laws banning circumcision for girls," she said in an interview, then for consistency "we should do so for boys." Consequently, the bill is not specific to male circumcision, but adapts the existing law banning FGC, changing "girls" to "children."
There is much to unpack here. We first discuss self-determination and informed consent, before addressing claims about potential health benefits and harms. We then explore the religious significance of circumcision for some groups, and ask what implications this should have.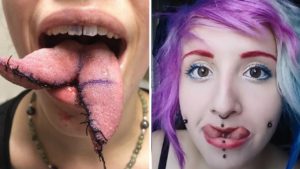 By Charles Foster
Image: 'Split tongue: procedure, safety, result': Tattoo World: Standard YouTube licence.
The appellant in R v BM was a tattooist and body piercer who also engaged in 'body modification'. He was charged with three offences of wounding with intent to do grievous bodily harm. These entailed: (a) Removal of an ear; (b) Removal of a nipple; and (c) division of a tongue so that it looked reptilian. In each case the customer had consented. There was, said the appellant, no offence because of this consent.
Where an adult decides to do something that is not prohibited by the law, the law will generally not interfere.
In Schloendorff v Society of New York Hospital (1914) 105 NE 92 Cardozo J said:
"Every human being of adult years and sound mind has a right to determine what shall be done with his own body."[1]
This principle has been fairly consistently recognised in the English law.[2] Thus, for instance, In In re T (Adult: Refusal of Treatment, Butler-Sloss LJ cited with approval this section of the judgment of Robins JA in Malette v Shulman[3]:
'The right to determine what shall be done with one's own body is a fundamental right in our society. The concepts inherent in this right are the bedrock upon which the principles of self-determination and individual autonomy are based. Free individual choice in matters affecting this right should, in my opinion, be accorded very high priority.' Continue reading →
By Dominic Wilkinson
In the latest case of disputed medical treatment for a child, the family of Liverpool toddler Alfie Evans yesterday lost their last legal appeal. The family had appealed to the European Court of Human Rights to examine whether the UK courts' decision (to allow doctors to stop life support) was contrary to the European Convention on Human Rights. The European Court (as it had in two other cases in the last 12 months) rejected the appeal. It is expected that the artificial ventilation that is currently keeping Alfie alive will be withdrawn in the coming days.
This decision, difficult as it is for his family to accept, is the right decision for Alfie. Medical treatment can no longer help him. As I wrote a month ago, it is time to stop fighting, time to let him go.
However, one important legal and ethical issue raised in this case, and in the case of Charlie Gard from last year, is about the basis for deciding when parents and doctors disagree. What ethical standard should apply?
Last week, the UK Supreme Court adamantly refused Alfie's parents' previous legal appeal, focused on this specific question.  I will argue that the court's arguments fail and that the current UK legal approach is mistaken. (Though in fact, in the Evans case as in the case of Charlie Gard, it seems likely that the court would have reached the same decision about treatment even if it had applied a different ethical standard).
Written by Dr Rebecca Brown
It has become commonplace to identify a lack of impulse control as a major cause of poor health. A popular theory within behavioural science tells us that our behaviour is regulated via two systems: the fast, impulsive system 1 (the 'impulsive' or 'automatic' system) and the slower, deliberative system 2 (the 'reflective' system). Much of our behaviour is routine and repeated in similar ways in similar contexts: making coffee in the morning, travelling to work, checking our email. Such behaviours develop into habits, and we are able to successfully perform them with minimal conscious input and cognitive effort. This is because they come under the control of our impulsive system.
Habits have become a focus of health promoters. It seems that many of these routine, repeated behaviours actually have a significant impact on our health over a lifetime: what we eat and drink and how active we are can affect our risk of developing chronic diseases like type II diabetes, heart disease, lung disease and cancer. Despite considerable efforts to educate people as to the risks of eating too much, exercising to little, smoking and drinking, many people continue to engage in such unhealthy habits. One reason for this, it is proposed, is people's limited ability to exert conscious (reflective) control over their habitual (impulsive) behaviour.
Given this, one might think that it would be preferable if people were generally able to exhibit more reflective control; that behaviour was less frequently determined by impulsive processes and more frequently determined by reflective deliberation. Perhaps this could form part of the basis for advising people to be more 'mindful' in their everyday activities, such as eating, and regimes for training one's willpower 'muscle' to ensure confident conscious control over one's behaviour. Continue reading →

By Brian D. Earp (@briandavidearp)
Republican politician Roy Moore has been accused of initiating sexual contact with a 14-year-old girl when he was in his early 30s. Social media sites have since exploded with comments like these:
Roy Moore is now FUNDRAISING to conservative Christians after being outed as a pedophile.

This is truly sick. pic.twitter.com/NF5NLIGWKA

— Mikel Jollett (@Mikel_Jollett) November 9, 2017
Roy Moore is a sick man. He is a pedophile. This story is deeply sourced. It is credible and I believe the women.

— Steve Schmidt (@SteveSchmidtSES) November 9, 2017