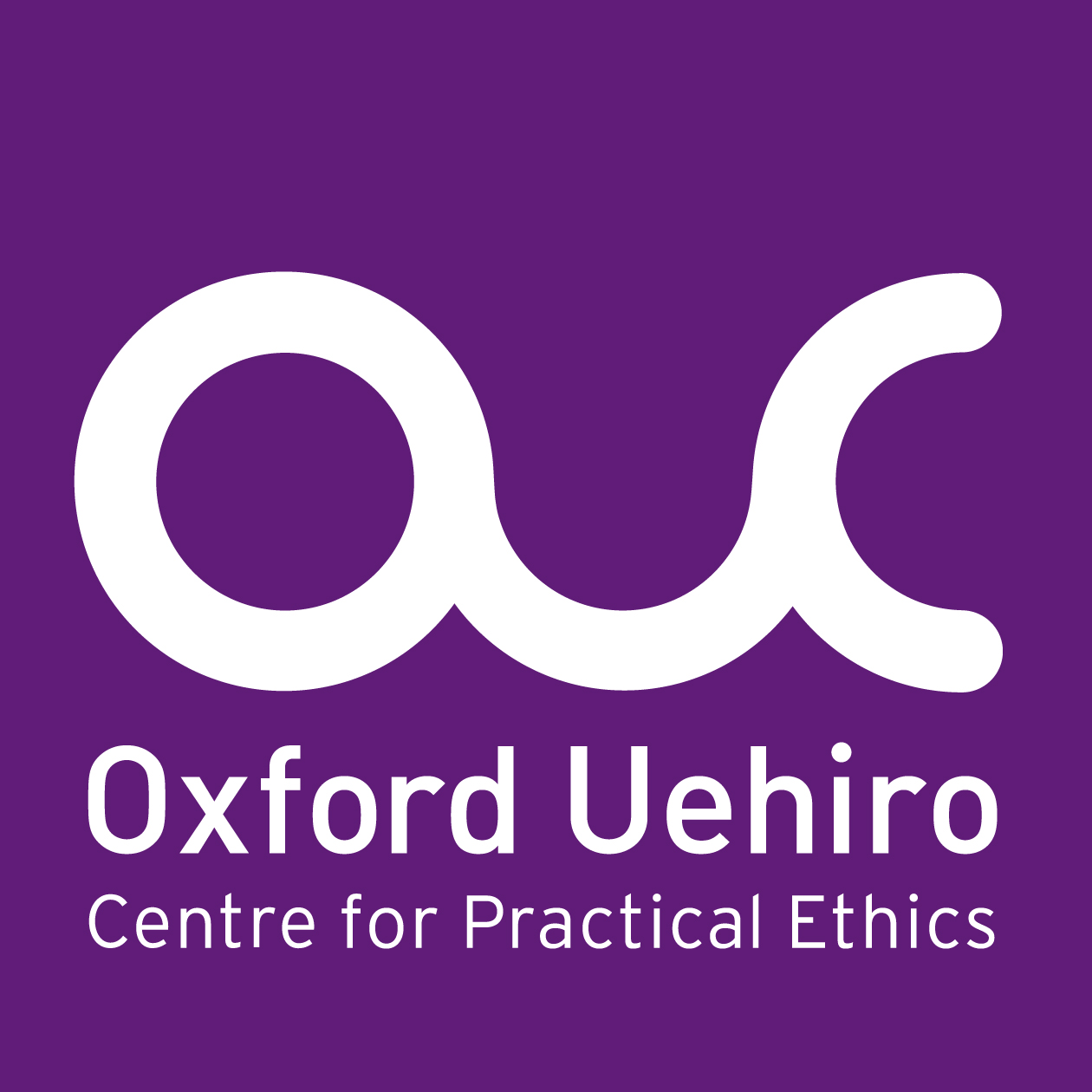 Graduate and undergraduate students currently enrolled at the University of Oxford in any subject are invited to enter the Oxford Uehiro Prize in Practical Ethics by submitting an essay of up to 2000 words on any topic relevant to practical ethics.  Eligibility includes visiting students who are registered as recognized students, and paying fees, but does not include informal visitors.  Two undergraduate papers and two graduate papers will be shortlisted from those submitted to go forward to a public presentation and discussion, where the winner of each category will be selected.
The winner from each category will receive £300, and the runner up £100. Revised versions of the two winning essays will be considered for publication in the Journal of Practical Ethics, though publication is not guaranteed.
Finalists may also have the opportunity to present their papers at the Festival of arguments: ethics fit for the 21st century on the 24th March.
To enter, please submit your written papers by the end of Monday 10th February 2020 to rocci.wilkinson@philosophy.ox.ac.uk. Finalists will be notified in mid February of selection. The public presentation will take place in 8th Week, Hilary term 2020, on Tuesday 10th March. Please save this presentation date, as you will need to attend if selected as a finalist.  Continue reading →
This essay was the runner up in the undergraduate category of the 5th Annual Oxford Uehiro Prize in Practical Ethics
Written by University of Oxford student Angelo Ryu
1. Introduction
Many legal systems have juries decide cases of an especially grave nature. Because a jury consists of a group of individual jurors, they need a decision-making procedure before it may act. One such procedure is a voting rule: most require either unanimity or supermajority to deliver a verdict. An inability to do so results in a mistrial.
Mistrials are often treated as a sort of failure which ought to be avoided. To that end judges sometimes intervene if deadlock seems likely. In England there is the Watson direction, which refers to a collective obligation to return a verdict. The United States has the Allen charge, which informs jurors of a duty to agree upon a verdict, if possible.
These instructions are often criticised as an impermissible judicial intervention infringing on jury autonomy. At best they are treated as a sort of necessary evil, which must only be used in extraordinary cases. But I argue there is nothing objectionable about such instructions because they simply track the obligations already held by jurors. They serve an important function in informing jurors of their moral position. There may indeed be an imperative for legal systems without such recourse to implement one, as jurors may not always know the duties incumbent upon them in the exercise of their authority. But all this presumes that jurors face an obligation which mirrors these jury instructions. The aim of this essay is to defend that claim. Continue reading →
This essay received an honourable mention in the 5th Annual Oxford Uehiro Prize in Practical Ethics, Graduate Category.
Written by University of Oxford DPhil student, Robert Underwood.
Lt. Col. Bob Underwood is a U.S. Army officer and a Fellow in its Advanced Strategic Plans and Policy Program. He is pursuing a DPhil in Philosophy at the University of Oxford and will assume command of 1st Squadron, 4th Cavalry in the summer of 2019. The opinions expressed here are his own and do not reflect the official position of the U.S. Army, the Department of Defense, or the U.S. Government.
Killing in war eliminates threats but also plays a part in influencing the decisions of other persons beyond those we might kill.  This suggests that killing in war has a communicative function, and that the message is an important consideration that can feature in the balance of reasons to kill some but not others in war.  This is true provided combatants can permissibly kill some as means to communicate to others.  I argue that just combatants, those that fight for just aims, can permissibly kill to communicate and that unjust combatants cannot.  This is a new reason to revise our intuition that combatants on both sides hold equal rights to kill, the so-called moral equality of combatants (MEC). Continue reading →
This essay was a joint runner up in the Oxford Uehiro Prize in Practical Ethics Graduate Category
Written by University of Oxford student Brian Wong
Uncontacted peoples refer to individuals who live (by choice or by circumstance) without coming into contact with broader, greater civilisation.[1] I make the idealised[2] assumption that our act of contacting seeks to provide these peoples with goods, opportunities, and access to advantages. I outline a tentative argument as to why it can be obligatory to contact[3] uncontacted peoples, basing my claim on a Samaritan modification to Singer's Rescue Principle[4]. I will then raise several limiting conditions to the above Samaritan considerations. Noting that the key difference between contacting uncontacted peoples and more 'uncontroversial' Samaritan acts lies in the heightened epistemic indeterminacy in the former, I conclude by presenting a principle of epistemic prudence that has wider implications for broader instances of paternalistic intervention.[5]
Consider first the relevant facts: in 2013, it was estimated that there were over 100 uncontacted tribes around the world, residing in densely forested areas of South America, Central Africa, and the Indian Ocean. These tribes generally live without access to modern medical or communicative technology, and are more vulnerable to natural threats (e.g. predators, disasters etc.).[6] Continue reading →
Undergraduate Category:
Winner: Harry Lloyd with his essay "What, if anything, is objectionable about gentrification?"
Runner Up: Angelo Ryu with his essay "Do Jurors Have a Moral Obligation to Avoid Deadlock?"
Graduate Category:
Winner: Tena Thau with her essay "Love Drugs and Expanding the Romantic Circle"
Joint Runners Up: Miles Kellerman with his essay "The Ethical Dilemma of Disclosing Offshore Accounts" and Brian Wong with his essay "Should We Contact Uncontacted Peoples?: A Case for a Samaritan Rescue Principle"
We wish to express our congratulations to the five finalists for their excellent essays and presentations, and in particular to the winners of each category.
We wish to express our congratulations to the authors of the following essays which have been awarded an Honourable Mention in the Graduate category: 
Maximilian Kiener: "Consent and Causation"
Michelle Lee:  "Practical Ethics of Machine Learning and Discriminatory Lending"
Robert Underwood:  "Killing to Communicate"
Finally we also send congratulations to all of the entrants in this prize.
It is with great pleasure that we announce the finalists in the Oxford Uehiro Prize for Practical Ethics 2019, and invite you to the final presentation and reception.
The 5th Annual Oxford Uehiro Prize in Practical Ethics Final Presentation and Reception
HT19 Week 8, Wednesday 6th March, 4:30 – 5:45 pm.
The Presentation will be held in St Luke's Chapel, Radcliffe Observatory Quarter, Oxford OX2 6HT, followed by a drinks reception until 7:00 pm.
We are pleased to announce the five finalists for the Oxford Uehiro Prize in Practical Ethics and to invite you to attend the final where they will present their entries. Two finalists have been selected from the undergraduate category and three from the graduate, to present their ideas to an audience and respond to a short Q&A as the final round in the competition. Continue reading →
This essay was the runner up in the Oxford Uehiro Prize in Practical Ethics Graduate Category
Written by University of Oxford student James Kirkpatrick
It is widely accepted that valid consent is necessary for the permissibility of sexual acts. This requirement explains why it is impermissible to have sex with non-human animals, children, and agents with severe cognitive impairments. This paper explores the implications of this requirement for the conditions under which
conjoined twins may have sex.[1] I will argue that sex with conjoined twins is impermissible if one of them does not consent. This observation generalises to prohibitions on a wide range of everyday activities, such as masturbation, blood donations, and taking drugs to cure one's headache. While these implications are
highly counterintuitive, it is dificult to articulate the relevant moral difference between these cases. Continue reading →
This essay was the winner in the Oxford Uehiro Prize in Practical Ethics Graduate Category
Written by University of Oxford student Miles Unterreiner
Question to be answered: Why is it wrong to benefit from injustice?
In the 2005 film Thank You for Smoking, smooth-talking tobacco company spokesman Nick Naylor (Aaron Eckhart) is charged with publicly defending the interests of Big Tobacco. Naylor is invited to a panel discussion on live TV, where he faces an unfriendly studio audience; Robin Williger, a 15-year-old cancer patient who has recently quit smoking; and anti-smoking crusader Ron Goode, who works for an organization dedicated to fighting tobacco consumption. Naylor boldly goes on the attack against Goode, accusing him and his organization of benefiting from the well-publicized deaths of lung cancer patients:
Naylor: The Ron Goodes of this world want the Robin Willigers to die.
Goode: What?
 Naylor: You know why? So that their budgets will go up. This is nothing less than trafficking in human misery, and you, sir, ought to be ashamed of yourself. Continue reading →
This essay was the winner in the Oxford Uehiro Prize in Practical Ethics Undergraduate Category
Written by University of Oxford student Jonathan Latimer
 I will defend the process of genetic 'disenhancement' of animals used for factory farming. I suggest that disenhancement will significantly increase the quality of life for animals in factory farms, and that this benefit is robust against objections that disenhancement is harmful to animals and that it fails to address the immorality of factory farming. Contra to a previous submission, I hope to recast disenhancement as something which ought to be seriously considered on behalf of animals in factory farms.
Currently, the factory farming of livestock animals for human consumption causes a great amount of suffering in those animals. It is widely acknowledged that the conditions many animals face in factory farms are abhorrent. Furthermore, demand for factory-farmed meat is increasing worldwide as developing economies grow more affluent. This will lead to more animals suffering in factory farms in the future. One potential solution to this problem is the 'disenhancement' of livestock animals. Disenhancement is a genetic modification that removes an animal's capacity to feel pain. Scientists hope to be able to do this without inflicting any pain at all. So, disenhancement promises to reduce suffering in factory-farmed animals by removing their capacity to feel pain caused by their terrible environment. Continue reading →
This essay was awarded second place in the Oxford Uehiro Prize in Practical Ethics Undergraduate Category.
Written by University of Oxford student, Brian Wong
Recent debates over the legacy of colonialism – such that that of the British Empire – have often been centred around whether members of colonies have, on balance, benefited from being subject to colonial rule. Such debates are not only epistemically futile, for counterfactual analysis remains necessarily and largely speculative hitherto; they also neglect a potential alternative to the discussion: that colonial projects could have been wrong independent of the harms they bring.
My thesis is that there existed the unoffsettable wrong of the relational injustice perpetuated under colonialism, such that colonialism was wrong even in cases where it introduced counterfactual-sensitive benefits. I will first discuss my concept of relational injustice, prior to establishing the empirical premise and explaining why such wrongs are unoffsettable by consequentialist gains. Continue reading →