Alberto Giubilini, Oxford Uehiro Centre for Practical Ethics and WEH, University of Oxford
Erica Charters, Faculty of History and WEH, University of Oxford
A discussion on the end of the COVID-19 pandemic is overdue. We keep hearing that 'we are in the middle of a pandemic'. However, it is not clear what it means to be in the middle of a pandemic if we don't know what it means for a pandemic to end.  How can we know what the middle is if we don't know what the end is?
We were given a clear date by the WHO for the start of the pandemic (11 March 2020). A few days earlier the WHO Director-General had for the first time used the term 'epidemic' to refer to COVID-19 outbreaks in some countries (5 March 2020). A disease is categorized as an epidemic when it spreads rapidly, with higher rates than normal, in a certain geographical area. A pandemic is an epidemic spreading over more than one continent. Thus, declaring epidemic and pandemic status is a decision based on epidemiological criteria.
By contrast, the end of an epidemic is not determined by epidemiological factors alone. Historically, epidemics end not with the end of the disease, but with the disease becoming endemic – that is, accepted and acceptable as part of normal life.
However, when and how a disease becomes normal or acceptable is primarily a social, cultural, political, and ethical phenomenon, rather than scientific or epidemiological.  It is a more subtle phenomenon – and less precise – than the start of the epidemic.  The end depends on how a society decides to respond to a pathogen that keeps circulating.  We might well find ourselves out of this pandemic without realising when and how it happened.
So, when will this pandemic end?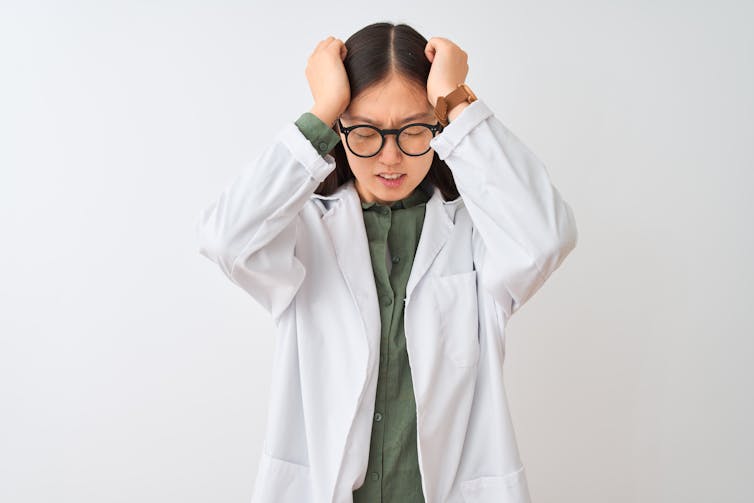 Trish Greenhalgh, University of Oxford and Dominic Wilkinson, University of Oxford
At the start of the pandemic, there was a striking sense of shared resolve and solidarity. Facing a public health crisis greater than any in living memory, people were largely united in their support of difficult measures to protect the vulnerable, safeguard the health system and sustain key workers.
There were, of course, differences of opinion. For example, some disagreed about the severity of the threat posed by COVID, about the wisdom of different national approaches to lockdown, about the timing of restrictions, and the effectiveness face masks.
More recently, there has also been disagreement on how vaccines should be distributed, whether vaccine passports are a good idea, and whether vaccination should be mandatory for certain occupations)
Throughout the pandemic, scientists attempting to explain their findings have had to deal with unprecedented levels of dissent, anger and abuse from the lay public and occasionally from other scientists.
Since the government lifted COVID restrictions on July 19, views on how best to handle the pandemic have become more polarised than ever, broadly splitting into two camps: the "open up" camp and the "not yet" camp. Continue reading →
Dominic Wilkinson, University of Oxford; Jonathan Pugh, University of Oxford, and Julian Savulescu, University of Oxford
Education Secretary Gavin Williamson has announced the end of school "bubbles" in England from July 19, following the news that 375,000 children did not attend school for COVID-related reasons in June.
Under the current system, if a schoolchild becomes infected with the coronavirus, pupils who have been in close contact with them have to self-isolate for ten days. In some cases, whole year groups may have to self-isolate.
Such mass self-isolation is hugely disruptive. Yet despite the clamour to switch to other protective measures, such as rapid testing of pupils who have been in close contact with an infected pupil, the public service union Unison has supported self-isolation as "one of the proven ways to keep cases under control". Continue reading →
By Dominic Wilkinson and Julian Savulescu
An edited version of this was published in The  Conversation 
The UK government is set to announce that COVID-19 vaccination will become mandatory for staff in older adult care homes. Staff will be given 16 weeks to undergo vaccination; if they do not, they will face redeployment from frontline services or the loss of their job. The government may also extend the scheme to other healthcare workers.
It is crucial to achieve a high vaccine uptake amongst older adult care home staff due to the high mortality risk faced by residents. ONS Data suggest that there has been a 19.5% increase in excess deaths in care homes since the beginning of the pandemic, with COVID-19 accounting for 24.3% of all care home resident deaths.
According to SAGE, 80% of staff working in care homes with older adult residents (and 90% of the residents themselves) need to be vaccinated in order to confer a minimum level of protection to this vulnerable population. In mid-April, only 53% of older adult care homes in England were meeting these thresholds, whilst, as of the 10th June, 17% of adult care home workers in England have not had a single dose of the COVID-19 vaccine.
Mandating vaccination would increase vaccine uptake in care home workers, but would be a significant intrusion into individual freedom. Is it ethically justifiable?
Two (contrasting) perspectives on the news this morning about planned mandatory vaccination of care home workers.
Professor Julian Savulescu
"The proposal to make vaccination mandatory for care home workers is muddle-headed. Vaccination should be mandatory for the residents, not the workers. It is the residents who stand to gain most from being vaccinated.  Young care workers have little to gain personally from vaccination and there are now lethal risks, as well as uncertain long term consequences of novel vaccines. They have already risked their own lives during the pandemic. Some will be immune from past infection. Those remaining should be offered incentives, including financial incentives, to be vaccinated, not coerced. Vaccines like hepatitis and influenza may be mandatory, but they have been around for years and have established safety profiles.
"It's too soon to be talking about mandates. We're still researching rare but potentially serious side-effects that have been thrown up by national monitoring, for example a possible link between Pfizer and myocarditis. We don't have the full picture on how well they prevent transmission. Public Health England data about how transmission is only available for the first dose and it is currently at up to 50%. Meanwhile the level of protection afforded to vaccinated individuals themselves is holding up very well in terms of hospitalisation and death even against the new variants. With the level of confidence we have encouragement to vaccinate is warranted, and incentives are warranted. Mandates should only be made on the basis of bulletproof safety and efficacy data, including transmission data."
Prof Dominic Wilkinson & Dr Jonathan Pugh
"In the earlier phase of the pandemic, some of the most medically vulnerable members of our community, patients in care homes and acutely ill patients in hospitals, ended up catching coronavirus from those caring for them. Some patients and care home residents died from infections that they caught from their caregivers."

"That is a tragic and distressing situation that we must do everything possible to avoid repeating.

First, we should ensure that all those who are high risk have access to vaccination. There are still approximately 10% of older adult care home residents who have not had a 2nd dose of the vaccine.

Second, those who work in the frontline with vulnerable high risk patients have an ethical obligation to take all reasonable measures to prevent spread of the vaccine to those they are caring for. They must follow guidance about the use of measures like hand washing and PPE. They should take part in lateral flow testing schemes. And they should be vaccinated.

In England, as of 10th June, 17% of adult care home workers have not had the COVID-19 vaccine.

There is a strong ethical case that care home workers (and NHS staff) who have not had the COVID vaccine should be redeployed to areas other than frontline care.
It would be ethical to make COVID vaccination (in the absence of a medical exemption) a condition of employment in the same way that hepatitis B vaccination is currently for some health professionals.

If vaccines are made mandatory for health care and care home workers, they should be able to choose from available vaccines. Every effort possible should be made to address any concerns that they have about the vaccines."
Written by Stephen Rainey
How to manage the inevitable disruptions to life brought about by the emergence of a viral pandemic – a question that for many seemed remote has now had us all preoccupied for well over a year. With our just-published article, entitled The Post-Normal Challenges of COVID-19: Constructing Effective and Legitimate Responses, in the Journal Science and Public Policy, Maru Mormina, Sapfo Lignou, Joseph Nguyen, Paula Larsson and I set out to investigate some of the perplexing difficulties especially relating to effectiveness and legitimacy. We examine these in the light of pandemics as wicked problems and lay out how 'post-normal science' can contribute to a sound pandemic response.
In any pandemic response, the measures undertaken by authorities must effective in the sense of actually addressing the viral threats. A strategy that didn't slow the rate of viral spread, for instance, wouldn't work and for that reason would be due criticism. The concept of legitimacy is one perhaps less easy to cash out. In any pandemic response, the measures undertaken by authorities must be legitimate in the sense of fairly and justifiably constraining liberties enjoyed prior to the viral outbreak. A strategy that placed undue or disproportionate burdens on societal sub-groups, for instance, wouldn't be legitimate and for that reason would be due criticism. For effectiveness in a medical crisis particularly, science is an essential element of any response. Continue reading →
Written by F M Kamm
This post originally appeared in The Philosophers' Magazine
When the number of people who have died of COVID-19 in the U.S. reached 500,000 special notice was taken of this great tragedy. As a way of helping people appreciate how enormous an event this was, some commentators thought it would help to compare it to other events that involved a comparable number of people losing their lives. For example, it was compared to all the U.S lives lost on the battlefield in World Wars 1 and II and the Vietnam War (or World War II, the Korean War, and Vietnam). Such comparisons raise questions, concerning dimensions of comparison, some of which are about degrees of harm, wrong, and meaningfulness which are considered in this essay. (Since the focus in the comparison was on the number of soldiers who died rather the number of other people affected by their deaths, this discussion will also focus on the people who die in a pandemic rather than those affected by their deaths.)