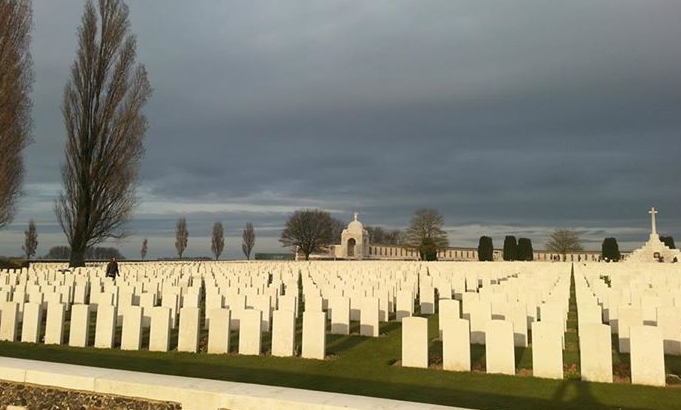 This year marks the centenary of the outbreak of the First World War. It was a gruesome conflict in which more than eight million people were killed and almost twice as many were injured. It came to involve nations as far-flung as Canada, Turkey, India and Australia. Whole landscapes on the Western Front were converted into lunar-like stretches of mud, mines and human remains.
Over the next four years thousands will flock to former battlefields and war memorials to commemorate WWI and those who died fighting in it. But an important question is this: why should we bother to commemorate the war at all?
The language of human rights is pervasive both in academic literature and international legal practice. We often take the satisfaction of human rights to be a necessary condition for a state's legitimacy, and the failure of a state to respect human rights as grounds for international intervention. However, providing an account of the nature of human rights—figuring out what exactly it is for something to be a human right—is quite a difficult task. Here I want to present two problems I've been thinking about recently with 'top down' approaches to determining the nature of human rights.[1] Continue reading →
 www.jimaceverett.com
A common theme running through debates on combating global problems like poverty and common change is the idea that something must be done. Usually, this is taken to mean that some prosocial behaviour must be actively encouraged and sought out: for example, encouraging people to recycle, or having public health campaigns to encourage people to vaccinate. These solutions typically require individuals going out of their way to do what is often a costly behaviour, and consequently, have only limited success. But what if prosocial behaviour could also be encouraged by making use of the passivity of human nature? What if people could do good by doing nothing?
As the new season started, there was in the United States debates around the health of participants, responsibilities in and the ethics of American football. In September this year, a 16-year-old player died after a collision with another player. Earlier in the same month, it was reported that brain trauma affects one in three retired players of the National Football League. In a column in the New York Times Magazine, Chuck Klosterman (the magazine's "Ethicist") poses the question: "Is It Wrong to Watch Football?" Is it? I think the very institution is the problem. Continue reading →
You do not have a right not to be offended,  insulted or verbally abused. You do not have that right because it might be right to offend, insult or verbally abuse you. You might believe stupid things, or even sensible things, and take offence at any and all critiques, rebuttals and refutations. You might be a pompous prig, a sanctimonious sop, an officious orifice. Even if you are not these things, there would be very little wrong in telling you you are. After all, you are not a six-year old child: you're an adult. You can take it.
What of someone expressing their detestation of you, their hatred of you, wishing you ill, wishing you dead?
One argument that has been put forward against voting for Scottish independence in the Scottish referendum is that it would be irrational for Scotland to break free of the rest of Great Britain. The grounds for this claim are that the Scottish economy would be significantly worse under independence. This is an empirical claim and for the sake of argument I am going to grant it. What I am interested in is whether, supposing that to be true, it would in fact be irrational. There are a number of things seriously wrong with this inference.
It's still summery, and so here is a little story for the beach or the side of the pool
'There are challenges, certainly', said the Boss. 'But we're confident that we can meet them. Or at least', he went on, looking over his glasses for signs of dissent, 'for a critical mass of stakeholders'.
A graph appeared on the screen at his side. He traced its lines with a red laser dot.
'Here', he said, 'we have the expected rise of temperature with time. And here' (he stabbed with the dot, as if doing the killing himself), 'we have the consequent reduction in human population – assuming' (and he held up a schoolmasterly finger), 'we don't have any HR66.'
He sipped some water, and waited for this to sink in. It did.
'But don't worry', he said. 'There's good news. We do have HR66. Not enough for everyone, sadly, but enough to ensure that the human baton is passed on. And enough, I'm glad to say, for everyone in this room.'
There was a ripple of relief.
'And their families, of course', the Boss continued. 'Families are very important to us. But all this assumes that you want to have the HR66. No one will make you. But, frankly, what's not to like? You take a single dose, and you survive. If you don't take it, you don't survive. It's as simple as that. It even tastes of candy floss. It has only one side-effect, and that's a wholly good thing. It increases – increases, mark you – your IQ. Very, very significantly. By about 100 points, in fact. Not only will you be alive; you'll be a genius beside whom Einstein would have seemed a hopeless retard.'
One more press of the button, and up flashed the logo of the corporation that manufactured HR66. The Boss didn't think it relevant to mention his shareholding.
'Naturally', said the Boss, 'we have to vote for this in the usual way. Yes, humanity's facing apocalypse, and there's one, and only one way out. But we've still got to do things properly. But I expect that we can move to a vote now, can't we?'
'I'm sure we can', agreed the Deputy. 'You've all seen the motion. All those in favour….'
'One moment'.
The Boss and the Deputy, up on the podium, stared. Everyone else turned. A little man in tweed lisped through a badger's beard. 'I'd like some clarification, please.'
'But of course, Tom', said the Boss, magnanimous and desperately alarmed. 'Anything you like.'
No one really knew how Tom had got into the government, or why he wanted to be there. He had no strategically significant connections, no dress sense, no publications other than some monographs on moths and mediaeval fonts, no assets other than a dumpy wife, some anarchic, unwashed children and a small cottage on Dartmoor, and no entries in the Register of Members' Interests apart from 'Masturbation'. This entry had caused a terrible storm. He'd been accused of injuring the dignity of the House, but, after expensive legal advice had been taken, it had been 'reluctantly concluded' that there was no power to force him to remove it.
'I'd like to know', said Tom, 'who's going to get the drug. And why them rather than anyone else.' Continue reading →
A new bill proposed by the Canadian government's Citizenship and Immigration Minister, Chris Alexander, has been getting a lot of press recently. (You can find the bill here and the current Act here). Bill C-24, called by its proponents the 'Strengthening Canadian Citizenship Act,' is meant to do just that: Strengthen Canadian Citizenship. The changes it proposes to the extant Canadian Citizenship Act are legion, and vary in their significance. Certainly, the changes are not all bad. It calls, for example, for modifications that would allow so-called 'lost Canadians' a chance to become citizens. People who, for one reason or another, never received citizenship when they should have. It also introduces more consistently gender-neutral language, rather than favouring the masculine pronoun, and acknowledges common-law partnerships, where the current act only recognizes marriage. These are good things. But, the press hasn't focused on these gains. This is because a series of changes proposed by the bill will also make Canadian citizenship harder to get and easier to lose. Like others, I'm opposed to the latter set of changes being proposed. However, unlike others, my dissent isn't based on the introduction of what is being called a distinction between first and second-class citizens. Instead, it is based on the assumption, implicit in proposed bill and explicit in the rhetoric of its defense, that citizenship is a privilege and not a right. Continue reading →
Yesterday's elections in the UK raised again an old question, which receives surprisingly little public discussion. Should I vote on the basis of my own self-interest (or the interest of my family), or should I vote on moral, or 'other-regarding', considerations? Continue reading →
Scientists from the Drinking Water Inspectorate have recently discovered benzoylecgonine in water samples at four test sites, a finding that is thought to be a result of high levels of domestic cocaine consumption. Benzoylecgonine is the metabolised form of cocaine that appears once it has passed through the body, and is the same compound that is tested for in urine-based drug tests for cocaine. It is also an ingredient in a popular muscle-rub, however, so the origins of the compound in our water are somewhat uncertain. Steve Rolles from the drug policy think tank Transform has suggested that the findings are an indication of the scale of the use of cocaine in Britain today. According to a 2010 UN report, the United Kingdom is the single largest cocaine market within Europe, followed by Spain.  In contrast to the shrinking cocaine market in North America, the number of cocaine users in European countries has doubled over the last decade, from 2 million in 1998 to 4.1 million in 2007/8. Although the annual cocaine prevalence rate in Europe (1.2%) is lower than North America (2.1%), the UK prevalence rate (3.7% in Scotland and 3.0% in England and Wales) is actually higher than the US (2.6% in 2008). According to the charity DrugScope, cocaine is the second most used illegal substance in the UK after cannabis: there are around 180,000 dependent users of crack cocaine in England, and nearly 700,000 people aged 16-59 are estimated to take cocaine every year. Further, according to the government statistics, in the years 2012-13, cocaine was the only drug to show an increase in use among adults between 16-59. All this does appear to suggest a possible link between the benzoylecgonine found in the water supply and high levels of cocaine use in the UK.