By Charles Foster
Some odd alliances are being forged in this strange new world,
I well remember, a few years ago, the open hostility shown by dreadlocked, shamanic, eco-warriors towards the Abrahamic monotheisms. They'd spit when they passed a church.
The rhetoric of their distaste was predictable. The very notion of a creed was anathema to a free spirit. 'No one's going to tell me what to think', said one (we'll call him Jack), the marks on his wrists still visible from where he'd been chained to a road-builder's bulldozer. And the content of the creeds, and the promulgators-in-chief, didn't help. 'I'm certainly taking no lessons', Jack went on, 'from some patriarchal sky-god represented by a paedophilic priest.'
But it's changed. Jack still heaves bricks through bank windows (he says), and still copulates inside stone circles, but now he's mightily impressed with Jesus, has a Greek Orthodox icon of the resurrection next to his bong, and pictures of Richard Dawkins and Sam Harris on his dartboard. He's not alone. He's part of a widespread movement that is reclaiming and recruiting the intrinsic radicalism of Judaism, Christianity, and Islam in the fight against Neo-Liberalism and the destruction of the planet. Continue reading →

By Charles Foster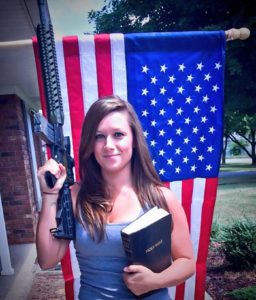 Image: Holly Fisher, a Conservative Christian blogger from West Virginia, posing with gun, Bible, and US flag:  from www.nydailynews.com
There was a near universal consensus that Bishop Michael Curry's sermon at the wedding of Prince Harry and Meghan Markle was magnificent.  'Frock Star', panted the Sun.  The Bishop 'stole the show…and is the 'new Pippa Middleton'' He left for the US, the Sun continued, 'leaving Britain still raving about his electrifying sermon.' The Bishop 'just stole the show', said Vox.com 'Prince Harry and Meghan were all but upstaged by the Episcopal priest's fiery sermon….You might say Curry just made the Anglican communion great again.'
'The Rev Michael Curry', tweeted Ed Miliband, 'could almost make me a believer, ' and Piers Morgan tweeted: 'Wow. Still reeling from Rev Curry. What a moment. What a man!' The BBC commentator Jeremy Vine said that the preacher was 'doing 50 in a 30 zone, and it's brilliant.' Continue reading →
Written by Hazen Zohny 
* Please note that this essay was originally published in Quillette Magazine.
The Discomforts of Being a Utilitarian 
I recently answered the nine questions that make up The Oxford Utilitarianism Scale. My result: "You are very utilitarian! You might be Peter Singer."
This provoked a complacent smile followed by a quick look around to ensure that nobody else had seen this result on my monitor. After all, outright utilitarians still risk being thought of as profoundly disturbed, or at least deeply misguided. It's easy to see why: according to my answers, there are at least some (highly unusual) circumstances where I would support the torture of an innocent person or the mass deployment of political oppression.
Choosing the most utilitarian responses to these scenarios involves great discomfort. It is like being placed on a debating team and asked to defend a position you abhor. The idea of actually torturing individuals or oppressing dissent evokes a sense of disgust in me – and yet the scenarios in these dilemmas compel me not only to say such acts are permissible, they're obligatory. Biting bullets is almost always uncomfortable, which goes a long way in explaining the lack of popularity utilitarianism enjoys. But this discomfort largely melts away once we recognize three caveats relevant to the Oxford Utilitarianism Scale and to moral dilemmas more generally.
The first of these relates to the somewhat misleading nature of these dilemmas. They are set up to appear as though you are being asked to imagine just one thing, like torturing someone to prevent a bomb going off, or killing a healthy patient to save five others. In reality, they are asking two things of you: imagining the scenario at hand, and imaging yourself to be a fundamentally different being – specifically, a being that is able to know with certainty the consequences of its actions.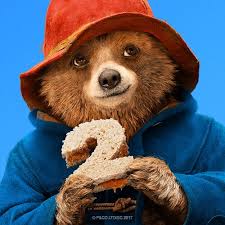 By Charles Foster
Last night, long after everyone else I know, I went with the kids to see Paddington 2. As everyone agrees, it's wonderful. It's a modern morality tale. There is plainly a big appetite for morality.
Interestingly, though, it is a Christian morality tale.1 Paddington's behaviour neutralizes violence. In the face of his goodness, and emolliated by his marmalade sandwiches, the hard men at the prison uncurl their fists and bake strawberry panna cotta with pomegranate glaze instead. His vulnerability is irresistible. He turns selfishness into altruism. 'Nuckles' (sic), (Brendan Gleeson) whose motto has always been that he doesn't do nuffin' for no one for nuffin', jeopardises his own liberty to liberate Paddington – and wins his own perpetual freedom by doing so. There's even a sort of resurrection – in which Paddington, trapped in a watery grave, is released. And as he is released, more of his redemptive power is unleashed too. Continue reading →
Introduction
In a series of five harrowing judgments, the President of the Family Division, Sir James Munby, expressed his frustration with the system that endangered the life of a child who was the subject of care proceedings. He was forthright. Some of his words were quoted in the press. A headline in the Guardian read: 'Judge warns of 'blood on our hands' if suicidal girl is forced out of secure care.' 'Why won't NHS help?' asked the Sun. 'State will have 'blood on its hands' if suicidal teen doesn't get hospital bed soon, top judge warns.'
While the judge's comments seemed generally to be applauded by the media, not all were happy. Here is a typical example of a commentator who was not:
'To use a rhetorical outburst in one case to make broader political points about the state of public services jeopardises the principle of judicial separation. In saying that there are occasions when doing right "includes speaking truth to power", and openly condemning the lack of adequate public resources, is to leave the respected realm of judicial neutrality and to enter the political fray. Language and tone matter. Even if the diagnosis is fair, for a judge to use this tactic is, well, pretty ill-judged.' Continue reading →
The issue of public sector pay rises has been at the forefront of political discussions in the UK in recent months. The controversy can be traced back to at least 2013, when the government placed a 1% limit on such pay rises, a figure that falls below recent levels of inflation, meaning that the cap has made public sector workers financially worse off in real terms. Earlier last week, the government announced that it would allow ministers some flexibility to breach this limit, as well as announcing small rises in the pay of some public sector workers. However, critics have labelled these measures as divisive and insufficient.
Len McCluskey, the leader of the Unite union in the UK, has recently added to this controversy when he told a BBC interviewer that he would be willing to back illegal strike action in order to oppose the cap on public sector pay rises. Under legislation introduced last year, legal industrial strike action in the UK public sector now requires the support of at least 40% of all those entitled to vote in the relevant ballot. Moreover, the ballot itself must also have at least 50% turnout in order to be valid. In his interview, McCluskey intimated that he would support strikes that did not meet this second condition. In turn, this has led commentators to call on Jeremy Corbyn, the leader of the opposition, to clarify whether he too would support illegal strikes.
I do not intend to address the moral and economic considerations involved in the question of the amount that a fair society should pay to its public sector workers. Rather, I shall be interested in the nature of the reasons that we may have to obey laws we disagree with, and the implications that our answer to this question may have for whether we should support illegal strikes of this sort.
Let's suppose, entirely hypothetically and for the sake of argument, that Brexit is a disaster for the UK. Let's suppose that sterling crashes; that foreign travel is punishingly expensive and that, if you can afford to go abroad, you're a laughing stock. Let's suppose that the Treasury's estimates of billions of pounds of losses each year are reasonably accurate; that unemployment rises; that credit ratings plummet. Let's suppose Brexit creates a corrosive tide of racism; that things that should never be said, and can never be unsaid, are shouted at high volume. Let's suppose that there's a torrential brain drain; that UK universities fall down the international league tables; that the innovative treatments prescribed (to private patients only, unfortunately – no money left for the NHS) by the UK's (predominantly white) doctors are all devised in New York, Paris and Rome rather than London and Leeds. Let's suppose that the environment, unprotected by EU legislation, is trashed, and that Scotland leaves the UK.  Let's suppose, too, that nervousness about all this creates an increasingly authoritarian style of government .
If all that happens, it'll be great. At least if you're a consistent utilitarian. The horror of the UK's experience will strengthen the EU and prevent other countries from thinking that they should leave the Union – which would have similarly disastrous results for them and, if the EU itself dissolves, tectonic consequences for the stability of the world. Continue reading →
By Brian D. Earp (@briandavidearp)
* Note: this article was first published online at Quillette magazine.
Introduction
Alice Dreger, the historian of science, sex researcher, activist, and author of a much-discussed book of last year, has recently called attention to the loss of ambivalence as an acceptable attitude in contemporary politics and beyond. "Once upon a time," she writes, "we were allowed to feel ambivalent about people. We were allowed to say, 'I like what they did here, but that bit over there doesn't thrill me so much.' Those days are gone. Today the rule is that if someone—a scientist, a writer, a broadcaster, a politician—does one thing we don't like, they're dead to us."
I'm going to suggest that this development leads to another kind of loss: the loss of our ability to work together, or better, learn from each other, despite intense disagreement over certain issues. Whether it's because our opponent hails from a different political party, or voted differently on a key referendum, or thinks about economics or gun control or immigration or social values—or whatever—in a way we struggle to comprehend, our collective habit of shouting at each other with fingers stuffed in our ears has reached a breaking point.
It's time to bring ambivalence back. Continue reading →
37% of the UK electorate voted to leave the European Community – slightly more than voted to remain. There is evidence that some of them regret their votes. The former editor of the Sun, Kelvin Mackenzie, who voted 'Leave', has spoken publicly about his 'buyer's remorse'.  Others have indicated that they would not vote 'leave' again.
There are calls for a second referendum, generally based on assertions that the 'Leave' campaign made misrepresentations (for instance about how money saved by leaving the EU would be spent), or on the contention that an issue as constitutionally tectonic should not be decided on such a slender majority, or the observation that an overwhelming number of young voters (who will be affected by the decision for the longest) voted to remain. Continue reading →
The Panama Papers comprise a leak of 11.5 million files from Mossack Fonseca, the world's fourth biggest offshore law firm. The leak has tainted the reputations of many celebrities, and some public officials have been forced to resign, including Icelandic Prime Minister Sigmundur Davíð Gunnlaugsoon, and Spanish Industry Minister José Manuel Soria.
Ramón Fonseca, Director of Mossack Fonseca, complained that his firm was the victim of "an international campaign against privacy." At a time where privacy does seem to be under attack on all fronts, it is relevant to ask whether the super rich ought to be able to enjoy financial privacy with respect to their offshore accounts. Continue reading →