Written by Steve Clarke,Wellcome Centre for Ethics and Humanities and Uehiro Centre for Practical Ethics, University of Oxford,
& School of Humanities and Social Sciences, Charles Sturt University
Shamima Begum, who left the UK in 2015 at age 15, to join the Islamic State, has been the subject of consistent media attention since she was discovered in the Al-Hawl refugee camp in Northern Syria, in February this year. Soon after being discovered in the refugee camp Begum was controversially stripped of her UK citizenship by Home Secretary Sajid Javid. Citizenship can be removed by the Home Secretary if doing so is deemed to be 'conducive to the public good'. While it is illegal to render a person stateless, the Home Secretary is entitled to deprive UK citizens of their citizenship if they are also citizens of another country, or if they are eligible for citizenship in another country. Begum may be eligible for citizenship of Bangladesh, given that she has Bangladeshi ancestry, and there is a legal argument that she already is a citizen of Bangladesh.[1]
The Home Secretary's decision has been much discussed in the media. Some commentators have argued that Begum's interests should not be trumped by considerations of the public good. Others have questioned the legality of the decision. Still others have complained about the secretive nature of the decision-making process that led the Home Office to recommend to the Home Secretary that Begum be deprived of her citizenship. Here I will be concerned with a different issue. I will set aside considerations of Begum's interests and I will set aside legal and procedural considerations. I will focus on the question of whether or not it is actually conducive to the public good in the UK to deprive Begum of her citizenship. Like most people, I do not have access to all of the information that the Home Secretary may have been apprised of, regarding Begum's activities while she was living in the Islamic State, which would have informed his decision. So what I will have to say is necessarily speculative.

By Doug McConnell
It looks as if Isreal Folau will lose his job as a professional rugby player for expressing his apparently genuine religious belief that drunks, homosexuals, adulterers, liars, fornicators, thieves, atheists, and idolators are all going to hell. Morgan Begg, a research fellow at the Australian conservative think-tank, the Institute of Public Affairs, has recently argued that this is the result of a "totalitarian" and "authoritarian desire to impose ideological orthodoxy on Australians." I respond that it is, in fact, Begg's ideological position that is more amenable to totalitarianism and authoritarianism. Continue reading →
The idea of using a meat tax to improve human health and protect the environment has been getting a fair amount of attention from prominent scientists in the media. Professor Mike Rayner was quoted last year as saying, "I would like to see a tax on red meat and meat products. We need incentives to cut down on meat and dairy consumption." Marco Springmann told the Guardian, "Current levels of meat consumption are not healthy or sustainable. The costs associated with each of those impacts could approach the trillions in the future. Taxing meat could be a first and important step." And Joseph Poore suggested that taxing meat will likely be necessary to avoid serious environmental problems.
Taxing food products to promote human health is controversial. It has been suggested that introducing taxes to limit particular food consumption behaviors is a troubling shift towards a "nanny state," involves paternalistically imposing "alien values" on people, and interferes with the free market by picking and choosing winners and losers among different products. A decision to impose a dedicated tax specifically targeting meat would need to adequately address all of these concerns. Continue reading →
By Charles Foster
Some odd alliances are being forged in this strange new world,
I well remember, a few years ago, the open hostility shown by dreadlocked, shamanic, eco-warriors towards the Abrahamic monotheisms. They'd spit when they passed a church.
The rhetoric of their distaste was predictable. The very notion of a creed was anathema to a free spirit. 'No one's going to tell me what to think', said one (we'll call him Jack), the marks on his wrists still visible from where he'd been chained to a road-builder's bulldozer. And the content of the creeds, and the promulgators-in-chief, didn't help. 'I'm certainly taking no lessons', Jack went on, 'from some patriarchal sky-god represented by a paedophilic priest.'
But it's changed. Jack still heaves bricks through bank windows (he says), and still copulates inside stone circles, but now he's mightily impressed with Jesus, has a Greek Orthodox icon of the resurrection next to his bong, and pictures of Richard Dawkins and Sam Harris on his dartboard. He's not alone. He's part of a widespread movement that is reclaiming and recruiting the intrinsic radicalism of Judaism, Christianity, and Islam in the fight against Neo-Liberalism and the destruction of the planet. Continue reading →
Written by Roger Crisp
Last month, Helen Small, Merton Professor of English Language and Literature, gave a fascinating and wide-ranging presentation in the New St Cross Special Ethics Seminar Series, on the function of cynicism at the present time. She is currently writing a book on the topic with the support of a Leverhulme Major Research Fellowship. Continue reading →
Written by Stephen Rainey, and Jason Walsh
Rhetoric about free speech as under attack is an enduring point of discussion across the media. It appears on the political agenda, in various degrees of concreteness and abstraction. By some definitions, free speech amounts to an unrestrained liberty to say whatever one pleases. On others, it's carefully framed to exclude types of speech centrally intended to cause harm.
At the same time, more than ever the physical environment is a focus of both public and political attention. Following the BBC's 'Blue Planet Two' documentary series, for instance, a huge impetus gathered around the risk of micro-plastics to our water supply, and, indeed, how plastics in general damage the environment. As with many such issues people have been happy to act. Following, belatedly, Ireland's example, plastic bag use has plummeted in the UK, helped along by the introduction of a tax.
There are always those few who just don't care but, when it comes to our shared natural spaces, we're generally pretty good at reacting. Be it taxing plastic bags, switching to paper straws, or supporting pedestrianisation of polluted areas, there is the chance for open conversations about the spaces we must share. Environmental awareness and anti-pollution attitudes are as close to shared politics as we might get, at least in terms of what's at stake. Can the same be said for the informational environment that we share? Continue reading →
By Jonathan Pugh
The below is a slightly extended version of my two 5min presentations at the European Youth Event 2018, at the European Parliament in Strasbourg. I was asked to present on the following questions:
What are the ethical issues surrounding gene-editing, particularly with respect to eradicating mosquitoes?
Should the EU legislate on gene-editing mosquitoes?

By Charles Foster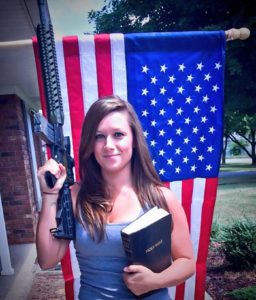 Image: Holly Fisher, a Conservative Christian blogger from West Virginia, posing with gun, Bible, and US flag:  from www.nydailynews.com
There was a near universal consensus that Bishop Michael Curry's sermon at the wedding of Prince Harry and Meghan Markle was magnificent.  'Frock Star', panted the Sun.  The Bishop 'stole the show…and is the 'new Pippa Middleton'' He left for the US, the Sun continued, 'leaving Britain still raving about his electrifying sermon.' The Bishop 'just stole the show', said Vox.com 'Prince Harry and Meghan were all but upstaged by the Episcopal priest's fiery sermon….You might say Curry just made the Anglican communion great again.'
'The Rev Michael Curry', tweeted Ed Miliband, 'could almost make me a believer, ' and Piers Morgan tweeted: 'Wow. Still reeling from Rev Curry. What a moment. What a man!' The BBC commentator Jeremy Vine said that the preacher was 'doing 50 in a 30 zone, and it's brilliant.' Continue reading →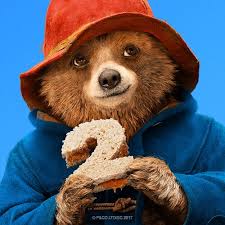 By Charles Foster
Last night, long after everyone else I know, I went with the kids to see Paddington 2. As everyone agrees, it's wonderful. It's a modern morality tale. There is plainly a big appetite for morality.
Interestingly, though, it is a Christian morality tale.1 Paddington's behaviour neutralizes violence. In the face of his goodness, and emolliated by his marmalade sandwiches, the hard men at the prison uncurl their fists and bake strawberry panna cotta with pomegranate glaze instead. His vulnerability is irresistible. He turns selfishness into altruism. 'Nuckles' (sic), (Brendan Gleeson) whose motto has always been that he doesn't do nuffin' for no one for nuffin', jeopardises his own liberty to liberate Paddington – and wins his own perpetual freedom by doing so. There's even a sort of resurrection – in which Paddington, trapped in a watery grave, is released. And as he is released, more of his redemptive power is unleashed too. Continue reading →
Introduction
In a series of five harrowing judgments, the President of the Family Division, Sir James Munby, expressed his frustration with the system that endangered the life of a child who was the subject of care proceedings. He was forthright. Some of his words were quoted in the press. A headline in the Guardian read: 'Judge warns of 'blood on our hands' if suicidal girl is forced out of secure care.' 'Why won't NHS help?' asked the Sun. 'State will have 'blood on its hands' if suicidal teen doesn't get hospital bed soon, top judge warns.'
While the judge's comments seemed generally to be applauded by the media, not all were happy. Here is a typical example of a commentator who was not:
'To use a rhetorical outburst in one case to make broader political points about the state of public services jeopardises the principle of judicial separation. In saying that there are occasions when doing right "includes speaking truth to power", and openly condemning the lack of adequate public resources, is to leave the respected realm of judicial neutrality and to enter the political fray. Language and tone matter. Even if the diagnosis is fair, for a judge to use this tactic is, well, pretty ill-judged.' Continue reading →