by Dominic Wilkinson (@Neonatalethics)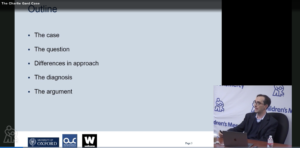 Webinar given recently for the Children's Mercy Centre for bioethics as part of the excellent (and free) Children's Mercy webinar series (great resource for those interested in paediatric bioethics) Continue reading →
by Dominic Wilkinson and Julian Savulescu
Tomorrow, the UK Court of Appeal will review the controversial case of a British infant, Charlie Gard. Charlie's parents are appealing a recent High Court decision that gave doctors permission to withdraw his life support. They have raised money for Charlie to travel to the US for an experimental medical treatment. Continue reading →
By Charles Foster
The Lord Chancellor recently announced that the discount rate under the Damages Act 1996 would be decreased from 2.5% to minus 0.75%. This sounds dull. In fact it is financially tectonic, and raises some important ethical questions.
In the law of tort, damages are intended to put a claimant in the position that she would have been in had the tort not occurred. A claimant who, as result of negligence on the part of a defendant, suffers personal injury, will be entitled to, inter alia, damages representing future loss of earnings, the future cost of care and, often, private medical and other treatment.
Where damages are awarded as a lump sum, there is a risk of over-compensating a claimant. Suppose that the claimant is 10 years old at the time of the award, and will live for 70 years, and the future care costs are £1000 a year for life. Should the sum awarded be £1000 x 70 years = £70,000? (70, here, is what lawyers call the 'multiplier'). It depends on the assumption one makes about what the claimant will do with the lump sum. If she invests it in equities that give her (say) an annual 5% return, £70,000 would over-compensate her.
In the case of Wells v Wells1, the House of Lords decided that, to avoid the risk of under-compensation, claimants should be treated as risk-averse investors. It should be assumed, said the House, that the discount rate should be fixed by reference to the return on index-linked gilts – Government securities. The rate was 2.5% from 2001 until February of this year. The reasons for the change to minus 0.75% are here.  Continue reading →
Dominic Wilkinson, @Neonatalethics
Reports that a 62-year-old Spanish woman has given birth after IVF treatment have led many to question whether there should be age limits with such treatment. Lina Alvarez, a doctor in north-west Spain, isn't the oldest person to have had success with IVF. Earlier this year, in India, Daljinder Kaur is said to have given birth at the age of 72, prompting calls from the Indian Medical Council for a ban on fertility treatment in women over the age of 50.
In many countries where there is funding assistance for IVF there is a limit to obtaining treatment over a certain age. In Britain, for example, the bar is set at age 42. But Alvarez received private treatment. So why care about her age? And what business is it of the rest of us whether she has access to IVF?
There are several arguments that typically surface in debates about age and fertility treatment – and they are all deeply flawed. Continue reading →
Should vegans eat meat to be ethically consistent? And other moral puzzles from the latest issue of the Journal of Practical Ethics
By Brian D. Earp (@briandavidearp)
The latest issue of The Journal of Practical Ethics has just been published online, and it includes several fascinating essays (see the abstracts below). In this blog post, I'd like to draw attention to one of them in particular, because it seemed to me to be especially creative and because it was written by an undergraduate student! The essay – "How Should Vegans Live?" – is by Oxford student Xavier Cohen. I had the pleasure of meeting Xavier several months ago when he presented an earlier draft of his essay at a lively competition in Oxford: he and several others were finalists for the Oxford Uehiro Prize in Practical Ethics, for which I was honored to serve as one of the judges.
In a nutshell, Xavier argues that ethical vegans – that is, vegans who refrain from eating animal products specifically because they wish to reduce harm to animals – may actually be undermining their own aims. This is because, he argues, many vegans are so strict about the lifestyle they adopt (and often advocate) that they end up alienating people who might otherwise be willing to make less-drastic changes to their behavior that would promote animal welfare overall. Moreover, by focusing too narrowly on the issue of directly refraining from consuming animal products, vegans may fail to realize how other actions they take may be indirectly harming animals, perhaps even to a greater degree.
Dominic Wilkinson, University of Oxford
Medical science continues to push at the boundaries of life and death with new drugs and technologies that can extend life or improve health. But these advances come at a cost. And that inevitably raises difficult questions about whether public health systems should pay for such treatments – and, if so, how much. For example, should the NHS fund the new breast cancer drug Kadycla which comes with a £90,000 price tag per patient?
Some countries make these difficult decisions by looking at the cost-effectiveness of new treatments. How much does the new treatment cost and how effective is it compared with existing treatments? Treatments may help patients live longer, or they may improve a patient's quality of life (or both). Kadycla appears to extend life by about six months.
One mathematical way of combining these elements uses the concept of a Quality-Adjusted Life Year saved, or QALY. As an example, a treatment that extends life for one year but at a "quality" level of half normal it said to save 0.5 QALY. When treatments are assessed this way, health systems can then use a threshold to work out a maximum cost that is affordable. The National Institute for Health and Care Excellence (NICE) uses a threshold of £20,000-£30,000 for each Quality-Adjusted Life Year saved (QALY). This would mean (assuming full quality of life), that the NHS would be prepared to pay £10,000-15,000 for a course of Kadycla.
Saving time.
Bank by Shutterstock
I highly recommend Leif Wenar's essay "Poverty Is No Pond" – especially to those not yet familiar with, but interested in, the empirical complexities involved in giving to overseas poverty-fighting charities.  Wenar's main aim in his essay is to criticize Peter Singer's 2009 book The Life You Can Save for (i) being overly optimistic about the quality of information available on the effects of giving to various charities, and (ii) failing to emphasize that every charitable donation also comes with some risk of harming people living in extreme poverty.  I'll only briefly address (i), and then turn to and focus primarily on (ii).
By Dominic Wilkinson (@Neonatal Ethics)
Late last month, a paper in the US journal Obstetrics and Gynecology reported the extra
ordinary case of Abigail Beutler. Abigail is now 14 months old. She was born without kidneys, a condition sometimes called 'Potter's syndrome'. Potter's syndrome is normally universally fatal in the newborn period, because without kidneys the fetus does not produce urine and has little or no fluid around them. Without any fluid around the fetus, their lungs do not develop.
Abigail is the first baby to ever survive with this condition. Doctors infused artificial fluid into the uterus around her (amnioinfusion) on five occasions during the pregnancy. This seemed to allow her lungs to grow. Although she was born 3 months prematurely, she had only minor breathing problems at birth. She has received kidney dialysis since soon after birth, was discharged home after 19 weeks and is now reportedly being considered for a kidney transplant. Continue reading →
by Dominic Wilkinson (@NeonatalEthics)
Lord Falconer's assisted dying bill is being debated today in the House of Lords. In the past week or two there has discussion in the media of many of the familiar arguments for and against such a proposal. As Roger Crisp noted in yesterday's post, there have been relatively few new arguments. Supporters of the bill refer to compassion for the terminally ill, the difficulty of adequately relieving suffering, and patients' right to make fundamental choices about the last stage of their lives. Opponents of the bill express their compassion for the terminally ill and those with disabilities, fear about coercion, and the omnipresent slippery slope.
One concern that has been raised about the assisted dying bill is the fear of abuse in the setting of an overstretched public health system. For example, Penny Pepper, writing in the Guardian notes that "Cuts to social care are monstrous…How would the enactment of the Falconer bill work if brought to our harassed NHS?"