Despite all the jokes there are, in fact, a lot of things that lawyers won't do. Or at least shouldn't do. In many jurisdictions qualified lawyers are subject to strict ethical codes which are self-policed, usually effectively, and policed too by alert and draconian regulatory bodies.
Is there any point, then, in law firms having their own ethics committees which would decide:
(a)        how the firm should deal with ethical questions arising in the course of work?; and/or
(b)       whether the firm should accept particular types of work, particular clients or particular cases? Continue reading →
Just over a week ago, prominent scientists in Nature and Science called for a ban for DNA modification in human embryos. This is because the scientists presume that now it actually would be possible to alter the genome in a human embryo in order to treat genetic diseases. Consequently, this would result in modified DNA in germ cells that would be inherited to future generations. The scientists wish to have a full ethical, legal, and public discussion before any germ-line modifications will be made. Furthermore, issues of safety are of importance.
The scientists' statement is of utmost importance and hopefully this ethical, legal, and public discussion will emerge. However, the discussion on germ-line DNA modification is at danger if the debate will be taken to the level of science fictional superhumans, as already has happen. Not only can such discussion cause unnecessary public worry, it also leads the deliberation away from the actual and urgent questions.
It's a beautiful warm sunny day, and you have decided to take your children to join a group of friends for a barbecue at the local public park. The wine is flowing (orange juice for the kids), you have managed not to burn the sausages (vegetarian or otherwise), and there is even an ice-cream van parked a conveniently short walk away.
An idyllic scenario for many of us, I'm sure you will agree; one might even go so far as to suggest that this is exactly the sort of thing that public parks are there for; they represent a carefree environment in which we can enjoy the sunshine and engage in recreational communal activities with others. Continue reading →
Fixed Odd Betting Terminals (FOBTs) allow punters to bet up to £100 a time in casino games such as roulette. Bookmakers are allowed four terminals in each shop, and there are now around 35,000 of them in the UK. In the latest version of the Diagnostic and Statistical Manual of Mental Disorders (DSM-5) gambling disorder is described in the chapter on substance-disorder and related disorders. It was recently reported that industry-funded research showed that levels of 'problem gambling' among those using these machines ran at around 23%. Continue reading →
The first advert for the sale of a clinical trial place offers, for $2 million, the chance to participate as a patient in a trial investigating the Farmington virus (FARV) and its potential efficacy in treating certain forms of brain tumours. Meanwhile, Alexander Masters has written convincingly about his idea for a clinical trial dating agency: matching wealthy but sick donors with scientists who have an idea for a cure but no money for a trial (shorter version also available). In Masters' idea as in the real life case, the proposal is that the wealthy donor will pay not just for himself or herself, but enough for the trial to go ahead with a full complement of those who could not otherwise afford it, recruited on the same basis as any trial.
Predictably, ethical concerns have been raised, perhaps the main one being equality: "In the UK, the principles in participating in clinical trials include open and equal access for those who chose to participate" (Kate Law, director of clinical and population research at Cancer Research UK, quoted in The Telegraph ).
Reposted from an article in "the Conversation". 
In a world where too many go to bed hungry, it comes as a shock to realise that more than half the world's food production is left to rot, lost in transit, thrown out, or otherwise wasted. This loss is a humanitarian disaster. It's a moral tragedy. It's a blight on the conscience of the world.
It might ultimately be the salvation of the human species.
To understand why, consider that we live in a system that rewards efficiency. Just-in-time production, reduced inventories, providing the required service at just the right time with minimised wasted effort: those are the routes to profit (and hence survival) for today's corporations. This type of lean manufacturing aims to squeeze costs as much as possible, pruning anything extraneous from the process. That's the ideal, anyway; and many companies are furiously chasing after this ideal. Continue reading →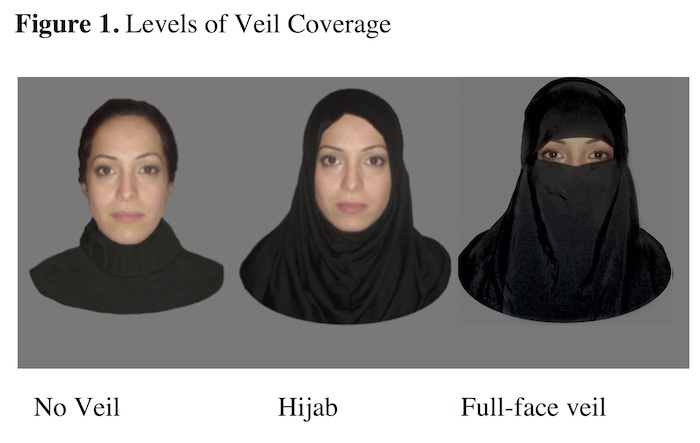 As recent media coverage has documented, Muslim veils are a hot button issue at present.
Research suggests that "a major determinant of who is most vulnerable to anti-Islamic abuse may be the degree to which the individual is visibly identified as Muslim" (King & Ahmad, 2010, p. 886). For Muslim women, one such identifier is a veil. A veil can refer specifically to the hijab or head- scarf, covering just the head but leaving the face exposed, or the full-face veil, which covers the head and face. Hate crime and prejudice directed against Muslims seems to be strongly linked to such visible markers of "difference" (Dreher, 2006), and political discourse has used veils to represent "the problem of Islam" (Watson, 1994)
In recent work published in the Journal of Applied Social Psychology, I explored the way that such prejudice against Muslim women wearing veils may differ as a function of which particular veil is being worn. You can read the paper here for free (it's open access), and so I won't go into too much detail about how study and the psychological literature on prejudice and first impressions. Continue reading →
In a recent (13.8.2014) article in Nature , Sarah S. Richardson and colleagues maintain that careless discussion of epigenetic research on how early life affects health across generations could harm women.
Authors discuss the extensive history of placing the burden of responsibility of a child's health on the lifestyle of the pregnant mother – and the means for controlling women's behavior. Authors describe how, for example, evidence of any fetal harm easily lead to zero-tolerance regulatory frameworks and severe informal and formal consequences (e.g. social condemnation for an occasional sip of alcohol despite the ambiguous evidence that very moderate and occasional drinking should harm the fetus), and how the "lack of emotional warmth" of the "refrigerator mothers " was considered to be the reason to child autism as late as the 1970s. Going even more backwards in the history, various defects were attributed, for example, to the company the mother kept during pregnancy.
On June 30th, the Supreme Court of the United States handed down its decision in Burwell vs. Hobby Lobby. The case required the court to consider whether closely held for-profit companies owned by individuals with sincere religious objections to abortion should receive a special exemption from providing healthcare coverage for contraceptives that may act after fertilisation but before implantation of an egg. Coverage of twenty types of contraceptives – including the four specific types that the owners consider to be abortifacients – is otherwise legally required as part of the employer-sponsored health insurance mandated by the Patient Protection and Affordable Care Act 2010 (ACA). For a more in depth overview of the facts of the Hobby Lobby case and the key questions before the court, see my previous post on this blog. Continue reading →