Alberto Giubilini
Wellcome Centre for Ethics and Humanities and Oxford Martin School, University of Oxford
I am writing this post on the 25th of May, as the Irish abortion referendum is taking place. However, you will probably be reading it once the results are already known. I am not going to write in support of either side of the debate here anyway. I want to write about the appropriateness (from an ethical point of view) of this referendum itself. I want to suggest that a referendum is not the appropriate way to solve the dispute at stake.
Irish people have been asked whether they wanted to repeal the Eight Amendment of the Irish Constitution, which gives foetuses and pregnant women an "equal right to life". It is commonly assumed that the Eight Amendment was preventing the Irish Government from legalizing abortion, except in extreme and very rare circumstances in which abortion is necessary to save the life of a pregnant woman. If the majority of Irish people votes "yes", abortion can become legal in the country. If the majority votes "no", abortion will remain a crime in the country, with the exception of a few extreme and very rare circumstances. More specifically, voting "no" means voting in favour of the idea that in Ireland a foetus does have a right to life equal to the right to life of the woman. Voting "yes" means voting in favour of the idea that in Ireland the foetus does not have a right to life comparable to the right to life of a woman; in other words, that it can be considered merely as part of the woman's body for the purpose of attributing it a right to life (though not necessarily for other purposes), and therefore something that a woman can permissibly decide not to keep alive as a matter of bodily autonomy or, in many cases, and depending on what definition of "health" we adopt, as a matter of basic healthcare.
By Lauren Notini and Brian D. Earp
*Note: a condensed version of this article titled "Iceland's Proposed Circumcision Ban" is being cross-published at Pursuit.
For a small country, Iceland has had a big impact on global media coverage recently, following its proposed ban on male circumcision before an age of consent.
Iceland's proposed legislation seeks to criminalise circumcision on male minors that is unnecessary "for health reasons," stating individuals who remove "part or all of the sexual organs shall be imprisoned for up to 6 years."
The bill claims circumcision violates children's rights to "express their views on the issues [concerning them]" and "protection against traditions that are harmful."
According to bill spokesperson Silja Dögg Gunnarsdóttir, a key reason for the bill is that all forms of female genital cutting (FGC), no matter how minor, have been illegal in Iceland since 2005, but no similar legislation exists for males.
"If we have laws banning circumcision for girls," she said in an interview, then for consistency "we should do so for boys." Consequently, the bill is not specific to male circumcision, but adapts the existing law banning FGC, changing "girls" to "children."
There is much to unpack here. We first discuss self-determination and informed consent, before addressing claims about potential health benefits and harms. We then explore the religious significance of circumcision for some groups, and ask what implications this should have.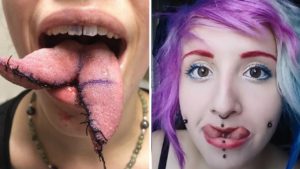 By Charles Foster
Image: 'Split tongue: procedure, safety, result': Tattoo World: Standard YouTube licence.
The appellant in R v BM was a tattooist and body piercer who also engaged in 'body modification'. He was charged with three offences of wounding with intent to do grievous bodily harm. These entailed: (a) Removal of an ear; (b) Removal of a nipple; and (c) division of a tongue so that it looked reptilian. In each case the customer had consented. There was, said the appellant, no offence because of this consent.
Where an adult decides to do something that is not prohibited by the law, the law will generally not interfere.
In Schloendorff v Society of New York Hospital (1914) 105 NE 92 Cardozo J said:
"Every human being of adult years and sound mind has a right to determine what shall be done with his own body."[1]
This principle has been fairly consistently recognised in the English law.[2] Thus, for instance, In In re T (Adult: Refusal of Treatment, Butler-Sloss LJ cited with approval this section of the judgment of Robins JA in Malette v Shulman[3]:
'The right to determine what shall be done with one's own body is a fundamental right in our society. The concepts inherent in this right are the bedrock upon which the principles of self-determination and individual autonomy are based. Free individual choice in matters affecting this right should, in my opinion, be accorded very high priority.' Continue reading →
Introduction
In a series of five harrowing judgments, the President of the Family Division, Sir James Munby, expressed his frustration with the system that endangered the life of a child who was the subject of care proceedings. He was forthright. Some of his words were quoted in the press. A headline in the Guardian read: 'Judge warns of 'blood on our hands' if suicidal girl is forced out of secure care.' 'Why won't NHS help?' asked the Sun. 'State will have 'blood on its hands' if suicidal teen doesn't get hospital bed soon, top judge warns.'
While the judge's comments seemed generally to be applauded by the media, not all were happy. Here is a typical example of a commentator who was not:
'To use a rhetorical outburst in one case to make broader political points about the state of public services jeopardises the principle of judicial separation. In saying that there are occasions when doing right "includes speaking truth to power", and openly condemning the lack of adequate public resources, is to leave the respected realm of judicial neutrality and to enter the political fray. Language and tone matter. Even if the diagnosis is fair, for a judge to use this tactic is, well, pretty ill-judged.' Continue reading →
The issue of the legality in England and Wales of physician-assisted suicide has recently been revisited by the Divisional Court. Judgment is awaited. The judgment of the Court of Appeal, granting permission for judicial review, is here.
The basic issue before the Court of Appeal was the same as that in Nicklinson v Ministry of Justice and R (Purdy) v DPP: does the right to determine how one lives one's private life (protected by Article 8 of the European Convention on Human Rights)  confer a right to have an assisted death?
Many factors have been said to be relevant to decisions about assisted dying. They include intractable pain (rather a weak criterion, given modern palliative methods), hopeless prognosis – likely to result in death in a short time –  and simple autonomy ('It's my right to determine where, when, and in what circumstances I end my life, and that's an end of the matter'). One factor, commonly in the minds of patients asking for help in ending their lives, but rarely mentioned by advocates of assisted dying, is that the patient feels that she is a burden to her family and carers. Continue reading →
Baby C's parents had done their research. They had read widely about different options for C and had clear views about what they felt would be best for their child. They had asked a number of doctors in this country, but none were willing to provide the treatment. After contacting some specialists overseas, they had found one expert who agreed. If the family were able to pay for treatment, he was willing to provide that treatment option.
However, when C's local doctors discovered that the parents planned to leave the country for treatment the doctors embarked on court proceedings and contacted the police.
One of the questions highlighted in the Charlie Gard case has been whether his parents should be free to travel overseas for desired experimental treatment. It has been claimed that the NHS and Great Ormond St are "keeping him captive". Why shouldn't C's parents be free to travel to access a medical treatment option? When, if ever, should a state intervene to prevent medical tourism? Continue reading →
by Dominic Wilkinson and Julian Savulescu
The case of Charlie Gard has reached its sad conclusion. However, it continues to attract intense public attention. It raises a number of challenging and important ethical questions.
The role of Practical Ethics in cases like this is to help clarify the key concepts, identify central ethical questions, separate them from questions of scientific fact and subject arguments to critical scrutiny. We have disagreed about the right course of action for Charlie Gard, but agree on the role of ethical analysis and the importance of robust and informed debate. Ethics is not about personal opinion – but about argument, reasons, and rational reflection.
We have collected together below some of the materials on the Charlie Gard case that we and others have written as well as some relevant resources from our earlier work. We will update this page as more material becomes available. (*Updated 10/11/17) Continue reading →
Nearly everyone would agree that a device or drug that relieves pain, or alleviates symptoms of depression confers a benefit – plausibly, a substantial benefit – on its user. No matter what your goals are, no matter what you enjoy, you are likely to agree that your life will go better if you are not in pain and not depressed: whether you're a painter, a footballer, a Sudoku-enthusiast or a musician, you will be better able to pursue your projects and engage in the activities you love. It is unlikely that you will even question whether pain relief or alleviation of depression indeed constitute benefits.
This general consensus with respect to medical benefits makes it relatively straightforward for regulators to conduct risk-benefit assessments of medical products when they decide whether a particular product can be put on the market. A very small risk of a mild rash or gastrointestinal upset, for example, will be considered reasonable in the context of effective pain relief, as long as patients or consumers are informed. Even as the risks get more significant, substantial pain relief will be considered a large enough benefit to out-weigh a range of negative side effects in many cases.
So far, so straightforward. Continue reading →
Joshua Shepherd
Misbehaving corporations are in the news again. In the New York Times, Jack Ewing and Graham Bowley provide an interesting look into the 'corporate culture' behind Volkswagen's emissions-cheating scandal. As Ewing and Bowley note, Volkswagen has blamed "a small group of engineers." But as their reporting suggests, any anatomy of blame in the Volkswagen case should consider a wide range of social influences – for example, Volkswagen's institutionalized commitment to aggression, and more local factors such as fear of those in positions of power on engineering teams.
But who is really at fault? It is natural to think that some individuals are responsible, at least in part. Are any individuals responsible in whole? Or is it possible that the corporation – Volkswagen itself – bears some of the responsibility? This kind of idea is something a number of philosophers have recently suggested. These philosophers argue that above the level of individual agency, there is such a thing as group agency. Groups (like Volkswagen) can be constituted by individuals (and also by historical and socio-structural features). Groups can intend to act – even when no member of the group has a similar intention – and act intentionally. Two philosophers (Björnsson and Hess forthcoming) have even argued that corporations are full moral agents, capable of expressing emotions like guilt, and open to the same kinds of blaming and praising attitudes we typically direct at individuals.
I'm not sure whether that is right. Corporations may be less like full moral agents, and more like extremely dangerous psychopaths – capable of manipulating their own responses to achieve the ends they truly value (i.e., maintaining profit margins). Or, corporations may be capable of a kind of agency, but one very unlike our own – one that is masked by thinking of them by analogy with human agents. It is unclear whether all the features associated with human agency are appropriately applied to the issue of corporate agency.
Written by Anke Snoek
Macquarie University
In the UK around 500 soldiers each year get fired because they fail drug-testing. The substances they use are mainly recreational drugs like cannabis, XTC, and cocaine. Some call this a waste of resources, since new soldiers have to be recruited and trained, and call for a revision of the zero tolerance policy on substance use in the army.
This policy stems from the Vietnam war. During the First and Second World War, it was almost considered cruel to deny soldiers alcohol. The use of alcohol was seen as a necessary coping mechanism for soldiers facing the horrors of the battlefield. The public opinion on substance use by soldiers changed radically during the Vietnam War. Influenced by the anti-war movement, the newspapers then were dominated by stories of how stoned soldiers fired at their own people, and how the Vietnamese sold opioids to the soldiers to make them less capable of doing their jobs. Although Robins (1974) provided evidence that the soldiers used the opioids in a relatively safe way, and that they were enhancing rather than impairing the soldiers' capacities, the public opinion on unregulated drug use in the army was irrevocably changed. Continue reading →