Guest Post: Charles Camosy, Associate Professor of Christian Ethics at Fordham University, New York City
E-mail: ccamosy@gmail.com Twitter: @nohiddenmagenta
The discipline of theological bioethics is in trouble.
Especially as theology continues to morph into religious studies in many university departments, "social ethics" now swallows everything in its path—with almost all questions of ethics becoming questions exclusively about history, sociology and/or economics. Furthermore, especially in the Roman Catholic world, academic and ecclesial politics push against academics working on issues like abortion, euthanasia, health care distribution, and artificial reproductive technologies. After all, regardless of the position one takes on these issues, it is bound to run afoul of one of two orthodoxies: that of the Church or that the secular academy. Especially if not yet established in one's academic career, it can be dangerous to be branded a heretic by one of these power brokers. Unsurprisingly, good universities are struggling even to find marginally viable candidates for excellent bioethics jobs. Most theological ethicists have decided not to write on bioethics.
But there is another reason that theological bioethics is in trouble. Today's centers of power in academic and clinical bioethics (at least in the developed West) generally don't take theology seriously. I recently attended the annual meeting of the American Society of Bioethics and Humanities and was dismayed—though, I must say, not surprised—to see that a grand total of zero papers had an explicitly theological argument. Those of us who do theological bioethics know that, in order to get a paper accepted by today's ASBH, one is forced to hide or translate one's theological commitments. The reason I was able to present this year was because I was invited by the Christian theology interest group—the one place at ASBH (during the evening, apart from the formal sessions) where theologians can actually present and discuss theology.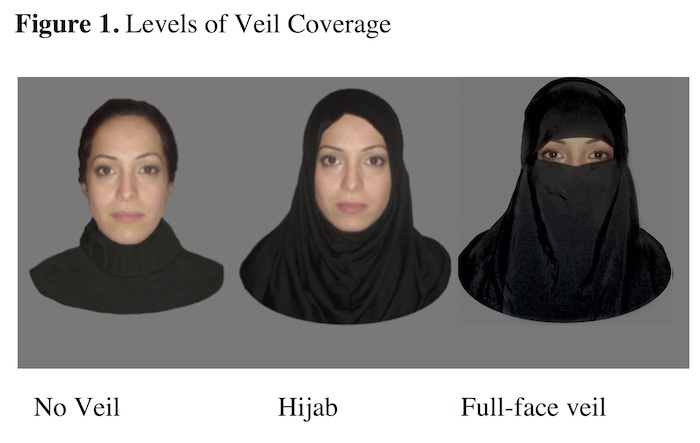 As recent media coverage has documented, Muslim veils are a hot button issue at present.
Research suggests that "a major determinant of who is most vulnerable to anti-Islamic abuse may be the degree to which the individual is visibly identified as Muslim" (King & Ahmad, 2010, p. 886). For Muslim women, one such identifier is a veil. A veil can refer specifically to the hijab or head- scarf, covering just the head but leaving the face exposed, or the full-face veil, which covers the head and face. Hate crime and prejudice directed against Muslims seems to be strongly linked to such visible markers of "difference" (Dreher, 2006), and political discourse has used veils to represent "the problem of Islam" (Watson, 1994)
In recent work published in the Journal of Applied Social Psychology, I explored the way that such prejudice against Muslim women wearing veils may differ as a function of which particular veil is being worn. You can read the paper here for free (it's open access), and so I won't go into too much detail about how study and the psychological literature on prejudice and first impressions. Continue reading →
Cryonics – the practice of freezing people directly after death in the hope that future medicine can resuscitate them – is controversial. However, British Columbia is the only jurisdiction with an explicit anti-cryonics law (banning advertising or sale of cryonics services), and a legal challenge is apparently being put together. The motivations for the law appear murky, but to some this is a rights issue. As Zoltan Istvan notes, "In a world where over 90 percent of the people hold religious views of the afterlife, cryonics could become a noteworthy global civil rights issue. " Maybe the true deep problem for getting cryonics accepted is that it is a non-religious afterlife, and we tend to give undue privilege to religious strange views rather than secular strange views.
On June 30th, the Supreme Court of the United States handed down its decision in Burwell vs. Hobby Lobby. The case required the court to consider whether closely held for-profit companies owned by individuals with sincere religious objections to abortion should receive a special exemption from providing healthcare coverage for contraceptives that may act after fertilisation but before implantation of an egg. Coverage of twenty types of contraceptives – including the four specific types that the owners consider to be abortifacients – is otherwise legally required as part of the employer-sponsored health insurance mandated by the Patient Protection and Affordable Care Act 2010 (ACA). For a more in depth overview of the facts of the Hobby Lobby case and the key questions before the court, see my previous post on this blog. Continue reading →
Within the next month, the United States Supreme Court will decide whether for-profit corporations shall receive an exemption from providing certain types of contraceptives that are otherwise mandated for healthcare coverage by federal law to employees on the basis of the religious objections of the corporations' owners.  The two cases considered in tandem by the Supreme Court, Sebelius v Hobby Lobby Stores, Inc., and Conestoga Wood Specialties Corporation v Sebelius (Hobby Lobby from here on out), feature a Christian-owned arts and crafts chain and a Mennonite Christian-owned furniture manufacturer, the owners of which object to four specific forms of birth control that they claim cause abortions.
In making their argument for an exemption, the claimants rely mainly on the Religious Freedom Restoration Act (RFRA) passed by Congress in 1993. The RFRA states, "Government shall not substantially burden a person's exercise of religion…" unless "that application of the burden to the person – 1) is furtherance of a compelling governmental interest; and 2) is the least restrictive means of furthering that compelling governmental interest." This sets up three tests for judging the permissibility of a government act: the substantial burden test, the compelling interest test, and the least restrictive means test. For the claimants in Hobby Lobby to be successful under the RFRA, the Supreme Court would need to decide first that the government's 'contraception mandate' is indeed a 'substantial burden' and second that the provision of contraception is both a compelling government interest and that employer based health insurance is the least restrictive method for securing that interest.
Scholars and journalists have taken various approaches in responding to the range of questions related to these three tests. However, I argue here that Hobby Lobby's exemption claim can be denied without diving into this spectrum by showing that it fails to meet the first test: the government does not place a substantial burden on the exercise of religion by Hobby Lobby and Conestoga Wood in its 'contraception mandate.' Continue reading →
Follow Brian on Twitter by clicking here.
Things I've learned (so far) about how to do practical ethics
I had the opportunity, a few months back, to look through some old poems I'd written in high school. Some, I thought, were pretty good. Others I remembered thinking were good when I wrote them, but now they seem embarrassingly bad: pseudo-profound, full of clichés, marked by empty rhetoric instead of meaningful content. I've had a similar experience today with my collection of articles here at the Practical Ethics blog. And Oh, the things I have learned!
Here are just a few of the lessons that have altered my thinking, or otherwise informed my views about "doing" practical ethics — particularly in a public-engagement context — since my very first blog post appeared in 2011:
It has become commonplace in recent years to note that the 'abortion debate' in America has become entrenched. Indeed, there seem to be few issues in contemporary politics that elicit less common ground than the abortion debate finds in its stalwartly pro-choice and pro-life opponents. It is just as common, if not more so, these days to speak of the 'attack on Roe v. Wade' or 'the attack on women's rights,' particularly in light of recent findings that more abortion restrictions were enacted between 2011 and 2013 in the U.S. than in the entire previous decade. Now more than ever, especially for the pro-choice movement, it is necessary to conceptualize novel approaches to the questions of the beginning, end, and quality of life that sit at the heart of the abortion debate. Here I examine a recent case and how it has the potential to advance this debate. Continue reading →
In a particularly eye-catching pull quote in the November issue of The Atlantic, journalist and scholar Robert Wright claims, "The world's gravest conflicts are not over ethical principles or disputed values but over disputed facts."[1]
The essay, called "Why We Fight – And Can We Stop?" in the print version and "Why Can't We All Just Get Along? The Uncertain Biological Basis of Morality" in the online version, reviews new research by psychologists Joshua Greene and Paul Bloom on the biological foundations of our moral impulses. Focusing mainly on Greene's newest book, Moral Tribes: Emotion, Reason, and the Gap Between Us and Them, Wright details Greene's proposed solution to the rampant group conflict we see both domestically and internationally. Suggesting that we are evolutionarily wired to cooperate or 'get along' with members of groups to which we belong, Greene identifies the key cause of fighting as different groups' "incompatible visions of what a moral society should be."[2] And his answer is to strive for a 'metamorality' – a universally shared moral perspective (he suggests utilitarianism) that would create a global in-group thus facilitating cooperation.
Some weeks ago I attended a lecture by Daniel Dennett at the Oxford Union on religion. As expected, it was a lively presentation that predicted the demise of religion. However, one matter that started me thinking was how Dennett concluded his lecture: he ended by pondering what we might do with all the redundant places of worship once his prophecy was fulfilled. His suggestion was that they might satisfy a secular purpose, as places where the community might come together to address the novel challenges of the modern world. I started me thinking as I wondered whether a belief in religion might be better than atheism for attaining this, or any other, goal. Some, such as Jonathan Haidt (The Righteous Mind (2012)) have suggested that religion is a particularly effective force for bringing people together. Continue reading →
Dale and Leilani Neumann are Pentecostal Christians. Their 11 year old daughter, Kara, fell ill. In fact she had (undiagnosed) diabetes. Her parents refused to obtain medical help. Instead they prayed.
'Kara's father testified that death was never on their minds.  He testified that he knew Kara was sick but was "never to the alarm of death," and even after she died, her father thought that Jesus would bring Kara back from the dead, as he did with Lazarus.
The parents and friends testified that the parents took tangible steps to help Kara.  The mother tried to feed Kara soup and water with a syringe, but the liquid just dribbled out of Kara's mouth.  The father tried to sit Kara up, but she was unable to hold herself up.  At some point, Kara involuntarily urinated on herself while lying unresponsive on the couch, so they carried her upstairs and gave her a quick sponge bath while she lay on the bathroom floor.
At one point, Kara's maternal grandfather suggested by telephone that they give Kara Pedialyte, a nutritional supplement, in order to maintain the nutrients in her body.  The mother responded that giving Kara Pedialyte would be taking away the glory from God.  Kara's mother had told another visiting friend that she believed that Kara was under "spiritual attack."
Friends Althea and Randall Wormgoor testified that they arrived at the Neumanns' home on Sunday at approximately 1:30 p.m.  The Wormgoors saw that Kara was extremely ill and nonresponsive.  Her eyes were partially open but they believed she needed immediate medical attention.  Randall Wormgoor pulled Kara's father aside and told him that if it was his daughter, he would take her to the hospital.  The father responded that the idea had crossed his mind, and he had suggested it to his wife, but she believed Kara's illness was a test of faith for their family and that the Lord would heal Kara….' [1]
But the Lord did not. Or at least not physically. Kara died from diabetic ketoacidosis. The evidence was that, with conventional medical care, she would have lived. Continue reading →