by Dominic Wilkinson @Neonatalethics
In California, in the last week, there have been further motions in a long running lawsuit relating to a brain-dead child. Oakland teenager Jahi McMath died after a tonsillectomy in December 2013. However, her parents rejected the medical diagnosis of brain death, and despite a Californian court providing judicial backing for doctors' determination, organized for her to have a tracheostomy and be transferred to another medical facility. More than 18 months later it appears that Jahi's heart is still beating and she is still connected to a breathing machine somewhere in New Jersey. Continue reading →
Written by Professor Tony Coady
University of Melbourne
In a previous Uehiro blog[1] I offered a number of fairly radical criticisms of church disciplinary practices, and of several prevailing "official" teachings of the Church, such as on artificial contraception, abortion and much else in the area of sexual and reproductive ethics. Subsequently, several people put the question to me: "Given your critical views of so much official church teaching, how can you still call yourself a Catholic?"   Continue reading →
The latest issue of the Journal of Medical Ethics is out, and in it, Professor Nigel Biggar—an Oxford theologian—argues that "religion" should have a place in secular medicine (click here for a link to the article).
Some people will feel a shiver go down their spines—and not only the non-religious. After all, different religions require different things, and sometimes they come to opposite conclusions. So whose religion, exactly, does Professor Biggar have in mind, and what kind of "place" is he trying to make a case for?
A Dutch university (Wageningen University) prohibited a PhD student from thanking God in his thesis acknowledgments. The student, Jerke de Vries, wrote, "My Father God, thank You, it's the most wonderful thing to be loved and honoured by You." The university refused to grant him his thesis unless he deleted this reference to God. The university argues that science should be independent from politics or religion (political statements are also banned). The student refused to delete God from his acknowledgments and instead tore the whole page of acknowledgments out altogether.
Is the university right to state that science should be independent from politics and religion, or is this a case of discrimination against religious persons? The university has refused to clarify their decision. Continue reading →
Pope Francis has made a couple of statements in response to the recent Charlie Hebdo killings that seem hard to reconcile. On January 13th he spoke in Sri Lanka and informed the world that religion must never be used to justify violence. Today he spoke en route to the  Philippines and is reported as saying that making fun of religion was unacceptable and that anyone who does so can expect 'a punch in the nose'. The punch in the nose comment is of course, in effect, an appeal to religion to justify violence. The underlying assumption here is that religion is deserving of respect and that at least some (low-level) violent responses are justified in response to displays of disrespect towards religion.
Tomorrow it is C.S. Lewis's birthday. He'd have been 116. He died 51 years ago, his death pushed out of the headlines by the deaths of JFK and Aldous Huxley. He's had far more influence than either.
He's remembered mainly as a children's writer (the most dogmatic atheists, terrified or disgusted by the roar of Aslan, nonetheless bring their children to stroke the lion's mane), and as a Christian apologist. He, irony upon irony, a beer-quaffing, chain-smoking, divorcee-marrying intellectual, living and breathing high pagan culture along with his pipe-smoke, is the darling of American evangelicals. And that's why he's neglected by serious philosophers.1 It's understandable. We tend to judge people by the company they keep. But in the case of Lewis it's unfair. Evangelicals might queue up at his door, but he'd never let them in.  Apart from their membership of the species, he'd have loathed everything about them; their chauvinism, their ludicrous literalism, their self-righteousness, their belligerence, their metaphor-phobia, their elastic-waisted trousers, their historical blindness, their pant-soiling fear of scholarship, their teetotalism, their humourlessness. He had a fastidious nose for inconsistency: imagine how that nose would have twitched when it sniffed a Louisianan zealot who was keen on topping adults but outraged by abortion. In a different context (he was lambasting liberal intellectuals who say that that they can read nuances between the lines, but fail to see the huge themes rampaging through the  Christian story) he denounced those who 'claim to see fern-seed and can't see an elephant ten yards away in broad daylight.')2 He'd have similarly scourged those who have the KJV with their MSG for breakfast, and yet scream for judicial execution in the name of a man who was himself judicially executed, and who, in the name of a man who urged the turning of a cheek and the loving of enemies, say that every (white) citizen should have a gun and that every inconveniently non-compliant nation should have its ass whipped reeeeeeeel good. Continue reading →
Guest Post: Charles Camosy, Associate Professor of Christian Ethics at Fordham University, New York City
E-mail: ccamosy@gmail.com Twitter: @nohiddenmagenta
The discipline of theological bioethics is in trouble.
Especially as theology continues to morph into religious studies in many university departments, "social ethics" now swallows everything in its path—with almost all questions of ethics becoming questions exclusively about history, sociology and/or economics. Furthermore, especially in the Roman Catholic world, academic and ecclesial politics push against academics working on issues like abortion, euthanasia, health care distribution, and artificial reproductive technologies. After all, regardless of the position one takes on these issues, it is bound to run afoul of one of two orthodoxies: that of the Church or that the secular academy. Especially if not yet established in one's academic career, it can be dangerous to be branded a heretic by one of these power brokers. Unsurprisingly, good universities are struggling even to find marginally viable candidates for excellent bioethics jobs. Most theological ethicists have decided not to write on bioethics.
But there is another reason that theological bioethics is in trouble. Today's centers of power in academic and clinical bioethics (at least in the developed West) generally don't take theology seriously. I recently attended the annual meeting of the American Society of Bioethics and Humanities and was dismayed—though, I must say, not surprised—to see that a grand total of zero papers had an explicitly theological argument. Those of us who do theological bioethics know that, in order to get a paper accepted by today's ASBH, one is forced to hide or translate one's theological commitments. The reason I was able to present this year was because I was invited by the Christian theology interest group—the one place at ASBH (during the evening, apart from the formal sessions) where theologians can actually present and discuss theology.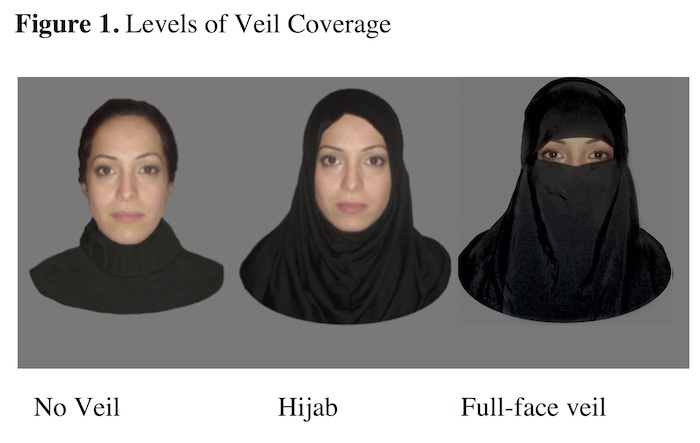 As recent media coverage has documented, Muslim veils are a hot button issue at present.
Research suggests that "a major determinant of who is most vulnerable to anti-Islamic abuse may be the degree to which the individual is visibly identified as Muslim" (King & Ahmad, 2010, p. 886). For Muslim women, one such identifier is a veil. A veil can refer specifically to the hijab or head- scarf, covering just the head but leaving the face exposed, or the full-face veil, which covers the head and face. Hate crime and prejudice directed against Muslims seems to be strongly linked to such visible markers of "difference" (Dreher, 2006), and political discourse has used veils to represent "the problem of Islam" (Watson, 1994)
In recent work published in the Journal of Applied Social Psychology, I explored the way that such prejudice against Muslim women wearing veils may differ as a function of which particular veil is being worn. You can read the paper here for free (it's open access), and so I won't go into too much detail about how study and the psychological literature on prejudice and first impressions. Continue reading →
Cryonics – the practice of freezing people directly after death in the hope that future medicine can resuscitate them – is controversial. However, British Columbia is the only jurisdiction with an explicit anti-cryonics law (banning advertising or sale of cryonics services), and a legal challenge is apparently being put together. The motivations for the law appear murky, but to some this is a rights issue. As Zoltan Istvan notes, "In a world where over 90 percent of the people hold religious views of the afterlife, cryonics could become a noteworthy global civil rights issue. " Maybe the true deep problem for getting cryonics accepted is that it is a non-religious afterlife, and we tend to give undue privilege to religious strange views rather than secular strange views.
On June 30th, the Supreme Court of the United States handed down its decision in Burwell vs. Hobby Lobby. The case required the court to consider whether closely held for-profit companies owned by individuals with sincere religious objections to abortion should receive a special exemption from providing healthcare coverage for contraceptives that may act after fertilisation but before implantation of an egg. Coverage of twenty types of contraceptives – including the four specific types that the owners consider to be abortifacients – is otherwise legally required as part of the employer-sponsored health insurance mandated by the Patient Protection and Affordable Care Act 2010 (ACA). For a more in depth overview of the facts of the Hobby Lobby case and the key questions before the court, see my previous post on this blog. Continue reading →