Is it okay to eat one hamburger per year? Is it acceptable to eat a hamburger made from a  'happy cow'? The production of crops may result in more animals killed than the production of meat from grass-fed cattle and sheep – does this mean we should eat more meat and less crops? Should we eat insects? Should we try to reduce the suffering of wild animals? In this interview with Katrien Devolder, Professor Peter Singer (Princeton, Melbourne) provides an answer to these, and other questions related to vegetarianism and animal welfare, and offers some practical advice for those who care about animal suffering but can't resist eating meat…

Alberto Giubilini, University of Oxford
The use of antibiotics in meat production is a major contributor to one of the biggest threats facing human health in the 21st century: antibiotic resistance. Finding a solution to this requires us to start taking responsibility for our actions. While one person eating meat has an imperceptible effect on antibiotic resistance, multiply that by millions of people around the world and you have a global crisis. Continue reading →
Should we increase the cognitive capacities of fish if we can? If we enhanced a chimpanzee so that it had the same cognitive capacities as us, would it have exactly the same moral status as us? Is it morally preferable to kill a mouse or to destroy a robot? Could there be beings with a higher moral status than us? These are some of the questions Professor Shelly Kagan (Yale) answers in this interview with Katrien Devolder (Oxford) (Professor Kagan delivered the 2016 Uehiro Lectures on animal ethics at the University of Oxford. The Audio files of these lectures can be downloaded at http://www.practicalethics.ox.ac.uk/l….)
Written by Charles Foster, Research Associate, University of Oxford
This article was originally published in The Conversation
I have lived as a badger in a hole in a Welsh wood, as an otter in the rivers of Exmoor, an urban fox rummaging through the dustbins of London's East End, a red deer in the West Highlands of Scotland and on Exmoor, and, most hubristically, a swift, oscillating between Oxford and West Africa. For this I was recently awarded an Ig Nobel Prize for "achievements that make people laugh, and then think". Why I did this is not an unreasonable question. There are many answers. One is that I wanted to perceive landscapes more accurately. Continue reading →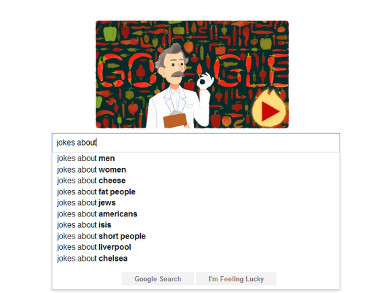 This essay received an Honourable Mention in the Undergraduate Category of the Oxford Uehiro Prize of Practical Ethics
Written by New College Oxford student Raphael Hogarth
Three moral agents walk into a bar. They get to joking and, with each round, their banter becomes more risqué. After the second pint, Agent A ventures a humourless and offensive joke about Jews and big noses: Agents B and C scowl and move on. After the third pint, Agent A has another crack with a joke about the holocaust – a more insensitive joke, but also apparently one with more potential to amuse. Agent B can't help but giggle; Agent C is incandescent with outrage. Agents A and B retort in chorus: "But it's funny!"[1] Continue reading →
This essay is a joint winner in the Undergraduate Category of the Oxford Uehiro Prize in Practical Ethics
Written by University of Oxford student, Thomas Sittler
"How should vegetarians actually live? A reply to Xavier Cohen."
Ethical vegetarians abstain from eating animal flesh because they care about the harm done to farmed animals. More precisely, they believe that farmed animals have lives so bad they are not worth living, so that it is better for them not to come into existence. Vegetarians reduce the demand for meat, so that farmers will breed fewer animals, preventing the existence of additional animals. If ethical vegetarians believed animals have lives that are unpleasant but still better than non-existence, they would focus on reducing harm to these animals without reducing their numbers, for instance by supporting humane slaughter or buying meat from free-range cows.
I will argue that if vegetarians were to apply this principle consistently, wild animal suffering would dominate their concerns, and may lead them to be stringent anti-environmentalists. Continue reading →
Written by Professor Neil Levy
The recent discovery of what is claimed to be a distinct species of the genus Homo, our genus, raises to three the number of species that may have co-existed with Homo Sapiens. Homo naledi is yet to be dated, but it may be only tens of thousands of years old; if so, it coexisted with modern humans. Homo floresiensis, the so-called 'hobbit', seems to have been extant well after sapiens evolved, and there is strong evidence that the Neanderthals coexisted with, probably interbred with, and may have been killed by, our ancestors.
If any of these species had survived into contemporary times, we would be faced with an ethical question which is novel: negotiating our stance toward a species that is not quite human, but too close to be regarded as simply animal (using that word in its common meaning, to refer to non-human animals). More specifically, we would face the problem of how to respond to another deeply cultural being. Naledi seems to have had a culture – so the researchers conclude from the placement of the bones, which they think indicates burial. Perhaps it was language using (floresiensis seems a very good candidate for language using). Yet they might not have been intellectual equals of modern humans (perhaps they were – genetic difference certainly doesn't entail inferiority – but for the purposes of this post I will assume they weren't). If they were our contemporaries, would we be obliged to allow them to vote? To have affirmative action for them in universities and in jobs (assuming that some of them, perhaps rare geniuses, could function at a high enough level to take advantage of these opportunities)? Should we treat them as permanent children, appointing guardians for them?
Some philosophers would say that the answer to these questions is quite easy: we should give them equal consideration. Equality of consideration is the kind of equality which philosophers like Peter Singer argue should be extended to chickens and chimps, just as much as human beings. Treating chickens equally in that sense doesn't entail affirmative action or voting rights for chickens, because chickens don't have an interest in either. It just requires taking their interests equally into account.
While there are strong reasons for thinking we ought to extend equality of consideration to homo naledi, floresiensis and Neanderthals, that doesn't tell us the answer to the concrete questions. Insofar as they are self-aware, these people (let's call them that) have an interest in self-government, and therefore in voting. But (let's assume) they have a limited capacity to understand the issues on which we vote. As self-aware beings, they might be harmed by being treated as inferior. But there may be good grounds for thinking that they are inferior.
We might offer them limited rights: rights to vote in elections for people who have the special role of looking after their interests. That would entail that they are not as self-governed as we are, since they would be living in a broader society (or in a world, at any rate) in which decisions are taken over which they have less say than we do.
I don't think there are good answers to these questions. That is, while I am sure there are better and worse answers, I think this would be a true moral dilemma: the best possible response would have big moral costs. There seems to be no way to act that would involve some harms to a properly cultural being that couldn't be fully autonomous: harms that would arise from its awareness that it was less autonomous and less able to govern its own life than others.
Julian Baggini sees in the discovery of naledi good news for humanity; it shows that in some sense we are not alone. Perhaps, but had they survived, we would face a tragic dilemma. To that extent, we are lucky that they didn't. Genetic diversity among modern human beings is tiny, with genetic differences between groups swamped by those within them. That ensures that the questions we face about how to treat members of other groups are in one central way easier: they are in every important respect our equals. Our ethics would struggle to settle how to treat a deeply cultural group distinct from us which is in some respects not our equals.
Catia Faria, Pompeu Fabra University
Follow Catia on Twitter here
 Throughout history, countless species have come into existence only to later become extinct. Whether extinction is caused by natural processes or human agency, environmental scientists and the general public seem to agree that extinction is a bad thing and that, therefore, conservation efforts should be made to counteract, and perhaps revert, the losses. Resources are often devoted to the reintroduction of endangered species into ecosystems in which they have long been absent. In other cases, states implement measures to protect autochthonous species (that is, species which are native to a certain natural environment, as opposed to introduced as a result of human activity) which are threatened by the presence of a foreign species by eradicating the members of the latter. There are entire organisations dedicated simply to the aim of preventing the extinction of species whose continued existence is at risk.  However, these practices rely on rather controversial assumptions.