The idea of using a meat tax to improve human health and protect the environment has been getting a fair amount of attention from prominent scientists in the media. Professor Mike Rayner was quoted last year as saying, "I would like to see a tax on red meat and meat products. We need incentives to cut down on meat and dairy consumption." Marco Springmann told the Guardian, "Current levels of meat consumption are not healthy or sustainable. The costs associated with each of those impacts could approach the trillions in the future. Taxing meat could be a first and important step." And Joseph Poore suggested that taxing meat will likely be necessary to avoid serious environmental problems.
Taxing food products to promote human health is controversial. It has been suggested that introducing taxes to limit particular food consumption behaviors is a troubling shift towards a "nanny state," involves paternalistically imposing "alien values" on people, and interferes with the free market by picking and choosing winners and losers among different products. A decision to impose a dedicated tax specifically targeting meat would need to adequately address all of these concerns. Continue reading →

Alberto Giubilini, University of Oxford
The use of antibiotics in meat production is a major contributor to one of the biggest threats facing human health in the 21st century: antibiotic resistance. Finding a solution to this requires us to start taking responsibility for our actions. While one person eating meat has an imperceptible effect on antibiotic resistance, multiply that by millions of people around the world and you have a global crisis. Continue reading →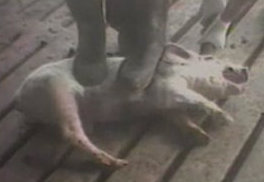 Covertly filming shocking animal abuse in the meat industry (and other industries involving animals) is a common tactic of animal welfare charities such as the Humane Society, Mercy for Animals, Animal Aid, and PETA. The footage is generally obtained by workers for the charities who gain employment at slaughterhouses, farms, laboratories and the like; and it has been instrumental in prosecuting abusers and applying pressure on meat producers to improve welfare standards, as the New York Times reported at the weekend.
The same article also reports a disturbing response to this practice by several US states:
They proposed or enacted bills that would make it illegal to covertly videotape livestock farms, or apply for a job at one without disclosing ties to animal rights groups. They have also drafted measures to require such videos to be given to the authorities almost immediately, which activists say would thwart any meaningful undercover investigation of large factory farms.
Those who flout this so-called 'ag-gag'  legislation may, among other things, be placed on a 'terrorist registry'.