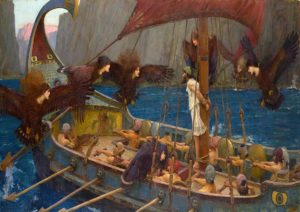 By Charles Foster
[Image: Ulysses and the Sirens: John William Waterhouse, 1891: National Gallery of Victoria, Melbourne]
We shouldn't underestimate Homer's hold on us. Whether or not we've ever read him, he created many of our ruling memes.
I don't think it's fanciful (though it might be ambitious) to suggest that he, and the whole heroic ethos, are partly responsible for our uncritical adoption of a model of autonomy which doesn't do justice to the sort of creatures we really are. That's a big claim. I can't justify it here. But one manifestation of that adoption is our exaggerated respect for advance directives – declarations made when one is capacitous about how one would like to be treated if incapacitous, and which are binding if incapacity supervenes if (in English law) the declaration is 'valid and applicable.' 1.
I suspect that some of this respect comes from the earliest and most colourful advance directive story ever: Odysseus and the Sirens. Continue reading →

Written by Doug McConnell
Boris Johnson, Rishi Sunak, and Liz Truss are on psychedelics at the Palace of Westminster. This isn't the work of Russian spies who have dusted off the KGB playbook or yet another Downing Street party but, rather, a near-future professional development program for politicians.
The path to this near-future scenario has two steps. First, let us suppose that psychedelics make good on their early promise as moral bioenhancers. Second, once effective moral enhancements exist, then people whose jobs entail making morally momentous decisions, such as politicians, would be morally required to take those enhancements. Continue reading →
By Charles Foster
From the time of the decision of the House of Lords in Airedale NHS Trust v Bland (1993) until the decision of the Supreme Court in An NHS Trust v Y (2018) (which I will refer to here as 'Y") it had been understood that the withdrawal of life-sustaining treatment (typically clinically assisted nutrition and hydration – 'CANH') from patients in a vegetative state should be endorsed by the court. Over the years, this practice had been extended to cover such withdrawals in Minimally Conscious States too.
In Y, the Supreme Court held that there was no requirement for court review or endorsement. Why? Continue reading →
Written by Jake Wojtowicz and Ben Davies 
On April 11th, Daunte Wright was pulled over by police in Brooklyn Center, Minnesota. Shortly afterwards, he was shot and killed by police officer Kim Potter. Police Chief Tim Gannon described this as an 'accidental discharge'. But framing events like this as accidents can be misleading and is just one way the police may insulate themselves from appropriate accountability.
The word 'accident' can bring to mind what we might call 'sheer accidents': bad fortune, acts of god, cars hitting the ice and veering off of the road. Even the language of an 'accidental discharge' can sound like Potter had the gun in her hand and it just somehow went off. But that isn't what happened. Potter pointed the gun at Wright and pulled the trigger. She claims she meant to fire her taser.
By Charles Foster

Ethics and law are different. Or they should be.
Law has the power to coerce. That is a frightening power. There should be as little law as possible. But there should be more ethics than there is.
The boundary between the two domains is not absolute. Clinicians are probably more frightened of being struck off by the General Medical Council (GMC) (after an adjudication on their ethics by the Medical Practitioners' Tribunal Service) than they are about an order by a civil court that compels their insurers to pay damages for clinical negligence. The exercise of the GMC's statutory powers can be draconian: the existence of those powers, and the associated sanctions, is certainly coercive.
But although the boundary is sometimes blurred, it is still real. It is the job of the law to keep it from becoming dangerously permeable. In a recent case the law was caught napping. Continue reading →

By Doug McConnell
Recently a large, loosely coordinated group of individual 'retail investors' have been buying up stocks that certain hedge funds had bet against (i.e. 'shorted'). In doing so, the retail investors have driven up the price of those stocks. This has caused hedge funds that shorted the stock to lose billions of dollars and enabled a number of retail investors to get rich in the process. The phenomenon is anthropologically interesting because it is symbolic of a shift in power away from the traditional Wall Street players towards less wealthy, less well-connected individuals. But what are the ethics of this? Did Average Joe Trader just bring a measure of justice to Wall Street? Or did the mob unethically manipulate the market? If they did, are their actions any more unethical than the usual behaviour of institutional investors? Continue reading →
Written by: David Albert Jones, Anscombe Bioethics Centre
& Alberto Giubilini, Oxford Uehiro Centre for Practical Ethics, Wellcome Centre for Ethics and Humanities, University of Oxford
For the purpose of this debate (held online on 12 October 2020), Alberto Giubilini and David Albert Jones each adopted a position on conscientious objection (CO) contrary to the one that he in fact holds. David A. Jones, who is a defender of a right to conscientious objection in healthcare, made the case against it. Alberto Giubilini, who is against a right to conscientious objection in healthcare, made the case in favour of it. What follows is an evaluation by each of the arguments of the other in relation to their strengths and how they were presented. Continue reading →
This interview is now also available as a video on YouTube:
By Doug McConnell and Dominic Wilkinson
Post originally appeared on the Journal of Medical Ethics Blog
While the general public enjoy the relative safety of social distancing, key workers are at a higher risk of both contracting COVID-19 and transmitting it to their families. This is especially the case for 'frontline' workers who are frequently exposed to the virus and may not have access to adequate personal protective equipment (PPE). Tragically, many key workers have died of COVID-19 around the world already, including over 100 in the UK.
Although it is relatively rare for key workers to die from COVID-19, the risk of death is obviously much greater than one would usually expect in these roles and key workers clearly have good reason to be anxious. For 'frontline' workers, the distress is compounded by working in harrowing conditions where so many are dying alone. Furthermore, frontline workers have to take on the burdens of ensuring they do not transmit infections to their families, by moving in with patients, living in hotels, or maintaining rigorous social distancing in their own homes.
These atypical costs, risks, and burdens suggest that key workers are owed compensation in addition to their usual pay and a few instances of nationally coordinated applause. Continue reading →