Written by Doug McConnell
A jury recently acquitted several activists charged with causing £25,000 worth of damage to Shell's HQ in London despite the defendants admitting that they caused the damage and the judge informing the jury that the defendants had no legal defence. In other words, if the law were applied correctly, the jury had no choice but to find them guilty. When juries deviate from the law and "go rogue" like this, it is known as "nullification". But when, if ever, should juries behave in this way? Continue reading →
Written by Jake Wojtowicz and Ben Davies 
On April 11th, Daunte Wright was pulled over by police in Brooklyn Center, Minnesota. Shortly afterwards, he was shot and killed by police officer Kim Potter. Police Chief Tim Gannon described this as an 'accidental discharge'. But framing events like this as accidents can be misleading and is just one way the police may insulate themselves from appropriate accountability.
The word 'accident' can bring to mind what we might call 'sheer accidents': bad fortune, acts of god, cars hitting the ice and veering off of the road. Even the language of an 'accidental discharge' can sound like Potter had the gun in her hand and it just somehow went off. But that isn't what happened. Potter pointed the gun at Wright and pulled the trigger. She claims she meant to fire her taser.

By Julian Savulescu
Together with Tom Douglas and Ingmar Persson, I launched the field of moral bioenhancement. I have often been asked 'When should moral bioenhancement be mandatory?' I have often been told that it won't be effective if it is not mandatory.
I have defended the possibility that it could be mandatory. In that paper with Ingmar Persson, I discussed the conditions under which mandatory moral bioenhancement that removed "the freedom to fall" might be justified: a grave threat to humanity (existential threat) with a very circumscribed limitation of freedom (namely the freedom to kill large numbers of innocent people), but with freedom retained in all other spheres. That is, large benefit for a small cost.
Elsewhere I have described this as an "easy rescue", and have argued that some level of coercion can be used to enforce a duty of easy rescue in both individual and collective action problems. Continue reading →
Should neurotechnologies that affect emotional regulation, empathy and moral judgment, be used to prevent offenders from reoffending? Is it morally acceptable to offer more lenient sentences to offenders in return for participation in neuroscientific treatment programs? Or would this amount too coercion? Is it possible to administer neurointerventions as a type of punishment? Is it permissible for physicians to administer neurointerventions to offenders? Is there a risk that the dark history of compulsory brain interventions in offenders will repeat itself? In this interview Dr Katrien Devolder (Oxford), Professor Jesper Ryberg (Roskilde) argues that there are no good in-principle objections to using neurointerventions to prevent crime, BUT (!) that given the way criminal justice systems currently function, we should not currently use these interventions…
By Hazem Zohny
Most of us are disturbed by people who take hostages and then cut their heads off while filming it. Alexanda Kotey and El Shafee Elsheikh – the remaining members of the British Isis cell nicknamed "the Beatles" – are accused of such gore. Now that they have been arrested by the US-backed Syrian Democratic Forces, the UK home secretary Sajid Javid has suggested that, contrary to standard practice, the UK will not oppose the death penalty for them.
Kotey and Elsheikh are the kind of malefic figures that push our most primal retributive buttons. Unlike a hungry shoplifter or drug addict, to whom many of us might respond with compassion, terrorizing decapitators seems to demand being snuffed out of existence – not only to deter others from copying them but also, as Boris Johnson put it, to retributively kill them as "payback for the filmed executions of innocent people."
Given the vengeful emotions at play here, it might be interesting to apply to Kotey and El Sheikh what's been called the "public health-quarantine model". This model (to which I'll henceforth refer to as PHQ) is based on the premise that all our retributive impulses are unfounded, and that in fact, Kotey and Elsheikh – and indeed all people, no matter what they do – do not act freely and are not morally responsible for their actions.
Written by Rebecca Brown
Last month, one of the largest music streaming services in the world, Spotify, announced a new 'hate content and hateful conduct' policy. In it, they state that "We believe in openness, diversity, tolerance and respect, and we want to promote those values through music and the creative arts." They condemn hate content that "expressly and principally promotes, advocates, or incites hatred or violence against a group or individual based on characteristics, including, race, religion, gender identity, sex, ethnicity, nationality, sexual orientation, veteran status, or disability." Content that is found to fulfil these criteria may be removed from the service, or may cease to be promoted, for example, through playlists and advertisements. Spotify further describe how they will approach "hateful conduct" by artists: 
We don't censor content because of an artist's or creator's behavior, but we want our editorial decisions – what we choose to program – to reflect our values. When an artist or creator does something that is especially harmful or hateful (for example, violence against children and sexual violence), it may affect the ways we work with or support that artist or creator.
An immediate consequence of this policy was the removal from featured playlists of R. Kelly and XXXTentacion, two American R&B artists. Whilst the 20 year old XXXTentacion has had moderate success in the US, R. Kelly is one of the biggest R&B artists in the world. As a result, the decision not to playlist R. Kelly attracted significant attention, including accusations of censorship and racism. Subsequently, Spotify backtracked on their decision, rescinding the section of their policy on hateful conduct and announcing regret for the "vague" language of the policy which "left too many elements open to interpretation." Consequently, XXXTentacion's music has reappeared on playlists such as Rap Caviar, although R. Kelly has not (yet) been reinstated. The controversy surrounding R. Kelly and Spotify raises questions about the extent to which commercial organisations, such as music streaming services, should make clear moral expressions. 
Continue reading →

By Charles Foster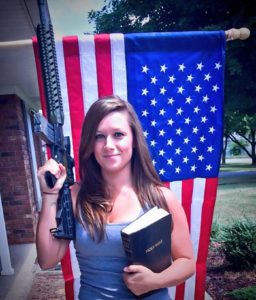 Image: Holly Fisher, a Conservative Christian blogger from West Virginia, posing with gun, Bible, and US flag:  from www.nydailynews.com
There was a near universal consensus that Bishop Michael Curry's sermon at the wedding of Prince Harry and Meghan Markle was magnificent.  'Frock Star', panted the Sun.  The Bishop 'stole the show…and is the 'new Pippa Middleton'' He left for the US, the Sun continued, 'leaving Britain still raving about his electrifying sermon.' The Bishop 'just stole the show', said Vox.com 'Prince Harry and Meghan were all but upstaged by the Episcopal priest's fiery sermon….You might say Curry just made the Anglican communion great again.'
'The Rev Michael Curry', tweeted Ed Miliband, 'could almost make me a believer, ' and Piers Morgan tweeted: 'Wow. Still reeling from Rev Curry. What a moment. What a man!' The BBC commentator Jeremy Vine said that the preacher was 'doing 50 in a 30 zone, and it's brilliant.' Continue reading →
The public outcry at the decision of the Crown Prosecution Service that Lord Janner was not fit to stand trial for 22 sex offences, the last of which were allegedly committed in the 1980s, appears to have led the CPS to initiate a review. Janner's case raises several issues about the punishment of crimes that may have taken place in the relatively distant past. Continue reading →