By Doug McConnell
It looks as if Isreal Folau will lose his job as a professional rugby player for expressing his apparently genuine religious belief that drunks, homosexuals, adulterers, liars, fornicators, thieves, atheists, and idolators are all going to hell. Morgan Begg, a research fellow at the Australian conservative think-tank, the Institute of Public Affairs, has recently argued that this is the result of a "totalitarian" and "authoritarian desire to impose ideological orthodoxy on Australians." I respond that it is, in fact, Begg's ideological position that is more amenable to totalitarianism and authoritarianism. Continue reading →
By Charles Foster
Some odd alliances are being forged in this strange new world,
I well remember, a few years ago, the open hostility shown by dreadlocked, shamanic, eco-warriors towards the Abrahamic monotheisms. They'd spit when they passed a church.
The rhetoric of their distaste was predictable. The very notion of a creed was anathema to a free spirit. 'No one's going to tell me what to think', said one (we'll call him Jack), the marks on his wrists still visible from where he'd been chained to a road-builder's bulldozer. And the content of the creeds, and the promulgators-in-chief, didn't help. 'I'm certainly taking no lessons', Jack went on, 'from some patriarchal sky-god represented by a paedophilic priest.'
But it's changed. Jack still heaves bricks through bank windows (he says), and still copulates inside stone circles, but now he's mightily impressed with Jesus, has a Greek Orthodox icon of the resurrection next to his bong, and pictures of Richard Dawkins and Sam Harris on his dartboard. He's not alone. He's part of a widespread movement that is reclaiming and recruiting the intrinsic radicalism of Judaism, Christianity, and Islam in the fight against Neo-Liberalism and the destruction of the planet. Continue reading →
Written by Alberto Giubilini
Oxford Martin School and Wellcome Centre for Ethics and Humanities
University of Oxford
As we all know, Santa Claus is a good and benevolent old chap: he brings presents and tries the best he can to fulfil children's wishes. But he is also fair: he only brings presents to those who have been good, and coal to the naughty ones. He makes the rules, and you have to play by his rules: you better watch out, you better not cry, you better not pout, and, well, you know why.
Because no one has ever seen him, many people think that Santa Claus does not exist. But many, many others think that he does. In the US, for example, 85% of 5 year old children believe that Santa Claus exists, and the belief remains quite strong up to the age of 8. In the UK, 92% of children 8 years old or younger believe in Father Christmas – he's still Santa, by a different name -, at least as reported by their parents (this datum might be a bit inflated by the fact that some children do not want their parents to find out that they – the children – have stopped believing, so they keep their parents' illusions alive for as long as possible). Continue reading →

By Charles Foster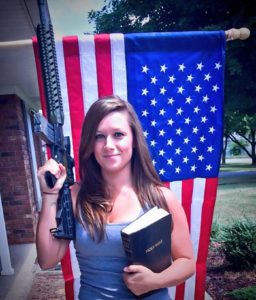 Image: Holly Fisher, a Conservative Christian blogger from West Virginia, posing with gun, Bible, and US flag:  from www.nydailynews.com
There was a near universal consensus that Bishop Michael Curry's sermon at the wedding of Prince Harry and Meghan Markle was magnificent.  'Frock Star', panted the Sun.  The Bishop 'stole the show…and is the 'new Pippa Middleton'' He left for the US, the Sun continued, 'leaving Britain still raving about his electrifying sermon.' The Bishop 'just stole the show', said Vox.com 'Prince Harry and Meghan were all but upstaged by the Episcopal priest's fiery sermon….You might say Curry just made the Anglican communion great again.'
'The Rev Michael Curry', tweeted Ed Miliband, 'could almost make me a believer, ' and Piers Morgan tweeted: 'Wow. Still reeling from Rev Curry. What a moment. What a man!' The BBC commentator Jeremy Vine said that the preacher was 'doing 50 in a 30 zone, and it's brilliant.' Continue reading →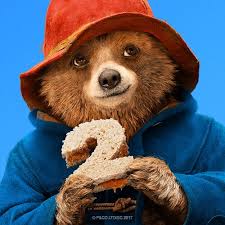 By Charles Foster
Last night, long after everyone else I know, I went with the kids to see Paddington 2. As everyone agrees, it's wonderful. It's a modern morality tale. There is plainly a big appetite for morality.
Interestingly, though, it is a Christian morality tale.1 Paddington's behaviour neutralizes violence. In the face of his goodness, and emolliated by his marmalade sandwiches, the hard men at the prison uncurl their fists and bake strawberry panna cotta with pomegranate glaze instead. His vulnerability is irresistible. He turns selfishness into altruism. 'Nuckles' (sic), (Brendan Gleeson) whose motto has always been that he doesn't do nuffin' for no one for nuffin', jeopardises his own liberty to liberate Paddington – and wins his own perpetual freedom by doing so. There's even a sort of resurrection – in which Paddington, trapped in a watery grave, is released. And as he is released, more of his redemptive power is unleashed too. Continue reading →
Every day, for about thirty-five minutes, I sit cross-legged on a cushion with my eyes shut. I regulate my breath, titrating its speed against numbers in my head; I watch my breath surging and trickling in and out of my chest; I feel the air at the point of entry and exit; I export my mind to a point just beyond my nose and pour the breath into that point. When my mind wanders off, I tug it back.
The practice is systematic and arduous. In some ways it is complex: it involves 16 distinct stages. When I am tired, and the errant mind won't come quietly back on track, I find it helpful to summarise the injunctions to myself as:
I alternate the emphases: 'I am here': 'I am here'; 'I am here'; 'This is it'; 'This is it'; 'This is it.'
I note (although not usually, and not ideally, when I'm in the middle of the practice) that each of these connotations presumes something about the existence of an 'I'. This is less obvious with the second proposition, but clearly there: 'This' is something that requires a subject. Continue reading →
by Dominic Wilkinson @Neonatalethics
In California, in the last week, there have been further motions in a long running lawsuit relating to a brain-dead child. Oakland teenager Jahi McMath died after a tonsillectomy in December 2013. However, her parents rejected the medical diagnosis of brain death, and despite a Californian court providing judicial backing for doctors' determination, organized for her to have a tracheostomy and be transferred to another medical facility. More than 18 months later it appears that Jahi's heart is still beating and she is still connected to a breathing machine somewhere in New Jersey. Continue reading →
Written by Professor Tony Coady
University of Melbourne
In a previous Uehiro blog[1] I offered a number of fairly radical criticisms of church disciplinary practices, and of several prevailing "official" teachings of the Church, such as on artificial contraception, abortion and much else in the area of sexual and reproductive ethics. Subsequently, several people put the question to me: "Given your critical views of so much official church teaching, how can you still call yourself a Catholic?"   Continue reading →
The latest issue of the Journal of Medical Ethics is out, and in it, Professor Nigel Biggar—an Oxford theologian—argues that "religion" should have a place in secular medicine (click here for a link to the article).
Some people will feel a shiver go down their spines—and not only the non-religious. After all, different religions require different things, and sometimes they come to opposite conclusions. So whose religion, exactly, does Professor Biggar have in mind, and what kind of "place" is he trying to make a case for?
A Dutch university (Wageningen University) prohibited a PhD student from thanking God in his thesis acknowledgments. The student, Jerke de Vries, wrote, "My Father God, thank You, it's the most wonderful thing to be loved and honoured by You." The university refused to grant him his thesis unless he deleted this reference to God. The university argues that science should be independent from politics or religion (political statements are also banned). The student refused to delete God from his acknowledgments and instead tore the whole page of acknowledgments out altogether.
Is the university right to state that science should be independent from politics and religion, or is this a case of discrimination against religious persons? The university has refused to clarify their decision. Continue reading →