Panpsychism is the view that sentience is ubiquitous in the world. Some people find it attractive because it sidesteps the challenge for dualists of explaining why there are two radically different types of things in the world, physical things and mental things.  And panpsychism seems to avoid some of of the challenges that face physicalist accounts of consciousness of explaining how mental properties are related to physical properties; since pan-psychism says that "mentality" is everywhere, the task left for cognitive scientists is simply to explain why that mentality is organized in a particular way rather than needing to directly address the "hard problem of consciousness'" head on.
Many people also find sentientism, the view that sentience is sufficient for moral status, attractive.  So it can be tempting to combine panpsychism and sentientism and conclude that we can assume that all animals, including oysters, snails, and fruit flies, must necessarily have moral status.  This move is a mistake.
The problem with the above move is that it rests on an equivocation on the term "sentient."  One definition of sentient means "the ability to feel pleasure and pain."  Another definition means "the ability to have any types of conscious experiences."  The link to moral status requires the first definition of sentience.  But panpsychism, if true, only entails the second.
Beyond just the definitions, it certainly seems like there are a lot of experiences that are neither positive nor negative…they are simply neutral.  So the fact that some experiences occurred doesn't tell us that anything morally significant occurred in the absence of further knowledge about what types of experiences they were, even for a sentientist.
But what about observing avoidance behaviour?  If we see that, and we think that mentality is everywhere, shouldn't we conclude that the avoidance behaviour is indicative of suffering?  But this seems contrary to what we know about pain.  People can still have withdrawal reactions that rely on spinal reflexes, even when they self-report that they don't feel pain.  In fact, in rare cases, people even report feeling pains but not finding them unpleasant.
So panpsychism doesn't really sidestep the challenge of determining which types of behaviours in nonverbal populations are indicative of positive or negative experiences.  They may avoid having to take on the hard problem of consciousness but they are left with the hard problem of morally relevant consciousness.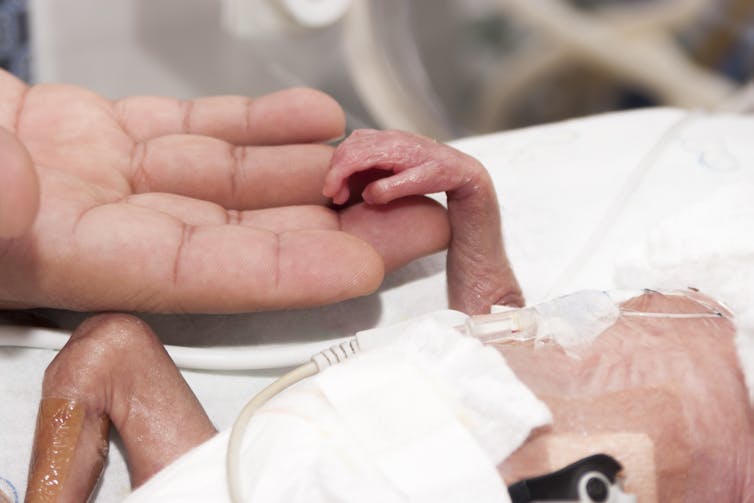 Written by Julian Koplin, University of Melbourne and
Julian Savulescu, University of Oxford
This article is republished from The Conversation under a Creative Commons license. Read the original article.
Researchers have grown groups of brain cells in the lab –
known as 'organoids' – that produce brain waves resembling
those found in premature infants.
from www.shutterstock.com
Scientists have become increasingly adept at creating brain organoids – which are essentially miniature human brains grown in the laboratory from stem cells.
Although brain organoid research might seem outlandish, it serves an important moral purpose. Among other benefits, it promises to help us understand early brain development and neurodevelopmental disorders such as microcephaly, autism and schizophrenia.
Follow Rebecca on Twitter
There has recently been a spate of news stories about animals grieving. The Huffington Post features a video of a dog burying a dead puppy, New York Daily News reports a dog and a cat mourning the death of a dog, and a video entitled 'Bella (dog) mourns death of Beavis (beaver)' recently went viral. There are great contradictions in the way in which we, as a society, view the capacity of animals to experience mental states comparable to those enjoyed by humans. On the one hand, many of us love and share our lives and homes with animals (I am currently battling for space on my keyboard with our black and white cat, Wellie). On the other hand, we humans very often treat animals as nothing more than tools to serve our own ends—and even the UK, a country with relatively strict animal welfare legislation, permits animals to be subjected to conditions akin to a hell on earth in the name of scientific research, intensive farming, and pest control.
Scepticism about the capacity of animals to experience conscious mental states like suffering—let alone more complex ones like grief—is most often associated with the influence of Descartes. Optimists may have reason to hope that scientific evidence about the mental lives of animals will soon extinguish such scepticism: last year a group of eminent neuroscientists published the Cambridge Declaration on Consciousness, which proclaims that humans are not alone in possessing consciousness (for a discussion of the Declaration, see here). Science, it seems, may hold the key to improving the way animals are treated. Continue reading →