Audio and video recordings of David Lyreskog's online St Cross Seminar (25 February 2021) are now available.
This essay was the runner up in the graduate category of the 6th Annual Oxford Uehiro Prize in Practical Ethics.
Written by University of Oxford student Matthew Minehan.
INTRODUCTION
Sally is a healthy young woman who suffers catastrophic brain trauma. Over many months, her doctors subject her to functional Magnetic Resonance Imagining (fMRI) scans and other assessments that leave them in no doubt that she is in a vegetative state. While she shows sleeping and waking activity patterns, her body is operating on 'automatic' and she has no consciousness. She is "incognizant, incapacitated and insensate" (Fenwick 1998, p.86).
Sally's doctors are aware of a new treatment that, if administered, would move her from the vegetative state to a minimally conscious one. This new state would involve fractured consciousness, a lack of awareness of her condition, an inability to direct her own life and an incapacity for complex thought. Because Sally has no known next of kin and issued no advance directive, the decision on her treatment is left to her medical team.
Should the doctors in this hypothetical scenario administer the treatment to Sally? Continue reading →

Announcement: Brian Earp and Julian Savulescu's new book 'Love Drugs: The Chemical Future of Relationships', published by (Stanford University Press) is now available.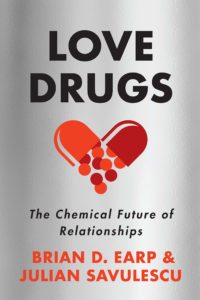 Is there a pill for love? What about an "anti-love drug", to help us get over an ex? This book argues that certain psychoactive substances, including MDMA—the active ingredient in Ecstasy—may help ordinary couples work through relationship difficulties and strengthen their connection. Others may help sever an emotional connection during a breakup. These substances already exist, and they have transformative implications for how we think about love. This book builds a case for conducting research into "love drugs" and "anti-love drugs" and explores their ethical implications for individuals and society. Scandalously, Western medicine tends to ignore the interpersonal effects of drug-based interventions. Why are we still in the dark about the effects of these drugs on romantic partnerships? And how can we overhaul scientific research norms to take relationships more fully into account?
Should neurotechnologies that affect emotional regulation, empathy and moral judgment, be used to prevent offenders from reoffending? Is it morally acceptable to offer more lenient sentences to offenders in return for participation in neuroscientific treatment programs? Or would this amount too coercion? Is it possible to administer neurointerventions as a type of punishment? Is it permissible for physicians to administer neurointerventions to offenders? Is there a risk that the dark history of compulsory brain interventions in offenders will repeat itself? In this interview Dr Katrien Devolder (Oxford), Professor Jesper Ryberg (Roskilde) argues that there are no good in-principle objections to using neurointerventions to prevent crime, BUT (!) that given the way criminal justice systems currently function, we should not currently use these interventions…
Written by Stephen Rainey
Human beings are sometimes seen as uniquely capable of enacting life plans and controlling our environment. Take technology, for instance; with it we make the world around us yield to our desires in various ways. Communication technologies, and global transport, for example, have the effect of practically shrinking a vast world, making hitherto impossible coordination possible among a global population. This contributes to a view of human-as-maker, or 'homo faber'. But taking such a view can risk minimising human interests that ought not to be ignored.
Homo faber is a future-oriented, adaptable, rational animal, whose efforts are aligned with her interests when she creates technology that enables a stable counteraction of natural circumstance. Whereas animals are typically seen to have well adapted responses to their environment, honed through generations of adaptation, human beings appear to have instead a general and adaptable skill that can emancipate them from material, external circumstances. We are bad at running away from danger, for instance, but good at building barriers to obviate the need to run. The protections this general, adaptable skill offer are inherently future-facing: humans seem to seek not to react to, but to control the environment.
Written by Gabriel De Marco
Neurointerventions can be roughly described as treatments or procedures that act directly on the physical properties of the brain in order to affect the subject's psychological characteristics. The ethics of using neurointerventions can be quite complicated, and much of the discussion has revolved around the use of neurointerventions to improve the moral character of the subjects. Within this debate, there is a sub-debate concerning the use of enhancement techniques on criminal offenders. For instance, some jurisdictions make use of chemical castration, intended to reduce the subjects' level of testosterone in order to reduce the likelihood of further sexual offenses. One particularly thorny question regards the use of neurointerventions on offenders without their consent. Here, I focus on just one version of one objection to the use of non-consensual neurocorrectives (NNs).
According to one style of objection, NNs are always impermissible because they express a disrespectful message. To be clear, the style objection I consider does not appeal to the potential consequences of expressing this message; rather, it relies on the claim that there is something intrinsic to the expression of such a message that gives us a reason (or reasons) for not performing an action that would express this message. For the use of non-consensual neurocorrectives, this reason (or set of reasons) is strong enough to make NNs impermissible. The particular version of this objection that I focus on claims that the disrespectful message is that the offender does not have a right to be listened to.
Written by Stephen Rainey
If 'neurotechnology' isn't a glamour area for researchers yet, it's not far off. Technologies centred upon reading the brain are rapidly being developed. Among the claims made of such neurotechnologies are that some can provide special access to normally hidden representations of consciousness. Through recording, processing, and making operational brain signals we are promised greater understanding of our own brain processes. Since every conscious process is thought to be enacted, or subserved, or realised by a neural process, we get greater understanding of our consciousness.
Besides understanding, these technologies provide opportunities for cognitive optimisation and enhancement too. By getting a handle on our obscure cognitive processes, we can get the chance to manipulate them. By representing our own consciousness to ourselves, through a neurofeedback device for instance, we can try to monitor and alter the processes we witness, changing our minds in a very literal sense.
This looks like some kind of technological mind-reading, and perhaps too good to be true. Is neurotechnology overclaiming its prospects? Maybe more pressingly, is it understating its difficulties? Continue reading →
By Jonny Pugh
This blog was originally published on the Journal of Medical Ethics Blog
Happy new year to readers of the blog!
I always approach the new year with some trepidation. This is not just due to the terrible weather, or even my resolution to take more exercise (unfortunately in the aforementioned terrible weather). Instead, I approach January with a sense of dread because it is always when I seem to come down with the common cold.
In my recent research, I have been interested in the nature and moral significance of reversibility, and the common cold is an interesting case study of this concept. In this blog, I will use this example to very briefly preview a couple of points that I make in a forthcoming open access article about reversibility in the context of psychiatric neurosurgery. You can read the open access paper here.
Written by Gabriel De Marco
Consider a story about Joe, Louie, and Dr. White. Joe is a gambling man and has been for much of his life. In his late twenties, Joe began to gamble occasionally and after a while, he decided that he would embrace this practice of gambling. Although Joe gambles fairly often, he has his limits, and can often resist the desire to gamble.
Louie, on the other hand, is a frugal family man. With his wife, he has been saving money over the last year so that they can take their kids to Disneyland. Dr. White, an evil neurosurgeon who detests the thought of children enjoying themselves at Disneyland, wants to stop this trip. So, Dr. White designs and executes a plan. One night, while Louie is sleeping, Dr. White uses his fancy neuroscientific methods to make Louie more like Joe. He implants in Louie a strong desire to gamble, as well as further attitudes that will help Louie embrace this desire, such that Louie, for example, now values the thrill of gambling, and he desires that his gambling desires are the ones that lead him to action. In order to increase chances of success, Dr. White also significantly weakens some of Louie's competing attitudes, like some of his family values, or his attitudes towards frugality. When Joe wakes up the next morning, he feels this strong desire to gamble, and although he finds it strange that it has come out of the blue, he fully embraces it (as much as Joe embraces his own gambling desires), having recognized that it lines up with some of his other attitudes about his desires (which were also implanted). Later in the day, while he is "out running errands," Louie swings by a casino, bets the money he has been saving for the trip, and loses it. "Great success" thinks Dr. White. Since his goal of preventing some children's joy at Disneyland has been achieved, he turns Louie back into his old self after Louie goes to sleep.
This story is similar to stories sometimes found in the debate about freedom and moral responsibility, though I will focus on moral responsibility. Intuitively, Louie is not morally responsible for gambling away these savings; or, at the very least, he is significantly less responsible for doing so than someone like Joe would be for doing something similar. If we want to make sense of these different judgments about Louie and Joe's responsibility, we are going to need to find some difference between them that can explain why Louie is, at least, less responsible than regular Joe.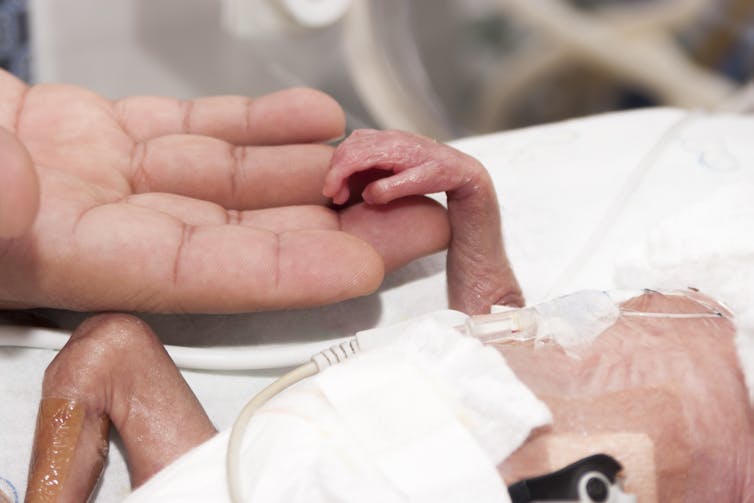 Written by Julian Koplin, University of Melbourne and
Julian Savulescu, University of Oxford
This article is republished from The Conversation under a Creative Commons license. Read the original article.
Researchers have grown groups of brain cells in the lab –
known as 'organoids' – that produce brain waves resembling
those found in premature infants.
from www.shutterstock.com
Scientists have become increasingly adept at creating brain organoids – which are essentially miniature human brains grown in the laboratory from stem cells.
Although brain organoid research might seem outlandish, it serves an important moral purpose. Among other benefits, it promises to help us understand early brain development and neurodevelopmental disorders such as microcephaly, autism and schizophrenia.