An interview with academic visitor Dr María de Jesús Medina Arellano, Professor and Researcher at the Institute of Legal Research at the National Autonomous University (UNAM), on her research focusing on the ethics and regulation of biotechnologies in developing countries, such as stem cell science, human genome editing and reproductive technologies.
Press release and an interview with Prof Dominic Wilkinson on the new book, Pandemic Ethics: From Covid-19 to Disease X, which he has co-authored with Prof Julian Savulescu.
1 May 2023
According to some estimates, there is more than a one in four chance in the next decade of another global pandemic. We don't know whether this will be influenza, a coronavirus (like SARS and COVID), or something completely new. The World Health Organisation refers to this unknown future threat as "Disease X". Continue reading →
An interview with OUC academic visitor and former Oxford Uehiro Centre DPhil student Dr Emma Dore Horgan on her research into the ethics of neuro-interventions for offenders.

In a new short video academic visitor Matthias Braun discusses the value of academic collaboration with the Uehiro Centre's Rebecca Brown.
In the first of a new series of short videos produced by the OUC introducing the academic visitors at the Oxford Uehiro Centre and the practical ethics research that they are involved in.
This essay was the overall winner in the Undergraduate Category of the 2023 National Oxford Uehiro Prize in Practical Ethics
Written by University of Oxford student, Lukas Joosten
Most parents think they are helping their children when they give them a very high standard of life. This essay argues that giving luxuries to your children can, in fact, be morally impermissible. The core of my argument is that when parents give their children a luxurious standard of life, they foist an expectation for a higher standard of living upon their children, reducing their lifetime wellbeing if they cannot afford this standard in adulthood.
I argue for this conclusion in four steps. Firstly, I discuss how one can harm someone by changing their preferences. Secondly, I develop a model for the general permissibility of gift giving in the context of adaptive preferences. Thirdly, I apply this to the case of parental giving, arguing it is uniquely problematic. Lastly, I respond to a series of objections to the main argument.   Continue reading →
This article received an honourable mention in the graduate category of the 2023 National Oxford Uehiro Prize in Practical Ethics
Written by Lucy Simpson, Nottingham Trent University student
Throughout the catalogue of work produced by Jeff McMahan, he has discussed what constitutes a being's moral status, and has advocated the theories of moral individualism and reflective equilibrium intuitionism.[1] It is not my intention in this paper to dispute  these positions. Instead, I argue that if we accept McMahan's position, then logically, we must accept that a being's moral character is a morally relevant property which we ought to consider when determining their moral status. As I will explain, this therefore means that moral status is not static; it is fluid. Further to this, in the latter stages of this paper, I consider that if we do accept that moral status is action dependant, then there might be negative moral status. On the topic of negative moral status, I do not aim to give any in-depth arguments either for or against its existence, but rather just flag this as a potential avenue for further exploration if we do indeed follow McMahan's theories of intuitionism and moral individualism. Continue reading →
This article received an honourable mention in the graduate category of the 2023 National Oxford Uehiro Prize in Practical Ethics
Written by James Shearer, University of St Andrews student
Introduction 
In an increasingly politicised society, previously mundane decisions about our daily lives can take on normative qualities. One such question is "what news media should we consume?". Alex Worsnip suggests that we have an obligation to consume media from across the political landscape. This essay argues against this claim by showing that any obligation to diversify our media consumption in this way would face severe limitations. §2 will consider Worsnip's argument. §3 will show why we are under no general obligation to diversify our media consumption. Finally, in §4 I consider and respond to potential responses to my position.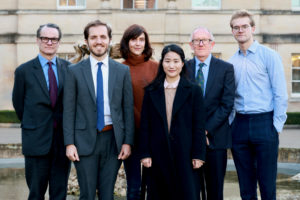 Please join us in congratulating all four of the finalists in the National Oxford Uehiro Prize in Practical Ethics 2023, and in particular our winners, Lukas Joosten and Avital Fried. We would also like to thank our judges, Prof Roger Crisp, Prof Edward Harcourt and Dr Sarah Raskoff.
This, the final of the 9th Annual National Oxford Uehiro Prize in Practical Ethics, was held on the 14th March in the lecture theatre of the Faculty of Philosophy, as well as online. During the final the four finalists presented their papers and ideas to an audience and responded to a short Q&A as the deciding round in the competition. A selection of the winning essays and honourable mentions will be published on this blog. Continue reading →