By Guy Kahane
These days it seems as if every couple of weeks or so we get reports about newly discovered planets that are ever more similar to Earth. The most recent discovery, planet Proxima b, is the closest planet found so far; Scientific American called it 'the Earth next door'. Last October, an amateur group of astronomers noticed that the star KIC8462852 was flickering in an odd way, its brightness changing by up to 22 per cent, a much larger change than could be explained by any familiar cause. Some science fiction fans speculated that this might be a 'Dyson Sphere'—signs of a super-advanced civilization desperately trying to harness energy from their sun. No convincing explanation of this effect has been found so far, and another star, called EPIC 204278916, was recently spotted exhibiting the same mysterious flicker. Then it was reported that Russian radio astronomers recorded a two-second burst of mysteriously strong radio waves coming from a sun-like star in the Hercules constellation.
We know we shouldn't get too excited. Even if there are numerous Earth-like planets out there, they may all be lifeless. And scientists will probably eventually find perfectly natural explanations for these strange flickers and signals (the Russian report already seems to be a false alarm, caused by terrestrial interference). But still: it's hard not to anticipate the day—perhaps in the coming few years, perhaps later in our lifetime—when strong, perhaps undeniable evidence of intelligent life elsewhere in the universe will emerge. It sure feels as if that will be an incredibly important discovery. Arthur C. Clarke once said that "there are two possibilities: either we are alone in the universe, or we are not. Both are equally terrifying." But it's not that easy to explain why.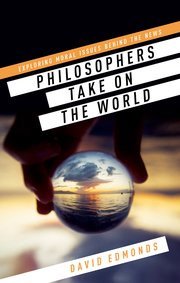 We are pleased to announce the publication of David Edmonds' Philosophers Take on the World, an edited collection of short essays, many of which are by our bloggers.
Every day the news shows us provoking stories about what's going on in the world, about events which raise moral questions and problems. In Philosophers Take On the World a team of philosophers get to grips with a variety of these controversial issues, from the amusing to the shocking, in short, engaging, often controversial pieces. Covering topics from guns to abortion, the morality of drinking alone, hating a sports team, and being rude to cold callers, the essays will make you think again about the judgements we make on a daily basis and the ways in which we choose to conduct our lives.
Written by Angeliki Kerasidou & Ruth Horn, The Ethox Centre, Nuffield Department of Population Health, University of Oxford
Recently, a number of media reports and personal testimonies have drawn attention to the intense physical and emotional stress to which doctors and nurses working in the NHS are exposed on a daily basis. Medical professionals are increasingly reporting feelings of exhaustion, depression, and even suicidal thoughts. Long working hours, decreasing numbers of staff, budget cuts and the lack of time to address patients' needs are mentioned as some of the contributing factors (Campbell, 2015; The Guardian, 2016). Such factors have been linked with loss of empathy towards patients and, in some cases, with gross failures in their care (Francis, 2013). Continue reading →
This article was originally published in The Conversation
Written by Julian Savulescu Sir Louis Matheson Distinguishing Visiting Professor at Monash University,
Uehiro Professor of Practical Ethics, University of Oxford
Connor Rochford Medical Student, Monash University
Daniel D'Hotman Medical Student, Monash University

Drug analysis would be a safe, ethical and cost-effective way to reduce harm to young people.

Shutterstock
At the Stereosonic festival last year, Sylvia Choi died after consuming a contaminated ecstasy tablet. Unfortunately Sylvia's narrative is all too familiar – a bright future extinguished at a music festival that will be remembered for all the wrong reasons.
This summer, many young people will also choose to consume various illegal substances in pursuit of a good time. Regardless of their personal choice to break the law, most would agree that they should not have to die for it. Continue reading →
On the 7th, 8th, and 9th of June 2016 a group of philosophers and bioethicists gathered at the Brocher Foundation in Geneva, Switzerland, to participate in a workshop on healthcare practitioners' conscience and conscientious objection in healthcare. Conscientious objection is the refusal by a healthcare practitioner to provide a certain medical service, for example an abortion or medical assistance in dying, because it conflicts with the practitioner's moral views. Aim of the workshop was to discuss the ethical and legal aspects of conscientious objection in healthcare, in view of proposing some guidelines for the regulation of conscientious objection in healthcare in the future.
At the end of the workshop, the participants formulated a consensus statement of 10 points, which are here proposed as ethical guidelines that should inform, at the level of legislations and institutional policies, the way conscientious objections in healthcare is regulated. The 10 points are the following:
Arthur Caplan and Brendan Parent
Cross-posted from OUP Blog, Ethics of Sport: Essential Readings 
We used to have to take time off from work –or at least leave work early– to watch the Olympics on TV. Now we can thank the engineering marvels of DVR and web replay for protecting our love affair with the Games from our evil work schedules. We are, rightly, mesmerized by the combination of talent, discipline, skill, and genetics embodied by the world's greatest athletes. While admittedly luck plays a role, these elite athletes use strategies tuned over decades to prove who is the best on the world's biggest sports stage. What is not to like? This year's games promise to be epic with greats like Bolt and Phelps closing out their legacies, unstoppable rookies like Simone Biles planning to make their mark, and new sports like Rugby and Golf looking to reach new international audiences. Ready or not, here comes Rio 2016!
Applications are invited for a full-time Research Fellow in Philosophy to conduct research and related activities for the ERC Advanced Grant Research Project Global Terrorism and Collective Moral Responsibility: Redesigning Military, Police and Intelligence Institutions in Liberal Democracies (the 'Project') under the supervision and direction of Professor Seumas Miller (Principal Investigator). The Fellow will conduct research at the interface between the international laws and moral principles pertaining to counter-terrorism.
The post is fixed-term for 4 years from the date of appointment which is anticipated to be October 2016. The multi-disciplinary Project is hosted partly at the University of Oxford and partly at Delft University of Technology but this post is fully located in central Oxford at the Oxford Uehiro Centre for Practical Ethics, which is part of the Faculty of Philosophy; the Director of the Uehiro Centre is Professor Julian Savulescu.
The postholder will conduct collaborative research in moral philosophy, applied ethics and international law relevant to the Project's research themes. Collaborative research will include the provision of research assistance for Professor Miller and literature reviews, the postholder will also participate in other project activities such as grant applications, event planning, preparation of policy papers, public engagement, development of collaborations and other occasional duties.
The postholder is to have received the degree of PhD (or equivalent) in philosophy by the start date. Also essential are excellent research skills, an outstanding research record and proven track record in publishing articles in philosophy with a specialism relevant to the Project. Experience of working at the interface of international laws and moral principles pertaining to counter-terrorism is desirable.
Applications must be made online no later than 12.00 midday on 5 September 2016.
Nadira Faber
Originally posted at The Conversation 
It is an open secret: while athletes dope their bodies, regular office workers dope their brains. They buy prescription drugs such as Ritalin or Provigil on the internet's flourishing black market to boost their cognitive performance.
It is hard to get reliable data on how many people take such "smart drugs" or "pharmacological cognitive enhancement substances", as scientists call them. Prevalence studies and surveys suggest, though, that people from different walks of life use them, such as researchers, surgeons, and students. In an informal poll among readers of the journal Nature, 20% reported that they had taken smart drugs. And it seems that their use is on the rise.
So, if you are in a demanding and competitive job, some of your colleagues probably take smart drugs. Does this thought worry you? If so, you are not alone. Studies consistently find that people see brain doping negatively.
A main concern is fairness. Imagine that while you are going for a run to boost your mental energy, your colleague is popping Ritalin instead. While you believe in your afternoon nap to regain concentration, your office mate relies on Provigil. Unfair? The general public thinks that taking smart drugs is cheating, because it can give users a competitive edge. In fact, even several academics have argued that brain doping is unfair towards people who don't do it.
Written by Miriam Rosenbaum and Sajda Ouachtouki 
This article was originally published in First Things.
Women's-only hours at swimming pools are nothing new. Many secular institutions have long hosted separate swim hours for women and girls who, for reasons of faith or personal preference, desire to swim without the presence of men. The list includes Barnard College, Harvard University, Yale University, and swim clubs, JCCs, and YMCAs across the country. Recently, women's-only swimming hours have become a topic of debate, especially in New York, where promoters of liberal secularist ideology (including the editorial page of the New York Times) are campaigning against women's-only hours at a public swimming pool on Bedford Avenue in Brooklyn. They claim that women's-only swimming hours, even for a small portion of the day, must be abolished in the interest of "general fairness and equal access" and to avoid "discrimination" in favor of certain religions. Continue reading →
The Oxford Union.
The Motion: This House Believes the Manipulation of Human DNA is an Ethical Necessity.
The Speakers: Julian Savulescu closed the case for the Proposition, as the fifth speaker of six in the debate.