By Daniel K. Sokol
Daniel Sokol, PhD, is a bioethicist and lawyer at 12 King's Bench Walk, London. He has sat on several ethics committees, including the UK's Ministry of Defence's Research Ethics Committee.
In a recent Opinion piece in the Boston Globe, Professor Steven Pinker made the surprising suggestion that the primary moral goal of today's bioethics should be to "get out of the way". "A truly ethical bioethics", he argued, "should not bog down research in red tape, moratoria or threats of prosecution".
This bold assertion no doubt echoes the thoughts of many scientists whose research requires the approval of an ethics review committee before springing to life. As a PhD student many years ago, I experienced first hand the frustrations of the tedious review process. I spent hours drafting the protocol, revisions and responding to the Committee's questions, time I would have preferred to spend conducting research. While a popular sentiment, getting out of the way is not the goal of bioethics.
The goal of bioethics is to allow potentially beneficial research while ensuring that the risk of harm to participants and others is proportionate, reduced to the lowest practicable level, and within morally acceptable limits. The risk of harm can never be eliminated, but it can usually be reduced with minimal effort or cost. It may be as simple as testing a new piece of equipment one more time in a laboratory before attaching it to a human for testing.
Darlei Dall'Agnol
Professor of Ethics, Federal University of Santa Catarina.
Many nations are already preparing for the 2015 UN Climate Change Conference to be held in Paris in December. One of the main goals of the Conference is to reach an agreement on climate change, especially on greenhouse gas emissions in order to limit the global temperature increase to 2 degrees Celsius above pre-industrial levels. Following Rio-92 and after more than 20 years of negotiations, the Conference has a unique opportunity to enact the first legally binding document for all the nations of the world. This is certainly a significant step in caring more for our little planet, which is after all our home. As citizens and philosophers concerned with environmental issues, we should support and try to help bring about such an agreement. However, there are also signs that some countries are evading their responsibilities. Earlier this month, in her first visit to the United States since Wikileaks revealed in 2013 the US' spying , the Brazilian President Dilma Rousseff announced that Brazil's goal is to bring illegal deforestation down to zero over the next few years. Moreover, the country will work towards reforestation of 12 million hectares. According to some North-American newspapers, this announcement was below what was expected by the White House, which had hoped for higher targets in cutting greenhouse gas emissions. This is one of the President Obama's priorities for his legacy. He is trying to influence China, India, Brazil and other developing countries to get a satisfactory outcome at the climate Conference later this year. Is this a sign of what is going to happen at the Conference? Will the US just press other developing countries to cut down gas emissions? What about the US' own environmental responsibilities?
Catia Faria, PhD Candidate
Department of Law, Universitat Pompeu Fabra
In 2004, the Hunting Act banned fox hunting with dogs from England and Wales. More than ten years later, 80% of Britons still believe that it should remain illegal. Strictly speaking, the Act did not establish an absolute ban on fox hunting with dogs (or the hunting of other wild mammals) but rather a conditional prohibition, filled with many exemptions.
In spite of how loose the current law already is, Prime Minister David Cameron recently proposed a new relaxing amendment to the Act. If it had been approved, the change would have shown a complete disregard for the animals involved. It would have also deviated British law from the moral path followed by its own people. The plan to relax the ban has now been postponed. Not based on the strong moral reasons against it, but because conservatives realised they couldn't win the vote.
The only relevant discussion here is an ethical one: Is (fox) hunting an immoral practice? If so, shouldn't the government uphold the ban? It seems that no sound way of understanding ethics can leave room for the huge amount of harm caused by fox hunting. This is a practice whose only aim is to provide hunters with some entertainment. This would still be so even if we set aside the harm these animals suffer by being deprived of their lives. Even a minimally stringent moral view would consider it unjustified to cause such severe suffering to animals merely for the sake of trivial human interests.
At any rate, it's worth taking a look at the main arguments put forward by supporters of the amendment.
Written by David Aldridge
Oxford Brookes University
 Recently a colleague offered in conversation that we should agree to disagree.  This led me to some observations about the role of agreement and disagreement in dialogue.  Some conversations involve a sort of perpetual agreement or mutual affirmation.  These are instances where we're really just 'shooting the breeze', and there's nothing much at issue between us.  We exchange the gnomes of accepted wisdom and nod.  Other exchanges are characterised pretty much by disagreement.  These are the situations where we talk at cross purposes, or talk past each other – we can't even seem to get started on the way in which the matter at hand needs to be interrogated.  Continue reading →
Written by Christopher Chew
Monash University
 JOURNALIST:
Treasurer, do you accept that housing in Sydney is unaffordable and the only way we're going to make it affordable is if real house prices in real terms actually fall over the near term?
TREASURER JOE HOCKEY:
No. Look, if housing were unaffordable in Sydney, no one would be buying it…it's expensive.…but, having said that…a lot of people would much rather have their homes go up in value…
JOURNALIST:
You say that housing is affordable…what about for first home buyers…people that don't have access to equity in other properties?
TREASURER JOE HOCKEY:
…the starting point for a first home buyer is to get a good job that pays good money… you can go to the bank and you can borrow money and that's readily affordable…
Source: http://jbh.ministers.treasury.gov.au/transcript/144-2015/
Recent careless comments made by Australian Treasurer Joe Hockey during a radio interview (see above) have provoked a firestorm of media outrage and scorn, with accusations of being 'out of touch' and elitist. In all fairness, more has been made of these comments than is likely warranted – though the Treasurer's enviable property portfolio, including an AUD$5.4 million primary residence, a history of previous embarrassing gaffes hasn't helped.
Written By Johanna Ahola-Launonen
University of Helsinki
In bioethical discussion, it is often debated whether or not some studies espouse genetic determinism. A recent study by Tuomas Aivelo and Anna Uitto[1] give important insight to the matter. They studied main genetics education textbooks used in Finnish upper secondary school curricula and compared the results to other similar studies from e.g. Swedish and English textbooks. The authors found that gene models used in the textbooks are based on old "Mendelian law"-based gene models not compatible with current knowledge on gene-gene-environment-interaction. The authors also identified several types of genetic determinism, that is, weak determinism and strong determinism, which both were present in the textbooks. The somewhat intuitive remark is that genetic education has to have a strong trickle-down effect on how people understand genes, and that we should be careful not to maintain these flawed conceptions. Furthermore, it would be useful to separate the discussion on genetic determinism into the terms "weak" and "strong", of which the strong version is undoubtedly rarer while the weak is more prevalent.
Written by Constantin Vica
Postdoctoral Fellow, Romanian Academy Iasi Branch
Research Center in Applied Ethics, University of Bucharest
This post is not, as one might expect, about that part of ethics which is not concerned about practical issues, e.g. meta-ethics. Neither is it about moral philosophical endeavors which are incomprehensible, highly conceptual and without any adherence to real people's lives. And, more than that, it is not about how impractical a philosophy/ethics diploma is for finding a job.
One month ago Peter Singer, the leading ethicist and philosopher, was 'disinvited' from a philosophy festival in Cologne. It wasn't the first time such a thing happened and perhaps Peter Singer wasn't too impressed by the incident. Despite all of these things, the fact has a not-so-nice implication: "you, the practical ethicist, are not welcome to our city!" Of course, Peter Singer is not the first philosopher 'disinvited' (horribile dictu) by an 'honorable' audience; the history of philosophy and free thinking has an extensive collection of undesirable individuals expelled, exiled, and even killed by furious or ignorant citizens and stubborn elites. But, one might wonder, what is different this time? Continue reading →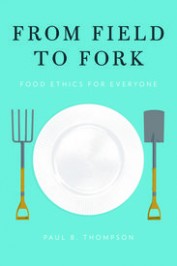 Written By Paul B. Thompson
W.K. Kellogg Professor of Agricultural, Food and Community Ethics at Michigan State University
This blog is a cross-posting from the OUPblog.
Please see the original post here: http://blog.oup.com/2015/06/food-systems-need-real-ethics/
In May, we celebrated the third annual workshop on food justice at Michigan State University. Few of the people who come to these student-organized events doubt that they are part of a social movement. And yet it is not clear to me that the "social movement" framing is the best way to understand food justice, or indeed many of the issues in the food system that have been raised by Mark Bittman or journalists such as Eric Schlosser, Michael Pollan, or Barry Estabrook. Continue reading →
Journal of Practical Ethics. Volume 3, Issue 1. June 2015
Cost Effectiveness Analysis and Fairness
F. M. Kamm
Journal of Practical Ethics, 3(1): 1-14
Read Online | Download PDF
The Elements of Well-Being
Brad Hooker
Journal of Practical Ethics, 3(1): 15-35
Read Online | Download PDF | Podcast
Motives to Assist and Reasons to Assist: the Case of Global Poverty
Simon Keller
Journal of Practical Ethics, 3(1): 37-63
Read Online | Download PDF