Graduate and undergraduate students currently enrolled at the University of Oxford in any subject are invited to enter the Oxford Uehiro Prize in Practical Ethics by submitting an essay of up to 2000 words on any topic relevant to practical ethics.  Eligibility includes visiting students who are registered as recognized students, and paying fees, but does not include informal visitors.  Two undergraduate papers and two graduate papers will be shortlisted from those submitted to go forward to a public presentation and discussion, where the winner of each category will be selected.
The winner from each category will receive £300, and the runner up £100. All four finalist essays will be considered for publication in the Journal of Practical Ethics.
To enter, please submit your written papers by the end of 23rd January 2017 to rocci.wilkinson@philosophy.ox.ac.uk. Finalists will be notified in early to mid February. The public presentation will take place in 7th Week, Hilary term 2017.  Continue reading →
Written by Dr Christopher Gyngell
This article originally appeared on the OMS website
The Nuffield Council of Bioethics released a report last Friday outlining the key ethical issues raised by genome editing technologies.
Genome editing (GE) is a powerful, and extremely rapidly developing technology. It uses engineered enzymes to make precise, controlled modification to DNA. It has the potential to radically transform many industries, including medicine, agriculture and ecology.  Despite only being developed in the past few years', GE has already been used to create malaria-fighting mosquitoes, drought resistant wheat, hornless cows and cancer killing immune cells. The potential applications of GE in a decade are difficult to imagine. It raises a wide range of ethical issues that require careful scrutiny. Continue reading →
Written by Charles Dupras and Vardit Ravitsky
Bioethics Programs, School of Public Health, University of Montreal
Environmental epigenetics is a rising field of scientific research that has been receiving much attention. It explores how exposure to various physical and social environments (e.g. pollution or social adversity) affects gene expression and, eventually, our health. Environmental epigenetics can sometimes explain why some of us carry increased risks of developing specific diseases. It provides activists a powerful vocabulary to promote environmental awareness and social justice. This new vocabulary, which allows us to discuss the consequences of disparities at the molecular level, has been enthusiastically mobilized as an effective way of stimulating political will for promoting public health preventive strategies. Continue reading →
Written by Charles Foster, Research Associate, University of Oxford
This article was originally published in The Conversation
I have lived as a badger in a hole in a Welsh wood, as an otter in the rivers of Exmoor, an urban fox rummaging through the dustbins of London's East End, a red deer in the West Highlands of Scotland and on Exmoor, and, most hubristically, a swift, oscillating between Oxford and West Africa. For this I was recently awarded an Ig Nobel Prize for "achievements that make people laugh, and then think". Why I did this is not an unreasonable question. There are many answers. One is that I wanted to perceive landscapes more accurately. Continue reading →
Written by Professor Neil Levy, Senior Research Fellow, Uehiro Centre for Practical Ethics, University of Oxford
This article was originally published on The Conversation
Why do we think that climate sceptics are irrational? A major reason is that almost none of them have any genuine expertise in climate science (most have no scientific expertise at all), yet they're confident that they know better than the scientists. Science is hard. Seeing patterns in noisy data requires statistical expertise, for instance. Climate data is very noisy: we shouldn't rely on common sense to analyse it. We are instead forced to use the assessment of experts. Continue reading →
By Guy Kahane
These days it seems as if every couple of weeks or so we get reports about newly discovered planets that are ever more similar to Earth. The most recent discovery, planet Proxima b, is the closest planet found so far; Scientific American called it 'the Earth next door'. Last October, an amateur group of astronomers noticed that the star KIC8462852 was flickering in an odd way, its brightness changing by up to 22 per cent, a much larger change than could be explained by any familiar cause. Some science fiction fans speculated that this might be a 'Dyson Sphere'—signs of a super-advanced civilization desperately trying to harness energy from their sun. No convincing explanation of this effect has been found so far, and another star, called EPIC 204278916, was recently spotted exhibiting the same mysterious flicker. Then it was reported that Russian radio astronomers recorded a two-second burst of mysteriously strong radio waves coming from a sun-like star in the Hercules constellation.
We know we shouldn't get too excited. Even if there are numerous Earth-like planets out there, they may all be lifeless. And scientists will probably eventually find perfectly natural explanations for these strange flickers and signals (the Russian report already seems to be a false alarm, caused by terrestrial interference). But still: it's hard not to anticipate the day—perhaps in the coming few years, perhaps later in our lifetime—when strong, perhaps undeniable evidence of intelligent life elsewhere in the universe will emerge. It sure feels as if that will be an incredibly important discovery. Arthur C. Clarke once said that "there are two possibilities: either we are alone in the universe, or we are not. Both are equally terrifying." But it's not that easy to explain why.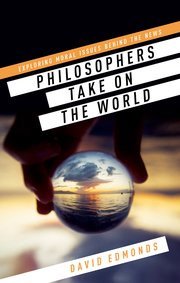 We are pleased to announce the publication of David Edmonds' Philosophers Take on the World, an edited collection of short essays, many of which are by our bloggers.
Every day the news shows us provoking stories about what's going on in the world, about events which raise moral questions and problems. In Philosophers Take On the World a team of philosophers get to grips with a variety of these controversial issues, from the amusing to the shocking, in short, engaging, often controversial pieces. Covering topics from guns to abortion, the morality of drinking alone, hating a sports team, and being rude to cold callers, the essays will make you think again about the judgements we make on a daily basis and the ways in which we choose to conduct our lives.
Written by Angeliki Kerasidou & Ruth Horn, The Ethox Centre, Nuffield Department of Population Health, University of Oxford
Recently, a number of media reports and personal testimonies have drawn attention to the intense physical and emotional stress to which doctors and nurses working in the NHS are exposed on a daily basis. Medical professionals are increasingly reporting feelings of exhaustion, depression, and even suicidal thoughts. Long working hours, decreasing numbers of staff, budget cuts and the lack of time to address patients' needs are mentioned as some of the contributing factors (Campbell, 2015; The Guardian, 2016). Such factors have been linked with loss of empathy towards patients and, in some cases, with gross failures in their care (Francis, 2013). Continue reading →
This article was originally published in The Conversation
Written by Julian Savulescu Sir Louis Matheson Distinguishing Visiting Professor at Monash University,
Uehiro Professor of Practical Ethics, University of Oxford
Connor Rochford Medical Student, Monash University
Daniel D'Hotman Medical Student, Monash University

Drug analysis would be a safe, ethical and cost-effective way to reduce harm to young people.

Shutterstock
At the Stereosonic festival last year, Sylvia Choi died after consuming a contaminated ecstasy tablet. Unfortunately Sylvia's narrative is all too familiar – a bright future extinguished at a music festival that will be remembered for all the wrong reasons.
This summer, many young people will also choose to consume various illegal substances in pursuit of a good time. Regardless of their personal choice to break the law, most would agree that they should not have to die for it. Continue reading →
On the 7th, 8th, and 9th of June 2016 a group of philosophers and bioethicists gathered at the Brocher Foundation in Geneva, Switzerland, to participate in a workshop on healthcare practitioners' conscience and conscientious objection in healthcare. Conscientious objection is the refusal by a healthcare practitioner to provide a certain medical service, for example an abortion or medical assistance in dying, because it conflicts with the practitioner's moral views. Aim of the workshop was to discuss the ethical and legal aspects of conscientious objection in healthcare, in view of proposing some guidelines for the regulation of conscientious objection in healthcare in the future.
At the end of the workshop, the participants formulated a consensus statement of 10 points, which are here proposed as ethical guidelines that should inform, at the level of legislations and institutional policies, the way conscientious objections in healthcare is regulated. The 10 points are the following: