by Alberto Giubilini
Originally posted on the Oxford Medical Humanities website
Multidisciplinary Conference, Oxford, 23 and 24 Oct 2023
This conference explored two distinct but related issues in public health. One is the extent to which individual freedom could be restricted in the pursuit of public health goals. The other is whose freedom could be restricted. That is, freedom and fairness in public health policy.
The tension between freedom and public goods pervades our lives. Public goods such as functioning healthcare systems or environmental resources depend on actions we collectively take. Collective actions raise issues about whether and how each of us ought to contribute to them by giving up some of our own personal interests. Pandemic policies simply made that tension more salient. However, our living together is a constant negotiation of the boundaries between us as individuals and us as members of communities, often (but not necessarily) through the mediation of Governmental restrictions.
Public goods cost freedom or, if you prefer, freedoms can erode public goods. Continue reading →
Written by Hazem Zohny, University of Oxford
Sacrificial dilemmas are popular among philosophers. Should you divert a train from five people strapped to the tracks to a side-track with only one person strapped to it? What if that one person were a renowned cancer researcher? What if there were only a 70% chance the five people would die?
These questions sound like they have nothing to do with a government budget. These annual events are, after all, conveyed as an endeavour in accounting. They are a chance to show anticipated tax revenues and propose public spending. We are told the name of the game is "fiscal responsibility" and the goal is stimulating "economic growth". Never do we talk of budgets in terms of sacrificing some lives to save others.
In reality, though, government budgets are a lot like those trains, in philosophical terms. Whether explicitly intended or not, some of us take those trains to better or similar destinations, and some of us will be left strapped to the tracks. That is because the real business of budgets is in distributing death and life. They are exercises in allocating misery and happiness. Continue reading →
Written by Tony Coady , Emeritus Professor of Philosophy at the University of Melbourne and Honorary Professor at the Australian Catholic University, Honorary Fellow in the Uehiro Centre for Practical Ethics in Oxford.
There are a plethora of terms in widespread political and social use that often obfuscate more than they elucidate. One of those is "terrorism" and its derivatives such as "terrorist", but I have had my say about this elsewhere, most recently in my 2021 book The Meaning of Terrorism and will simply commend it to readers. Here I want to address instead the cluster of expressions  around "extremist/extremism", "radical/radicalism" and best of all "the sensible centre".
Typical quotes about extremism show the standardly condemnatory nature of its widespread current usage. Examples are almost endless, but here are two examples from very different well-known people: "A people inspired by democracy, human rights and economic opportunity will turn their back decisively against extremism." – Benazir Bhutto;[1] "Extremism means borders beyond which life ends, and a passion for extremism, in art and in politics, is a veiled longing for death." – Milan Kundera [2]  Continue reading →
Written by Dr Daniel D'Hotman, DPhil student studying mental health and ethics at the Oxford Uehiro Centre
The original version of this article was published in the Sydney Morning Herald
Unprecedented times called for unprecedented measures. COVID-19 was the most significant health crisis many of us had ever faced. While the physical effects were much discussed, the mental health burden was arguably just as devastating. In response, the previous Government doubled subsidised mental health appointments under the Better Access Program, allowing Australians suffering from mental illnesses like anxiety, PTSD and depression to claim an extra 10 appointments per year.
Now we are trying to convince ourselves COVID-19 and its impacts are over. In addition to requiring referrals for some PCR tests, the Australian Government is cutting the number of mental health visits available under Medicare to pre-pandemic levels, arguing this is a necessary step to improve equity. According to a review of the program, extra appointments clogged up waitlists and reduced access for those not engaging with services. Continue reading →
Written by Theron Pummer
This article originally appeared in the OUPBlog
 You can save a stranger's life. Right now, you can open a new tab in your internet browser and donate to a charity that reliably saves the lives of people living in extreme poverty. Don't have the money? Don't worry—you can give your time instead. You can volunteer, organize a fundraiser, or earn money to donate. Be it using money or time, there are actions you can take now that will save lives. And it's not just now. You can expect to face such opportunities to help strangers pretty much constantly over the remainder of your life.
I doubt you are morally required to help distant strangers at every opportunity, taking breaks only for food and sleep. Helping that much would be enormously costly. It would involve a lifetime of sacrificing your well-being, freedom, relationships, and personal projects. But even if you are not required to go that far, surely there are some significant costs you are required to incur over the course of your life, to prevent serious harms to strangers. Continue reading →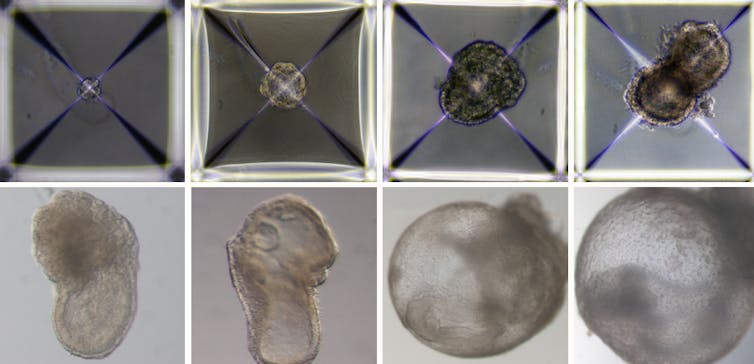 Julian Savulescu, University of Oxford; Christopher Gyngell, The University of Melbourne, and Tsutomu Sawai, Hiroshima University
Children, even some who are too young for school, know you can't make a baby without sperm and an egg. But a team of researchers in Israel have called into question the basics of what we teach children about the birds and the bees, and created a mouse embryo using just stem cells.
It lived for eight days, about half a mouse's gestation period, inside a bioreactor in the lab.
In 2021 the research team used the same artificial womb to grow natural mouse embryos (fertilised from sperm and eggs), which lived for 11 days. The lab-created womb, or external uterus, was a breakthrough in itself as embryos could not survive in petri dishes.
If you're picturing a kind of silicone womb, think again. The external uterus is a rotating device filled with glass bottles of nutrients. This movement simulates how blood and nutrients flow to the placenta. The device also replicates the atmospheric pressure of a mouse uterus.
Some of the cells were treated with chemicals, which switched on genetic programmes to develop into placenta or yolk sac. Others developed into organs and other tissues without intervention. While most of the stem cells failed, about 0.5% were very similar to a natural eight-day-old embryo with a beating heart, basic nervous system and a yolk-sac.
These new technologies raise several ethical and legal concerns.
Written by Julian Savulescu, Chris Gyngell, Tsutomu Sawai
Cross-posted with The Conversation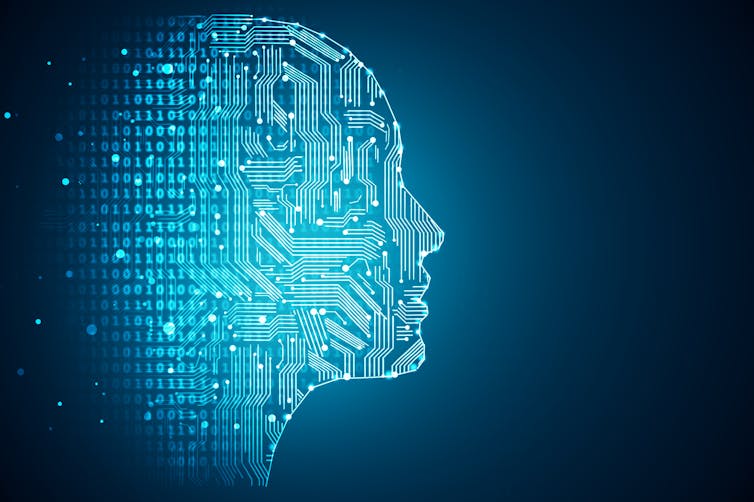 Julian Savulescu, University of Oxford; Christopher Gyngell, The University of Melbourne, and Tsutomu Sawai, Hiroshima University
The year is 2030 and we are at the world's largest tech conference, CES in Las Vegas. A crowd is gathered to watch a big tech company unveil its new smartphone. The CEO comes to the stage and announces the Nyooro, containing the most powerful processor ever seen in a phone. The Nyooro can perform an astonishing quintillion operations per second, which is a thousand times faster than smartphone models in 2020. It is also ten times more energy-efficient with a battery that lasts for ten days.
A journalist asks: "What technological advance allowed such huge performance gains?" The chief executive replies: "We created a new biological chip using lab-grown human neurons. These biological chips are better than silicon chips because they can change their internal structure, adapting to a user's usage pattern and leading to huge gains in efficiency."
Another journalist asks: "Aren't there ethical concerns about computers that use human brain matter?"
Although the name and scenario are fictional, this is a question we have to confront now. In December 2021, Melbourne-based Cortical Labs grew groups of neurons (brain cells) that were incorporated into a computer chip. The resulting hybrid chip works because both brains and neurons share a common language: electricity.
Written by Alex Polyakov, The University of Melbourne and Julian Savulescu, University of Oxford
One glaring exception appears to be the majority of western pharmaceutical companies that continue to supply medicines and equipment.
There is growing political and consumer pressure on these companies to take steps to join the concerted efforts designed to pressure the
Russian government to stop the war in Ukraine. Continue reading →
Written by Dominic Wilkinson, Alberto Giubilini, and Julian Savulescu
The UK government recently announced a dramatic U-turn on the COVID vaccine mandate for healthcare workers, originally scheduled to take effect on April 1 2022. Health or social care staff will no longer need to provide proof of vaccination to stay employed. The reason, as health secretary Sajid Javid made clear, is that "it is no longer proportionate".
There are several reasons why it was the right decision at this point to scrap the mandate. Most notably, omicron causes less severe disease than other coronavirus variants; many healthcare workers have already had the virus (potentially giving them immunity equivalent to the vaccine); vaccines are not as effective at preventing re-infection and transmission of omicron; and less restrictive alternatives are available (such as personal protective equipment and lateral flow testing of staff). Continue reading →
Written by Dominic Wilkinson, Jonathan Pugh and Julian Savulescu
Time is running out for National Health Service staff in England who have not had a COVID vaccine. Doctors and nurses have until Thursday, February 3, to have their first jab. If they don't, they will not be fully immunised by the beginning of April and could be dismissed.
But there are reports this week that the UK government is debating whether to postpone the COVID vaccine mandate for healthcare staff. Would that be the right thing to do?
Vaccine requirements are controversial and have led to worldwide protests. Those in favour have argued that it is necessary and proportionate to protect vulnerable patients by making vaccination a condition of employment for healthcare staff. But critics have argued that vaccine mandates amount to a violation of human rights. Continue reading →