By Doug McConnell
Recently the editor-in-chief of the Annals of Human Genetics, Prof David Curtis, resigned from his position, in part, because the journal's publisher, Wiley, refused to publish a letter he co-authored with Thomas Schulze, Yves Moreau, and Thomas Wenzel. In that letter, they argue in favour of a boycott on Chinese medical and scientific publications as a response to the serious human rights violations happening in China. Several other leading journals, the Lancet, the BMJ and JAMA have also refused to publish the letter claiming that a boycott against China would be unfair and counterproductive.
This raises two separate ethical issues: 1. Should journals refuse to publish a letter arguing in favour of a boycott on Chinese medical and scientific publications? 2. Should journals actually establish a boycott on Chinese medical and scientific publications? Continue reading →
Written by Julian Savulescu and Julian Koplin 
This article was first published on Pursuit. Read the original article.
The 1968 classic Planet of the Apes tells the story of the Earth after a nuclear war destroys human civilisation. When three astronauts return to our planet after a long space voyage, they discover that humans have lost the power of verbal communication and live much like apes currently do.
Meanwhile, non-human primates have evolved speech and other human-like abilities, and are now running the earth with little regard for human life.
The astronaut George Taylor, played by Charlton Heston, is rendered temporarily mute when he is shot in the throat and captured. In one scene he is brought before the Apes, as he appears more intelligent than other humans.
He regains the power of speech, and his first words are: "Take your stinking paws off me, you damned dirty ape."
Planet of the Apes may be fiction, but this month the world's first human-monkey lifeforms were created by Juan Carlos Belmonte at the Salk Institute for Biological Studies in the US, using private funding. Professor Belmonte and his group injected stem cells from the skin of a human foetus into a monkey embryo.
This part-human lifeform is called a chimera.
If implanted into a monkey uterus, the chimera could theoretically develop into a live-born animal that has cells from both a monkey and a human.
While it has been possible to make chimeras for more than 20 years using a different technique that involves fusing the embryos of two animals together, this technique has not been used in humans. It has been used to create novel animals like the geep – a fusion of a sheep and goat embryo.
Professor Belmonte used a different technique– called "blastocyst complementation" – which is more refined. It enables greater control over the number of human cells in the chimera.
But why is this research being done?
In this interview with Katrien Devolder, Peter Singer defends the Global Kidney Exchange (GKE) programme, which matches donor–recipient pairs across high-income, medium-income, and low-income countries. The GKE has been accused of being a form of organ trafficking, exploiting the poor, and involving coercion and commodification of donors. Peter Singer refutes these claims, and argues that the GKE promotes global justice and reduces the potential for people in need of kidneys in low-income and medium-income countries to be exploited.
By Tom Douglas
Jack has smoked a packet a day since he was 22. Now, at 52, he needs a heart and lung transplant.
Should he be refused a transplant to allow a non-smoker with a similar medical need to receive one? More generally: does his history of smoking reduce his claim to scarce medical resources?
If it does, then what should we say about Jill, who has never touched a cigarette, but is predicted to become a smoker in the future? Perhaps Jill is 20 years old and from an ethnic group with very high rates of smoking uptake in their 20s. Or perhaps a machine-learning tool has analysed her past facebook posts and google searches and identified her as a 'high risk' for taking up smoking—she has an appetite for risk, an unusual susceptibility to peer pressure, and a large number of smokers among her friends. Should Jill's predicted smoking count against her, were she to need a transplant? Intuitively, it shouldn't. But why not?
Recent newspaper reports covered the story of Jemima Layzell, a 13 year old who died suddenly of a brain aneurysm in 2012. According to reports, shortly before Jemima died, the subject of organ donation had come up in discussions with her family, prompted by the death of a family friend in a car accident. As a result, Jemima's family were confident she would have wanted her organs to be donated. Subsequently, Jemima's kidneys, liver, lungs, pancreas, small bowel and heart were transplanted. This meant that a record eight people's lives were saved, prolonged or dramatically enhanced as a consequence of Jemima's and her family's decision.
Decisions about organ donation are extremely difficult. Family members are approached about the prospect of donating their loved one's organs at a time of extraordinary distress. Uncertainty about the wishes of the person who has died, along with confusion or scepticism about brain death criteria, religious or other spiritual beliefs about bodily integrity, fear about how donated organs will be used, and inability or unwillingness to engage with any form of decision-making can result in the refusal of family members to allow organs to be donated. In England, family members can prevent donation even when the individual has expressed a wish to donate her organs, for instance, by signing up to the organ donor register. Continue reading →
Julian Savulescu
While politicians wring their hands about sensible solutions to the organ shortage, scientists are progressing with genetic manipulations that may see human organs grown in pigs.
US scientists are creating novel life forms: "human pig chimeras". These are a blend of human and pig characteristics. They are like mules who will provide organs to us. A mule is the offspring of a male donkey (jack) and a female horse (mare). Horses and donkeys are different species, with different numbers of chromosomes but they can breed together.
In this case, they take a skin cell from a person and turn it back in time to make stem cells capable of producing any cell or tissue in the body, "induced pluripotent stem cells." They then inject this into a pig embryo. This makes a pig human chimera.
However they do a modification to the pig embryo first. They use gene editing, or CRISPR, to knock out the pig's genes which produce an organ, say the pancreas. The human stem cells for the pancreas then make an almost entirely human pancreas in the pig human chimera. It functions like an organ mule. (The blood vessels are still porcine.)
In this way, your skin cell could grow a new liver, heart, pancreas, or lung.
This is a technique with wider possibilities: other US teams are working on a chimera –based treatment, this time for Parkinson's disease which will use chimeras to create human neurones.
CRISPR is also credited with enhancing the safety of this technique, with the BBC reporting  that a Harvard team were able to use the new and revolutionary technique to remove copies of a pig retrovirus.
Safety is always a major concern when science crosses new boundaries. But even if a sufficient guarantee of safety could be reached, are there ethical problems?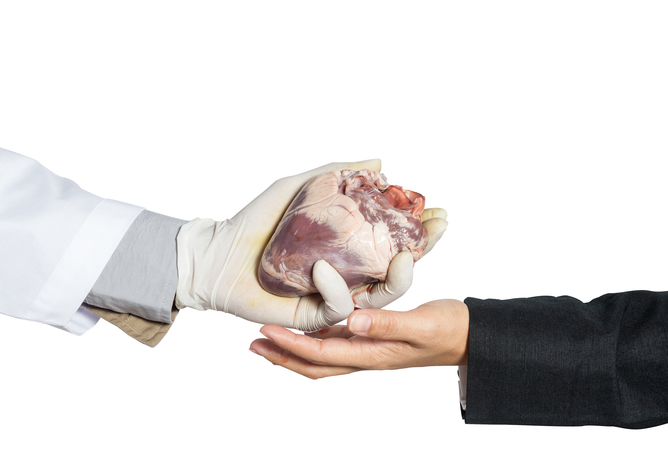 Written By William Isdale and Prof. Julian Savulescu
This article was originally published by The Conversation
Last year, an estimated 12 to 15 registered organ donors and candidates for donation had their decision thwarted by relatives. This was due to the so-called family veto, which enables family members to prevent organ donation even if the deceased person had registered to be an organ donor.
Currently, if an individual decides they don't want to be a donor, they can register an objection that has legal protection. But the decision to be a potential donor, as registered on the Australian Organ Donation Register, has no such protection. Continue reading →
Julian Savulescu and William Isdale
An editorial in the Lancet earlier this month report on the first fall in UK organ transplants in a decade.
Key statistics included that "the number of people who chose or were able to donate their organs in 2014 fell, and that 224 fewer people in the UK received an organ transplant than the year before"
Amongst the factors restricting donations is family consent: "no appreciable rise has occurred in the proportion of families who gave consent to organ retrieval following the death of a relative, which continues to hover "stubbornly below 60%".
The Lancet also points to inefficiencies in the use of those organs that are donated.
Australia's #DonateLife week has just been completed, a week dedicated to promoting organ donation, Australia is seeking to improve its own rates, which lag behind the UK, US and other comparable nations.  The government is already undertaking  a review into the current organ and tissue donation and transplantation programme.
One quote from the Lancet is perhaps timely:
As Rafael Matesanz, Director of Spain's world-leading Organización Nacional de Trasplantes, recently reminded us, we should "…never blame the population. If people donate less, it must be something we have done wrong""
William  Isdale and I recently proposed Three Ethical Ways to Increase Organ Donation: no longer allowing a family veto where a patient has consented; financial incentives to consent; and non financial incentives to consent (such as higher priority as a recipient for those who are on the transplant list).
On August 25, Peter Singer, Neera Bhatia William Isdale, Julian Koplin, and myself will be participating in a public event in Melbourne, Solving the Organ Crisis Ethically, where we will critically discuss the ethics of a range of options available to increase the organ supply in Australia.
There are 1500 people waiting for an organ in Australia. Some of those will die, or become too ill to be an organ recipient, before an organ becomes available. How far should we go to address the organ shortage?
Authors: William Isdale & Julian Savulescu
An edited version of this post was published by The Conversation
Last week the Federal Government announced that there would be a review of Australia's tissue and organ transplantation systems. The impetus for the review appears to be continually disappointing donation rates, despite the adoption of a national reform agenda in 2008.
Since 2008 there has been an increase from 12.1 dpmp  (donations per million population) to a peak of 16.9 in 2013 – but the dip last year (to 16.1) indicates that new policies need to be considered if rates are to be substantially increased.
Australia's donation levels remain considerably below world's best practice, even after adjusting for rates and types of mortality. At least twenty countries achieve better donation rates than Australia, including comparable countries like Belgium (29.9), USA (25.9), France (25.5) and the UK (20.8).
The review will focus in particular on the role of the national Organ and Tissue Authority,  which helps coordinate donation services. However, many of the key policy settings are in the hands of state and territory governments.
It is time to go beyond improving the mechanisms for implementing existing laws, and to consider more fundamental changes to organ procurement in Australia.