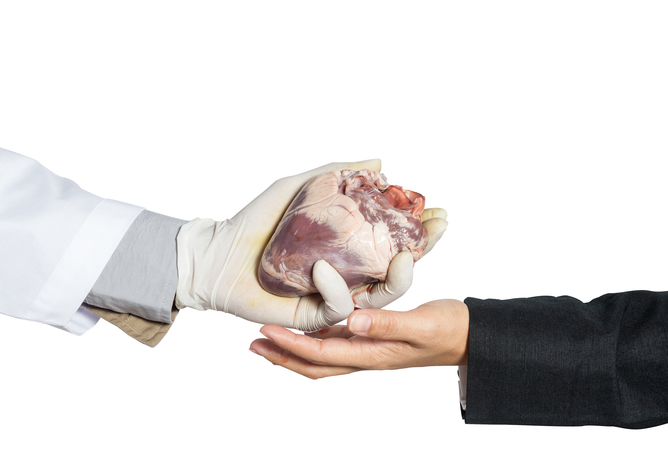 Written By William Isdale and Prof. Julian Savulescu
This article was originally published by The Conversation
Last year, an estimated 12 to 15 registered organ donors and candidates for donation had their decision thwarted by relatives. This was due to the so-called family veto, which enables family members to prevent organ donation even if the deceased person had registered to be an organ donor.
Currently, if an individual decides they don't want to be a donor, they can register an objection that has legal protection. But the decision to be a potential donor, as registered on the Australian Organ Donation Register, has no such protection. Continue reading →
Julian Savulescu and William Isdale
An editorial in the Lancet earlier this month report on the first fall in UK organ transplants in a decade.
Key statistics included that "the number of people who chose or were able to donate their organs in 2014 fell, and that 224 fewer people in the UK received an organ transplant than the year before"
Amongst the factors restricting donations is family consent: "no appreciable rise has occurred in the proportion of families who gave consent to organ retrieval following the death of a relative, which continues to hover "stubbornly below 60%".
The Lancet also points to inefficiencies in the use of those organs that are donated.
Australia's #DonateLife week has just been completed, a week dedicated to promoting organ donation, Australia is seeking to improve its own rates, which lag behind the UK, US and other comparable nations.  The government is already undertaking  a review into the current organ and tissue donation and transplantation programme.
One quote from the Lancet is perhaps timely:
As Rafael Matesanz, Director of Spain's world-leading Organización Nacional de Trasplantes, recently reminded us, we should "…never blame the population. If people donate less, it must be something we have done wrong""
William  Isdale and I recently proposed Three Ethical Ways to Increase Organ Donation: no longer allowing a family veto where a patient has consented; financial incentives to consent; and non financial incentives to consent (such as higher priority as a recipient for those who are on the transplant list).
On August 25, Peter Singer, Neera Bhatia William Isdale, Julian Koplin, and myself will be participating in a public event in Melbourne, Solving the Organ Crisis Ethically, where we will critically discuss the ethics of a range of options available to increase the organ supply in Australia.
There are 1500 people waiting for an organ in Australia. Some of those will die, or become too ill to be an organ recipient, before an organ becomes available. How far should we go to address the organ shortage?
Authors: William Isdale & Julian Savulescu
An edited version of this post was published by The Conversation
Last week the Federal Government announced that there would be a review of Australia's tissue and organ transplantation systems. The impetus for the review appears to be continually disappointing donation rates, despite the adoption of a national reform agenda in 2008.
Since 2008 there has been an increase from 12.1 dpmp  (donations per million population) to a peak of 16.9 in 2013 – but the dip last year (to 16.1) indicates that new policies need to be considered if rates are to be substantially increased.
Australia's donation levels remain considerably below world's best practice, even after adjusting for rates and types of mortality. At least twenty countries achieve better donation rates than Australia, including comparable countries like Belgium (29.9), USA (25.9), France (25.5) and the UK (20.8).
The review will focus in particular on the role of the national Organ and Tissue Authority,  which helps coordinate donation services. However, many of the key policy settings are in the hands of state and territory governments.
It is time to go beyond improving the mechanisms for implementing existing laws, and to consider more fundamental changes to organ procurement in Australia.
By Dominic Wilkinson (@NeonatalEthics)
The BBC reports today on a recent organ donation initiative in Brazil. This initiative has led to a 400% increase in the numbers of heart transplants in a local hospital. The waiting list for organs in the city of Recife reportedly dropped to zero in the first year after introduction of this innovation.
What sort of initiative could lead to such a dramatic increase in organ donation numbers? Continue reading →
Imagine that when you woke up this morning, you found yourself lying next to an unconscious stranger. The stranger has a rare life-threatening illness, and unbeknownst to you he was plugged in to your organs during the night. You are now stuck to the stranger. If you disconnect the life support he will die. If, though, you remain connected to him for most of the next year his illness will have recovered, and he can safely ben unplugged. What should you do? Are you obliged to stay attached to the stranger? It might be generous of you to give up your body, and good if you choose to do so, but should we require you to remain connected?
If you receive an implanted pacemaker for your heart, does it become your property? When it is no longer any use to you (because you have died), do you have to give it back?
A tragic case was recently reported of a man who died following botched care via the NHS' telephone helpline. Suffering from blood poisoning, a series of errors, mis-recording and failure to listen meant that he was told simply to take the remedy 'Gaviscon'. He died shortly afterwards.  This was rightly widely reported in the press as a major failing of the health system. Many such catastrophic errors in medicine are reported in the press, and wherever possible safeguards put in place to prevent their re-occurrence.
However, we seem to accept deaths that occur not through medical mistakes but through what I will call moral mistakes. For example, each day 3 people die on the waiting list to receive organ transplants. Many of those could be saved if all those eligible and consenting to give organs did so. But instead, organs are withheld even when those who have opted in to organ donation die, because their families decide against it. Others are withheld because we have failed to introduce an opt out system of consent, meaning that those who simply never got around to signing up are excluded from bringing life to another person.
This is just one example of how mistakes in medical ethics can kill people. There are many more.
By Julian Savulescu & Brian D. Earp
[updated version – as of 17 April 2016]
Sarah Murnaghan is a 10-year-old from Pennsylvania. Suffering from cystic fibrosis, she was likely to die without a lung transplant. Her situation was deteriorating. But because of a rule that says that children under the age of 12 have the lowest priority for adult donor lungs, Sarah would have to wait for another child's lungs to become available, a much rarer occurrence.
Sarah's parents sprang into action. They got the attention of members of congress and the media. They shared Sarah's story on social networking sites, showing pictures of their daughter in the hospital bed. They said that the "Under 12" rule was discriminatory against children, and got a federal judge to agree. So, with the help of a court order temporarily preventing the enforcement of the Under 12 rule, Sarah got a second chance at life. An adult lung match became available, and Sarah is now recovering from transplant surgery.
It's a story with a happy ending—depending upon how you tell it. Certainly the news is good for Sarah. Yet as Sarah's mother acknowledged in a post on Facebook, "We … know our good news is another family's tragedy."
But who are those families? What are their stories? What are the names of those who will die—or who have already died—without a lung transplant of their own?
What this case illustrates is something we might call "empathy ethics" – pushing one's own story, or that of one's family member, into the moral spotlight in order to trigger an empathic response. Since ordinary human beings—from news anchors to congressmen to federal judges—are more likely to feel empathy for known individuals with compelling narratives of suffering, they can become motivated to bend the rules in favor of those specific individuals whose stories best capture their attention.
It is hardly a keen insight to note that there are a lot of problems in the world today, and that there are also lots of suggested solutions. Often these can be classified under three different labels:
"Good guy" solutions which rely on changing individual people's attitudes and behaviours.
Institutional solutions which rely on designing good institutions to address the problem.
Technological solutions which count on technology to resolve the problem.
In this view, it is tremendously good news that scientists are getting closer to producing artificial organs. If this goal is achieved, it will be a technological solution to the problem of transplant organ shortages – and technological solutions tend to be better than institutional solutions, which are generally much better than "good guy" solutions. The "good guy" solution to organ donation was to count on people to volunteer to donate when they died. Better institutions (such as an opt-out system where you have to make a special effort not to be a donor, rather than a special effort to be a donor) have resulted in much improved donation rates. But cheap artificial organs would really be the ultimate solution.
Of course I don't denigrate the use of getting people on your side, nor the motivations of those who sincerely want to change things. But changes to people's attitudes only tend to stick around as long term solutions if this is translated into actual institutional or technological changes.
Take slavery, for instance. Continue reading →